Small-Bowel Obstruction Workup
Author: Brian A Nobie, MD; Chief Editor: Steven C Dronen, MD, FAAEM more...
Updated: Jan 20, 2015
What would you like to print?
Approach Considerations
If the diagnosis is unclear, admission and observation are warranted to detect early obstructions. Essential laboratory tests are needed; these include the following:
Serum chemistries - Results are usually normal or mildly elevated

Blood urea nitrogen (BUN) level - If the BUN level is increased, this may indicate decreased volume state (eg, dehydration)

Creatinine level - Creatinine level elevations may indicate dehydration

Complete blood count (CBC) - The white blood cell (WBC) count may be elevated with a left shift in simple or strangulated obstructions; increased hematocrit is an indicator of volume state (ie, dehydration)

Lactate dehydrogenase tests

Urinalysis

Type and crossmatch - This is an adjunctive lab test used in the evaluation of SBO; the patient may require surgical intervention

Laboratory tests to exclude biliary or hepatic disease are also needed; they include the following:

Phosphate level

Creatine kinase level

Liver panels
Studies have been performed to evaluate the use of water-soluble oral contrast as a tool in the management of SBO and as a predictive tool for nonoperative resolution of adhesive SBO. It does not cause resolution of the SBO, but it may reduce the hospital stay in patients not requiring surgery.
In 2013, the World Society of Emergency Surgery published updated guidelines for the diagnosis and management of adhesive small bowel obstruction (ASBO). The recommendations include the following[4] :
In the absence of signs of strangulation and a history of persistent vomiting or combined CT-scan signs, patients with partial ASBO can be safely managed with nonoperative management; tube decompression should be attempted

Water-soluble contrast medium (WSCM) is recommended for both diagnostic and therapeutic purposes in patients undergoing nonoperative management

Nonoperative management can be prolonged for up to 72 hours in the absence of signs of strangulation or peritonitis; surgery is recommended after 72 hours of nonoperative management without resolution

Open surgery is frequently used for patients with strangulating ASBO and after failed conservative management; in appropriate patients, a laparoscopic approach using an open access technique is recommended

Hyaluronic acid – carboxycellulose membrane and icodextrin decrease the incidence of adhesions, and icodextrin may reduce the risk of reobstruction
Plain Radiography
Obtain plain radiographs first for patients in whom small-bowel obstruction (SBO) is suspected. At least 2 views, supine or flat and upright, are required. Plain radiographs are diagnostically more accurate in cases of simple obstruction. However, diagnostic failure rates of as much as 30% have been reported.[5]
In one small study, the sensitivity of plain radiography was reported to be 75%, and specificity was reported to be 53%; similar findings were reported in a second study. In another study, plain films were more accurate in the detection of acute SBO and the accuracy was higher if interpreted by more-experienced radiologists.
Plain radiography is of little assistance in differentiating strangulation from simple obstruction. Some have used abdominal radiography to distinguish between complete obstruction and partial or no SBO.
A study by Lappas et al proposed that 2 findings were more predictive of a higher grade or complete SBO: (1) the presence of an air-fluid differential height in the same small-bowel loop and (2) the presence of a mean level width greater than 25 mm.[6] The study found that when the 2 findings are present, the obstruction is most likely high grade or complete. When both are absent, the authors proposed, a low-grade (partial) SBO is likely or nonexistent.
Dilated small-bowel loops with air-fluid levels indicate SBO, as does absent or minimal colonic gas. SBO is demonstrated in the radiographs below.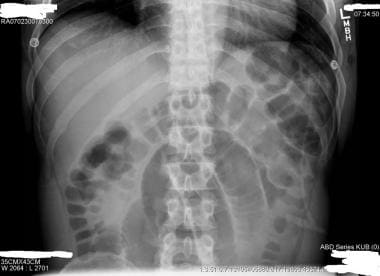 Small bowel obstruction. Image courtesy of Ademola Adewale, MD.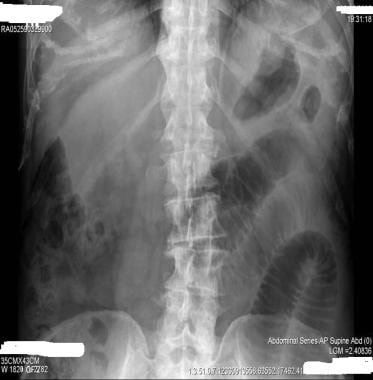 Small bowel obstruction. Image courtesy of Ademola Adewale, MD.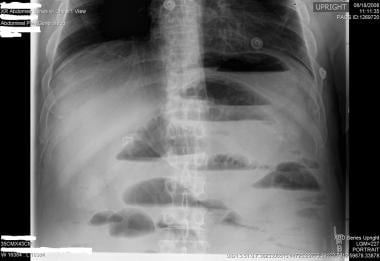 Small bowel obstruction. Image courtesy of Ademola Adewale, MD.
Enteroclysis
Enteroclysis is valuable in detecting the presence of obstruction and in differentiating partial from complete blockages. This study is useful when plain radiographic findings are normal in the presence of clinical signs of small-bowel obstruction (SBO) or when plain radiographic findings are nonspecific.
Enteroclysis distinguishes adhesions from metastases, tumor recurrence, and radiation damage. It offers a high negative predictive value and can be performed with 2 types of contrast. Barium is the classic contrast agent used in this study. It is safe and useful when diagnosing obstructions provided that no evidence of bowel ischemia or perforation exists. Barium has been associated with peritonitis and should be avoided if perforation is suspected.
CT Scanning and MRI
CT scanning
Computed tomography (CT) scanning is the study of choice if the patient has fever, tachycardia, localized abdominal pain, and/or leukocytosis.
CT scanning is useful in making an early diagnosis of strangulated obstruction and in delineating the myriad other causes of acute abdominal pain, particularly when clinical and radiographic findings are inconclusive. It also has proved useful in distinguishing the etiologies of small-bowel obstruction (SBO), that is, in distinguishing extrinsic causes (such as adhesions and hernia) from intrinsic causes (such as neoplasms and Crohn disease). In addition, CT scanning differentiates the above from intraluminal causes, such as bezoars. The modality may be less useful in the evaluation of small bowel ischemia associated with obstruction.
CT scanning is capable of revealing abscess, inflammatory process, extraluminal pathology resulting in obstruction, and mesenteric ischemia and enables the clinician to distinguish between ileus and mechanical small bowel obstruction in postoperative patients.[7]
The modality does not require oral contrast for the diagnosis of SBO, because the retained intraluminal fluid serves as a natural contrast agent.
Obstruction is present if the small-bowel loop is greater than 2.5 cm in diameter dilated proximal to a distinct transition zone of collapsed bowel less than 1 cm in diameter. A smooth beak indicates simple obstruction without vascular compromise; a serrated beak may indicate strangulation. Bowel wall thickening, portal venous gas, or pneumatosis indicates early strangulation.
One small series reported a sensitivity of 93%, a specificity of 100%, and an accuracy of 94% for CT scanning in the detection of obstructions. Another series reported a sensitivity of 92% and specificity of 71% in the correct identification of partial or complete SBO.
MRI
The accuracy of magnetic resonance imaging (MRI) almost approaches that of CT scanning for the detection of obstructions.[8] MRI is also effective in defining the location and etiology of obstruction.[9] MRI has several limitations, however, including lack of availability (transporting sicker patients is difficult) and poor visualization of masses and inflammation.[10, 11]
CT Enterography (CT Enteroclysis)
This modality is replacing enteroclysis in clinical practice.[8, 12, 13] In addition, it is the examination of choice for intermittent small-bowel obstruction (SBO) and in patients with a complicated surgical history (eg, prior surgery, tumors).[14, 15, 16]
CT enterography displays the entire thickness of the bowel wall and allows evaluation of surrounding mesentery and perinephric fat.[8] It uses CT-scanning technology to scan thin slices of bowel while simultaneously using large-volume enteric contrast material for imagery.[8]
CT enterography is more accurate than conventional CT scanning at finding the cause of SBO (89% vs 50%, respectively), as well as at locating the site of the obstruction (100% vs 94%, respectively).[17] It is useful in patients being managed conservatively (ie, nonoperatively).[17]
Ultrasonography
Ultrasonography is less costly and invasive than CT scanning and may reliably exclude SBO in as many as 89% of patients; specificity is reportedly 100%.
In a small study by Jang et al in which the use of bedside ultrasonography by emergency physicians was compared with radiography for the detection of small-bowel obstruction (SBO), emergency physician ̶ performed ultrasonography compared favorably with radiography. Dilated bowel on ultrasonography had a sensitivity of 91% and a specificity of 84% for SBO, while radiography had a sensitivity of 46% and a specificity of 66%.[18]
Medscape Reference © 2011 WebMD, LLC