Abdominal Pain in Elderly Persons Workup
Author: E David Bryan, MD; Chief Editor: Barry E Brenner, MD, PhD, FACEP more...
Updated: Dec 27, 2015
What would you like to print?
Laboratory Studies
Laboratory studies for elderly patients with abdominal pain may include the following:
Complete blood count
Generally perform a complete blood count (CBC).
Although an elevated white blood cell (WBC) count may indicate infection or inflammation, it has poor sensitivity and specificity. Do not make treatment decisions based on a normal WBC count in elderly patients.
Serum chemistries
Comprehensive metabolic panel or basic metabolic panel with liver function tests can be useful in assessing renal function, diabetes, acidosis, biliary tract disease, and liver dysfunction.
An anion gap may be an indication of a serious intra-abdominal process; look for a gap and other signs of acidosis particularly with concern for ischemic bowel.
Again, maintain caution despite the presence of normal results of liver function tests, since elderly patients with acute cholecystitis may not demonstrate elevations.
Serum lipase or amylase
These studies are useful as screening tests for pancreatitis. Little evidence supports obtaining both, and lipase is the superior test.
Urinalysis
Urinalysis is essential to aid in excluding urinary tract infection and detecting the presence of hematuria. Hematuria can have many causes in elderly patients, including ruptured AAA.
In female patients, a catheterized specimen has higher specificity when evaluating for urinary tract infection.
Blood cultures
Blood cultures are recommended for elderly patients presenting with abdominal pain associated with either fever or hypothermia or when sepsis is suspected.
Prothrombin time (PT) and activated partial thromboplastin time (aPTT)
Obtain these in patients in whom liver disease, sepsis, or GI bleeding is suspected and in those expected to require operative intervention.
Arterial blood gases
This is indicated for patients in whom bowel ischemia, diabetic ketoacidosis, or sepsis is suspected.
Arterial blood gas also is a rapid method of determining hematocrit in patients with GI bleeding or if ruptured AAA is suggested.
Serum lactate
This is helpful in sepsis or unexplained high anion gap acidosis.
Type and crossmatch
This is indicated in patients with GI bleeding, ruptured AAA, or in unstable patients.
Radiography
Imaging plays a larger role in the workup of elderly patients with abdominal pain than in younger patients. Preference of imaging modality may vary among institutions according to what is available.
Plain abdominal films
Although of limited utility in younger patients, an abdominal series may be helpful in elderly patients because of the wide differential diagnosis.
Plain film radiography can be useful in detecting bowel obstruction, adynamic ileus, nephrolithiasis, and perforation. Occasionally, gallstones may be observed, as well as late findings of mesenteric ischemia (ie, pneumatosis intestinalis). However, the overall sensitivity is very low and a negative abdominal series should not influence management. See the images below.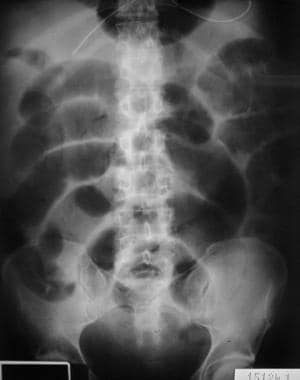 Radiograph of a 79-year-old woman with several hours of diffuse abdominal pain. Initial examination of the plain films suggests bowel obstruction.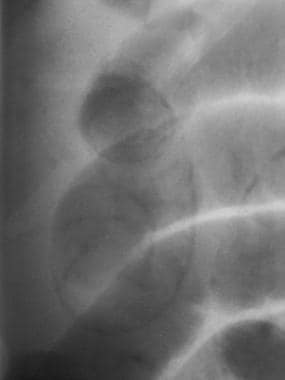 Radiograph of a 79-year-old woman with several hours of diffuse abdominal pain. Initial examination of the plain films suggests bowel obstruction. Close-up view reveals pneumatosis intestinalis, indicating mesenteric ischemia.
Chest radiography
Chest radiography is helpful in excluding pneumonia, which is a cause of abdominal pain.
It may demonstrate free intraperitoneal air under the diaphragm in patients with ruptured viscus. The lateral chest radiography has been demonstrated to be more sensitive in detecting free air.
Abdominal Ultrasonography
Generally, this is the initial study of choice when evaluating for biliary tract disease because of availability and speed.
Bedside ultrasonography is an excellent rapid screening test for AAA.
Some studies report that it is reasonably sensitive in detecting hydronephrosis and nephrolithiasis, but it is highly operator dependent and not considered the optimal test for urolithiasis.
CT Scanning
Computed tomography (CT) scanning plays an increasingly important role in the evaluation of elderly patients with abdominal pain, especially when the diagnosis is unclear.[10] This imaging modality allows the identification of the site of gastrointestinal perforations and of ischemia and the determination of the most predictive signs in this diagnosis. Reginelli et al do not recommend delaying obtaining CT scan results until all clinicobiologic data are available.[10]
CT scanning is the study of choice for suspected diverticulitis, having a sensitivity of 93%, and is very sensitive in patients with possible appendicitis when the diagnosis is not clear.[11, 12]
When performing CT scanning to exclude diverticulitis, allow enough time for the oral contrast to reach the distal colon (usually 2-3 h). One study demonstrated that using CT scan with only water-soluble contrast administered by enema without intravenous (IV) or oral contrast had a sensitivity for diverticulitis of 99% and appeared to be safe. Avoid barium enema in patients with suspected diverticulitis. See the images below.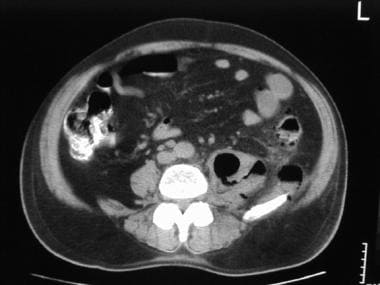 CT scan of a 62-year-old man who reported 2 weeks of left lower quadrant abdominal pain. CT scan reveals fat stranding and multiple diverticula around the descending colon. A phlegmon containing bowel and inflammatory tissue has eroded into the left psoas muscle.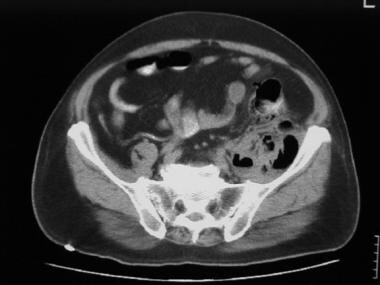 A lower CT scan slice from a 62-year-old man who reported 2 weeks of left lower quadrant abdominal pain. Multiple diverticula are observed with an inflammatory mass overlying the left ilium.
In stable patients with suspected AAA, CT scanning with IV contrast is approximately 100% sensitive.
Noncontrast helical CT scan is reported to be 95-100% sensitive in detecting nephrolithiasis and ureterolithiasis. Unfortunately, many elderly patients have vascular calcifications in the pelvis, making interpretation more difficult. The presence of ureteral dilatation or perinephric stranding can help establish the diagnosis.
CT scanning combined with CT angiography is increasingly used in the evaluation of suspected mesenteric ischemia. In a 2000 position statement by the American Gastrointestinal Society, it was stated that CT was of limited use in the diagnosis of mesenteric ischemia. Subsequent studies have strongly advocated for the use of multidetector-row CT in the evaluation of mesenteric ischemia,[13, 14] including one prospective study that found an overall sensitivity of 96%, with specificity of 94%.[15] Multidetector-row CT scanning had the additional advantage of identifying an alternate diagnosis in 58% of patients without mesenteric ischemia.
Angiography
Although this is difficult to obtain on an emergency basis in some institutions, angiography remains the study of choice for mesenteric ischemia.
Nuclear medicine imaging (hepatic 2,6 dimethyliminodiacetic acid [HIDA] scan or diisopropyl iminodiacetic acid [DISIDA] scan)
This is helpful for patients in whom cholecystitis is suspected when the diagnosis is not clear. HIDA and DISIDA scanning both provide a very high negative predictive value.
Electrocardiography
Perform an ECG in all elderly patients with upper abdominal pain and in all unstable patients.
References
Esses D, Birnbaum A, Bijur P, et al. Ability of CT to alter decision making in elderly patients with acute abdominal pain. Am J Emerg Med. 2004 Jul. 22(4):270-2. [Medline].

Hustey FM, Meldon SW, Banet GA, et al. The use of abdominal computed tomography in older ED patients with acute abdominal pain. Am J Emerg Med. 2005 May. 23(3):259-65. [Medline].

Lewis LM, Banet GA, Blanda M, et al. Etiology and clinical course of abdominal pain in senior patients: a prospective, multicenter study. J Gerontol A Biol Sci Med Sci. 2005 Aug. 60(8):1071-6. [Medline].

Laurell H, Hansson LE, Gunnarsson U. Acute abdominal pain among elderly patients. Gerontology. 2006. 52(6):339-44. [Medline].

Lee JF, Leow CK, Lau WY. Appendicitis in the elderly. Aust N Z J Surg. 2000 Aug. 70(8):593-6. [Medline].

Karkkainen JM, Lehtimaki TT, Manninen H, Paajanen H. Acute mesenteric ischemia is a more common cause than expected of acute abdomen in the elderly. J Gastrointest Surg. 2015 Aug. 19 (8):1407-14. [Medline].

Samaras N, Chevalley T, Samaras D, Gold G. Older patients in the emergency department: a review. Ann Emerg Med. 2010 Sep. 56(3):261-9. [Medline].

Surov A, Mannes F, Behrmann C. Vomiting and painful abdomen in dementia. Gastroenterology. 2010 Sep. 139(3):e10-1. [Medline].

Choung RS, Locke GR 3rd, Schleck CD, Zinsmeister AR, Talley NJ. The effects of ageing on the onset and disappearance of unexplained abdominal pain: a population-based study. Aliment Pharmacol Ther. 2014 Jan. 39(2):217-25. [Medline]. [Full Text].

Reginelli A, Russo A, Pinto A, et al. The role of computed tomography in the preoperative assessment of gastrointestinal causes of acute abdomen in elderly patients. Int J Surg. 2014. 12 Suppl 2:S181-6. [Medline].

Gielens MP, Mulder IM, van der Harst E, Gosselink MP, Kraal KJ, Teng HT, et al. Preoperative staging of perforated diverticulitis by computed tomography scanning. Tech Coloproctol. 2012 Oct. 16(5):363-8. [Medline]. [Full Text].

Nelson DW, Causey MW, Porta CR, McVay DP, Carnes AM, Johnson EK, et al. Examining the relevance of the physician's clinical assessment and the reliance on computed tomography in diagnosing acute appendicitis. Am J Surg. 2013 Apr. 205(4):452-6. [Medline].

Fleischmann D. MDCT of renal and mesenteric vessels. Eur Radiol. 2003 Dec. 13 Suppl 5:M94-101. [Medline].

Cademartiri F, Raaijmakers RH, Kuiper JW, et al. Multi-detector row CT angiography in patients with abdominal angina. Radiographics. 2004 Jul-Aug. 24(4):969-84. [Medline].

Kirkpatrick ID, Kroeker MA, Greenberg HM. Biphasic CT with mesenteric CT angiography in the evaluation of acute mesenteric ischemia: initial experience. Radiology. 2003 Oct. 229(1):91-8. [Medline].

Raats JW, Flu HC, Ho GH, et al. Long-term outcome of ruptured abdominal aortic aneurysm: impact of treatment and age. Clin Interv Aging. 2014. 9:1721-32. [Medline].

Attard AR, Corlett MJ, Kidner NJ, et al. Safety of early pain relief for acute abdominal pain. BMJ. 1992 Sep 5. 305(6853):554-6. [Medline].

Bugliosi TF, Meloy TD, Vukov LF. Acute abdominal pain in the elderly. Ann Emerg Med. 1990 Dec. 19(12):1383-6. [Medline].

Cassel CK, Hogan TM. Geriatric abdominal pain. Geriatric Medicine. 3rd ed. 1997. 138-145.

Chase CW, Barker DE, Russell WL, et al. Serum amylase and lipase in the evaluation of acute abdominal pain. Am Surg. 1996 Dec. 62(12):1028-33. [Medline].

de Dombal FT. Acute abdominal pain in the elderly. J Clin Gastroenterol. 1994 Dec. 19(4):331-5. [Medline].

Fenyo G. Acute abdominal disease in the elderly: experience from two series in Stockholm. Am J Surg. 1982 Jun. 143(6):751-4. [Medline].

Gardner RL, Almeida R, Maselli JH, Auerbach A. Does gender influence emergency department management and outcomes in geriatric abdominal pain?. J Emerg Med. 2010 Sep. 39(3):275-81. [Medline].

Graff L, Russell J, Seashore J, et al. False-negative and false-positive errors in abdominal pain evaluation: failure to diagnose acute appendicitis and unnecessary surgery. Acad Emerg Med. 2000 Nov. 7(11):1244-55. [Medline].

Hilton D, Iman N, Burke GJ, et al. Absence of abdominal pain in older persons with endoscopic ulcers: a prospective study. Am J Gastroenterol. 2001 Feb. 96(2):380-4. [Medline].

Holly DC, Zachary PE Jr. Cholesterol embolization leading to small and large bowel infarction. Am J Gastroenterol. 1995 Nov. 90(11):2075-6. [Medline].

Horattas MC, Guyton DP, Wu D. A reappraisal of appendicitis in the elderly. Am J Surg. 1990 Sep. 160(3):291-3. [Medline].

Kizer KW, Vassar MJ. Emergency department diagnosis of abdominal disorders in the elderly. Am J Emerg Med. 1998 Jul. 16(4):357-62. [Medline].

Lee R, Tung HK, Tung PH, et al. CT in acute mesenteric ischaemia. Clin Radiol. 2003 Apr. 58(4):279-87. [Medline].

LoVecchio F, Oster N, Sturmann K, et al. The use of analgesics in patients with acute abdominal pain. J Emerg Med. 1997 Nov-Dec. 15(6):775-9. [Medline].

Marco CA, Schoenfeld CN, Keyl PM, et al. Abdominal pain in geriatric emergency patients: variables associated with adverse outcomes. Acad Emerg Med. 1998 Dec. 5(12):1163-8. [Medline].

Pace S, Burke TF. Intravenous morphine for early pain relief in patients with acute abdominal pain. Acad Emerg Med. 1996 Dec. 3(12):1086-92. [Medline].

Parker JS, Vukov LF, Wollan PC. Abdominal pain in the elderly: use of temperature and laboratory testing to screen for surgical disease. Fam Med. 1996 Mar. 28(3):193-7. [Medline].

Parker LJ, Vukov LF, Wollan PC. Emergency department evaluation of geriatric patients with acute cholecystitis. Acad Emerg Med. 1997 Jan. 4(1):51-5. [Medline].

Pilotto A, Maggi S, Noale M, Franceschi M, Parisi G, Crepaldi G. Development and validation of a new questionnaire for the evaluation of upper gastrointestinal symptoms in the elderly population: a multicenter study. J Gerontol A Biol Sci Med Sci. 2010 Feb. 65(2):174-8. [Medline].

Rao PM, Rhea JT, Novelline RA, et al. Helical CT with only colonic contrast material for diagnosing diverticulitis: prospective evaluation of 150 patients. AJR Am J Roentgenol. 1998 Jun. 170(6):1445-9. [Medline].

Reilly JM, Tilson MD. Incidence and etiology of abdominal aortic aneurysms. Surg Clin North Am. 1989 Aug. 69(4):705-11. [Medline].

Rusnak RA, Borer JM, Fastow JS. Misdiagnosis of acute appendicitis: common features discovered in cases after litigation. Am J Emerg Med. 1994 Jul. 12(4):397-402. [Medline].

Sanson TG, O'Keefe KP. Evaluation of abdominal pain in the elderly. Emerg Med Clin North Am. 1996 Aug. 14(3):615-27. [Medline].

Stussman BJ. National Hospital Ambulatory Medical Care Survey: 1994 emergency department summary. Adv Data. 1996 May 17. 1-20. [Medline].

Vermeulen B, Morabia A, Unger PF, et al. Acute appendicitis: influence of early pain relief on the accuracy of clinical and US findings in the decision to operate--a randomized trial. Radiology. 1999 Mar. 210(3):639-43. [Medline].

Vissers RJ, Abu-Laban RB, McHugh DF. Amylase and lipase in the emergency department evaluation of acute pancreatitis. J Emerg Med. 1999 Nov-Dec. 17(6):1027-37. [Medline].

Wildermuth S, Leschka S, Alkadhi H, et al. Multislice CT in the pre- and postinterventional evaluation of mesenteric perfusion. Eur Radiol. 2005 Jun. 15(6):1203-10. [Medline].

Woodring JH, Heiser MJ. Detection of pneumoperitoneum on chest radiographs: comparison of upright lateral and posteroanterior projections. AJR Am J Roentgenol. 1995 Jul. 165(1):45-7. [Medline].

Ukkonen M, Kivivuori A, Rantanen T, Paajanen H. Emergency abdominal operations in the elderly: a multivariate regression analysis of 430 consecutive patients with acute abdomen. World J Surg. 2015 Dec. 39 (12):2854-61. [Medline].
Medscape Reference © 2011 WebMD, LLC