Balanitis Clinical Presentation
Author: Mark J Leber, MD, MPH; Chief Editor: Erik D Schraga, MD  more...
Updated: Sep 12, 2015
What would you like to print?
History
Patients with balanitis usually present with the following complaints:
Penile discharge

Pain or difficulty with retraction of foreskin

Impotence

Difficulty urinating or controlling urine stream (in very severe cases)

Inability to insert a Foley catheter

Tenderness and erythema of the glans penis

Itching

Systemic symptoms such as fever and nausea are uncommon
Physical
Physical examination findings may include the following:
Erythema and edema of glans penis or foreskin

Discharge

Ulceration and/or plaques

Phimosis (uncommon)

Signs of urinary obstruction (rare)

Meatal stenosis
Bladder distension
Ballooning of the foreskin when voiding

Lymphadenopathy
Causes
Diabetes is the most common underlying condition associated with adult balanitis. In a study of patients with type 2 diabetes mellitus, treatment with dapagliflozin (2.5 mg, 5 mg, or 10 mg once daily) was found to be associated with an increased risk of vulvovaginitis or balanitis, related to the induction of glucosuria. According to the authors, events were generally mild to moderate, were clinically manageable, and rarely led to discontinuation of treatment. For dapagliflozin 2.5 mg, 5 mg, and 10 mg, infections were reported in 4.1%, 5.7%, and 4.8% of patients, respectively, as compared to 0.9% in patients with type 2 diabetes who were given placebo.[5, 6]
Other causes include the following:
Poor personal hygiene

Chemical irritants (eg, soap, petroleum jelly)

Edematous conditions, such as congestive heart failure (right-sided), cirrhosis, and nephrosis

Drug allergies (eg, tetracycline, sulfonamide)

Morbid obesity
Several organisms and viruses cause balanitis, including the following:
Candidal species (most commonly associated with diabetes)

Group B and group A beta-hemolytic streptococci

Neisseria gonorrhoeae

Chlamydia species

Anaerobic infection

Human papilloma virus

Gardnerella vaginalis

Treponema pallidum (syphilis)

Trichomonal species

Borrelia vincentii and Borrelia burgdorferi
Balanitis xerotica obliterans (lichen sclerosus) is a chronic dermatosis identified by whitish plaques involving the glans and foreskin (shown in the image below).[3, 4, 7]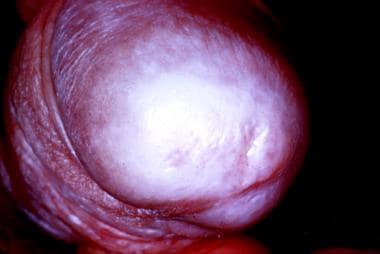 Balanitis xerotica obliterans (lichen sclerosus). Courtesy of Wilford Hall Medical Center Slide collection.
Zoon balanitis is a reddish velvety lesion on the glans.[8, 9, 10]
Reiter disease consists of circinate and eroding lesions on the glans.
References
Lisboa C, Ferreira A, Resende C, Rodrigues AG. Infectious balanoposthitis: management, clinical and laboratory features. Int J Dermatol. 2009 Feb. 48(2):121-4. [Medline].

Edwards S, Bunker C, Ziller F, van der Meijden WI. 2013 European guideline for the management of balanoposthitis. Int J STD AIDS. 2014 May 14. 25 (9):615-626. [Medline].

Kuehhas FE, Miernik A, Weibl P, Schoenthaler M, Sevcenco S, Schauer I, et al. Incidence of Balanitis Xerotica Obliterans in Boys Younger than 10 Years Presenting with Phimosis. Urol Int. 2012 Dec 29. [Medline].

Mohammed A, Shegil IS, Christou D, Khan A, Barua JM. Paediatric balanitis xerotica obliterans: an 8-year experience. Arch Ital Urol Androl. 2012 Mar. 84(1):12-6. [Medline].

Johnsson KM, Ptaszynska A, Schmitz B, Sugg J, Parikh SJ, List JF. Vulvovaginitis and balanitis in patients with diabetes treated with dapagliflozin. J Diabetes Complications. 2013 Sep-Oct. 27(5):479-84. [Medline].

Njomnang Soh P, Vidal F, Huyghe E, Gourdy P, Halimi JM, Bouhanick B. Urinary and genital infections in patients with diabetes: How to diagnose and how to treat. Diabetes Metab. 2015 Aug 28. [Medline].

Celis S, Reed F, Murphy F, Adams S, Gillick J, Abdelhafeez AH, et al. Balanitis xerotica obliterans in children and adolescents: a literature review and clinical series. J Pediatr Urol. 2014 Feb. 10 (1):34-9. [Medline].

Hugh JM, Lesiak K, Greene LA, Pierson JC. Zoon's balanitis. J Drugs Dermatol. 2014 Oct. 13 (10):1290-1. [Medline].

Torchia D, Cappugi P. Photodynamic therapy for Zoon balanitis. Eur J Dermatol. 2014 Nov-Dec. 24 (6):707. [Medline].

Bakkour W, Chularojanamontri L, Motta L, Chalmers RJ. Successful use of dapsone for the management of circinate balanitis. Clin Exp Dermatol. 2014 Apr. 39 (3):333-5. [Medline].

Georgala S, Gregoriou S, Georgala C, et al. Pimecrolimus 1% cream in non-specific inflammatory recurrent balanitis. Dermatology. 2007. 215(3):209-12. [Medline].

Zavras N, Christianakis E, Mpourikas D, Ereikat K. Conservative treatment of phimosis with fluticasone proprionate 0.05%: a clinical study in 1185 boys. J Pediatr Urol. 2009 Jun. 5(3):181-5. [Medline].

Ashfield JE, Nickel KR, Siemens DR, MacNeily AE, Nickel JC. Treatment of phimosis with topical steroids in 194 children. J Urol. 2003 Mar. 169(3):1106-8. [Medline].

Marques TC, Sampaio FJ, Favorito LA. Treatment of phimosis with topical steroids and foreskin anatomy. Int Braz J Urol. 2005 Jul-Aug. 31(4):370-4; discussion 374. [Medline].

Steadman B, Ellsworth P. To circ or not to circ: indications, risks, and alternatives to circumcision in the pediatric population with phimosis. Urol Nurs. 2006 Jun. 26(3):181-94. [Medline].

Van Howe RS. Neonatal circumcision and penile inflammation in young boys. Clin Pediatr (Phila). 2007 May. 46(4):329-33. [Medline].

Homer L, Buchanan KJ, Nasr B, Losty PD, Corbett HJ. Meatal Stenosis in Boys following Circumcision for Lichen Sclerosus (Balanitis Xerotica Obliterans). J Urol. 2014 Jun 30. [Medline].

Philippou P, Shabbir M, Ralph DJ, Malone P, Nigam R, Freeman A, et al. Genital lichen sclerosus/balanitis xerotica obliterans in men with penile carcinoma: a critical analysis. BJU Int. 2013 May. 111(6):970-6. [Medline].

Buechner SA. Common skin disorders of the penis. BJU Int. 2002 Sep. 90(5):498-506. [Medline].

Edwards S. Balanitis and balanoposthitis: a review. Genitourin Med. 1996 Jun. 72(3):155-9. [Medline].

[Guideline] Edwards SK. European guideline for the management of balanoposthitis. Int J STD AIDS. 2001 Oct. 12 Suppl 3:68-72. [Medline].

Harrison BP. Pediatric penile swelling. Acad Emerg Med. 1996 Apr. 3(4):384, 87, 88. [Medline].

Huntley JS, Bourne MC, Munro FD, Wilson-Storey D. Troubles with the foreskin: one hundred consecutive referrals to paediatric surgeons. J R Soc Med. 2003 Sep. 96(9):449-51. [Medline]. [Full Text].

Kiss A, Király L, Kutasy B, Merksz M. High incidence of balanitis xerotica obliterans in boys with phimosis: prospective 10-year study. Pediatr Dermatol. 2005 Jul-Aug. 22(4):305-8. [Medline].

Kizer WS, Prarie T, Morey AF. Balanitis xerotica obliterans: epidemiologic distribution in an equal access health care system. South Med J. 2003 Jan. 96(1):9-11. [Medline].

McGregor TB, Pike JG, Leonard MP. Pathologic and physiologic phimosis: approach to the phimotic foreskin. Can Fam Physician. 2007 Mar. 53(3):445-8. [Medline].

Muratov ID. [Bacteriological pattern of acute purulent balanoposthitis in children]. Zh Mikrobiol Epidemiol Immunobiol. 2004 Mar-Apr. 83-5. [Medline].

O'Farrell N, Quigley M, Fox P. Association between the intact foreskin and inferior standards of male genital hygiene behaviour: a cross-sectional study. Int J STD AIDS. 2005 Aug. 16(8):556-9. [Medline].

Pugliese JM, Morey AF, Peterson AC. Lichen sclerosus: review of the literature and current recommendations for management. J Urol. 2007 Dec. 178(6):2268-76. [Medline].

Tanagho EA. Smith's General Urology. 14th ed. New York: McGraw-Hill; 1995. 966.
Medscape Reference © 2011 WebMD, LLC