Bartholin Gland Diseases
Author: Antonia Quinn, DO; Chief Editor: Erik D Schraga, MD more...
Updated: Jul 22, 2016
What would you like to print?
Practice Essentials
The Bartholin glands are paired glands approximately 0.5 cm in diameter and are found in the labia minora in the 4- and 8-o'clock positions. Typically, they are nonpalpable. Each gland secretes mucus into a 2.5 cm duct. These two ducts emerge onto the vestibule at either side of the vaginal orifice, inferior to the hymen. Their function is to maintain the moisture of the vaginal mucosa's vestibular surface. This article focuses on the most common Bartholin gland diseases, cysts and abscesses (see the image below). Although rare, carcinoma of the gland should be considered in women with an atypical presentation. Primary carcinoma of the Bartholin gland accounts for approximately 5% of vulvar carcinomas.[1, 2, 3, 4, 5]
Patients typically have an exquisitely tender, fluctuant labial mass with surrounding erythema and edema. Patients may have a painless, unilateral labial mass without signs of surrounding cellulitis. Bartholin abscesses are very rarely caused by sexually transmitted pathogens.
A patient whose presentation is concerning for malignancy should receive close outpatient gynecologic follow-up for biopsy and possible excision. Those with an uncomplicated, asymptomatic cyst may be discharged with sitz bath instructions. Sitz baths (3 times daily) for several days may promote improvement with resolution or spontaneous rupture with resolution of the cyst.
A Bartholin abscess is generally painful, and, thus, usually requires incision and drainage. In one study, Word catheter treatment was successful in 26 of 30 cases (87%) of Bartholin cyst or abscess.[6] Patients with an abscess often feel immediate pain relief after the drainage procedure; however, they may require oral analgesia for several days after the procedure.
Medications used in the treatment of Bartholin abscesses include topical and local anesthetics. Antibiotics for empiric treatment of STDs are advisable in the doses usually used to treat gonococcal and chlamydial infections. Ideally, antibiotics should be started immediately prior to incision and drainage.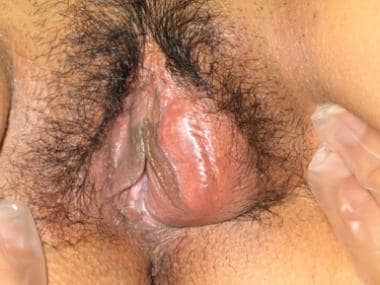 Bartholin abscess. (Image courtesy of Dr. Gil Shlamovitz.)
Pathophysiology
Bartholin glands are known to form cysts and abscesses in women of reproductive age. Cysts and abscesses are often clinically distinguishable. Bartholin cysts form when the ostium of the duct becomes obstructed, leading to distention of the gland or duct with fluid. Obstruction is usually secondary to nonspecific inflammation or trauma. The cyst is usually 1-3 cm in diameter and often asymptomatic, although larger cysts may be associated with pain and dyspareunia.[7, 1, 2]
Bartholin abscesses result from either primary gland infection or infected cyst. Patients with abscesses complain of acute, rapidly progressive vulvar pain. Studies have shown that these abscesses are usually polymicrobial and rarely attributable to sexually transmitted pathogens.
Adenocarcinoma of the Bartholin glands is rare, accounting for 1-2% of all vulvar malignancies. Typically, this lesion presents as a gradually enlarging gland in an asymptomatic, postmenopausal woman.[3]
Epidemiology
Approximately 2% of women of reproductive age will experience swelling of one or both Bartholin glands.[8]
Bartholin gland diseases are rarely complicated by systemic infection, sepsis, and bleeding secondary to surgical treatment. Missed diagnosis of malignancy may result in poorer outcome for those patients.
These diseases typically occur in women between the ages of 20 and 30 years. Bartholin gland enlargement in patients older than 40 years is rare and should be referred to a gynecologist for possible biopsy.
References
Lee MY, Dalpiaz A, Schwamb R, Miao Y, Waltzer W, Khan A. Clinical Pathology of Bartholin's Glands: A Review of the Literature. Curr Urol. 2015 May. 8 (1):22-5. [Medline].

Heller DS, Bean S. Lesions of the Bartholin gland: a review. J Low Genit Tract Dis. 2014 Oct. 18 (4):351-7. [Medline].

Alsan CI, Vinh-Hung V, Eren F, Abacioglu U. Adenoid cystic carcinoma of the Bartholin's gland: case report and systematic review of the literature. Eur J Gynaecol Oncol. 2011. 32(5):567-72. [Medline].

Bhalwal AB, Nick AM, Dos Reis R, Chen CL, Munsell MF, Ramalingam P, et al. Carcinoma of the Bartholin Gland: A Review of 33 Cases. Int J Gynecol Cancer. 2016 May. 26 (4):785-9. [Medline].

Krissi H, Shmuely A, Aviram A, From A, Edward R, Peled Y. Acute Bartholin's abscess: microbial spectrum, patient characteristics, clinical manifestation, and surgical outcomes. Eur J Clin Microbiol Infect Dis. 2016 Mar. 35 (3):443-6. [Medline].

Reif P, Ulrich D, Bjelic-Radisic V, Häusler M, Schnedl-Lamprecht E, Tamussino K. Management of Bartholin's cyst and abscess using the Word catheter: implementation, recurrence rates and costs. Eur J Obstet Gynecol Reprod Biol. 2015 Jul. 190:81-4. [Medline].

Berger MB, Betschart C, Khandwala N, Delancey JO, Haefner HK. Incidental bartholin gland cysts identified on pelvic magnetic resonance imaging. Obstet Gynecol. 2012 Oct. 120(4):798-802. [Medline]. [Full Text].

Boama V, Horton J. Word balloon catheter for Bartholin's cyst and abscess as an office procedure: clinical time gained. BMC Res Notes. 2016 Jan 6. 9:13. [Medline].

Kessous R, Aricha-Tamir B, Sheizaf B, Steiner N, Moran-Gilad J, Weintraub AY. Clinical and microbiological characteristics of Bartholin gland abscesses. Obstet Gynecol. 2013 Oct. 122(4):794-9. [Medline].

Wechter ME, Wu JM, Marzano D, Haefner H. Management of Bartholin duct cysts and abscesses: a systematic review. Obstet Gynecol Surv. 2009 Jun. 64(6):395-404. [Medline].

Thibault I, Lavallée MC, Aubin S, Jain S, Laflamme N, Vigneault É. Management of Bartholin's gland carcinoma using high-dose-rate interstitial brachytherapy boost. Brachytherapy. 2013 Sep-Oct. 12(5):500-7. [Medline].

Kushnir VA, Mosquera C. Novel technique for management of Bartholin gland cysts and abscesses. J Emerg Med. 2009 May. 36(4):388-90. [Medline].

de Góis Speck NM, Belfort PN, Mendes P, Kang HJ, Ribalta JC. Carbon dioxide laser treatment of Bartholin's gland cyst. Clin Exp Obstet Gynecol. 2007. 34(1):50-1. [Medline].

Benedetti Panici P, Manci N, Bellati F, Di Donato V, Marchetti C, Calcagno M, et al. CO2 laser therapy of the Bartholin's gland cyst: surgical data and functional short- and long-term results. J Minim Invasive Gynecol. 2007 May-Jun. 14(3):348-51. [Medline].

Frega A, Schimberni M, Ralli E, Verrone A, Manzara F, Schimberni M, et al. Complication and recurrence rate in laser CO2 versus traditional surgery in the treatment of Bartholin's gland cyst. Arch Gynecol Obstet. 2016 Aug. 294 (2):303-9. [Medline].

Fambrini M, Penna C, Pieralli A, Fallani MG, Andersson KL, Lozza V, et al. Carbon-dioxide laser vaporization of the Bartholin gland cyst: a retrospective analysis on 200 cases. J Minim Invasive Gynecol. 2008 May-Jun. 15(3):327-31. [Medline].

Di Donato V, Bellati F, Casorelli A, Giorgini M, Perniola G, Marchetti C, et al. CO2 laser treatment for Bartholin gland abscess: ultrasound evaluation of risk recurrence. J Minim Invasive Gynecol. 2013 May-Jun. 20(3):346-52. [Medline].

Aghajanian A, Bernstein L, Grimes DA. Bartholin's duct abscess and cyst: a case-control study. South Med J. 1994 Jan. 87(1):26-9. [Medline].

Eppel W, Frigo P, Worda C, Bettelheim D. Ultrasound imaging of Bartholin's cysts. Gynecol Obstet Invest. 2000. 49(3):179-82. [Medline].

Goldberg JE. Simplified treatment for disease of Bartholin's gland. Obstet Gynecol. 1970 Jan. 35(1):109-10. [Medline].

Heah J. Methods of treatment for cysts and abscesses of Bartholin's gland. Br J Obstet Gynaecol. 1988 Apr. 95(4):321-2. [Medline].

Kdous M, Hachicha R, Iraqui Y, Jacob D, Piquet PM, Truc JB. [Necrotizing fasciitis of the perineum secondary to a surgical treatment of Bartholin's gland abscess]. Gynecol Obstet Fertil. 2005 Nov. 33(11):887-90. [Medline].

Tanaka K, Mikamo H, Ninomiya M, Tamaya T, Izumi K, Ito K, et al. Microbiology of Bartholin's gland abscess in Japan. J Clin Microbiol. 2005 Aug. 43(8):4258-61. [Medline].

Wheelock JB, Goplerud DR, Dunn LJ, Oates JF 3rd. Primary carcinoma of the Bartholin gland: a report of ten cases. Obstet Gynecol. 1984 Jun. 63(6):820-4. [Medline].

Woida FM, Ribeiro-Silva A. Adenoid cystic carcinoma of the Bartholin gland: an overview. Arch Pathol Lab Med. 2007 May. 131(5):796-8. [Medline].

Wydra D, Klasa-Mazurkiewicz D, Emerich J, Milczek T. The problem of accurate initial diagnosis of Bartholin's gland carcinoma resulting in delayed treatment and aggressive course of the disease. Int J Gynecol Cancer. 2006 May-Jun. 16(3):1469-72. [Medline].
Medscape Reference © 2011 WebMD, LLC