Phimosis and Paraphimosis
Author: Hina Z Ghory, MD; Chief Editor: Gil Z Shlamovitz, MD, FACEP more...
Updated: Jun 02, 2016
What would you like to print?
Background
Phimosis refers to the inability to retract the distal foreskin over the glans penis. Physiologic phimosis occurs naturally in newborn males. Pathologic phimosis defines an inability to retract the foreskin after it was previously retractible or after puberty, usually secondary to distal scarring of the foreskin.
Paraphimosis is the entrapment of a retracted foreskin behind the coronal sulcus. Paraphimosis is a disease of uncircumcised or partially circumcised males.
Pathophysiology
The uncircumcised male penis comprises the penile shaft, the glans penis, the coronal sulcus, and the foreskin/prepuce, as shown below.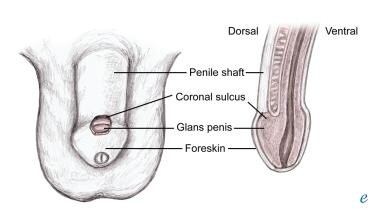 Anatomy of the penis.
Physiologic phimosis results from adhesions between the epithelial layers of the inner prepuce and glans. These adhesions spontaneously dissolve with intermittent foreskin retraction and erections, so that as males grow, physiologic phimosis resolves with age.
Poor hygiene and recurrent episodes of balanitis or balanoposthitis lead to scarring of preputial orifices, leading to pathologic phimosis. Forceful retraction of the foreskin leads to microtears at the preputial orifice that also leads to scarring and phimosis. Elderly persons are at risk of phimosis secondary to loss of skin elasticity and infrequent erections.
Patients with phimosis, both physiologic and pathologic, are at risk for developing paraphimosis when the foreskin is forcibly retracted past the glans and/or the patient or caretaker forgets to replace the foreskin after retraction. Penile piercings increase the risk of developing paraphimosis if pain and swelling prevent reduction of a retracted foreskin.
With time, impairment of venous and lymphatic flow to the glans leads to venous engorgement and worsening swelling. As the swelling progresses, arterial supply is compromised, leading to penile infarction/necrosis, gangrene, and eventually, autoamputation.
Epidemiology
Up to 10% of males will have physiologic phimosis at 3 years of age, and a larger percentage of children will have only partially retractible foreskins. One to five percent of males will have nonretractible foreskins by age 16 years.[1, 2]
In a Danish study, phimosis was the most frequently reported indication (95.0%) for foreskin surgery in boys younger than 18 years. The remaining 5.0% underwent surgery because of frenulum breve causing problems during erection. Nine patients needed a second surgery because of recurrent phimosis.[3]
A study of adult patients who underwent circumcision found that the most common indications were phimosis (46.5%), dyspareunia (17.8%), balanitis (14.4%), and concurrent phimosis and balanitis (8.9%). In most older patients, the reason for adult circumcision was concurrent phimosis and balanitis or cancer, whereas in younger patients, dyspareunia was the most common cause. The complication rate was 3.5%, and there was no significant difference in complication rates between the older patient group and the younger patient group.[4]
Prognosis
Complete resolution is expected with appropriate treatment.
Patient Education
Parents should be educated about the normalcy of congenital phimosis and the time course of its resolution. The dangers of forcibly retracting the foreskin for hygienic purposes should be stressed. If the prepuce does not readily retract, parents should not attempt to clean under it.
Patients and parents of children should be educated on the importance of reduction of the foreskin after each cleaning.
All providers of adult care should be made aware of the risk of paraphimosis associated with bladder catheterization. They should be reminded to always reduce the foreskin after cleaning and catheterization.
For patient education resources, see the Men's Health Center, as well as Foreskin Problems and Circumcision.
References
McGregor TB, Pike JG, Leonard MP. Pathologic and physiologic phimosis: approach to the phimotic foreskin. Can Fam Physician. 2007 Mar. 53(3):445-8. [Medline].

Tews M, Singer JI. Paraphimosis: Definition, pathophysiology, and clinical features. www.utdol.com. 9/20/2008;

Sneppen I, Thorup J. Foreskin Morbidity in Uncircumcised Males. Pediatrics. 2016 May. 137 (5):[Medline].

Siev M, Keheila M, Motamedinia P, Smith A. Indications for adult circumcision: a contemporary analysis. Can J Urol. 2016 Apr. 23 (2):8204-8. [Medline].

Lundquist ST, Stack LB. Diseases of the foreskin, penis, and urethra. Emerg Med Clin North Am. 2001 Aug. 19(3):529-46. [Medline].

Castagnetti M, Leonard M, Guerra L, Esposito C, Cimador M. Benign penile skin anomalies in children: a primer for pediatricians. World J Pediatr. 2015 Mar 9. [Medline].

Raman SR, Kate V, Ananthakrishnan N. Coital paraphimosis causing penile necrosis. Emerg Med J. 2008 Jul. 25(7):454. [Medline].

Kessler CS, Bauml J. Non-traumatic urologic emergencies in men: a clinical review. West J Emerg Med. 2009 Nov. 10(4):281-7. [Medline].

Flores S, Herring AA. Ultrasound-guided dorsal penile nerve block for ED paraphimosis reduction. Am J Emerg Med. 2015 Jun. 33 (6):863.e3-5. [Medline].

Khan A, Riaz A, Rogawski KM. Reduction of paraphimosis in children: the EMLA® glove technique. Ann R Coll Surg Engl. 2014 Mar. 96 (2):168. [Medline].

Pohlman GD, Phillips JM, Wilcox DT. Simple method of paraphimosis reduction revisited: point of technique and review of the literature. J Pediatr Urol. 2013 Feb. 9 (1):104-7. [Medline].

Choe JM. Paraphimosis: current treatment options. Am Fam Physician. 2000 Dec 15. 62(12):2623-6, 2628. [Medline].

Little B, White M. Treatment options for paraphimosis. Int J Clin Pract. 2005 May. 59(5):591-3. [Medline].

Afonso LA, Cordeiro TI, Carestiato FN, Ornellas AA, Alves G, Cavalcanti SM. High Risk Human Papillomavirus Infection of the Foreskin in Asymptomatic Men and Patients with Phimosis. J Urol. 2016 Jun. 195 (6):1784-9. [Medline].

Huang YC, Huang YK, Chen CS, Shindel AW, Wu CF, Lin JH, et al. Phimosis with Preputial Fissures as a Predictor of Undiagnosed Type 2 Diabetes in Adults. Acta Derm Venereol. 2016 Mar 1. 96 (3):377-80. [Medline].

Vorilhon P, Martin C, Pereira B, Clément G, Gerbaud L. [Assessment of topical steroid treatment for childhood phimosis: review of the literature]. Arch Pediatr. 2011 Apr. 18(4):426-31. [Medline].

Palmer LS, Palmer JS. The efficacy of topical betamethasone for treating phimosis: a comparison of two treatment regimens. Urology. 2008 Jul. 72(1):68-71. [Medline].

Nobre YD, Freitas RG, Felizardo MJ, Ortiz V, Macedo A Jr. To circ or not to circ: clinical and pharmacoeconomic outcomes of a prospective trial of topical steroid versus primary circumcision. Int Braz J Urol. 2010 Jan-Feb. 36(1):75-85. [Medline].

Nascimento FJ, Pereira RF, Silva JL 2nd, Tavares A, Pompeo AC. Topical betamethasone and hyaluronidase in the treatment of phimosis in boys: a double-blind, randomized, placebo-controlled trial. Int Braz J Urol. 2011 May-Jun. 37(3):314-9. [Medline].

Anand A, Kapoor S. Mannitol for paraphimosis reduction. Urol Int. 2013. 90(1):106-8. [Medline].

Atilla MK, Dundaroz R, Odabas O. A nonsurgical approach to the treatment of phimosis: local nonsteroidal anti-inflammatory ointment application. J Urol. 1997 Jul. 158(1):196-7. [Medline].

Brendler, CB. Evaluation of the urologic patient. Walsh PC, et al, eds. Campbell's Urology. 7th ed. Philadelphia, Pa: WB Saunders Co; 1997. 1-142.

DeVries CR, Miller AK, Packer MG. Reduction of paraphimosis with hyaluronidase. Urology. 1996 Sep. 48(3):464-5. [Medline].

Dubin J, Davis JE. Penile emergencies. Emerg Med Clin North Am. 2011 Aug. 29(3):485-99. [Medline].

Elder JS. Congenital anomalies of the genitalia. Walsh PC, et al, eds. Campbell's Urology. 7th ed. Philadelphia, Pa: WB Saunders Co; 1997.

Gairdner D. The fate of the foreskin, a study of circumcision. Br Med J. 1949 Dec 24. 2(4642):1433-7, illust. [Medline].

Green M, Stange GR. Paraphimosis reduction. Henretig FM, King C, eds. Textbook of Pediatric Emergency Procedures. Baltimore, Md: 1997. 1007-10.

Hamdy FC, Hastie KJ. Treatment for paraphimosis: the 'puncture' technique. Br J Surg. 1990 Oct. 77(10):1186. [Medline].

Hayashi Y, Kojima Y, Mizuno K, Kohri K. Prepuce: phimosis, paraphimosis, and circumcision. ScientificWorldJournal. 2011 Feb 3. 11:289-301. [Medline].

Imamura E, ALIA. Phimosis of infants and young children in Japan. Acta Paediatr Jpn. 1997 Aug. 39(4):403-5. [Medline].

Jones SA, Flynn RJ. An unusual (and somewhat piercing) cause of paraphimosis. Br J Urol. 1996 Nov. 78(5):803-4. [Medline].

Kerwat R, Shandall A, Stephenson B. Reduction of paraphimosis with granulated sugar. Br J Urol. 1998 Nov. 82(5):755. [Medline].

Litzky GM. Reduction of paraphimosis with hyaluronidase. Urology. 1997 Jul. 50(1):160. [Medline].

Monsour MA, Rabinovitch HH, Dean GE. Medical management of phimosis in children: our experience with topical steroids. J Urol. 1999 Sep. 162(3 Pt 2):1162-4. [Medline].

O'Donnell, JA II. Phimosis and paraphimosis. Barkin RM, et al, eds. Pediatric Emergency Medicine. 2nd ed. St Louis, Mo: Mosby; 1997. 1152-3.

Oster J. Further fate of the foreskin. Incidence of preputial adhesions, phimosis, and smegma among Danish schoolboys. Arch Dis Child. 1968 Apr. 43(228):200-3. [Medline].

Treatment of Paraphimosis. Available at http://forum.doctissimo.fr/doctissimo/Prepuce-et-phimosis/cicatrice-operation-sujet_301_1.htm. Accessed: October 21, 2008.

Waseem M, Devas G. Photo Quiz. Resident and Staff Physician. June 2007. 53(6):[Full Text].

Williams JC, Morrison PM, Richardson JR. Paraphimosis in elderly men. Am J Emerg Med. 1995 May. 13(3):351-3. [Medline].
Medscape Reference © 2011 WebMD, LLC