Testicular Torsion in Emergency Medicine
Author: Timothy J Rupp, MD, MBA, FACEP, FAAEM; Chief Editor: Erik D Schraga, MD more...
Updated: Aug 12, 2015
What would you like to print?
Overview
Testicular torsion is a true urologic emergency and must be differentiated from other complaints of testicular pain because a delay in diagnosis and management can lead to loss of the testicle.[1] Testicular torsion accounts for as many as 26% of cases of acute scrotum.[2] Although testicular torsion can occur at any age, including the prenatal and perinatal periods, it most commonly occurs in adolescent males; it is the most frequent cause of testicle loss in that population.
In pediatric patients, the following features are associated with higher likelihood of torsion[3] :
Pain duration of less than 24 hours

Nausea or vomiting

High position of the testicle

Transverse lie of the affected testis

Abnormal cremasteric reflex
Embarrassment in the prepubescent or pubertal patient may prevent disclosure of scrotal pain, and scrotal pain referred to the lower abdomen may be perceived by the adolescent patient as not being of scrotal or testicluar origin. For this reason, any adolescent boy who complains of lower abdominal pain should undergo examination of the external genitalia to rule out the possibility of scrotal or testicular pathology.[4]
History and physical examination are imperfect in ruling out testicular torsion.[5] Imaging studies (eg, ultrasonography,[6] nuclear scans) may be useful when a low suspicion of testicular torsion is noted.[7, 8, 9, 10, 11, 12, 13] A Doppler sonogram of an avascular testicle is shown below. Surgical exploration should not be delayed for the sake of performing imaging studies.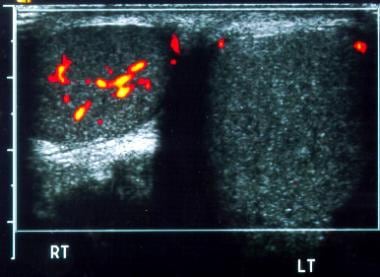 Transverse power Doppler image of both testes illustrates an enlarged, avascular left testicle.
If the diagnosis of torsion is suspected on clinical grounds, early urologic consultation is mandatory since definitive treatment is surgery for detorsion and orchiopexy or possible orchiectomy. Transfer the patient if no urologist is available. Administer analgesic medication, as testicular torsion is typically very painful.
For other discussions of this condition, see the Medscape Reference articles Testicular Torsion and Pediatric Testicular Torsion.
Manual Detorsion
The procedure for manual detorsion of the testis is similar to the "opening of a book" when the physician is standing at the patient's feet. Most torsions twist inward and toward the midline; thus, manual detorsion of the testicle involves twisting outward and laterally. Lateral rotation has been described in up to a third of testicular torsions, however,[11, 12] and in such cases further lateral rotation will worsen the condition.
For manual detorsion in a suspected torsion of the right testicle, the physician is positioned in front of the standing or supine patient and holds the patient's right testicle with the left thumb and forefinger. The physician then rotates the right testicle outward 180° in a medial-to-lateral direction. For the patient's left testicle, the physician uses the right thumb and forefinger and rotates the patient's left testicle in an outward direction 180° from medial to lateral.
Rotation of the testicle may need to be repeated 2-3 times for complete detorsion. Pain relief serves as a guide to successful detorsion, but restoration of blood flow must be confirmed following the maneuver.[14] Other signs suggestive of successful manual detorsion include resolution of the transverse lie of the testis to a longitudinal orientation, lower position of the testis in the scrotum, and return of normal arterial pulsations detected with a Doppler stethoscope.[15] Subsequent elective orchiopexy is recommended, to prevent recurrent torsion.[16]
In the literature, the success rate of manual detorsion has varied widely. Success rates have ranged from 26.5% to more than 80%.[16]
Manual detorsion of the affected testicle is not recommended if the duration of torsion is longer than 6 hours.[15]
Future Considerations
Boettcher et al studied 138 patients and determined that pain lasting less than 24 hours, nausea and/or vomiting, and a high position of the testis upon examination were associated with an increased likelihood of testicular torsion. All subjects with 2 or more of these findings had testicular torsion at exploration, with 0% false-positive results. They propose that a clinical score might help avoid unnecessary scrotal exploration and suggest the use of a clinical score in conjunction with ultrasonography in the assessment and management of boys with acute scrotal pain.[17]
References
Dogra V, Bhatt S. Acute painful scrotum. Radiol Clin North Am. 2004 Mar. 42(2):349-63. [Medline].

Sung EK, Setty BN, Castro-Aragon I. Sonography of the pediatric scrotum: emphasis on the Ts--torsion, trauma, and tumors. AJR Am J Roentgenol. 2012 May. 198(5):996-1003. [Medline].

Beni-Israel T, Goldman M, Bar Chaim S, Kozer E. Clinical predictors for testicular torsion as seen in the pediatric ED. Am J Emerg Med. 2010 Sep. 28(7):786-9. [Medline].

Lopez RN, Beasley SW. Testicular torsion: potential pitfalls in its diagnosis and management. J Paediatr Child Health. 2012 Feb. 48(2):E30-2. [Medline].

Schmitz D, Safranek S. Clinical inquiries. How useful is a physical exam in diagnosing testicular torsion?. J Fam Pract. 2009 Aug. 58(8):433-4. [Medline].

Guideline developed in collaboration with the American College of Radiology, Society for Pediatric Radiology, Society of Radiologists in Ultrasound. AIUM Practice Guideline for the Performance of Scrotal Ultrasound Examinations. J Ultrasound Med. 2015 Aug. 34 (8):1-5. [Medline].

Coley BD. The Acute Pediatric Scrotum. Ultrasound Clinics. 2006. 1:485-96. [Full Text].

Prando D. Torsion of the spermatic cord: the main gray-scale and doppler sonographic signs. Abdom Imaging. 2009 Sep-Oct. 34(5):648-61. [Medline].

Dogra VS, Bhatt S, Rubens DJ. Sonographic Evaluation of Testicular Torsion. Ultrasound Clinics. 2006. 1:55-66.

Yagil Y, Naroditsky I, Milhem J, Leiba R, Leiderman M, Badaan S, et al. Role of Doppler ultrasonography in the triage of acute scrotum in the emergency department. J Ultrasound Med. 2010 Jan. 29(1):11-21. [Medline].

Turgut AT, Bhatt S, Dogra VS. Acute Painful Scrotum. Ultrasound Clinics. 2008. 3:93-107. [Full Text].

Cassar S, Bhatt S, Paltiel HJ, Dogra VS. Role of spectral Doppler sonography in the evaluation of partial testicular torsion. J Ultrasound Med. 2008 Nov. 27(11):1629-38. [Medline].

Blaivas M, Sierzenski P, Lambert M. Emergency evaluation of patients presenting with acute scrotum using bedside ultrasonography. Acad Emerg Med. 2001 Jan. 8(1):90-3. [Medline].

Bomann JS, Moore C. Bedside ultrasound of a painful testicle: before and after manual detorsion by an emergency physician. Acad Emerg Med. 2009 Apr. 16(4):366. [Medline].

Ramos-Fernandez MR, Medero-Colon R, Mendez-Carreno L. Critical urologic skills and procedures in the emergency department. Emerg Med Clin North Am. 2013 Feb. 31(1):237-60. [Medline].

Ringdahl E, Teague L. Testicular torsion. Am Fam Physician. 2006 Nov 15. 74(10):1739-43. [Medline].

Boettcher M, Bergholz R, Krebs TF, Wenke K, Aronson DC. Clinical predictors of testicular torsion in children. Urology. 2012 Mar. 79(3):670-4. [Medline].

Baker LA, Sigman D, Mathews RI, et al. An analysis of clinical outcomes using color doppler testicular ultrasound for testicular torsion. Pediatrics. 2000 Mar. 105(3 Pt 1):604-7. [Medline].

Blank BH, Goldsmith G, Schneider RE. Recognizing a testicular emergency. Patient Care. 1997. 31(13):117-35.
Medscape Reference © 2011 WebMD, LLC