Hemophilia A Clinical Presentation
Author: Robert A Zaiden, MD; Chief Editor: Srikanth Nagalla, MBBS, MS, FACP more...
Updated: Feb 29, 2016
What would you like to print?
History
For patients in whom hemophilia is suspected, inquire about any history of hemorrhage disproportionate to trauma, spontaneous hemorrhage, bleeding disorders in the family, concomitant illness (especially those associated with acquired hemophilia, such as chronic inflammatory disorders, autoimmune diseases, hematologic malignancies, and allergic drug reactions), and pregnancy.
For individuals with documented hemophilia, ascertain the type of deficiency (eg, factor VIII [FVIII], FIX, von Willebrand), degree of factor deficiency, known presence of inhibitors, and HIV/hepatitis status. For patients with mild-to-moderate disease, determine responsiveness to desmopressin acetate (DDAVP).[5]
Signs and symptoms of hemorrhage include the following:
General - Weakness and orthostasis

Musculoskeletal (joints) - Tingling, cracking, warmth, pain, stiffness, refusal to use the joint (young children)

Central nervous system (CNS) - Headache, stiff neck, vomiting, lethargy, irritability, spinal cord syndromes

Gastrointestinal (GI) - Hematemesis, melena, frank red blood per rectum, abdominal pain

Genitourinary - Hematuria, renal colic, post-circumcision bleeding

Other - Epistaxis, oral mucosal hemorrhage, hemoptysis, dyspnea (hematoma leading to airway obstruction), compartment syndrome symptoms, contusions, excessive bleeding with routine dental procedures
Evidence of infectious disease includes the following:
HIV/AIDS-related symptoms

Hepatitis-related symptoms
Newborn boys with severe hemophilia may present with prolonged bleeding at circumcision. Easy bruising may occur at the start of ambulation or primary dentition. Older patients may have a history of hemarthroses and prolonged bleeding with surgical procedures, trauma, and dental extraction, and may have spontaneous bleeding in soft tissues.
A traumatic challenge relatively late in life may have to occur before mild or moderate hemophilia is diagnosed. Factors that elevate FVIII levels (eg, age, ABO blood type, stress, exercise) may mask mild hemophilia.
Weight-bearing joints and other joints are principal sites of bleeding in patients with hemophilia. The muscles most commonly affected are the flexor groups of the arms and gastrocnemius of the legs. Iliopsoas bleeding is dangerous because of the large volumes of blood loss and because compression of the femoral nerve may occur.
In the genitourinary tract, gross hematuria may occur in as many as 90% of patients. In the GI tract, bleeding may complicate common GI disorders. Bleeding in the CNS is the leading cause of hemorrhagic death among patients with hemophilia.
Acquired hemophilia
Acquired hemophilia due to an autoantibody in previously hemostatically normal individuals tends to affect elderly people who have comorbid conditions, but may also develop post partum. Persons with acquired hemophilia may experience extensive, often life threatening, bleeding before the condition is recognized.
In contrast to persons with severe inherited hemophilia A, in whom joint bleeding is common, patients with acquired hemophilia present with large intramuscular, retroperitoneal, limb, subcutaneous, genitourinary, gastrointestinal, or excessive postoperative or postpartum bleeding. Bleeding into an extremity can result in findings that are easily confused with deep vein thrombosis. Massive upper extremity bleeding can be precipitated by a simple venipuncture. Bleeding can develop at any site.
Postpartum acquired hemophilia usually comes to attention 2 to 5 months after delivery, when bleeding symptoms supervene. Rarely, the inhibitor may develop during pregnancy.
Physical Examination
Systemic signs of hemorrhage include the following:
Tachycardia

Tachypnea

Hypotension

Orthostasis
Organ system–specific signs and symptoms of hemorrhage include the following:
Musculoskeletal (joints) - Tenderness, pain with movement, decreased range of motion, effusion, and warmth

Central nervous system (CNS) - Abnormal neurologic exam findings, altered mental status, and meningismus

Gastrointestinal (GI) - Can be painless; hepatic/splenic tenderness, and peritoneal signs

Genitourinary - Bladder spasm/distension/pain and costovertebral angle pain

Other - Hematoma leading to location-specific signs (eg, airway obstruction, compartment syndrome)
Signs of infectious disease include the following:
HIV/AIDS-related signs

Hepatitis-related signs
Approximately 30-50% of patients with severe hemophilia present with manifestations of neonatal bleeding (eg, after circumcision). Approximately 1-2% of neonates have intracranial hemorrhage. Other neonates may present with severe hematoma and prolonged bleeding from the cord or umbilical area.
After the immediate neonatal period, bleeding is uncommon in infants until they become toddlers, when trauma-related soft-tissue hemorrhage occurs. Young children may also have oral bleeding when their teeth are erupting. Bleeding from gum and tongue lacerations is often troublesome because the oozing of blood may continue for a long time despite local measures.
As children grow and become more physically active, hemarthroses and hematomas occur. Chronic arthropathy is a late complication of recurrent hemarthrosis in a target joint. Traumatic intracranial hemorrhage is a serious life-threatening complication that requires urgent diagnosis and intervention.
Petechiae usually do not occur in patients with hemophilia. The reason is that petechiae are manifestations of capillary blood leakage, which is typically the result of vasculitis or abnormalities in the number or function of platelets.
Hemophilia is classified according to clinical severity as mild, moderate, or severe (see Table 1, below). Patients with severe disease usually have less than 1% factor VIII (FVIII) activity and experience spontaneous hemarthrosis and soft-tissue bleeding in the absence of apparent precipitating trauma. Patients with moderate disease have 1-5% FVIII activity and bleed with minimal trauma. Patients with mild hemophilia have more than 5% factor activity and bleed only after significant trauma or surgery.
Table 1. Severity, Factor Activity, and Hemorrhage Type (Open Table in a new window)
| | | |
| --- | --- | --- |
| Classification | Factor Activity, % | Cause of Hemorrhage |
| Mild | >5-40 | Major trauma or surgery |
| Moderate | 1-5 | Mild-to-moderate trauma |
| Severe | < 1 | Spontaneous |
Direct the examination to identify signs related to spontaneous bleeding, or bleeding with minimal challenge, in the joints, muscles, and other soft tissues. Observe the patient's posture. Examine the weight-bearing joints, especially the knees and ankles, and, in general, the large joints for deformities or ankylosis. Look for jaundice and other signs of liver failure (eg, cirrhosis), and for signs of opportunistic infections in patients who are HIV positive.
Pseudotumors are produced by a slow expansion of repeated hemorrhages in bone or soft tissues. They can be restricted by the fascial planes of a muscle, cause resorption of neighboring bone by pressure-induced ischemia, or develop under the periosteum, leading to erosion of the bony cortex. They develop slowly over months to years and often are asymptomatic, unless pressure on the nerves or vascular compromise occurs.
Pseudotumors contain a brownish material and can become infected. The buttock, pelvis, and thighs are common locations for a pseudotumor (see the images below).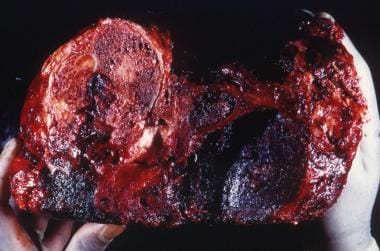 Transected pseudocyst (following disarticulation of the left lower extremity due to vascular compromise, nerve damage, loss of bone, and nonfunctional limb). This photo shows black-brown old blood, residual muscle, and bone.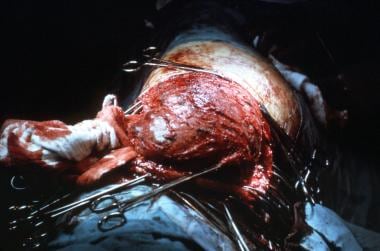 Dissection of a pseudocyst.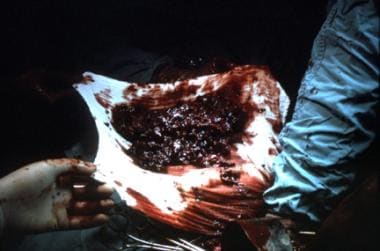 Transected pseudocyst with chocolate brown-black old blood.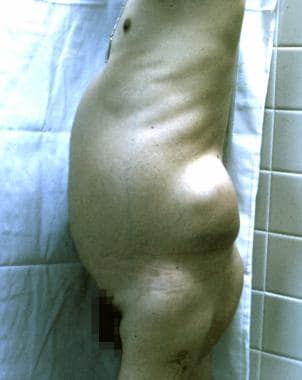 Photograph of a patient who presented with a slowly expanding abdominal and flank mass, as well as increasing pain, inability to eat, weight loss, and weakness of his lower extremity.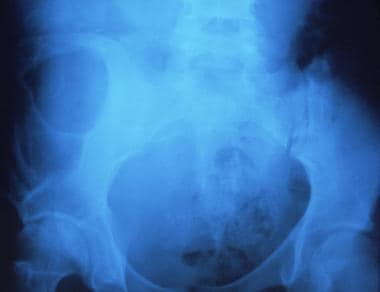 Plain radiograph of the pelvis showing a large lytic area.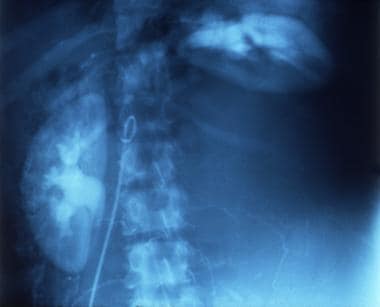 Intravenous pyelogram showing extreme displacement of the left kidney and ureter by a pseudocyst.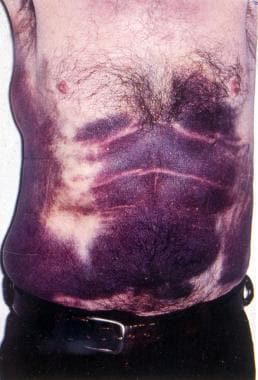 Photograph depicting extensive spontaneous abdominal wall hematoma and thigh hemorrhage in an older, previously unaffected man with an acquired factor VIII inhibitor.
References
Peyvandi F, Garagiola I, Young G. The past and future of haemophilia: diagnosis, treatments, and its complications. Lancet. 2016 Feb 17. 3:15056. [Medline].

Jones PK, Ratnoff OD. The changing prognosis of classic hemophilia (factor VIII "deficiency"). Ann Intern Med. 1991 Apr 15. 114(8):641-8. [Medline].

Federici AB. The factor VIII/von Willebrand factor complex: basic and clinical issues. Haematologica. 2003 Jun. 88(6):EREP02. [Medline].

Chorba TL, Holman RC, Strine TW, Clarke MJ, Evatt BL. Changes in longevity and causes of death among persons with hemophilia A. Am J Hematol. 1994 Feb. 45(2):112-21. [Medline].

Mudad R, Kane WH. DDAVP in acquired hemophilia A: case report and review of the literature. Am J Hematol. 1993 Aug. 43(4):295-9. [Medline].

Arnold WD, Hilgartner MW. Hemophilic arthropathy. Current concepts of pathogenesis and management. J Bone Joint Surg Am. 1977 Apr. 59(3):287-305. [Medline]. [Full Text].

Pinto P, Ghosh K, Shetty S. F8 gene mutation profile in Indian hemophilia A patients: Identification of 23 novel mutations and factor VIII inhibitor risk association. Mutat Res. 2016 Feb 10. 786:27-33. [Medline].

Reuters Health Information. Factor VIII Products Have Similar Risk of Inhibitor Development. January 17, 2013. Available at http://www.medscape.com/viewarticle/777816. Accessed: February 7, 2013.

Gouw SC, van der Bom JG, Ljung R, Escuriola C, Cid AR, et al. Factor VIII products and inhibitor development in severe hemophilia A. N Engl J Med. 2013 Jan 17. 368(3):231-9. [Medline].

Verbruggen B, Novakova I, Wessels H, Boezeman J, van den Berg M, Mauser-Bunschoten E. The Nijmegen modification of the Bethesda assay for factor VIII:C inhibitors: improved specificity and reliability. Thromb Haemost. 1995 Feb. 73(2):247-51. [Medline].

Klinge J, Auerswald G, Budde U, Klose H, Kreuz W, Lenk H, et al. Detection of all anti-factor VIII antibodies in haemophilia A patients by the Bethesda assay and a more sensitive immunoprecipitation assay. Haemophilia. 2001 Jan. 7(1):26-32. [Medline].

Bitting RL, Bent S, Li Y, Kohlwes J. The prognosis and treatment of acquired hemophilia: a systematic review and meta-analysis. Blood Coagul Fibrinolysis. 2009 Oct. 20(7):517-23. [Medline].

Kazazian HH Jr, Tuddenham EGD, Antonarakis SE. Hemophilia A and parahemophilia: deficiencies of coagulation factors VIII and V. Scriver CR, Beaudet AL, Sly WS, Valle D, eds. The Metabolic and Molecular bases of Inherited Disease. 7th ed. New York, NY: McGraw-Hill; 1995. 3241-67.

Roelse JC, De Laaf RT, Timmermans SM, Peters M, Van Mourik JA, Voorberg J. Intracellular accumulation of factor VIII induced by missense mutations Arg593-->Cys and Asn618-->Ser explains cross-reacting material-reduced haemophilia A. Br J Haematol. 2000 Feb. 108(2):241-6. [Medline].

Spreafico M, Peyvandi F. Combined Factor V and Factor VIII Deficiency. Semin Thromb Hemost. 2009 Jun. 35(4):390-9. [Medline].

Hemophilia: Data & Statistics. Centers for Disease Control and Prevention. Available at http://www.cdc.gov/ncbddd/hemophilia/data.html. Accessed: May 6, 2014.

Shetty S, Bhave M, Ghosh K. Acquired hemophilia a: diagnosis, aetiology, clinical spectrum and treatment options. Autoimmun Rev. 2011 Apr. 10(6):311-6. [Medline].

Venkateswaran L, Wilimas JA, Jones DJ, Nuss R. Mild hemophilia in children: prevalence, complications, and treatment. J Pediatr Hematol Oncol. 1998 Jan-Feb. 20(1):32-5. [Medline].

Di Michele DM, Gibb C, Lefkowitz JM, Ni Q, Gerber LM, Ganguly A. Severe and moderate haemophilia A and B in US females. Haemophilia. 2014 Mar. 20(2):e136-43. [Medline].

Loveland KA, Stehbens J, Contant C, Bordeaux JD, Sirois P, Bell TS, et al. Hemophilia growth and development study: baseline neurodevelopmental findings. J Pediatr Psychol. 1994 Apr. 19(2):223-39. [Medline].

Anagnostis P, Karras S, Paschou SA, Goulis DG. Haemophilia A and B as a cause for secondary osteoporosis and increased fracture risk. Blood Coagul Fibrinolysis. 2015 Jun 26. [Medline].

Manco-Johnson MJ, Nuss R, Jacobson LJ. Heparin neutralization is essential for accurate measurement of factor VIII activity and inhibitor assays in blood samples drawn from implanted venous access devices. J Lab Clin Med. 2000 Jul. 136(1):74-9. [Medline].

Abdul-Kadir R, Davies J, Halimeh S, Chi C. Advances in pregnancy management in carriers of hemophilia. J Appl Hematol [serial online] 2013 [cited 2014 May 6];4:125-30. Available at http://www.jahjournal.org/text.asp?2013/4/4/125/127894. Accessed: May 6, 2014.

Berntorp E, Astermark J, Björkman S, Blanchette VS, Fischer K, Giangrande PL, et al. Consensus perspectives on prophylactic therapy for haemophilia: summary statement. Haemophilia. 2003 May. 9 Suppl 1:1-4. [Medline].

Ljung RC. Prophylactic infusion regimens in the management of hemophilia. Thromb Haemost. 1999 Aug. 82(2):525-30. [Medline].

Iorio A, Marchesini E, Marcucci M, Stobart K, Chan AK. Clotting factor concentrates given to prevent bleeding and bleeding-related complications in people with hemophilia A or B. Cochrane Database Syst Rev. 2011 Sep 7. 9:CD003429. [Medline].

Miners AH, Sabin CA, Tolley KH, Lee CA. Assessing the effectiveness and cost-effectiveness of prophylaxis against bleeding in patients with severe haemophilia and severe von Willebrand's disease. J Intern Med. 1998 Dec. 244(6):515-22. [Medline].

Coppola A, Margaglione M, Santagostino E, Rocino A, Grandone E, Mannucci PM, et al. Factor VIII gene (F8) mutations as predictors of outcome in immune tolerance induction of hemophilia A patients with high-responding inhibitors. J Thromb Haemost. 2009 Nov. 7(11):1809-15. [Medline].

Rodriguez-Merchan EC, De la Corte-Rodriguez H, Jimenez-Yuste V. Radiosynovectomy in haemophilia: long-term results of 500 procedures performed in a 38-year period. Thromb Res. 2014 Nov. 134 (5):985-90. [Medline].

Chapman WC, Singla N, Genyk Y, McNeil JW, Renkens KL Jr, Reynolds TC, et al. A phase 3, randomized, double-blind comparative study of the efficacy and safety of topical recombinant human thrombin and bovine thrombin in surgical hemostasis. J Am Coll Surg. 2007 Aug. 205(2):256-65. [Medline].

Zanon E, Martinelli F, Bacci C, Zerbinati P, Girolami A. Proposal of a standard approach to dental extraction in haemophilia patients. A case-control study with good results. Haemophilia. 2000 Sep. 6(5):533-6. [Medline].

O'Connell N, Mc Mahon C, Smith J, Khair K, Hann I, Liesner R, et al. Recombinant factor VIIa in the management of surgery and acute bleeding episodes in children with haemophilia and high responding inhibitors. Br J Haematol. 2002 Mar. 116(3):632-5. [Medline].

Siddiqui MA, Scott LJ. Recombinant factor VIIa (Eptacog Alfa): a review of its use in congenital or acquired haemophilia and other congenital bleeding disorders. Drugs. 2005. 65(8):1161-77. [Medline].

McQuilten ZK, Barnes C, Zatta A, Phillips LE. Off-Label Use of Recombinant Factor VIIa in Pediatric Patients. Pediatrics. 2012 Jun. 129(6):e1533-e1540. [Medline].

von Depka M. Immune tolerance therapy in patients with acquired hemophilia. Hematology. 2004 Aug. 9(4):245-57. [Medline].

Hay CR, DiMichele DM. The principal results of the International Immune Tolerance Study: a randomized dose comparison. Blood. 2012 Feb 9. 119(6):1335-44. [Medline]. [Full Text].

Carcao M, St Louis J, Poon MC, Grunebaum E, Lacroix S, Stain AM, et al. Rituximab for congenital haemophiliacs with inhibitors: a Canadian experience. Haemophilia. 2006 Jan. 12(1):7-18. [Medline].

Franchini M, Mannucci PM. Inhibitor eradication with rituximab in haemophilia: where do we stand?. Br J Haematol. 2014 Jun. 165(5):600-8. [Medline].

Aggarwal A, Grewal R, Green RJ, Boggio L, Green D, Weksler BB, et al. Rituximab for autoimmune haemophilia: a proposed treatment algorithm. Haemophilia. 2005 Jan. 11(1):13-9. [Medline].

Stachnik JM. Rituximab in the treatment of acquired hemophilia. Ann Pharmacother. 2006 Jun. 40(6):1151-7. [Medline].

Personal communication with Dr. Troy H. Guthrie, Jr. MD. Jacksonville, Florida: Medical Director Baptist Cancer Institute;

Hitt E. Hemophilia: contact sports pose little risk. Medscape Medical News. Available at http://www.medscape.com/viewarticle/772326. Accessed: October 16, 2012.

Leissinger C, Gringeri A, Antmen B, Berntorp E, Biasoli C, Carpenter S, et al. Anti-inhibitor coagulant complex prophylaxis in hemophilia with inhibitors. N Engl J Med. 2011 Nov 3. 365(18):1684-92. [Medline].

Mahlangu J, Powell JS, Ragni MV, Chowdary P, Josephson NC, Pabinger I, et al. Phase 3 study of recombinant factor VIII Fc fusion protein in severe hemophilia A. Blood. 2014 Jan 16. 123(3):317-25. [Medline]. [Full Text].

FDA approves the first antihemophilic factor, Fc fusion protein for patients with Hemophilia A. U.S. Food and Drug Administration. Available at http://www.fda.gov/NewsEvents/Newsroom/PressAnnouncements/ucm400167.htm. Accessed: June 17, 2014.

Duncan N, Kronenberger W, Roberson C, Shapiro A. VERITAS-Pro: a new measure of adherence to prophylactic regimens in haemophilia. Haemophilia. 2010 Mar. 16(2):247-55. [Medline].

Den Uijl I, Mauser-Bunschoten EP, Roosendaal G, Schutgens R, Fischer K. Efficacy assessment of a new clotting factor concentrate in haemophilia A patients, including prophylactic treatment. Haemophilia. 2009 Nov. 15(6):1215-8. [Medline].

Ingerslev HJ, Hindkjaer J, Jespersgaard C, Lind MP, Kølvraa S. [Preimplantation genetic diagnosis. The first experiences in Denmark]. Ugeskr Laeger. 2001 Oct 1. 163(40):5525-8. [Medline].

Lissens W, Sermon K. Preimplantation genetic diagnosis: current status and new developments. Hum Reprod. 1997 Aug. 12(8):1756-61. [Medline].

Wells D, Delhanty JD. Preimplantation genetic diagnosis: applications for molecular medicine. Trends Mol Med. 2001 Jan. 7(1):23-30. [Medline].

Kumar R, Bouskill V, Schneiderman JE, Pluthero FG, Kahr WH, Craik A, et al. Impact of aerobic exercise on haemostatic indices in pediatric patients with haemophilia. Thromb Haemost. 2016 Feb 25. 115 (6):[Medline].

Chuah MK, Collen D, VandenDriessche T. Gene therapy for hemophilia. J Gene Med. 2001 Jan-Feb. 3(1):3-20. [Medline].

Matsui H. Endothelial progenitor cell-based therapy for hemophilia A. Int J Hematol. 2012 Feb. 95(2):119-24. [Medline].

High KH, Nathwani A, Spencer T, Lillicrap D. Current status of haemophilia gene therapy. Haemophilia. 2014 May. 20 Suppl 4:43-9. [Medline].

Sokal EM, Lombard C, Mazza G. Mesenchymal stem cell treatment for hemophilia: a review of current knowledge. J Thromb Haemost. 2015 Jun. 13 Suppl 1:S161-S166. [Medline].

Rodriguez-Merchan EC, De La Corte-Rodriguez H. Radiosynovectomy in haemophilic synovitis of elbows and ankles: Is the effectiveness of yttrium-90 and rhenium-186 different?. Thromb Res. 2016 Feb 10. 140:41-45. [Medline].

Antunes SV, Tangada S, Stasyshyn O, Mamonov V, Phillips J, Guzman-Becerra N, et al. Randomized comparison of prophylaxis and on-demand regimens with FEIBA NF in the treatment of haemophilia A and B with inhibitors. Haemophilia. 2014 Jan. 20(1):65-72. [Medline].

Bogdanova N, Markoff A, Pollmann H, Nowak-Göttl U, Eisert R, Wermes C, et al. Spectrum of molecular defects and mutation detection rate in patients with severe hemophilia A. Hum Mutat. 2005 Sep. 26(3):249-54. [Medline].

Broderick CR, Herbert RD, Latimer J, Barnes C, Curtin JA, Mathieu E, et al. Association between physical activity and risk of bleeding in children with hemophilia. JAMA. 2012 Oct 10. 308(14):1452-9. [Medline].

Brooks M. FDA OKs Turoctocog Alpha (NovoEight) for Hemophilia A. Medscape [serial online]. Available at http://www.medscape.com/viewarticle/812759. Accessed: February 29, 2016.

Castaman G, Mancuso ME, Giacomelli SH, Tosetto A, Santagostino E, Mannucci PM, et al. Molecular and phenotypic determinants of the response to desmopressin in adult patients with mild hemophilia A. J Thromb Haemost. 2009 Nov. 7(11):1824-31. [Medline].

Ewenstein BM, Wong WY, Schoppmann A. Bypassing agent prophylaxis for preventing arthropathy in patients with inhibitors. Haemophilia. 2010 Jan. 16(1):179-80. [Medline].

Konkle BA, Kessler C, Aledort L, Andersen J, Fogarty P, Kouides P, et al. Emerging clinical concerns in the ageing haemophilia patient. Haemophilia. 2009 Nov. 15(6):1197-209. [Medline].

Tucker ME. FDA Approves Hemophilia Drug FEIBA for Bleeding Prophylaxis. Medscape [serial online]. Available at http://www.medscape.com/viewarticle/818236. Accessed: February 29, 2016.
Table 1. Severity, Factor Activity, and Hemorrhage Type
| | | |
| --- | --- | --- |
| Classification | Factor Activity, % | Cause of Hemorrhage |
| Mild | >5-40 | Major trauma or surgery |
| Moderate | 1-5 | Mild-to-moderate trauma |
| Severe | < 1 | Spontaneous |
Table 2. General Guidelines for Factor Replacement for the Treatment of Bleeding in Hemophilia
| | | | |
| --- | --- | --- | --- |
| Indication or Site of Bleeding | Factor level Desired, % | FVIII Dose, IU/kg* | Comment |
| Severe epistaxis; mouth, lip, tongue, or dental work | 20-50 | 10-25 | Consider aminocaproic acid (Amicar), 1-2 d |
| Joint (hip or groin) | 40 | 20 | Repeat transfusion in 24-48 h |
| Soft tissue or muscle | 20-40 | 10-20 | No therapy if site small and not enlarging (transfuse if enlarging) |
| Muscle (calf and forearm) | 30-40 | 15-20 | None |
| Muscle deep (thigh, hip, iliopsoas) | 40-60 | 20-30 | Transfuse, repeat at 24 h, then as needed |
| Neck or throat | 50-80 | 25-40 | None |
| Hematuria | 40 | 20 | Transfuse to 40% then rest and hydration |
| Laceration | 40 | 20 | Transfuse until wound healed |
| GI or retroperitoneal bleeding | 60-80 | 30-40 | None |
| Head trauma (no evidence of CNS bleeding) | 50 | 25 | None |
| Head trauma (probable or definite CNS bleeding, eg, headache, vomiting, neurologic signs) | 100 | 50 | Maintain peak and trough factor levels at 100% and 50% for 14 d if CNS bleeding documented† |
| Trauma with bleeding, surgery† | 80-100 | 50 | 10-14 d |
Medscape Reference © 2011 WebMD, LLC