Spinal Cord Neoplasms Workup
Author: J Stephen Huff, MD, FACEP; Chief Editor: Barry E Brenner, MD, PhD, FACEP more...
Updated: Feb 09, 2015
What would you like to print?
Laboratory Studies
Laboratory studies are not generally helpful in establishing the diagnosis of spinal cord neoplasm.
Marked elevation of the erythrocyte sedimentation rate suggests infection or inflammation.
Patients with a suspected spinal cord neoplasm are at risk for additional oncologic issues. Routine blood workup typically includes analysis of the following: CBC; prothrombin time; activated partial thromboplastin time; and metabolic profile, including calcium level and liver function.
Imaging Studies
MRI
MRI of the affected area provides the best definition of spinal lesions and is the procedure of choice.
With MRI, the entire spine may be visualized rapidly (sagittal images), and images may be obtained in multiple planes for best definition of the lesion, vertebrae, epidural space, and spinal cord. Roughly one third of people with spinal epidural metastases have multiple spinal metastases.
MRI can usually be used to differentiate a collapsed vertebra secondary to osteoporosis or trauma from malignant disease.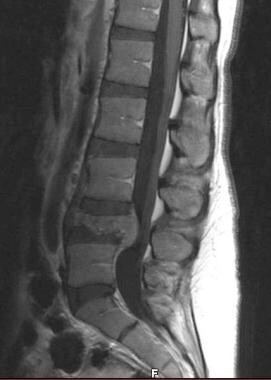 MRI of plain film above showing intrusion of tumor and vertebral collapse into spinal canal.
The intervertebral space is usually not involved in tumors of the spine. When the disk space is obliterated, infection is more likely.
Diffusion-weighted MR imaging may be useful in evaluation of epidural neoplastic lesions.[5] An MRI grading scale has been described to quantitate the degree of epidural spinal cord compression.[6]
If MRI cannot be performed, consult a qualified radiologist or oncologist about other imaging options (eg, intrathecal contrast-enhanced myelography, CT scan, nuclear medicine bone scanning).
Plain radiography
Plain radiographs may reveal bony destruction (osteolytic or osteoblastic lesions), vertebral collapse or subluxation, or calcification (associated with a meningioma). Roughly 50% of the bone must be destroyed to be visible on plain films.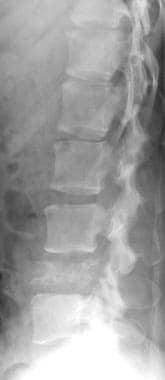 Patient with metastatic breast cancer; plain radiograph shows L4 vertebral collapse.
Conventional radiographs do not provide information about spinal cord structure or compression.
Changes are demonstrated on plain films in about 80% of patients with spinal cord tumors. Conversely, findings on plain films are falsely negative in about 20% of cases.
Nuclear medicine
Most tumors (excluding myeloma) exhibit increased activity on nuclear medicine scans.
Procedures
See the list below:
Lumbar puncture

Be cautious when considering a lumbar puncture; the presence of a spinal cord tumor is a relative contraindication to the performance of a lumbar puncture.
Removal of cerebrospinal fluid in the presence of a tumor may worsen cord compression.
In leptomeningeal metastasis, examination findings of the spinal fluid are almost always abnormal and reveal elevated protein levels and positive cytologic results.

Post-void residual urine volume: Have the patient urinate and check the urinary residual volume by catheterization when bladder impairment is a concern. Volumes greater than 200 mL may suggest a

neurogenic bladder

.
References
Spinazze S, Caraceni A, Schrijvers D. Epidural spinal cord compression. Crit Rev Oncol Hematol. 2005 Dec. 56(3):397-406. [Medline].

Chamberlain MC, Tredway TL. Adult primary intradural spinal cord tumors: a review. Curr Neurol Neurosci Rep. 2011 Jun. 11(3):320-8. [Medline].

Prasad D, Schiff D. Malignant spinal-cord compression. Lancet Oncol. 2005 Jan. 6(1):15-24. [Medline].

Dugas AF, Lucas JM, Edlow JA. Diagnosis of spinal cord compression in nontrauma patients in the emergency department. Acad Emerg Med. 2011 Jul. 18(7):719-25. [Medline].

Plank C, Koller A, Mueller-Mang C, Bammer R, Thurnher MM. Diffusion-weighted MR imaging (DWI) in the evaluation of epidural spinal lesions. Neuroradiology. 2007 Dec. 49(12):977-85. [Medline].

Bilsky MH, Laufer I, Fourney DR, Groff M, Schmidt MH, Varga PP, et al. Reliability analysis of the epidural spinal cord compression scale. J Neurosurg Spine. 2010 Sep. 13(3):324-8. [Medline].

Regine WF, Tibbs PA, Young A. Metastatic spinal cord compression: a randomized trial of direct decompressive surgical resection plus radiotherapy vs radiotherapy alone. Int J Radiat Oncol Biol Phys. 2003. 57 (suppl 2):5125.

Piepenbrink JC, Cullen JI Jr, Stafford TJ. The use of video in anesthesia record keeping. Biomed Instrum Technol. 1990 Jan-Feb. 24(1):19-24. [Medline].

Cole JS, Patchell RA. Metastatic epidural spinal cord compression. Lancet Neurol. 2008 May. 7(5):459-66. [Medline].

Engelhard HH, Villano JL, Porter KR, et al. Clinical presentation, histology, and treatment in 430 patients with primary tumors of the spinal cord, spinal meninges, or cauda equina. J Neurosurg Spine. 2010 Jul. 13(1):67-77. [Medline].

Sansur CA, Pouratian N, Dumont AS, Schiff D, Shaffrey CI, Shaffrey ME. Part II: spinal-cord neoplasms--primary tumours of the bony spine and adjacent soft tissues. Lancet Oncol. 2007 Feb. 8(2):137-47. [Medline].

Schiff D. Spinal cord compression. Neurol Clin. 2003 Feb. 21(1):67-86, viii. [Medline].

Schiff D, O'Neill BP. Intramedullary spinal cord metastases: clinical features and treatment outcome. Neurology. 1996 Oct. 47(4):906-12. [Medline].

Schiff D, O'Neill BP, Suman VJ. Spinal epidural metastasis as the initial manifestation of malignancy: clinical features and diagnostic approach. Neurology. 1997 Aug. 49(2):452-6. [Medline].

Traul DE, Shaffrey ME, Schiff D. Part I: spinal-cord neoplasms-intradural neoplasms. Lancet Oncol. 2007 Jan. 8(1):35-45. [Medline].
Medscape Reference © 2011 WebMD, LLC