Hand Infections Treatment & Management
Author: Jordan Scaff, MD; Chief Editor: Jeter (Jay) Pritchard Taylor, III, MD more...
Updated: Jan 11, 2016
What would you like to print?
Emergency Department Care
Paronychia
In acute paronychia, if no frank abscess or fluctuance is noted along the lateral nail edge, frequent hot soaks and possibly a short course of antibiotics may result in resolution of the infection.
If pus is present, drainage of the area is required. Using a No 11 scalpel blade held parallel to the nail, elevate the lateral nail fold at the site of the abscess to allow for drainage of pus. If a large amount of pus is expelled, a small wick is left in the incision to allow for continued drainage. If pus has tracked beneath the nail, the removal of an adjacent longitudinal section of the nail may be necessary to promote drainage. If a subungual abscess results in a floating nail, remove a portion of the nail or trephinate the nail to allow for complete drainage.
Elevation of the eponychial fold with a No 11 blade is quick, usually painless, and effective. If there is pain, it is extremely brief, less so than the pain of a digital block, so local anesthesia is typically unnecessary. Discuss the procedure with the patient to alleviate his or her fears. Extensive incision or penetration of the finger with the blade is unnecessary; simple elevation of the fold will do; therefore, no nerve block is needed. If the patient requests it, a digital nerve block can be performed for comfort.
After drainage and wick placement, dress the finger appropriately.
Update tetanus booster status as needed.
In chronic paronychia, treatment consists of avoiding predisposing factors and initiating topical steroids and antifungal agents.[5] Surgical intervention is indicated only if medical treatment fails. See the image below.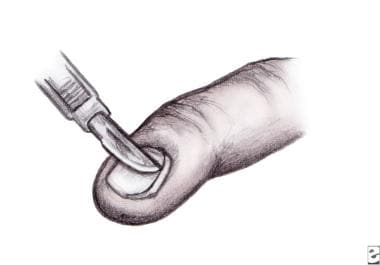 Paronychia incision and drainage.
Felon
If frank abscess formation is present or the finger pad is tense, incision and drainage is indicated. This should not be undertaken lightly because improper placement of the incision can lead to scarring, sensory loss, unnecessary pain, instability of the finger pad, and spread of infection into the adjacent tendon sheath.
A longitudinal incision over the area of greatest fluctuance is the safest procedure when incision and drainage is required. Many other procedures, including hockey-stick or fish-mouth shaped incisions, are no longer recommended because of injury to neurovascular structure.
To avoid penetration of the tendon sheath, the incision should not extend to the distal interphalangeal crease. Using a hemostat, bluntly dissect the wound to promote drainage. Irrigate the cavity copiously and loosely pack with a gauze wick. After irrigation and loose packing of the wound, apply a dry gauze dressing and overlying splint. Update tetanus booster status as needed.
Herpetic whitlow
Apply a dry gauze dressing to the affected finger to prevent further spread of the lesion.
Infectious tenosynovitis and/or deep fascial space infections
ED care consists of making the correct diagnosis, providing pain relief, initiating antibiotic therapy, elevating and immobilizing the hand, and consulting an experienced hand surgeon promptly for definitive treatment. Experienced surgeons in the operating room should perform the incision and drainage.
Consultations
Prompt consultation with an experienced hand surgeon is indicated for patients with evidence of infectious tenosynovitis, deep fascial space infections, or osteomyelitis.
Cases of chronic paronychia that do not respond to initial therapy should be referred to a dermatologist.
References
Kanavel AB. Infections of the Hand. 1939. 17-410.

Ong YS, Levin LS. Hand infections. Plast Reconstr Surg. 2009 Oct. 124(4):225e-233e. [Medline].

Pintor E, Montilla P, Catalán P, Burillo A, Gargantilla P, Herreros B. Recurrent infection in the left thumb. Infection. 2013 May 7. [Medline].

Kapellen TM, Galler A, Kiess W. Higher frequency of paronychia (nail bed infections) in pediatric and adolescent patients with type 1 diabetes mellitus than in non-diabetic peers. J Pediatr Endocrinol Metab. 2003 Jun. 16(5):751-8. [Medline].

Rockwell PG. Acute and chronic paronychia. Am Fam Physician. 2001 Mar 15. 63(6):1113-6. [Medline].

Bach HG, Steffin B, Chhadia AM, Kovachevich R, Gonzalez MH. Community-associated methicillin-resistant Staphylococcus aureus hand infections in an urban setting. J Hand Surg [Am]. 2007 Mar. 32(3):380-3. [Medline].

Wilson PC, Rinker B. The incidence of methicillin-resistant staphylococcus aureus in community-acquired hand infections. Ann Plast Surg. 2009 May. 62(5):513-6. [Medline].

[Guideline] Hand hygiene recommendations. In: Betsy Lehman Center for Patient Safety and Medical Error Reduction, JSI Research and Training Institute, Inc. Prevention and control of healthcare-associated infections in Massachusetts. Part 1: final recommendations of the Expert Panel. Boston (MA): Massachusetts Department of Public Health; 2008 Jan 31. [Full Text].

Ergun A, Toprak R, Sisman FN. Impact of a Healthy Nails Program on Nail-Biting in Turkish Schoolchildren: A Controlled Pretest-Posttest Study. J Sch Nurs. 2013 Mar 14. [Medline].

Antosia RE, Lyn E. Hand. Rosen, ed. Emergency Medicine Concepts and Clinical Practice. 5th ed. 2002. 493-535.

Butler, KH. Incision and drainage. Roberts JR, Hedges JR, eds. Clinical Procedures in Emergency Medicine. 4th ed. 2004. 739-744.

Daniel CR 3rd, Daniel MP, Daniel J, Sullivan S, Bell FE. Managing simple chronic paronychia and onycholysis with ciclopirox 0.77% and an irritant-avoidance regimen. Cutis. 2004 Jan. 73(1):81-5. [Medline].

Gill MJ, Arlette J, Buchan K. Herpes simplex virus infection of the hand. A profile of 79 cases. Am J Med. 1988 Jan. 84(1):89-93. [Medline].

Goldstein EJ, Barones MF, Miller TA. Eikenella corrodens in hand infections. J Hand Surg [Am]. 1983 Sep. 8(5 Pt 1):563-7. [Medline].

Hausman MR, Lisser SP. Hand infections. Orthop Clin North Am. 1992 Jan. 23(1):171-85. [Medline].

Siegel DB, Gelberman RH. Infections of the hand. Orthop Clin North Am. 1988 Oct. 19(4):779-89. [Medline].

Talan DA, Citron DM, Abrahamian FM, Moran GJ, Goldstein EJ. Bacteriologic analysis of infected dog and cat bites. Emergency Medicine Animal Bite Infection Study Group. N Engl J Med. 1999 Jan 14. 340(2):85-92. [Medline].

Wolanyk DE. 17. Infections. Hart RG, Uehara DT, Wagner MJ, eds. Emergency and Primary Care of the Hand. Irving,Tx: The American College of Emergency Physicians; 2001. 219-246.
Medscape Reference © 2011 WebMD, LLC