Herpes Simplex in Emergency Medicine
Author: Rahul Sharma, MD, MBA, FACEP; Chief Editor: Steven C Dronen, MD, FAAEM more...
Updated: Oct 27, 2015
What would you like to print?
Background
The herpes simplex viruses comprise 2 distinct types of DNA viruses: herpes simplex virus 1 (HSV-1) and herpes simplex virus 2 (HSV-2). The epidemiology of herpes infection has dramatically changed over the past several decades.[1] HSV-1 causes oral lesions in approximately 80% of cases and genital lesions in 20% of cases. In adolescents, as many as 30-40% of genital herpes is caused by HSV-1, as this proportion is thought to be increasing in the developed world, due to increased oro-genital contact. The reverse is true for HSV-2, which causes genital lesions in 80% and oral lesions in 20%. Cutaneous herpes is shown in the image below.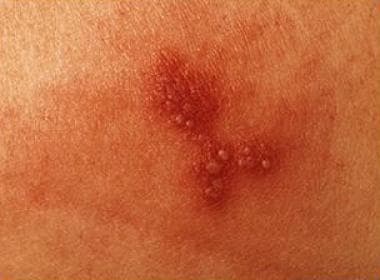 Cutaneous vesicles characteristic of herpes simples virus infection
Approximately 65% of the United States population is seropositive for HSV-1 by the fourth decade of life. Approximately 25% of the United States population is seropositive for HSV-2 by the fourth decade of life, with women being infected more frequently than men.[1] The indirect and direct costs of incident HSV genital infection in the United States are presently approximately $1.8 billion and expected to be greater than $2.7 billion by the year 2015.
Herpes viruses cause a wide range of diseases, including the following:
Gingivostomatitis

Keratoconjunctivitis

Encephalitis

Genital disease

Newborn infection
Primary infection
Primary infections usually are mild and, in many cases, asymptomatic. Patients who are immunocompromised may develop severe infections involving multiple organ systems. Immunocompetent individuals also may have severe primary infections.
Latency and recurrence
After the patient begins to produce antibodies, the infection becomes latent in the sensory ganglia. HSV-1 infection remains latent in the trigeminal ganglia and HSV-2 in the sacral ganglia. The viruses become reactivated secondary to certain stimuli, including fever, physical or emotional stress, ultraviolet light exposure, and axonal injury.
Recurrent infections tend to be less severe because of existing cellular and humoral immunity from prior exposures. Although many persons are seropositive for HSV-1, the recurrence rates range from 10-40% after the primary infection. Infection by HSV requires a break in the skin's barrier; intact skin is resistant to the virus.
Pathophysiology
HSV-1 infections are spread via respiratory droplets or direct exposure to infected saliva. HSV-2 usually is transmitted via genital contact. The contact must involve mucous membranes or open or damaged skin. The incubation period may last from 2-12 days, and vesicles typically erupt 6-48 hours after the onset of a prodrome.
Herpes viruses cause cytolytic infections; therefore, pathologic changes are due to cell necrosis as well as inflammatory changes. Fluid accumulates between the dermis and the epidermal skin layers, causing vesicle formation. The fluid then is absorbed, scabs are formed, and healing is completed without evidence of scarring. Shallow ulcers form after the vesicles rupture on mucous membranes.
Lesions from primary herpes infection typically take longer to form and usually persist for a longer duration of time.
The virus travels from the site of infection in the skin or mucosa to the sensory dorsal root and remains latent until a recurrent outbreak. Outbreaks are usually due to some sort of stress including ultraviolet radiation, trauma, emotional or psychological stress, or immunosuppression.
Epidemiology
Frequency
United States
Approximately 80% of adults have antibodies to HSV-1, whereas antibodies to HSV-2 are found in approximately 20% of the population.
The incidence of genital herpes has been estimated to be 500,000-1,000,000 cases per year with a prevalence of 40-60 million affected individuals.
In sexually transmitted disease (STD) clinics, HSV-2 seropositivity approaches 40-50%.
Encephalitis develops in 1 per 250,000-500,000 patients per year.
Neonatal HSV develops in 1 per 2,000-10,000 live births per year. Approximately 70% of cases of neonatal HSV occur when the mother is asymptomatically shedding virus near time of delivery. The risk of neonatal transmission is increased if vaginal delivery occurs during acute maternal infection.
Approximately 90% of HIV-positive individuals are seropositive for HSV-1, and about 77% of HIV-positive individuals are seropositive for HSV-2.
International
Greater than one third the world's population has recurrent clinical HSV infections. Reportedly, 13-40% of the world's population is seropositive for HSV-2 and 56-85% is seropositive for HSV-1, varying by country.
Mortality/Morbidity
Most patients with herpetic infection experience short-term local pain and irritation, with mild constitutional symptoms.
Infection occasionally may become life threatening.
Immunocompromised patients are at increased risk of developing severe HSV infections.
HSV-1 is a common cause of fatal encephalitis in the US, with a mortality rate 60-80%. Fewer than 10% of patients are left without significant neurologic sequelae.
Keratoconjunctivitis may be caused by HSV-1. It is second only to trauma as a cause of corneal blindness in the US.
Race
African Americans are more likely to be infected with HSV-2 than any other racial or ethnic group.[2] HSV-2 antibodies are present in approximately 20% of Caucasian adults and 65% of African American adults. Some experts consider nonwhite race as a risk factor to contract genital HSV-2.
Sex
Men are 20% more likely to develop recurrences of HSV-2 than are women.
Age
Highest incidence of HSV-1 occurs in children aged 6 months to 3 years.[3, 4]
HSV-2 most commonly occurs in those aged 18-25 years.
References
Mell HK. Management of oral and genital herpes in the emergency department. Emerg Med Clin North Am. 2008 May. 26(2):457-73, x. [Medline].

Biggs WS, Williams RM. Common gynecologic infections. Prim Care. 2009 Mar. 36(1):33-51, viii. [Medline].

Ahmad FA, Storch GA, Miller AS. Impact of an Institutional Guideline on the Care of Neonates at Risk for Herpes Simplex Virus in the Emergency Department. Pediatr Emerg Care. 2015 Aug 21. [Medline].

Amel Jamehdar S, Mammouri G, Sharifi Hoseini MR, Nomani H, Afzalaghaee M, Boskabadi H, et al. Herpes simplex virus infection in neonates and young infants with sepsis. Iran Red Crescent Med J. 2014 Feb. 16 (2):e14310. [Medline].

Tronstein E, Johnston C, Huang ML, Selke S, Magaret A, Warren T, et al. Genital shedding of herpes simplex virus among symptomatic and asymptomatic persons with HSV-2 infection. JAMA. 2011 Apr 13. 305(14):1441-9. [Medline].

[Guideline] Workowski KA, Berman SM. Sexually transmitted diseases treatment guidelines, 2006. MMWR Recomm Rep. 2006 Aug 4. 55:1-94. [Medline].

Frenkl TL, Potts J. Sexually transmitted infections. Urol Clin North Am. 2008 Feb. 35(1):33-46; vi. [Medline].

Pasternak B, Hviid A. Use of acyclovir, valacyclovir, and famciclovir in the first trimester of pregnancy and the risk of birth defects. JAMA. 2010 Aug 25. 304(8):859-66. [Medline].

Johnson R. Herpes gladiatorum and other skin diseases. Clin Sports Med. 2004 Jul. 23(3):473-84, x. [Medline].

Benedetti J, Corey L, Ashley R. Recurrence rates in genital herpes after symptomatic first-episode infection. Ann Intern Med. 1994 Dec 1. 121(11):847-54. [Medline].

Clark JL, Tatum NO, Noble SL. Management of genital herpes. Am Fam Physician. 1995 Jan. 51(1):175-82, 187-8. [Medline].

Cockerell C. Diagnosis and treatment of cutaneous herpes simplex virus infections. West J Med. 1996 Jun. 164(6):518-20. [Medline].

Hill J, Roberts S. Herpes simplex virus in pregnancy: new concepts in prevention and management. Clin Perinatol. 2005 Sep. 32(3):657-70. [Medline].

Hirsch MS. Herpes simplex virus. Mandell GL, ed. Mandell, Douglas, and Bennet's Principles and Practice of Infectious Diseases. 4th ed. Churchill Livingstone; 1995. 1336-45.

Holland-Hall C. Sexually transmitted infections: screening, syndromes, and symptoms. Prim Care. 2006 Jun. 33(2):433-54. [Medline].

Patel R, Rompalo A. Managing patients with genital herpes and their sexual partners. Infect Dis Clin North Am. 2005 Jun. 19(2):427-38, x. [Medline].

Rooney JF, Straus SE, Mannix ML. Oral acyclovir to suppress frequently recurrent herpes labialis. A double-blind, placebo-controlled trial. Ann Intern Med. 1993 Feb 15. 118(4):268-72. [Medline].

Whitley RJ, Gnann JW Jr. Acyclovir: a decade later. N Engl J Med. 1992 Sep 10. 327(11):782-9. [Medline].

Wu JJ, Pang KR, Huang DB. Advances in antiviral therapy. Dermatol Clin. 2005 Apr. 23(2):313-22. [Medline].

Patel EU, Frank MA, Hsieh YH, Rothman RE, Baker AE, Kraus CK, et al. Prevalence and factors associated with herpes simplex virus type 2 infection in patients attending a Baltimore City emergency department. PLoS One. 2014. 9 (7):e102422. [Medline].
Medscape Reference © 2011 WebMD, LLC