Relapsing Fever in Emergency Medicine Workup
Author: Bobak Zonnoor , MD; Chief Editor: Jeter (Jay) Pritchard Taylor, III, MD more...
Updated: Jun 08, 2016
What would you like to print?
Approach Considerations
A diagnosis of relapsing fever in the emergency department should be considered in patients with a characteristic fever pattern (especially if accompanied with the crisis) and history of exposure to lice or ticks in geographic areas where tick-borne relapsing fever and louse-borne relapsing fever are endemic.
Laboratory Studies
The emergency department workup of relapsing fever focuses on ruling out other potential diagnoses. Basic laboratory studies such as complete blood cell (CBC) count, chemistry panel, and coagulation studies can be performed; however, most laboratory studies are nonspecific.
CBC count
CBC count usually reveals mild to moderate normocytic anemia and thrombocytopenia. The WBC count is usually within the reference range.
Coagulation studies
Coagulation studies usually show prolonged prothrombin time (PT) and partial thromboplastin time (PTT).
Chemistry panel
Chemistry panel can show increased liver function test (LFTs) and elevated bilirubin levels. In louse-borne relapsing fever, azotemia can occur.
In patients with CNS involvement, CSF studies show mononuclear pleocytosis and mildly elevated protein levels.[16]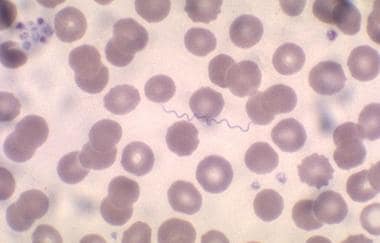 Photomicrograph of a patient who presented to the ED with cyclical fevers and chills, which she developed while traveling in one of the recently formed Soviet Republics in 1990. A blood smear for malaria was obtained, and this is what the laboratory technician observed.
Animal inoculation
Animal inoculation, which involves injection of blood into laboratory animals followed by examination of their blood, can be used when relapsing fever is suspected and spirochetes are not visually detected via smear. Inoculation of blood into weanling mice or mice with severe combined immunodeficiency (SCID) may yield Borrelia species in the blood or, less commonly, in cerebral spinal fluid (CSF), even between fever episodes.
For suspected tick-borne relapsing fever, blood, plasma, buffy coat, or CSF is injected intraperitoneally into the mouse. Infection of the mouse is enhanced by the SCID phenotype or by splenectomy. Blood of the inoculated mice should be examined daily for the presence of the spirochetes for seven days.[17]
Peripheral blood smears
Relapsing fever is definitively diagnosed based on visualization of spirochetes in peripheral blood smears during fever episodes. Thus, thin and thick smears are the first tests performed for suspected relapsing fever. Peripheral smears yield a sensitivity of 70% (more sensitive in tick-borne relapsing fever than in louse-borne relapsing fever).[13]
Both thick and thin smears using Wright and Giemsa stains may need to be examined.
The optimal time to obtain samples is during the onset of fever spikes.
This is the best way to secure the diagnosis in the emergency department.
Organisms are not found between relapses.
As many as 200 oil immersion fields should be viewed before judging the smear to be negative.
Thick smear is more sensitive.
Other tests
When relapsing fever is suspected but spirochetes are not directly visualized, laboratory confirmation requires techniques that are not available in most laboratories. Such techniques include animal inoculation, in vitro cultivation, wet mount, cultures, and polymerase chain reaction (PCR).
Imaging Studies
Imaging studies are not routinely useful, although chest radiography and hepatobiliary ultrasonography might be indicated in isolated cases in which pulmonary or hepatic manifestations predominate.
CT scanning of the brain may be indicated in cases with predominant central nervous system (CNS) manifestations.
Other Tests
Electrocardiography (ECG) may show a prolonged QTc interval.
Nonspecific antibody response to Proteus OXK antigens is elevated in about one third of tick-borne relapsing fever cases and most louse-borne cases.
Histologic Findings
Spirochetes may be detected in tissue using silver stain. They may also be visualized using immunofluorescence.
References
CDC. Tick-borne Relapsing Fever (TBRF). CDC. Available at https://www.cdc.gov/relapsing-fever/. October 15, 2015; Accessed: June 2, 2016.

Palma M, Lopes de Carvalho I, Figueiredo M, Amaro F, Boinas F, Cutler SJ, et al. Borrelia hispanica in Ornithodoros erraticus, Portugal. Clin Microbiol Infect. 2011 Jun 30. [Medline].

Yabsley MJ, Parsons NJ, Horne EC, Shock BC, Purdee M. Novel relapsing fever Borrelia detected in African penguins (Spheniscus demersus) admitted to two rehabilitation centers in South Africa. Parasitol Res. 2011 Aug 26. [Medline].

Reller ME, Clemens EG, Schachterle SE, Mtove GA, Sullivan DJ, Dumler JS. Multiplex 5' nuclease-quantitative PCR for diagnosis of relapsing fever in a large Tanzanian cohort. J Clin Microbiol. 2011 Sep. 49(9):3245-9. [Medline]. [Full Text].

Croche Santander B, Sánchez Carrión A, Campos E, Toro C, Marcos L, Vargas JC, et al. [Tick-borne relapsing fever in a rural area of southern Spain.]. An Pediatr (Barc). 2013 Dec 12. [Medline].

Moran-Gilad J, Levine H, Schwartz E, Bartal C, Huerta-Hartal M, Schwaber MJ, et al. Postexposure prophylaxis of tick-borne relapsing Fever: lessons learned from recent outbreaks in Israel. Vector Borne Zoonotic Dis. 2013 Nov. 13(11):791-7. [Medline].

Cutler SJ, Abdissa A, Trape JF. New concepts for the old challenge of African relapsing fever borreliosis. Clin Microbiol Infect. 2009 May. 15 (5):400-6. [Medline].

Hayes EB, Dennis DT . p.991-995. Relapsing fever. Kasper DL, Braunwald E, Fauci AS, Hauser SL, Longo DL, Jameson JL, eds. Harrison's Principles of Internal Medicine. 16th edition. 2004. 991-5.

Rahlenbeck SI, Gebre-Yohannes A. Louse-borne relapsing fever and its treatment. Trop Geogr Med. 1995. 47 (2):49-52. [Medline].

Raoult D, Roux V. The body louse as a vector of reemerging human diseases. Clin Infect Dis. 1999 Oct. 29 (4):888-911. [Medline].

Blevins SM, Greenfield RA, Bronze MS. Blood smear analysis in babesiosis, ehrlichiosis, relapsing fever, malaria, and Chagas disease. Cleve Clin J Med. 2008 Jul. 75 (7):521-30. [Medline].

Hovius JW, de Wever B, Sohne M, Brouwer MC, Coumou J, Wagemakers A, et al. A case of meningoencephalitis by the relapsing fever spirochaete Borrelia miyamotoi in Europe. Lancet. 2013 Aug 17. 382 (9892):658. [Medline].

Parola P, Raoult D. Ticks and tickborne bacterial diseases in humans: an emerging infectious threat. Clin Infect Dis. 2001 Mar 15. 32 (6):897-928. [Medline].

Perine PL, Parry EH, Vukotich D, Warrell DA, Bryceson AD. Bleeding in louse-borne relapsing fever. I. Clinical studies in 37 patients. Trans R Soc Trop Med Hyg. 1971. 65 (6):776-81. [Medline].

Sah RP, Wilson ME, Seningen J, Bhagra A. Relapsing fevers and lymphadenopathy in a young woman. BMJ Case Rep. 2013 Jul 13. 2013:[Medline].

Fukunaga M, Okada K, Nakao M, Konishi T, Sato Y. Phylogenetic analysis of Borrelia species based on flagellin gene sequences and its application for molecular typing of Lyme disease borreliae. Int J Syst Bacteriol. 1996 Oct. 46 (4):898-905. [Medline].

Chohan IS. Tick-borne relapsing fever in Kashmir: mice inoculation--a diagnostic method of choice. Indian J Pathol Bacteriol. 1967 Jul. 10 (3):289-94. [Medline].

Barbour AG. Clinical features and management of relapsing fever. UpToDate. Accessed: November 25, 2008.

Dworkin MS, Schwan TG, Anderson DE Jr, Borchardt SM. Tick-borne relapsing fever. Infect Dis Clin North Am. 2008 Sep. 22 (3):449-68, viii. [Medline].

Fekade D, Knox K, Hussein K, et al. Prevention of Jarisch-Herxheimer reactions by treatment with antibodies against tumor necrosis factor alpha. N Engl J Med. 1996 Aug 1. 335(5):311-5. [Medline].

Guerrier G, Doherty T. Comparison of antibiotic regimens for treating louse-borne relapsing fever: a meta-analysis. Trans R Soc Trop Med Hyg. 2011 Sep. 105(9):483-90. [Medline].

Hasin T, Davidovitch N, Cohen R, et al. Postexposure treatment with doxycycline for the prevention of tick-borne relapsing fever. N Engl J Med. 2006 Jul 13. 355(2):148-55. [Medline].

Southern PM, Sandford JP. Relapsing fever: a clinical and microbiological review. Med. 1969. 48:129-43.

Anda P, Sanchez-Yebra W, del Mar Vitutia M, et al. A new Borrelia species isolated from patients with relapsing fever in Spain. Lancet. 1996 Jul 20. 348(9021):162-5. [Medline].

Cadavid D, Barbour AG. Neuroborreliosis during relapsing fever: review of the clinical manifestations, pathology, and treatment of infections in humans and experimental animals. Clin Infect Dis. 1998 Jan. 26(1):151-64. [Medline].

Centers for Disease Control and Prevention (CDC). Acute respiratory distress syndrome in persons with tickborne relapsing fever--three states, 2004-2005. MMWR Morb Mortal Wkly Rep. 2007 Oct 19. 56(41):1073-6. [Medline].

Dworkin MS, Anderson DE Jr, Schwan TG, et al. Tick-borne relapsing fever in the northwestern United States and southwestern Canada. Clin Infect Dis. 1998 Jan. 26(1):122-31. [Medline].

Dworkin MS, Schwan TG, Anderson DE Jr, Borchardt SM. Tick-borne relapsing fever. Infect Dis Clin North Am. 2008 Sep. 22(3):449-68, viii. [Medline].

Horton JM, Blaser MJ. The spectrum of relapsing fever in the Rocky Mountains. Arch Intern Med. 1985 May. 145(5):871-5. [Medline].

Nordstrand A, Barbour AG, Bergstrom S. Borrelia pathogenesis research in the post-genomic and post-vaccine era. Curr Opin Microbiol. 2000 Feb. 3(1):86-92. [Medline].

Paul WS, Maupin G, Scott-Wright AO, et al. Outbreak of tick-borne relapsing fever at the north rim of the Grand Canyon: evidence for effectiveness of preventive measures. Am J Trop Med Hyg. 2002 Jan. 66(1):71-5. [Medline].

Raoult D, Roux V. The body louse as a vector of reemerging human diseases. Clin Infect Dis. 1999 Oct. 29(4):888-911. [Medline].
Medscape Reference © 2011 WebMD, LLC