Ascaris Lumbricoides
Author: Aaron Dora-Laskey, MD; Chief Editor: Jeter (Jay) Pritchard Taylor, III, MD more...
Updated: May 18, 2016
What would you like to print?
Background
Intestinal nematode infections affect one fourth to one third of the world's population. Of these, the intestinal roundworm Ascaris lumbricoides is the most common. While the vast majority of these cases are asymptomatic, infected persons may present with pulmonary or potentially severe gastrointestinal complaints. Ascariasis predominates in areas of poor sanitation and is associated with malnutrition, iron-deficiency anemia, and impairments of growth and cognition.
Ascaris lumbricoides is shown in the image below.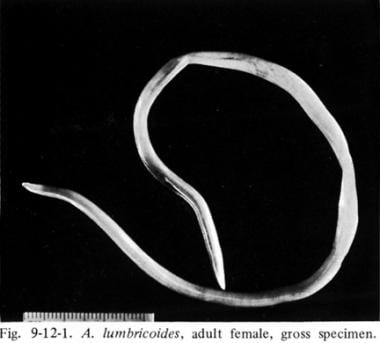 Adult Ascaris lumbricoides.
Pathophysiology
A lumbricoides is the largest of the intestinal nematodes affecting humans, measuring 15-35 cm in length in adulthood. Infection begins with the ingestion of embryonated (infective) eggs in feces-contaminated soil or foodstuffs. Once ingested, eggs hatch, usually in the small intestine, releasing small larvae that penetrate the intestinal wall. Larvae migrate to the pulmonary vascular beds and then to the alveoli via the portal veins usually 1-2 weeks after infection, during which time they may cause pulmonary symptoms (eg, cough, wheezing). During the time frame of pulmonary symptoms, eggs are not being shed, and thus diagnosis via stool ovas and parasites is not possible. Eggs are not shed in stool until roughly 40 days after the development of pulmonary symptoms.
After migrating up the respiratory tract and being swallowed, they mature, copulate, and lay eggs in the intestines. Adult worms may live in the gut for 6-24 months, where they can cause partial or complete bowel obstruction in large numbers, or they can migrate into the appendix, hepatobiliary system, or pancreatic ducts and rarely other organs such as kidneys or brain. From egg ingestion to new egg passage takes approximately 9 weeks, with an additional 3 weeks needed for egg molting before they are capable of infecting a new host.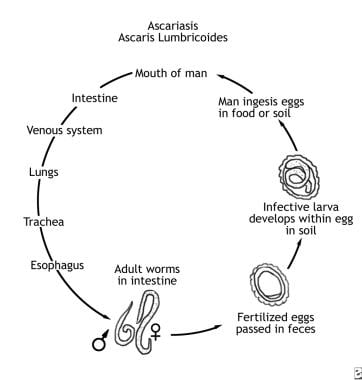 Life cycle of Ascaris lumbricoides.
Epidemiology
Frequency
United States
In the United States, approximately 4 million people are believed to be infected.[1] High-risk groups include international travelers, recent immigrants (especially from Latin America and Asia), refugees, and international adoptees. Ascariasis is indigenous to the rural southeast, where cross-infection by pigs with the nematode Ascaris suum is thought to occur. (Children aged 2-10 years are thought to be more heavily infected in this and all other regions.)
International
Worldwide, 1.4 billion people are infected with A lumbricoides, with prevalence among developing countries as low as 4% in Mafia Island, Zanzibar,[2] to as high as 90% in some areas of Indonesia. Local practices (eg, termite mound–eating in Kenya[3] ) may predispose to ascariasis in some populations. Further risk factors include other forms of geophagia and cat/dog ownership. In some regions, Ascaris infection is thought to contribute significantly to the burden of abdominal surgical emergencies.
Mortality/Morbidity
The rate of complications secondary to ascariasis ranges from 11-67%, with intestinal and biliary tract obstruction representing the most common serious sequelae. Although infection with A lumbricoides is often asymptomatic, it is responsible for an estimated 730,000 cases of bowel obstruction annually, 11,000 of which are fatal.[4] In one series of pregnant patients in Bangladesh, biliary ascariasis was responsible for a plurality (28%) of nonobstetric etiologies of acute abdomen.[5]
Owing to similarities in the means of infection, many individuals infected with Ascaris are also co-infected with other intestinal parasites.
Race
No racial predilection is known. A genetic predisposition has been described in a study of families from Nepal.[6]
Sex
Male children are thought to be infected more frequently, owing to a greater propensity to eat soil.
Age
Children, because of their habits (eg, directly or indirectly consuming soil), are more commonly and more heavily infected than adults. Neonates may be infected by transplacental infection. Frequently, families may be infected and reinfected in group fashion due to shared food and water sources as well as hygiene practices.
References
Crompton DW. How much human helminthiasis is there in the world?. J Parasitol. 1999 Jun. 85(3):397-403. [Medline].

Albonico M, Ramsan M, Wright V, et al. Soil-transmitted nematode infections and mebendazole treatment in Mafia Island schoolchildren. Ann Trop Med Parasitol. 2002 Oct. 96(7):717-26. [Medline].

Luoba AI, Wenzel Geissler P, Estambale B, et al. Earth-eating and reinfection with intestinal helminths among pregnant and lactating women in western Kenya. Trop Med Int Health. 2005 Mar. 10(3):220-7. [Medline].

Mishra PK, Agrawal A, Joshi M, Sanghvi B, Shah H, Parelkar SV. Intestinal obstruction in children due to Ascariasis: a tertiary health centre experience. Afr J Paediatr Surg. 2008 Jul-Dec. 5 (2):65-70. [Medline].

Haque M, Kamal F, Chowdhury S, Uzzaman M, Aziz I. Non Obstetric Causes and Presentation of Acute Abdomen among the Pregnant Women. J Family Reprod Health. 2014 Sep. 8 (3):117-22. [Medline].

Williams-Blangero S, Subedi J, Upadhayay RP, et al. Genetic analysis of susceptibility to infection with Ascaris lumbricoides. Am J Trop Med Hyg. 1999 Jun. 60(6):921-6. [Medline].

Finsnes KD. Laryngeal spasm after general anaesthesia due to Ascaris lumbricoides. Acta Anaesthesiol Scand. 2013 Aug. 57(7):944-5. [Medline].

Mwanza JC. Lacrimal drainage obstruction by Ascaris lumbricoides. Bull Soc Belge Ophtalmol. 2004. 71-3. [Medline].

Karatepe O, Tukenmez M, Salmashogul A, et al. Ascaris as a leading point for small-bowel intussusception in an adult: a rare cause of intussusception. Am J Emerg Med. Mar 1 2008. 26(3):381.e3-381.e4.

Jung O, Ditting T, Grone HJ, Geiger H, Hauser IA. Acute interstitial nephritis in a case of Ascaris lumbricoides infection. Nephrol Dial Transplant. 2004 Jun. 19(6):1625-8. [Medline].

Selimoglu MA, Ozturk CF, Ertekin V. A rare manifestation of ascariasis: encephalopathy. J Emerg Med. 2005 Jan. 28(1):87-8. [Medline].

Lamberton PH, Jourdan PM. Human Ascariasis: Diagnostics Update. Curr Trop Med Rep. 2015. 2 (4):189-200. [Medline].

Pratt LT, Blachar A. Computed tomography diagnosis of intestinal ascariasis: incidental finding in a trauma patient. Isr Med Assoc J. 2007 Sep. 9 (9):688-9. [Medline].

Kessler DO, Gurwitz A, Tsung JW. Point-of-care sonographic detection of intestinal ascaris lumbricoides in the pediatric emergency department. Pediatr Emerg Care. 2010 Aug. 26(8):586-7. [Medline].

Ramareddy RS, Alladi A, Siddapa OS, Deepti V, Akthar T, Mamata B. Surgical complications of Ascaris lumbricoides in children. J Indian Assoc Pediatr Surg. 2012 Jul. 17 (3):116-9. [Medline].

Arya PK, Kukreti R, Arya M, Gupta SN. Magnetic resonace appearance of gall bladder ascariasis. Indian J Med Sci. 2005 May. 59(5):208-10. [Medline].

Sanai FM, Al-Karawi MA. Biliary ascariasis: report of a complicated case and literature review. Saudi J Gastroenterol. 2007 Jan-Mar. 13(1):25-32. [Medline].

Wickramasinghe DP, Samarasekera DN. Intestinal helminths detected in capsule endoscopy. Dig Endosc. 2012 Sep. 24 (5):388. [Medline].

Xiao SH, Hui-Ming W, Tanner M, Utzinger J, Chong W. Tribendimidine: a promising, safe and broad-spectrum anthelmintic agent from China. Acta Trop. 2005 Apr. 94(1):1-14. [Medline].

Steinmann P, Zhou XN, Du ZW, Jiang JY, Xiao SH, Wu ZX, et al. Tribendimidine and Albendazole for Treating Soil-Transmitted Helminths, Strongyloides stercoralis and Taenia spp.: Open-Label Randomized Trial. PLoS Negl Trop Dis. 2008. 2(10):e322. [Medline]. [Full Text].

Bell DR. Soil transmitted helminths. Lecture Notes on Tropical Medicine. Boston: Blackwell Science; 1985. 167-192.

Cappello M, Hotez PJ. Intestinal Nematodes. Philadelphia: Churchill-Livingstone; 2003. 1331-1333.

Freedman DO. Intestinal nematodes. Gorbach, ed. Infectious Diseases. Philadelphia: WB Saunders; 1992. 2003-2008.

Gilles HM. Intestinal nematode infections. GT Strickland, ed. Hunter's Tropical Medicine. Philadelphia: WB Saunders; 1984. 620-644.

Liu LX, Weller PF. Antiparasitic drugs. N Engl J Med. 1996 May 2. 334(18):1178-84. [Medline].

Muennig P, Pallin D, Sell RL, Chan MS. The cost effectiveness of strategies for the treatment of intestinal parasites in immigrants. N Engl J Med. 1999 Mar 11. 340(10):773-9. [Medline].

Talaat KR, Nutman TB. Parasitic Diseases. Mason, ed. Murray & Nadel's Textbook of Respiratory Medicine. Philadelphia: Saunders; 2003. 1090-1092.

Urbani C, Albonico M. Anthelminthic drug safety and drug administration in the control of soil-transmitted helminthiasis in community campaigns. Acta Trop. 2003 May. 86(2-3):215-21. [Medline].

Agrawal R, Mittal S, Jain M, Lamba GS. Severe acute pancreatitis caused by Ascaris lumbricoides. Trop Gastroenterol. 2012 Jul-Sep. 33 (3):235-6. [Medline].

Sotto Mayor J, Esperança S. IMAGES IN CLINICAL MEDICINE. Gastric Ascaris Infection. N Engl J Med. 2015 Oct 8. 373 (15):e18. [Medline].
Medscape Reference © 2011 WebMD, LLC