Uterine Prolapse in Emergency Medicine
Author: Raafat S Barsoom, MD; Chief Editor: Bruce M Lo, MD, CPE, RDMS, FACEP, FAAEM, FACHE more...
Updated: Dec 29, 2015
What would you like to print?
Etiology
Pregnancy and childbirth
Pregnancy is believed to be the main cause of pelvic organ prolapse. It can occur immediately after pregnancy or 30 years later. Many factors like the weight of the baby, the physical trauma of labor, and birth stresses can strain the pelvic muscles and ligaments. Some of the damaged muscles and ligaments will never fully regain their strength and elasticity.[1]
Large fibroids or tumors
Women who have large fibroids or pelvic tumors are at an increased risk of prolapse.
Aging and menopause
The ageing process further weakens the pelvic muscles, and the natural reduction in estrogen at menopause also causes muscles to become less elastic.
Obesity
Women who are severely overweight are at increased risk of prolapse.
Chronic coughing, constipation, or straining
Chronic coughing, from smoking, asthma, or bronchitis, or the straining associated with constipation, increases the risk of prolapse because it may eventually weaken the pelvic support structures.
Heavy lifting
Heavy lifting can also strain and damage pelvic muscles, and women in careers that involve regular manual labor or lifting, such as nursing, have an increased risk of prolapse.
Genetic conditions
Women with a genetic collagen deficiency (Marfan syndrome or Ehlers-Danlos syndrome) have an increased risk of prolapse even if they do not have any of the other risk factors.
Previous pelvic surgery
Pelvic surgery, for example bladder repair procedures, may damage nerves and tissues in the pelvic area increasing the risk of prolapse.
Spinal cord injury and other muscular atrophy conditions
Spinal cord injury and conditions such as muscular dystrophy and multiple sclerosis increase the risk of prolapse. If the pelvic muscles are paralyzed or movement is restricted, the muscles weaken and cannot support the pelvic organs.
Race
Women of Northern European descent have a higher incidence of uterine prolapse than do women of Asian and African descent.
Background
Definition
Uterine prolapse (also called descensus or procidentia) means the uterus has descended from its normal position in the pelvis farther down into the vagina. See image below.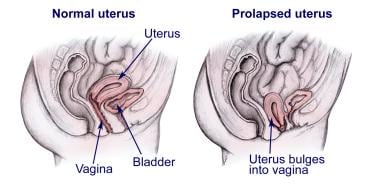 Normal uterus versus a prolapsed uterus.
Uterine prolapse is one type of pelvic organ prolapse (POP), and it is the second most common after cystourethrocele (bladder and urethral prolapse). Other types of pelvic organ prolapse are enterocele (prolapse of the small bowel), rectocele (prolapse of the rectum or large bowel), and vaginal vault prolapse.
History
Uterine prolapse was first recorded on the Kahun papyri (ancient Egyptian text discussing mathematical and medical topics) in about 2000 BC. Its many fragments were discovered by Flinder Petrie in 1889. Hippocrates described numerous nonsurgical treatments for this condition. In 98 BC, Soranus of Rome first described the removal of the prolapsed uterus when it became black.[2]
Pathophysiology
Normally, the uterus is held in place by the muscles and ligaments that make up the pelvic floor. Uterine prolapse occurs when the pelvic floor muscles and ligaments stretch, become damaged and weakened, so they can no longer support the pelvic organs, allowing the uterus to fall into the vagina. Prolapse can be incomplete or, in more severe cases, complete when the uterus slips and drops outside of the vagina.
In 1996, a standardized terminology for the evaluation of pelvic organ prolapse (POP) was established by the International Continence Society, the American Urogynecologic Society, and the Society of Gynecologic Surgeons. That terminology replaced terms as cystocele, rectocele, enterocele, and urethrovesical junctions with precise descriptions relating to specific anatomic landmarks.
The first points are on the anterior vaginal wall and categorize anterior vaginal wall prolapse accordingly. Point (Aa) is a point located in the midline of the anterior wall 3 cm proximal to the urethral meatus and is roughly the location of the urethrovesical crease. Point (Ba) represents the most distal position of any part of the anterior vaginal wall. Point (C) represents either the most distal edge of the cervix or the leading edge of the vagina if a hysterectomy has been performed. Point (D) represents the location of the posterior fornix (pouch of Douglas) in a woman with a cervix. Point (Bp) is a point most distal of any part of the upper posterior vaginal wall, and point (Ap) is a point located in the midline of the posterior vaginal wall 3 cm proximal to the hymen.
To record measurements, these points should be expressed in centimeters above or below the hymen. It is important for the examining individual to express the position and other circumstances of the examination (eg, straining or not, patient flat on table or in examining chair).
Staging of Pelvic Floor Prolapse Using International Continence Society Terminology (POP Quantification)
Stage 0: No prolapse is demonstrated. Points Aa, Ap, Ba, and Bp are all at -3 cm and either point C or D is between total vaginal length -2 cm.

Stage I: Criteria for stage 0 are not met, but the most distal portion of the prolapse is >1 cm above the level of the hymen.

Stage II: The most distal portion of the prolapse is less or equal to 1 cm proximal or distal to the plane of the hymen.

Stage III: The most distal portion of the prolapse is >1 cm below the plane of the hymen but protrudes no further than 2 cm less than the total vaginal length in centimeters.

Stage IV: Essentially complete eversion of the total length of the lower genital tract.
Epidemiology
United States data
The frequency of uterine prolapse is the same for the United States and internationally. Approximately half of all women older than 50 years complain of symptomatic prolapse.[3]
Studies have estimated that 50% of parous women have some degree of urogenital prolapse and, of these, 10-20% are symptomatic.[4]
Race- and age-related demographics
Studies show that white and Hispanic women have the highest rate of pelvic organ prolapse, followed by Asian and black women. Little information is available about the incidence of prolapse in women of other (or more specific) ethnic groups.
The risk of uterine prolapse increases with age as pelvic muscles weaken and the natural reduction in estrogen at menopause also causes muscles to become less elastic.
Prognosis
Objective data on the natural history of uterine prolapse are very limited. Neonatal uterine prolapse is associated with an excellent long-term prognosis with conservative management. Uterine prolapse in adults may be corrected with a variety of surgical procedures, the descriptions of which are beyond the scope of this article. Preservation of fertility is generally possible in younger patients.
Mortality/Morbidity
Significant morbidity can occur, usually secondary to alterations in bowel, bladder, or sexual function. No reliable data are available on mortality related directly to uterine prolapse.
Complications
Complications of uterine prolapse include the following:
Ulcers: In severe cases of uterine prolapse, the vaginal lining may be displaced and exposed. This may lead to vaginal ulcers that could become infected.

Incarceration: If the patient is a young woman and pregnant, it is important to replace the uterus before it enlarges and becomes trapped in the lower pelvis or vagina. If this happens, edema may cause incarceration and even loss of blood supply to the uterus.

Prolapse of other pelvic organs: If uterine prolapse occurs, prolapse of other pelvic organs, including the bladder and rectum, is possible. A

prolapsed bladder

bulges into the front part of the vagina, causing a cystocele that can lead to difficulty in urinating and increased risk of urinary tract infections. Weakness of connective tissue overlying the rectum may result in a prolapsed rectum (

rectocele

), which may lead to difficulty having bowel movements.
References
Tsikouras P, Dafopoulos A, Vrachnis N, Iliodromiti Z, Bouchlariotou S, Pinidis P, et al. Uterine prolapse in pregnancy: risk factors, complications and management. J Matern Fetal Neonatal Med. 2013 Jul 9. [Medline].

Cardozo L, Staskin D, eds. Textbook of Female Urology and Urogynecology, Second Edition. Informa HealthCare; 2006.

Swift SE. The distribution of pelvic organ support in a population of female subjects seen for routine gynecologic health care. Am J Obstet Gynecol. 2000 Aug. 183(2):277-85. [Medline].

Progetto Menopausa Italia Study Group. Risk factors for genital prolapse in non-hysterectomized women around menopause. Results from a large cross-sectional study in menopausal clinics in Italy. Eur J Obstet Gynecol Reprod Biol. 2000 Dec. 93(2):135-40. [Medline].

Bae EJ, Kang Y, Seo JW, Hwang K, Cho HS, Chang SH, et al. Obstructive uropathy by total uterine prolapse leading to end-stage renal disease. Ren Fail. 2012. 34(6):807-9. [Medline].

Kow N, Goldman HB, Ridgeway B. Uterine conservation during prolapse repair: 9-year experience at a single institution. Female Pelvic Med Reconstr Surg. 2015 Oct 29. [Medline].

Ridgeway BM. Does prolapse equal hysterectomy? The role of uterine conservation in women with uterovaginal prolapse. Am J Obstet Gynecol. 2015 Dec. 213(6):802-9. [Medline].

Hagen S, Stark D, Maher C, Adams EJ. Conservative management of pelvic organ prolapse in women. Cochrane Database Syst Rev. 2008.

Katz VL, Lentz G, Lobo RA, Gershenson D. Comprehensive Gynecology. 5th ed. Mosby; 2007.

Sekiguchi Y, Kinjo M, Maeda Y, Kubota Y. Reinforcement of suspensory ligaments under local anesthesia cures pelvic organ prolapse: 12-month results. Int Urogynecol J. 2013 Dec 7. [Medline].

De Ridder D. Should we use meshes in the management of vaginal prolapse?. Curr Opin Urol. 2008 Jul. 18(4):377-82. [Medline].

Daneshgari F, Kefer JC, Moore C, Kaouk J. Robotic abdominal sacrocolpopexy/sacrouteropexy repair of advanced female pelvic organ prolaspe (POP): utilizing POP-quantification-based staging and outcomes. BJU Int. 2007 Oct. 100(4):875-9. [Medline].

[Guideline] American College of Obstetricians and Gynecologists (ACOG). Pelvic organ prolapse. Washington (DC). 2007 Sep. [Full Text].

DeLancey JO. Anatomy and biomechanics of genital prolapse. Clin Obstet Gynecol. 1993 Dec. 36(4):897-909. [Medline].

Hagen S, Stark D, Maher C, Adams E. Conservative management of pelvic organ prolapse in women. Cochrane Database Syst Rev. 2004. CD003882. [Medline].

Handa VL, Harris TA, Ostergard DR. Protecting the pelvic floor: obstetric management to prevent incontinence and pelvic organ prolapse. Obstet Gynecol. 1996 Sep. 88(3):470-8. [Medline].

Haylen BT. The retroverted uterus: ignored to date but core to prolapse. Int Urogynecol J Pelvic Floor Dysfunct. 2006 Nov. 17(6):555-8. [Medline].

Hendrix SL, Clark A, Nygaard I, Aragaki A, Barnabei V, McTiernan A. Pelvic organ prolapse in the Women's Health Initiative: gravity and gravidity. Am J Obstet Gynecol. 2002 Jun. 186(6):1160-6. [Medline].

Loret de Mola JR, Carpenter SE. Management of genital prolapse in neonates and young women. Obstet Gynecol Surv. 1996 Apr. 51(4):253-60. [Medline].

Morley GW. Treatment of uterine and vaginal prolapse. Clin Obstet Gynecol. 1996 Dec. 39(4):959-69. [Medline].

Ozel B, White T, Urwitz-Lane R, Minaglia S. The impact of pelvic organ prolapse on sexual function in women with urinary incontinence. Int Urogynecol J Pelvic Floor Dysfunct. 2006 Jan. 17(1):14-7. [Medline].

Rinne KM, Kirkinen PP. What predisposes young women to genital prolapse?. Eur J Obstet Gynecol Reprod Biol. 1999 May. 84(1):23-5. [Medline].

Rush CB, Entman SS. Pelvic organ prolapse and stress urinary incontinence. Med Clin North Am. 1995 Nov. 79(6):1473-9. [Medline].

Sanai T, Yamashiro Y, Nakayama M, Uesugi N, Kubo N, Iguchi A. End-stage renal failure due to total uterine prolapse. Urology. 2006 Mar. 67(3):622.e5-7. [Medline].

Shaunik A. Pelvic organ myiasis. Obstet Gynecol. 2006 Feb. 107(2 Pt 2):501-3. [Medline].

Silva WA, Kleeman S, Segal J, Pauls R, Woods SE, Karram MM. Effects of a full bladder and patient positioning on pelvic organ prolapse assessment. Obstet Gynecol. 2004 Jul. 104(1):37-41. [Medline].

Soderberg MW, Falconer C, Bystrom B, Malmstrom A, Ekman G. Young women with genital prolapse have a low collagen concentration. Acta Obstet Gynecol Scand. 2004 Dec. 83(12):1193-8. [Medline].

Swift S, Woodman P, O'Boyle A, et al. Pelvic Organ Support Study (POSST): the distribution, clinical definition, and epidemiologic condition of pelvic organ support defects. Am J Obstet Gynecol. 2005 Mar. 192(3):795-806. [Medline].

Tan JS, Lukacz ES, Menefee SA, Powell CR, Nager CW. Predictive value of prolapse symptoms: a large database study. Int Urogynecol J Pelvic Floor Dysfunct. 2005 May-Jun. 16(3):203-9; discussion 209. [Medline].

Weber AM, Walters MD, Piedmonte MR. Sexual function and vaginal anatomy in women before and after surgery for pelvic organ prolapse and urinary incontinence. Am J Obstet Gynecol. 2000 Jun. 182(6):1610-5. [Medline].

Wheeler LD, Lazarus R, Torkington J, O'Mahony MS, Woodhouse KW. Lesson of the week: perils of pessaries. Age Ageing. 2004 Sep. 33(5):510-1. [Medline].

Rahmanou P, Price N, Jackson SR. Laparoscopic hysteropexy versus vaginal hysterectomy for the treatment of uterovaginal prolapse: a prospective randomized pilot study. Int Urogynecol J. 2015 Nov. 26(11):1687-94. [Medline].
Medscape Reference © 2011 WebMD, LLC