Ultraviolet Keratitis
Author: Reed Brozen, MD; Chief Editor: Robert E O'Connor, MD, MPH more...
Updated: Dec 15, 2015
What would you like to print?
Background
Ultraviolet (UV) light is the most common cause of radiation injury to the eye. The cornea absorbs most UV radiation. UV radiation damage to the corneal epithelium is cumulative, similar to the effects with dermal epithelium (sunburn). Ozone in the atmosphere effectively filters most of the harmful UV radiation of wavelengths shorter than 290 nm; natural UV sources, such as the sun, rarely cause injury after short exposures. However, unprotected exposures to the sun or solar eclipses or exposure to the sun on highly reflective snow fields at high elevation can lead to direct corneal epithelial injury. The latter clinical scenario is known as snow blindness.
Artificial sources of UV radiation also cause corneal damage. Injury from a welder's arc commonly is known as flash burn, welder's flash, or arc eye. Other sources of UV radiation injury include suntanning beds, carbon arcs, photographic flood lamps, lightning, electric sparks, and halogen desk lamps.
Prolonged exposures to UV radiation can lead to chronic solar toxicity, which is associated with several ocular surface disorders (eg, pinguecula, pterygium, climatic droplet keratopathy, squamous metaplasia, carcinoma). The only ocular cancer associated with UV radiation is epidermoid carcinoma of the bulbar conjunctiva, which occurs with increased frequency in the tropics and subtropics and has been experimentally replicated in animal models using UV radiation. Rarely, retinal absorption of visible to near-infrared (400-1400 nm) radiation from welding arcs can lead to permanent, sight-threatening injury.[1]
Pathophysiology
UV rays irritate the superficial corneal epithelium, causing inhibition of mitosis, production of nuclear fragmentation, and loosening of the epithelial layer. Under experimental conditions in animals, phototoxic effects have been demonstrated at all levels of the cornea, including the stroma and endothelium.[2]
An inflammatory response occurs, which includes edema and congestion of the conjunctiva and a stippling of the corneal epithelium known as superficial punctate keratitis (SPK). SPK is a nonspecific corneal condition associated with multiple ocular disorders. It is characterized by small pinpoint defects in the superficial corneal epithelium, which stain with fluorescein. If SPK is severe, it may be followed by total epithelial desquamation, with conjunctival chemosis, lacrimation, and blepharospasm. Reepithelialization usually occurs within 36-72 hours, and long-term sequelae are rare. This SPK contrasts with the more severe effects frequently encountered with corneal damage caused by alkaline or strongly acidic chemicals. See the image below.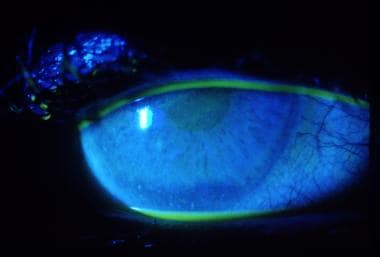 Diffuse uptake of fluorescein stain as seen in ultraviolet keratitis.
In general, ocular pain and decreased visual acuity occurs 6-12 hours after the injury. This lag time involves an unexplained pattern of corneal sensory loss and return and is thought to indicate a probable photochemical injury rather than a thermal injury to the cornea.
Epidemiology
Frequency
United States
UV keratitis and UV keratoconjunctivitis are the only radiant exposure conditions of the cornea that occur with any significant frequency in the United States.[3]
Mortality/Morbidity
No reported mortality occurs. Morbidity results from UV radiation damage to the superficial corneal epithelium, which usually heals spontaneously within 48 hours of the exposure. Long-term sequelae, which may result from superinfection, are rare.
Sex
No difference in incidence is observed between males and females.
References
Contín MA, Benedetto MM, Quinteros-Quintana ML, Guido ME. Light pollution: the possible consequences of excessive illumination on retina. Eye (Lond). 2015 Nov 6. [Medline].

Schein OD. Phototoxicity and the cornea. J Natl Med Assoc. 1992 Jul. 84(7):579-83. [Medline].

Collier SA, Gronostaj MP, MacGurn AK, Cope JR, Awsumb KL, Yoder JS, et al. Estimated burden of keratitis--United States, 2010. MMWR Morb Mortal Wkly Rep. 2014 Nov 14. 63 (45):1027-30. [Medline].

Daxecker F, Blumthaler M, Ambach W. Ultraviolet exposure of cornea from sunbeds. Lancet. 1994 Sep 24. 344(8926):886. [Medline].

[Guideline] Eye. Elk Grove Village: American College of Occupational and Environmental Medicine (ACOEM); 2004. 77 p. [Full Text].

Brown MD, Cordell WH, Gee AS. Do ophthalmic nonsteroidal anti-inflammatory drugs reduce the pain associated with simple corneal abrasion without delaying healing?. Ann Emerg Med. 1999 Oct. 34(4 Pt 1):526-34. [Medline].

Belin MW, Catalano RA, Scott JL. Burns of the eye. Catalano RA, ed. Ocular Emergencies. Philadelphia, Pa: WB Saunders Co; 1992. 192-4.

Brunette DD, Ghezzi K, Renner GS. Ophthalmologic disorders. Rosen P, Barkin R, eds. Emergency Medicine: Concepts and Clinical Practice. 4th ed. St. Louis, Mo: Mosby Year Book; 1998. 2704.

Crumpton KL, Shockley LW. Ocular trauma: a quick illustrated guide to treatment, triage, and medicolegal implications. Emerg Med Rep. 1997. 18:223-34.

Spencer WH. The Cornea. Ophthalmic Pathology. 4th ed. Philadelphia, Pa: WB Saunders Co; 1996. 233-35.

Weaver CS, Terrell KM. Evidence-based emergency medicine. Update: do ophthalmic nonsteroidal anti-inflammatory drugs reduce the pain associated with simple corneal abrasion without delaying healing?. Ann Emerg Med. 2003 Jan. 41(1):134-40. [Medline].

Wittenberg S. Solar radiation and the eye: a review of knowledge relevant to eye care. Am J Optom Physiol Opt. 1986 Aug. 63(8):676-89. [Medline].

Yen YL, Lin HL, Lin HJ, et al. Photokeratoconjunctivitis caused by different light sources. Am J Emerg Med. 2004 Nov. 22(7):511-5. [Medline].
Medscape Reference © 2011 WebMD, LLC