Acute Orbital Compartment Syndrome Treatment & Management
Author: David A Peak, MD; Chief Editor: Robert E O'Connor, MD, MPH more...
Updated: Nov 04, 2015
What would you like to print?
Approach Considerations
The emergency procedure of choice for acute loss of visual acuity associated with acute orbital compartment syndrome is dissection of the lateral canthus and disinsertion of at least the inferior crus of the lateral canthal tendon (ie, inferior cantholysis), which allows complete mobility of the lower lid. Visual loss without definite signs consistent with increased IOP is not an indication for this procedure.
Other primary indications for lateral canthotomy and cantholysis include an intraocular pressure (IOP) greater than 40 mm Hg and proptosis, which may be used as a criterion for unconscious patients whose visual acuity cannot be determined. Secondary criteria include afferent pupillary defect, ophthalmoplegia, cherry-red macula, optic nerve head pallor, and severe pain, but these are all considered less sensitive or very late signs. A contraindication for this procedure would be a suspected ruptured globe.
Prehospital Care
Trauma evaluation should proceed as per standards for patients with head trauma/multiple trauma, with assessment for life-threatening injuries and stabilization for transport.
Field treatment of pain, agitation, and emesis may be appropriate to avoid further increase in intraocular pressure (IOP). If intubation is necessary, pretreat with agents that protect intracranial/intraocular pressures.
Use protective eye shields during transport when the differential diagnosis includes penetrating eye injury or scleral rupture.
Check visual acuity early and often. Loss of visual acuity requires immediate emergent attempts at orbital decompression.
Emergency Department Care
Assessment for concomitant life-threatening injuries takes priority over all other considerations. Immediately employ medical therapy. Osmotic agents and carbonic anhydrase inhibitors are part of established protocols at many centers. Most experts also recommend high-dose steroid therapy as a standard of care. Less agreement exists for use of topical beta-blockers and multiple osmotic agents.
Irreversible optic-nerve pathology may occur with as little as 2 hours of ischemia. Rapid employment of medical therapy and ophthalmologic consultation should proceed promptly once the diagnosis is made.
Lateral Canthotomy and Inferior Cantholysis
Emergent decompressive surgery[1, 5] for severe symptoms (eg, decreased visual acuity) may save sight. Emergency department physicians should be familiar with lateral canthotomy if emergent ophthalmologic consultation is unavailable.
Perform lateral canthotomy as follows:
Clean the area with sterile saline
Inject approximately 1 mL of lidocaine 1-2% with or without epinephrine into the lateral canthus
Apply a hemostat/clamp with one side anterior and one side posterior to the lateral canthus and advance until the rim of the bony orbit is felt
Clamp for 30-60 seconds
Perform inferior catholysis by using one of the following methods. One method is shown in the image below.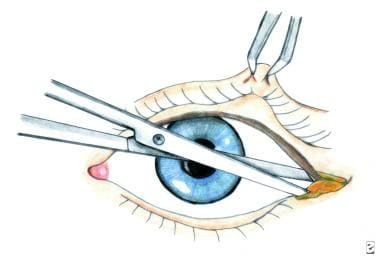 Cantholysis is performed by identification and disinsertion of the inferior crus of the lateral canthal tendon, which should allow free mobility of the lower lid margin.
For the traditional approach for inferior catholysis, grasp the lower eyelid with forceps and pull out/downward away from the eye. Identify the canthal ligament by either inspection or palpation. Incise the inferior crus of the lateral canthal ligament with scissors to avoid traumatizing the orbit.
To perform the sweep technique for inferior catholysis, grasp the lower eyelid with forceps and pull out/downward away from the eye. Carefully place the lateral side of an opened pair of curved scissors against the palpebral conjunctiva of the lateral eyelid. Slowly sweep laterally toward the canthotomy incision.
When the inferior crus of the lateral canthal ligament is encountered, impeding continued lateral sweeping, carefully move the other scissor blade into position and incise to avoid traumatizing the orbit. The sweep technique may be particularly useful in cases when massive edema makes canthal ligament identification difficult.
Verify laxity of the lateral canthus/eyelid after cutting to ensure the canthal ligament was severed. The lid/lid margin should be freely mobile when successfully dissected.
Recheck the IOP, and dissect the superior crus in a similar fashion if an adequate decrease has not been achieved. Special care should be taken to avoid any trauma to the lacrimal gland.
Immediately test visual acuity postprocedure. If vision fails to improve, as possibly expected in cases of confined subperiosteal hematoma, operative orbital decompression or hematoma evacuation should be considered.
In an experimental model, lateral canthotomy produced a mean IOP reduction of 14.2 mm Hg; isolated disinsertion, 19.2 mm Hg; and combined, 30.4 mm Hg.
Other methods to reduce IOP, including anterior chamber paracentesis and insertion of a mosquito clip inferiorly to break through the inferior orbital floor, are beyond the scope of this discussion.
Further Inpatient Care
Cosmetic repair of lateral canthotomy may be performed in the hospital and usually affords a good outcome. Repair of canthal tendons can be performed at the discretion of the specialist. Repair can be delayed for several days if necessary.
Compartment syndrome is one of the accepted indications for hyperbaric oxygen therapy. Case reports of improvement in vision using hyperbaric oxygen as adjunct therapy in acute orbital compartment syndrome exist.
Consultations
Emergent ophthalmologic consultation is required in all cases when an acute orbital compartment syndrome diagnosis is entertained. If necessary, transfer for specialty consultation and/or further workup (including CT scan or MRI) is indicated. Initiate treatment prior to transfer in patients with visual acuity loss or rapidly evolving symptoms with signs of increased IOP.
Emergent oromaxillary facial surgery consultation is required if the etiology is postsurgical and in all cases in which hemorrhage is suspected within the optic canal or optic nerve sheath.
Medscape Reference © 2011 WebMD, LLC