Knee Arthrocentesis Periprocedural Care
Author: Gil Z Shlamovitz, MD, FACEP; Chief Editor: Erik D Schraga, MD more...
Updated: May 16, 2016
What would you like to print?
Equipment
The materials required for knee arthrocentesis include the following:
Sterile gloves and drapes

Gauze pads (5), 4 × 4 in.

Skin preparatory solution

Lidocaine 1%

Syringes, 5 mL, 20 mL, 30 mL, 60 mL

Needles, 18 or 20 gauge and 25 or 27 gauge

Patients who are morbidly obese might require a 21-gauge spinal needle for arthrocentesis

Hemostat

Specimen tubes

Bandage
Patient Preparation
Anesthesia
Patients who are anxious, in severe pain, or unable to cooperate with the procedure might require procedural sedation and/or analgesia.
Local anesthesia is always warranted. After skin preparation, draping, and identification of the needle insertion site, use a 25- or 27-gauge needle to inject 2-5 mL of local anesthetic (eg, lidocaine 1%) into the subcutaneous tissue (see the image below). (See Local Anesthetic Agents, Infiltrative Administration.) Deep injections that might enter the joint space are not recommended, because they may alter the synovial fluid analysis results.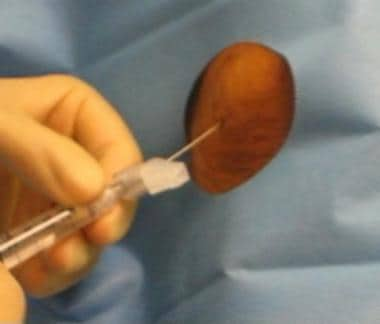 Infiltration of local anesthetic via medial parapatellar approach (left knee).
Positioning
After obtaining informed consent, place the patient supine on a gurney. Place a rolled towel below the patient's knee. A small but randomized study demonstrated that more joint fluid was aspirated from patients in the supine position than from patients in the sitting position.[4]
References
Siva C, Velazquez C, Mody A, Brasington R. Diagnosing acute monoarthritis in adults: a practical approach for the family physician. Am Fam Physician. 2003 Jul 1. 68(1):83-90. [Medline]. [Full Text].

Zuber TJ. Knee joint aspiration and injection. Am Fam Physician. 2002 Oct 15. 66(8):1497-500, 1503-4, 1507. [Medline]. [Full Text].

Sibbitt WL Jr, Kettwich LG, Band PA, Chavez-Chiang NR, DeLea SL, Haseler LJ, et al. Does ultrasound guidance improve the outcomes of arthrocentesis and corticosteroid injection of the knee?. Scand J Rheumatol. 2012 Feb. 41(1):66-72. [Medline].

Zhang Q, Zhang T, Lv H, Xie L, Wu W, Wu J, et al. Comparison of two positions of knee arthrocentesis: how to obtain complete drainage. Am J Phys Med Rehabil. 2012 Jul. 91(7):611-5. [Medline].

Self WH, Wang EE, Vozenilek JA, del Castillo J, Pettineo C, Benedict L. Dynamic emergency medicine. Arthrocentesis. Acad Emerg Med. 2008 Mar. 15(3):298. [Medline].

Thomsen TW, Shen S, Shaffer RW, Setnik GS. Videos in clinical medicine. Arthrocentesis of the knee. N Engl J Med. 2006 May 11. 354(19):e19. [Medline].

Margaretten ME, Kohlwes J, Moore D, Bent S. Does this adult patient have septic arthritis?. JAMA. 2007 Apr 4. 297(13):1478-88. [Medline].

Li SF, Cassidy C, Chang C, Gharib S, Torres J. Diagnostic utility of laboratory tests in septic arthritis. Emerg Med J. 2007 Feb. 24(2):75-7. [Medline].

McGillicuddy DC, Shah KH, Friedberg RP, Nathanson LA, Edlow JA. How sensitive is the synovial fluid white blood cell count in diagnosing septic arthritis?. Am J Emerg Med. 2007 Sep. 25(7):749-52. [Medline].

Reichman and Simon. Emergency Medicine Procedures. 1st. New York: McGraw Hill; 2004.
Table 1. Characteristics of Synovial Fluid on Analysis
Appearance
WBCs, cells/µL
PMN cells
Glucose concentration, mg/dL
Protein concentration, g/dL
Normal
Clear
<150
<0.25
Serum glucose
1.3-1.8
Noninflammatory
Clear
<3000
<0.25
Serum glucose
2-3.5
Inflammatory
Cloudy
>3000
<0.75
<25
>4
Purulent
Cloudy
>50,000
>0.9
<25
>4
Hemorrhagic
Bloody
>2000
~0.3
Serum glucose
…
PMN = polymorphonuclear; WBC = white blood cell.
Medscape Reference © 2011 WebMD, LLC