Pediatric Foreign Body Ingestion
Author: Gregory P Conners, MD, MPH, MBA; Chief Editor: Timothy E Corden, MD more...
Updated: Aug 03, 2015
What would you like to print?
Background
As children explore and interact with the world, they will inevitably put foreign bodies into their mouths and swallow some of them.
Most swallowed foreign bodies pass harmlessly through the gastrointestinal (GI) tract. Foreign bodies that damage the GI tract, become lodged, or have associated toxicity must be identified and removed. Children with preexisting GI abnormalities (eg, tracheoesophageal fistula, stenosing lesions, previous GI surgery) are at an increased risk for complications.
Although adults most often present to the ED because of health problems related to ingestion of radiolucent foreign bodies (typically food), children usually swallow radiopaque objects, such as coins, pins, screws, button batteries, or toy parts. Although children commonly aspirate food items, it is less common for small children to present because of foreign body complications due to food ingestion. Swallowed objects are shown in the images below.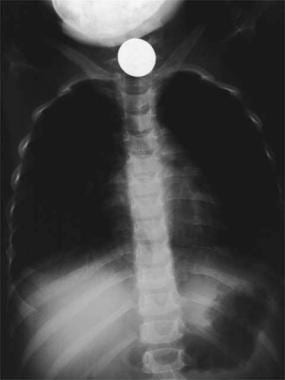 A swallowed coin lodged at the thoracic inlet. Image courtesy of Gregory Conners, MD, MPH.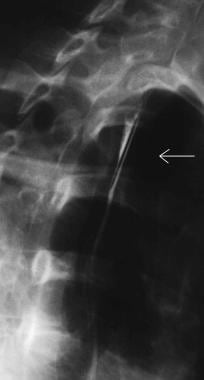 A swallowed radiolucent object (plastic guitar pick) is made visible in the upper esophagus after ingestion of barium. Image courtesy of Raymond K. Tan, MD, and Gregory Conners, MD, MPH.
Pathophysiology
Esophagus
Most complications of pediatric foreign body ingestion are due to esophageal impaction, usually at 1 of 3 typical locations. The most common site of esophageal impaction is at the thoracic inlet. Defined as the area between the clavicles on chest radiograph, this is the site of anatomical change from the skeletal muscle to the smooth muscle of the esophagus. The cricopharyngeus sling at C6 is also at this level and may "catch" a foreign body. About 70% of blunt foreign bodies that lodge in the esophagus do so at this location. Another 15% become lodged at the mid esophagus, in the region where the aortic arch and carina overlap the esophagus on chest radiograph. The remaining 15% become lodged at the lower esophageal sphincter (LES) at the gastroesophageal junction.
Children with preexisting esophageal abnormalities (eg, repair of a tracheoesophageal fistula) are likely to have foreign body impaction at the site of the abnormality. If a child with no known esophageal pathology has a blunt foreign body lodged at a location other than the 3 typical locations described above, the possibility of a previously unknown esophageal abnormality should be considered. The presence of eosinophilic esophagitis has been recognized as contributing to adult esophageal foreign body impaction and may be its presenting feature; although less common in children, eosinophilic esophagitis has also been associated with pediatric esophageal food impaction.[1]
Pointed objects, such as thumbtacks, may become impaled and, therefore, lodged anywhere in the esophagus. Small objects, such as pills and smaller button batteries, may adhere to the slightly moist esophageal mucosa at any point.
Stomach/lower gastrointestinal tract
Once a swallowed foreign body reaches the stomach of a child with a normal GI tract, it is much less likely to lead to complications. Foreign bodies occasionally become lodged at the ileocecal valve.[2] Coins made largely from zinc, most notable United States cents, have been reported to interact with stomach acid leading to stomach ulceration.[3] Foreign-body — induced appendicitis has been reported.[4] Other exceptions include pointed or toxic foreign bodies or objects too long (ie, >6 cm) or too wide (ie, >2 cm) to pass through the pyloric sphincter.
Another important exception is the child who has swallowed more than one magnet; reports exist of swallowed toy magnets attracting and adhering tightly to each other through the GI tract, leading to small bowel obstruction or necrosis of intervening tissues, sometimes with severe sequelae.[5, 6, 7] Magnets may also attract other ferrous swallowed foreign bodies, causing similar problems.
Children with known GI tract abnormalities are more likely to encounter complications. Previous surgery may cause abnormalities of peristalsis, increasing the likelihood of foreign body impaction. For example, children who have had surgery to correct pyloric stenosis are more likely to retain a foreign body in the stomach.
Previously unsuspected lower GI tract abnormalities may present as a complication of foreign body ingestion. For example, a small foreign body may become lodged in a Meckel diverticulum.
Impacted foreign bodies
A foreign body lodged in the GI tract may have little or no effect; cause local inflammation leading to pain, bleeding, scarring, and obstruction; or erode through the GI tract. Migration from the esophagus most often leads to mediastinitis but may involve the lower respiratory tract or aorta and create an aortoenteric fistula. Migration through the lower GI tract may cause peritonitis.
Epidemiology
Frequency
United States
Although exact figures are unavailable, foreign body ingestion is clearly common among children. More than 125,000 ingestions of foreign bodies by people aged 19 years and younger were reported to American Poison Control Centers in 2007.[8] In a recent cross-sectional survey of parents of more than 1500 children, 4% of the children had swallowed a coin (the most commonly swallowed foreign body in many studies).[9]
A study that analyzed emergency department (ED) visits involving magnet ingestion in children from 2002 to 2011 found that there has been an alarming increase in ED visits for magnet ingestion in children. A national estimate of 16,386 children presented to EDs in the United States during the 10-year study period with possible magnet ingestion. ED visits due to possible magnet ingestion increased 8.5-fold from 2002 to 2011 with a 75% average annual increase per year. The majority of patients reported to have ingested magnets were younger than 5 years (54.7%).[10]
International
Pediatric foreign body ingestion is a worldwide problem. Impaction of swallowed fish bones is more commonly observed in countries where fish is a major dietary staple, including Asian countries. A massive database describing pediatric foreign body injury in European and other countries, the "Susy Safe project," recently published information regarding nearly 17,000 cases in children aged 14 years and younger; about 18% of these involved foreign body ingestion.[11]
Mortality/Morbidity
See the list below:
Most foreign bodies pass harmlessly through the GI tract and are eliminated in the stool.

Systemic reactions, such as from nickel allergy, are unusual but have been reported, typically in massive ingestions or occupational exposures.

Retained foreign bodies may cause GI mucosal erosion, abrasion, local scarring, or perforation.

Esophageal foreign body migration may lead to peritonitis, mediastinitis, pneumothorax, pneumomediastinum, pneumonia, or other respiratory disease.
Migration into the aorta may produce an aortoenteric fistula, a horrific complication with a high mortality rate.
Esophageal button batteries may cause substantial mucosal injury in as few as 2 hours.[12]

Complications of removal procedures may lead to iatrogenic morbidity or mortality from the procedure or from accompanying sedation/anesthesia.

Traumatic epiglottitis has been reported in conjunction with foreign body ingestion, due to epiglottis injury from a finger sweep or from the swallowed object itself, even after the object has been removed or expelled.

[14]
Sex
See the list below:
The male-to-female ratio in young children is 1:1.

In older children and adolescents, males are more commonly affected than females.
Age
Children of all ages ingest foreign bodies. However, incidence is greatest in children aged 6 months to 4 years. This reflects the tendency of small children to use their mouths in the exploration of their world. Younger children may be "fed" foreign bodies by older children or be intentionally given foreign bodies by abusive adults. In the teenaged years, concomitant psychiatric problems, mental disturbances, and risk-taking behaviors may lead to foreign body ingestion.
References
Hurtado CW, Furuta GT, Kramer RE. Etiology of esophageal food impactions in children. J Pediatr Gastroenterol Nutr. 2011 Jan. 52(1):43-6. [Medline].

Pavlidis TE, Marakis GN, Triantafyllou A, Psarras K, Kontoulis TM, Sakantamis AK. Management of ingested foreign bodies. How justifiable is a waiting policy?. Surg Laparosc Endosc Percutan Tech. 2008 Jun. 18(3):286-7. [Medline].

O'Hara SM, Donnelly LF, Chuang E, Briner WH, Bisset GS 3rd. Gastric retention of zinc-based pennies: radiographic appearance and hazards. Radiology. 1999 Oct. 213(1):113-7. [Medline].

Robinson AJ, Bingham J, Thompson RL. Magnet induced perforated appendicitis and ileo-caecal fistula formation. Ulster Med J. 2009 Jan. 78(1):4-6. [Medline].

Vijaysadan V, Perez M, Kuo D. Revisiting swallowed troubles: intestinal complications caused by two magnets--a case report, review and proposed revision to the algorithm for the management of foreign body ingestion. J Am Board Fam Med. 2006 Sep-Oct. 19(5):511-6. [Medline].

Fenton SJ, Torgenson M, Holsti M, Black RE. Magnetic attraction leading to a small bowel obstruction in a child. Pediatr Surg Int. 2007 Dec. 23(12):1245-7. [Medline].

Pryor HI 2nd, Lange PA, Bader A, Gilbert J, Newman K. Multiple magnetic foreign body ingestion: a surgical problem. J Am Coll Surg. 2007 Jul. 205(1):182-6. [Medline].

Bronstein AC, Spyker DA, Cantilena LR Jr, Green JL, Rumack BH, Heard SE. 2007 Annual Report of the American Association of Poison Control Centers' National Poison Data System (NPDS): 25th Annual Report. Clin Toxicol (Phila). 2008 Dec. 46(10):927-1057. [Medline].

Conners GP, Chamberlain JM, Weiner PR. Pediatric coin ingestion: a home-based survey. Am J Emerg Med. 1995 Nov. 13(6):638-40. [Medline].

Abbas MI, Oliva-Hemker M, Choi J, Lustik M, Gilger MA, Noel RA, et al. Magnet ingestions in children presenting to US emergency departments, 2002-2011. J Pediatr Gastroenterol Nutr. 2013 Jul. 57(1):18-22. [Medline].

Susy Safe Working Group. The Susy Safe project overview after the first four years of activity. Int J Pediatr Otorhinolaryngol. 2012 May 14. 76 Suppl 1:S3-11. [Medline].

Litovitz T, Whitaker N, Clark L, White NC, Marsolek M. Emerging battery-ingestion hazard: clinical implications. Pediatrics. 2010 Jun. 125(6):1168-77. [Medline].

Shastri N, Leys C, Fowler M, Conners GP. Pediatric button battery and small magnet coingestion: two cases with different outcomes. Pediatr Emerg Care. 2011 Jul. 27(7):642-4. [Medline].

Kavanagh KR, Batti JS. Traumatic epiglottitis after foreign body ingestion. Int J Pediatr Otorhinolaryngol. 2008 Jun. 72(6):901-3. [Medline].

Brayer AF, Sciera M, Conners GP. Pediatric coin ingestion: an unusual presentation. Int J Pediatr Otorhinolaryngol. 2000 Oct 16. 55(3):211-3. [Medline].

Riddlesberger MM Jr, Cohen HL, Glick PL. The swallowed toothbrush: a radiographic clue of bulimia. Pediatr Radiol. 1991. 21(4):262-4. [Medline].

Silverberg M, Tillotson R. Case report: esophageal foreign body mistaken for impacted button battery. Pediatr Emerg Care. 2006 Apr. 22(4):262-5. [Medline].

Conners GP. Diagnostic uses of metal detectors: a review. Int J Clin Pract. 2005 Aug. 59(8):946-9. [Medline].

Conners GP. Finding aluminum foreign bodies. Pediatr Rev. 2000 May. 21(5):172. [Medline].

Conners GP. Esophageal coin ingestion: going low tech. Ann Emerg Med. 2008 Apr. 51(4):373-4. [Medline].

Dahshan AH, Kevin Donovan G. Bougienage versus endoscopy for esophageal coin removal in children. J Clin Gastroenterol. 2007 May-Jun. 41(5):454-6. [Medline].

Arms JL, Mackenberg-Mohn MD, Bowen MV, Chamberlain MC, Skrypek TM, Madhok M. Safety and efficacy of a protocol using bougienage or endoscopy for the management of coins acutely lodged in the esophagus: a large case series. Ann Emerg Med. 2008 Apr. 51(4):367-72. [Medline].

Bhargava R, Brown L. Esophageal coin removal by emergency physicians: a continuous quality improvement project incorporating rapid sequence intubation. CJEM. 2011 Jan. 13(1):28-33. [Medline].

Conners GP, Chamberlain JM, Ochsenschlager DW. Symptoms and spontaneous passage of esophageal coins. Arch Pediatr Adolesc Med. 1995 Jan. 149(1):36-9. [Medline].

Sharieff GQ, Brousseau TJ, Bradshaw JA, Shad JA. Acute esophageal coin ingestions: is immediate removal necessary?. Pediatr Radiol. 2003 Dec. 33(12):859-63. [Medline].

Peters NJ, Mahajan JK, Bawa M, Chabbra A, Garg R, Rao KL. Esophageal perforations due to foreign body impaction in children. J Pediatr Surg. 2015 Feb 7. [Medline].

Litovitz T, Whitaker N, Clark L. Preventing battery ingestions: an analysis of 8648 cases. Pediatrics. 2010 Jun. 125(6):1178-83. [Medline].

Bassett KE, Schunk JE, Logan L. Localizing ingested coins with a metal detector. Am J Emerg Med. 1999 Jul. 17(4):338-41. [Medline].

Bonadio WA, Emslander H, Milner D, Johnson L. Esophageal mucosal changes in children with an acutely ingested coin lodged in the esophagus. Pediatr Emerg Care. 1994 Dec. 10(6):333-4. [Medline].

Brayer AF, Conners GP, Ochsenschlager DW. Spontaneous passage of coins lodged in the upper esophagus. Int J Pediatr Otorhinolaryngol. 1998 Jun 1. 44(1):59-61. [Medline].

Buckler JM, Stool SE. Failure to thrive. An exogenous cause. Am J Dis Child. 1967 Dec. 114(6):652-3. [Medline].

Byard RW, Moore L, Bourne AJ. Sudden and unexpected death--a late effect of occult intraesophageal foreign body. Pediatr Pathol. 1990. 10(5):837-41. [Medline].

Calkins CM, Christians KK, Sell LL. Cost analysis in the management of esophageal coins: endoscopy versus bougienage. J Pediatr Surg. 1999 Mar. 34(3):412-4. [Medline].

Conners GP. A literature-based comparison of three methods of pediatric esophageal coin removal. Pediatr Emerg Care. 1997 Apr. 13(2):154-7. [Medline].

Conners GP. Management of asymptomatic coin ingestion. Pediatrics. 2005 Sep. 116(3):752-3. [Medline].

Conners GP, Chamberlain JM, Ochsenschlager DW. Conservative management of pediatric distal esophageal coins. J Emerg Med. 1996 Nov-Dec. 14(6):723-6. [Medline].

Conners GP, Cobaugh DJ, Feinberg R, Lucanie R, Caraccio T, Stork CM. Home observation for asymptomatic coin ingestion: acceptance and outcomes. The New York State Poison Control Center Coin Ingestion Study Group. Acad Emerg Med. 1999 Mar. 6(3):213-7. [Medline].

Conners GP, Hadley JA. Esophageal coin with an unusual radiographic appearance. Pediatr Emerg Care. 2005 Oct. 21(10):667-9. [Medline].

Dahiya M, Denton JS. Esophagoaortic perforation by foreign body (coin) causing sudden death in a 3-year-old child. Am J Forensic Med Pathol. 1999 Jun. 20(2):184-8. [Medline].

Darrow DH, Holinger LD. Aerodigestive tract foreign bodies in the older child and adolescent. Ann Otol Rhinol Laryngol. 1996 Apr. 105(4):267-71. [Medline].

Ewing S, Miller R. Generalized nickel dermatitis in a 6-year-old boy as a result of swallowing a Canadian nickel. J Am Acad Dermatol. 1991 Nov. 25(5 Pt 1):855-6. [Medline].

Fleisher AG, Holgersen LO, Stanley-Brown EG, Mones R. Prolonged gastric retention of a swallowed coin following pyloromyotomy. J Pediatr Gastroenterol Nutr. 1986 Sep-Oct. 5(5):811-3. [Medline].

Gilchrist BF, Valerie EP, Nguyen M, Coren C, Klotz D, Ramenofsky ML. Pearls and perils in the management of prolonged, peculiar, penetrating esophageal foreign bodies in children. J Pediatr Surg. 1997 Oct. 32(10):1429-31. [Medline].

Karaman A, Cavusoglu YH, Karaman I, Erdogan D, Aslan MK, Cakmak O. Magill forceps technique for removal of safety pins in upper esophagus: a preliminary report. Int J Pediatr Otorhinolaryngol. 2004 Sep. 68(9):1189-91. [Medline].

Macpherson RI, Hill JG, Othersen HB, Tagge EP, Smith CD. Esophageal foreign bodies in children: diagnosis, treatment, and complications. AJR Am J Roentgenol. 1996 Apr. 166(4):919-24. [Medline].

Mahafza TM. Extracting coins from the upper end of the esophagus using a Magill forceps technique. Int J Pediatr Otorhinolaryngol. 2002 Jan 11. 62(1):37-9. [Medline].

Mohiuddin S, Siddiqui MS, Mayhew JF. Esophageal foreign body aspiration presenting as asthma in the pediatric patient. South Med J. 2004 Jan. 97(1):93-5. [Medline].

Nolte KB. Esophageal foreign bodies as child abuse. Potential fatal mechanisms. Am J Forensic Med Pathol. 1993 Dec. 14(4):323-6. [Medline].

Paul RI, Christoffel KK, Binns HJ, Jaffe DM. Foreign body ingestions in children: risk of complication varies with site of initial health care contact. Pediatric Practice Research Group. Pediatrics. 1993 Jan. 91(1):121-7. [Medline].

Paul RI, Jaffe DM. Sharp object ingestions in children: illustrative cases and literature review. Pediatr Emerg Care. 1988 Dec. 4(4):245-8. [Medline].

Pellerin D, Fortier-Beaulieu M, Gueguen J. The fate of swallowed foreign bodies. Experience of 1250 instances of subdiaphragmatic foreign bodies in children. Prog Pediatr Radiol. 1969. 2:286-302.

Sacchetti A, Carraccio C, Lichenstein R. Hand-held metal detector identification of ingested foreign bodies. Pediatr Emerg Care. 1994 Aug. 10(4):204-7. [Medline].

Seikel K, Primm PA, Elizondo BJ, Remley KL. Handheld metal detector localization of ingested metallic foreign bodies: accurate in any hands?. Arch Pediatr Adolesc Med. 1999 Aug. 153(8):853-7. [Medline].

Sheikh A. Button battery ingestions in children. Pediatr Emerg Care. 1993 Aug. 9(4):224-9. [Medline].

Smith SA, Conners GP. Unexpected second foreign bodies in pediatric esophageal coin ingestions. Pediatr Emerg Care. 1998 Aug. 14(4):261-2. [Medline].

Soprano JV, Fleisher GR, Mandl KD. The spontaneous passage of esophageal coins in children. Arch Pediatr Adolesc Med. 1999 Oct. 153(10):1073-6. [Medline].

Vargas EJ, Mody AP, Kim TY, Denmark K, Moynihan JA, Barcega BB, et al. The removal of coins from the upper esophageal tract of children by emergency physicians: a pilot study. CJEM. 2004 Nov. 6(6):434-40. [Medline].

Waltzman ML, Baskin M, Wypij D, Mooney D, Jones D, Fleisher G. A randomized clinical trial of the management of esophageal coins in children. Pediatrics. 2005 Sep. 116(3):614-9. [Medline].
Medscape Reference © 2011 WebMD, LLC