Emergency Escharotomy
Author: Neelu Pal, MD; Chief Editor: Erik D Schraga, MD more...
Updated: May 04, 2015
What would you like to print?
Overview
Full-thickness circumferential and near-circumferential skin burns result in the formation of a tough, inelastic mass of burnt tissue (eschar). The eschar, by virtue of this inelasticity, results in the burn-induced compartment syndrome. This is caused by the accumulation of extracellular and extravascular fluid within confined anatomic spaces of the extremities or digits. The excessive fluid causes the intracompartmental pressures to increase, resulting in collapse of the contained vascular and lymphatic structures and, hence, loss of tissue viability. The capillary closure pressure of 30 mm Hg, also measured as the compartment pressure, is accepted as that which requires intervention to prevent tissue death.
The circumferential eschar over the torso can lead to significant compromise of chest wall excursions and can hinder ventilation. Abdominal compartment syndrome with visceral hypoperfusion is associated with severe burns of the abdomen and torso. (A literature review by Strang et al found the prevalence of abdominal compartment syndrome in severely burned patients to be 4.1-16.6%, with the mean mortality rate for this condition in these patients to be 74.8%.[1] ) Similarly, airway patency and venous return may be compromised by circumferential burns involving the neck.
Escharotomy is the surgical division of the nonviable eschar, which allows the cutaneous envelope to become more compliant. Hence, the underlying tissues have an increased available volume to expand into, preventing further tissue injury or functional compromise (see image below). For more information on burn treatment, see Medscape Reference article Burn Rehabilitation and Reconstruction.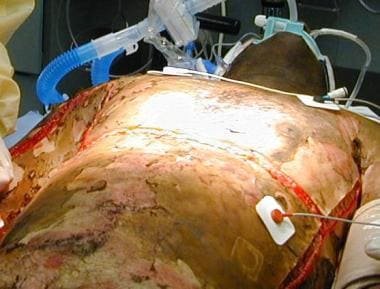 Escharotomy to release the chest wall and allow for ventilation of the patient.
Escharotomy is considered an emergent procedure in burn treatment protocols. However, it rarely needs to be performed in the emergency department at the time of initial presentation of the severely burned patient. Advanced ventilation methods allow the patient to be stabilized to allow for expeditious transfer to the intensive care unit or the surgical suite, where the procedure can be performed under more controlled circumstances.[2, 3] For more information, see Medscape Reference article Burn Resuscitation and Early Management.
Indications
Indications for emergency escharotomy are the presence of a circumferential eschar with one of the following:
Impending or established vascular compromise of the extremities or digits
Impending or established respiratory compromise due to circumferential torso burns[4]
Severely burned extremities should be elevated and range of motion exercises performed every 15-30 minutes as tolerated by the patient. This can help to minimize tissue edema and elevated tissue pressures.
Neurovascular integrity should similarly be monitored frequently and in a scheduled manner. Capillary refilling time, Doppler signals, pulse oximetry, and sensation distal to the burned area should be checked every hour.[5] Limb deep compartment pressures should be checked initially to establish a baseline. Subsequently, any increase in capillary refill time, decrease in Doppler signal, or change in sensation should lead to rechecking the compartment pressures. Compartment pressures greater than 30 mm Hg should be treated by immediate decompression via escharotomy and fasciotomy, if needed.[6, 7] A decision-making algorithm is shown in the image below.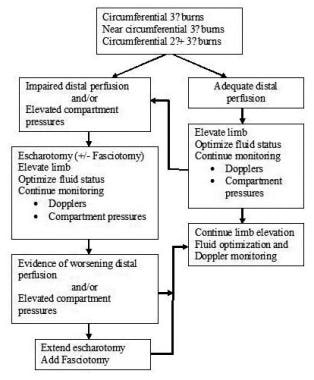 Decision-making algorithm for escharotomy in severely burned extremities.
Contraindications
Patients who have established irreversible gangrene of the extremity or digit in association with a circumferential or near-circumferential eschar would not likely benefit from an escharotomy. This scenario is likely to be encountered in patients who have been managed nonoperatively for a prolonged period of time, during which the neurovascular status of the extremity involved was not monitored adequately. In this group of patients, the risks and potential complications of performing an escharotomy are to be weighed carefully against the benefits.
Anesthesia
See the list below:
In the severely burned patient who is obtunded and intubated, no anesthesia is required because the eschar is nonviable tissue with complete destruction of nerve endings.

[8]

Patients who are awake or conscious require sedation and, occasionally,

general anesthesia

, to allow the procedure to be completed adequately. For more information, see

Procedural Sedation

.
Equipment
See the list below:
Sterile drapes

Povidone-iodine solution

Electrocautery: Escharotomy can result in substantial blood loss; hence, it should be performed using electrocautery and in a controlled environment such as the operating room or the intensive care unit.

Dressing materials
Positioning
See the list below:
Position the patient supine.

Maintain the ability to move the patient into lateral positions to allow circumferential access to the extremity or torso, as needed.
Technique
See the list below:
Clean the proposed surgical site with povidone-iodine solution and drape with sterile drapes.

Use electrocautery to create incisions in the eschar up to the level of the subcutaneous fat.

Severely burned limbs may require performance of fasciotomy concomitantly with the escharotomy.

This may be determined preoperatively by measurement of compartment pressures greater than 30 mm Hg.
Compartment pressures can be obtained intraoperatively after completion of the escharotomy. If elevation of pressure above 30 mm Hg is persistent, a fasciotomy should be performed.

Carry the incision of the eschar down through to the level of the subcutaneous fat. An immediate release in tissue pressure is experienced as a discernible popping sensation.

Carry the incisions approximately 1 cm proximal and distal to the extent of the burn.

Areas overlying joints have densely adherent skin, and the incisions should extend across joints to allow for decompression of neurovascular structures. Take care to avoid damage to the neurovascular bundles that run superficially and near joints.

[6]

Bleeding from escharotomy incisions should be controlled by use of the electrocautery.

The resulting wounds are a potential source of infection and should be treated, as the burn wound, with application of topical antimicrobial and dressings.

Adequacy of the escharotomy can be tested after completion by checking capillary filling pressures, using a handheld Doppler, and by checking compartment pressures.

[9]

Improvement in flow and decrease in compartment pressures indicate that the procedure is adequate.
Persistent low Doppler signals or elevated compartment pressures indicate inadequate release of tissue pressure and a need for additional escharotomy incisions and, possibly, the addition of fasciotomy.
Pearls
See the list below:
Escharotomy incisions for the limbs should be carried to the level of the thenar and hypothenar eminences for the upper extremity and to the level of the great toe medially and the little toe laterally for the lower extremity.

Limb escharotomy incisions run in close proximity to superficial veins, and these veins should be identified and preserved, if possible. If the escharotomy incision transects these veins, adequate hemostasis should be ensured using electrocautery or ligation.

Digital escharotomy should be performed by a practitioner with experience in hand surgery for burns whenever possible. The locations of the incisions for decompression are near the digital neurovascular bundles, and injury to these can lead to profound and permanent loss of function.
Complications
Complications of inadequate decompression[10] or of not performing an escharotomy when indicated are severe.[11] They include the following:
Muscle necrosis

Nerve injury

Gangrene resulting in amputation of the limb or digits

Respiratory compromise due to inadequate ventilation as a result of compressive effect of chest and upper torso burns
Complications of an escharotomy are as follows:
Excessive blood loss

Inadvertent fasciotomy: This results in exposure of the underlying viable tissue, which can become desiccated.

Incision/injury to the underlying healthy tissue including neurovascular structures, especially in the extremities and digits

Bacteremia: Underlying tissue may be infected, and the manipulation can result in bacteremia and

septic shock

. If underlying infection is suspected, the escharotomy should be performed under antibiotic coverage.

Infection of the open escharotomy wounds: These wounds are treated with the same degree of care (with dressings and application of antimicrobial agents) as the burns wounds. These wounds also contribute to the ongoing insensate fluid losses in a manner similar to the burns wounds.
References
Strang SG, Van Lieshout EM, Breederveld RS, et al. A systematic review on intra-abdominal pressure in severely burned patients. Burns. 2014 Feb. 40(1):9-16. [Medline].

Kupas DF, Miller DD. Out-of-hospital chest escharotomy: a case series and procedure review. Prehosp Emerg Care. 2010 Jul-Sep. 14(3):349-54. [Medline].

Rumbach AF, Ward EC, Cornwell PL, Bassett LV, Khan A, Muller MJ. Incidence and Predictive Factors for Dysphagia After Thermal Burn Injury: A Prospective Cohort Study. J Burn Care Res. 2011 Nov. 32(6):608-616. [Medline].

Yildiz TS, Agir H, Koyuncu D, Solak M, Toker K. Survival of an eight-year-old child with a very severe high-tension electrical burn injury: a case report. Ulus Travma Acil Cerrahi Derg. 2006 Oct. 12(4):326-30. [Medline].

Piccolo NS, Piccolo MS, Piccolo PD, Piccolo-Daher R, Piccolo ND, Piccolo MT. Escharotomies, fasciotomies and carpal tunnel release in burn patients--review of the literature and presentation of an algorithm for surgical decision making. Handchir Mikrochir Plast Chir. 2007 Jun. 39(3):161-7. [Medline].

Roberts JR, Hedges JR, et al. Burn care procedures. Roberts JR, ed. Clinical Procedures in Emergency Medicine. 4th ed. USA: Saunders; 2004. Vol 1: 39.

Burd A, Noronha FV, Ahmed K, Chan JY, Ayyappan T, Ying SY, et al. Decompression not escharotomy in acute burns. Burns. 2006 May. 32(3):284-92. [Medline].

Feldmann ME, Evans J, O SJ. Early management of the burned pediatric hand. J Craniofac Surg. 2008 Jul. 19(4):942-50. [Medline].

Saffle JR, Zeluff GR, Warden GD. Intramuscular pressure in the burned arm: measurement and response to escharotomy. Am J Surg. 1980 Dec. 140(6):825-31. [Medline].

Brown RL, Greenhalgh DG, Kagan RJ, Warden GD. The adequacy of limb escharotomies-fasciotomies after referral to a major burn center. J Trauma. 1994 Dec. 37(6):916-20. [Medline].

Gravante G, Delogu D, Sconocchia G. "Systemic apoptotic response" after thermal burns. Apoptosis. 2007 Feb. 12(2):259-70. [Medline].

Oda J, Ueyama M, Yamashita K, et al. Effects of escharotomy as abdominal decompression on cardiopulmonary function and visceral perfusion in abdominal compartment syndrome with burn patients. J Trauma. 2005 Aug. 59(2):369-74. [Medline].

Deitch EA. The management of burns. N Engl J Med. 1990 Nov 1. 323(18):1249-53. [Medline].
Medscape Reference © 2011 WebMD, LLC