Overview
Overview
Pneumonia in the immunocompromised host, like the non-immunocompromised host, involves infection and inflammation of the lower respiratory tract. Despite recent overall improvement in patient survival and the advances in the development of new antimicrobials, pneumonia continues to carry a high mortality and morbidity rate in immunocompromised patients. [1, 2, 3, 4, 5]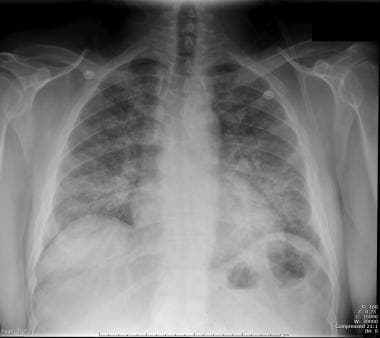 Chest radiograph demonstrating diffuse bilateral infiltrates in a patient with Pneumocystis carinii pneumonia.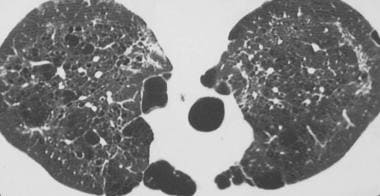 High-resolution computed tomography scan obtained through the upper lobes in the prone position in a patient with a history of Pneumocystis carinii pneumonia. This image shows parenchymal and subpleural cysts and patchy fibrosis that resulted from the Pneumocystis carinii infection.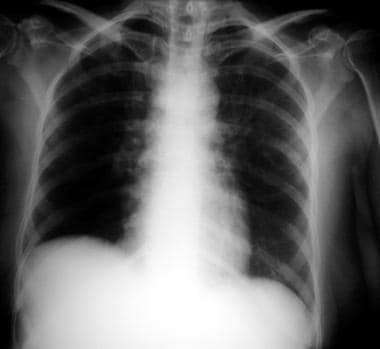 Chest radiograph in a patient with HIV infection, bilateral perihilar infiltrates, and Pneumocystis carinii pericarditis.
Immunocompromise, and, consequently, a high risk of pneumonia, is associated with the presence of the following factors:
Malignancy/neutropenia

Human immunodeficiency virus (HIV) infection/acquired immunodeficiency syndrome (AIDS)

Primary immunodeficiencies

Transplant immunosuppression (solid organ and hematopoietic cell)

Autoimmune disease

Asplenia

Long-term steroid use
Complications
Pneumonia in immunocompromised persons can be severe. It may be complicated by superinfection, drug toxicity, empyema, sepsis, pneumothorax, and acute respiratory distress syndrome (ARDS).
Causes of Pneumonia
The number of potential pulmonary pathogens is increasing as a result of new immunosuppressive therapies, the emergence of multidrug-resistant organisms, and improved diagnostic modalities.
The etiologic agents responsible for pneumonia in immunocompromised patients depends on the underlying immune defect. Infectious cases can be divided into 4 main categories:
Bacterial - Tuberculosis (TB) and non-TB mycobacteria, mainly Mycobacterium avium complex (MAC)
Fungi -Pneumocystis jirovecii, Aspergillus fumigatus, Histoplasma capsulatum, Mucor species, Coccidioides immitis, and Cryptococcus neoformans
Parasites -Strongyloides species
HIV/AIDS
Patients with human immunodeficiency virus (HIV) are at risk for a number of pulmonary infections. Pneumocystis jirovecii (formerly Pneumocystis carinii) remains the most common opportunistic infection in this group; however, the epidemiology of pulmonary infections among patients with HIV is changing. [6]
HIV causes dysfunction of cell-mediated and humoral immunity. CD4 T cells principally help other cells achieve their effector function. As such, at low CD4 levels, a disruption of B-cell differentiation occurs. Impaired B-cell functions, particularly of memory cells, are postulated to account for increased risk of infection. [7]
Despite the advances in the development of antiretroviral therapy (ART), pulmonary disease remains an important cause of mortality and morbidity in persons with AIDS. [8, 9, 10]
CD4 count correlates with the degree of immunosuppression and has a direct relation with the type of pulmonary infection.
Tuberculosis
HIV is considered to be the greatest risk factor for TB. [11] Patients with HIV are more likely to develop active TB once infected, and they have a higher risk of death from TB. HIV is the most important recognized risk factor for progression from latent to active tuberculosis. [12] (See the image below.)
The clinical manifestations of TB in persons with HIV depend on the degree of immunosuppression. In severely immunocompromised patients, the frequency of typical TB presentations and presence of cavitary lesions declines. Under these circumstances, tuberculosis may present as a lower lobe primary pneumonia and not as the upper lobe cavitary disease.
Tuberculin skin test (TST) is more likely to be negative in persons with HIV. Especially with low CD4 counts and interferon-gamma release assays (IGRAs), sensitivity is diminished by HIV infection. [13]
Bacterial pneumonia
The bacterial pathogens causing community-acquired pneumonia (CAP) in persons with HIV are similar to those causing CAP in patients without HIV infection. [14]
The most common organism causing illness in patients with HIV is Streptococcus pneumoniae followed by Haemophilus influenzae, and Staphylococcus aureus. [15, 16, 17]
Pseudomonas aeruginosa, Staphylococcus aureus, Klebsiella pneumoniae, and Enterobacter species are causes of nosocomial pneumonia.
In patients with HIV who are infected with S pneumoniae, the risk of pneumonia is 10-100 times higher than the risk in persons without HIV infection. [18]
Protease inhibitor (PI)-containing ART regimens showed great effect in lowering the risk of bacterial pneumonia. [19]
Fungal pneumonia
Pneumocystis jirovecii (formerly P Carinii) pneumonia (PJP)
Pneumocystis (carinii) jirovecii infection remains the most common opportunistic infection among patients with HIV; however, its epidemiology is changing. Adoption of HAART has resulted in lower frequency of this infection.
Transmission of and infection from Pjirovecii is incompletely understood. Infection in a patient with HIV has been thought in most cases to represent the reactivation of latently colonized patients. New exposures may result in possible person-to-person transmission. [20]
Some evidence suggests that the epidemiology of this infection is defined on a more local geographic level. [21] As molecular analysis of P jirovecii improves, so will the understanding of the transmission and epidemiology of this opportunistic infection. (See the images below.)
Also see Imaging Pneumocystis Carinii Pneumonia and Pneumocystis (carinii) jirovecii Pneumonia.
Endemic fungi: Histoplasma capsulatum
For the immunocompetent host, histoplasmosis is frequently asymptomatic or self-limited. In the setting of HIV/AIDS, this infection is much more common and frequently progresses to disseminated disease. Immunocompromised persons living in endemic areas are at increased risk of disease.
Spores of the mold phase are inhaled and cause a localized or patchy bronchopneumonia. CD4 lymphocytes normally activate macrophages to control the infection. In patients with HIV and low CD4 counts, the likelihood of developing pulmonary and disseminated histoplasmosis is increased. [22]
Endemic fungi: Coccidioides immitis
Coccidioidomycosis also can lead to pneumonia. This fungal infection is caused by Coccidioides immitis, an organism endemic to large parts of the southwestern United States.
Spores are inhaled and then ingested by pulmonary macrophages. Impaired cell-mediated immunity in persons with HIV accounts for an increased risk of infection in these patients. [23] Life-threatening infections have been described in patients both with HIV and advanced immunosuppression (low CD4).
The incidence of the disease has decreased with the development of potent ARV therapy.
Endemic fungi: Cryptococcus neoformans
Cryptococcal pneumonia is more severe in patients with HIV. Patients with pulmonary disease frequently progress to disseminated disease. [24]
Most cases are the result of the reactivation of a latent infection. Recognition and treatment are important, because pulmonary cryptococcus is thought to herald the onset of disseminated disease.
Viruses: Varicella-zoster virus
Visceral dissemination of primary varicella, especially pneumonitis, has been reported in persons with HIV. [25]
Other Causes of Immunodeficiency
Malignancy/neutropenia
Neutropenia is a risk factor for pneumonia; the causative pathogens correlate to the degree and duration of neutropenia. Disease tends to be more severe in persons with neutropenia than in the general population.
An infectious focus is not frequently identified, and the only evidence of infection is a positive blood culture, which occurs in 10-25% of patients. [26]
When identified, the cause of infection is usually organisms from the upper respiratory tract and can be colonizing gram-negative or gram-positive organisms.
Patients with profound, prolonged neutropenia with other comorbid medical problems are more susceptible to invasive fungal pathogens such as aspergillus species, and the agents of mucormycosis.
Viruses are also involved, mainly VZV. Respiratory viruses such as influenza, respiratory syncytial virus (RSV), Adenovirus, and Metapneumovirus are increasingly documented in neutropenic patients.
Mortality in patients with febrile neutropenia is 30-50%. [27, 28]
Transplant immunosuppression
Solid-organ and bone-marrow transplant patients have a heightened risk of pulmonary infection. Time since transplantation, use of immunosuppressive medications, and the type of transplant are all important in predicting these complications.
CMV pneumonitis is common in solid organ transplant recipients, especially lung transplant. The risk is higher if the donor is seropositive and the recipient seronegative. In hematological stem cell transplant (HCT), there is a higher risk for CMV pneumonitis among seropositive transplant recipients and who receive seronegative stem cells.
Nocardia species are another potential cause of pulmonary infection in organ transplant patients requiring long-term immunosuppression.
Human herpesvirus 6 (HHV-6) reactivation is common in HCT recipients and occurs in 40-60% of patients. [29, 30] One of the clinical manifestations of reactivation is interstitial pneumonitis.
Solid organ and HCT recipient are at risk of hyperinfection with Strongyloides stercoralis, which may be accompanied by gram-negative bacterial sepsis and pneumonia.
Autoimmune diseases
Infections in persons with autoimmune conditions can result from the effects of immunosuppressive therapies as well as their underlying condition.
In systemic lupus erythematosus (SLE), distinguishing infection from an autoimmune flare is important. Treatment with steroids in the setting of infection could be deleterious. Susceptibility to infections derives from therapeutic and disease-related factors.
Complement deficiencies and elevated Fc gamma III and granulocyte-macrophage colony-stimulating factor (GM-CSF) levels may contribute to increased susceptibility to infection in patients with SLE. [31] Deficiencies of functional mannose-binding lectin do not appear to be the reason for increased infection burden. [32]
Low complement, the use of more than 20 mg prednisone daily, and the use of cyclophosphamide in patients with SLE were important risk factors in multivariate analyses. [33]
Severe manifestations of disease are treated with immunosuppressive therapies. [31]
The large majority of infectious complications are due to bacterial pathogens. Viral infections (CMV, VZV) are also common.
In connective tissue diseases, the primary condition and the use of immunosuppressive medications place patients at increased risk. Of 5,411 cases reviewed, 29% of patients developed a serious infection; 24% died from this infection—most reported as bacteremia or pneumonia. [34]
Primary immunodeficiencies
Persons with primary immunodeficiencies are challenged by a number of pulmonary infections. The spectrum of infections they face is largely determined by their underlying immune dysfunction: humoral deficiencies, cellular deficiencies, or combined deficiencies.
Patients with defects of humoral immunity are unable to create functional antibodies. Severe, recurrent upper and lower respiratory tract infections characterize their complications. Common pathogens include the encapsulated bacteria Streptococcus pneumoniae, Haemophilus influenzae type b, and Neisseria meningitidis, as well as Giardia, Cryptosporidia, and Campylobacter.
Cellular deficiencies are rare conditions that affect T-cell development and function. Dysfunction of T cells invariably has an impact on B-cell activity; therefore, most of these conditions manifest as combined deficiencies. Typical infections with microorganisms like cytomegalovirus, Epstein-Barr virus, mycobacteria, and fungi (Candida, Cryptococcus, and Pneumocystis)
In combined deficiencies, T-cell and B-cell function is disturbed. These patients present not only with recurrent episodes of RSV, HSV, VZV, influenza, and other viral respiratory infections, but also with chronic diarrhea and chronic mucocutaneous candidiasis.
Steroids
Patients who are taking steroids long-term are at higher risk for pulmonary infections. [35]
The dose and duration of use are predictive of increased risk of pneumonia. Low-dose and short-term use carry minimal additional risk of pneumonia; dosages more than 10 mg/d or cumulatively 700 mg of prednisone increased patients' risk of pulmonary infection. [36]
Steroids alter the phagocytic function of alveolar macrophages and delay the mobilization of immune cells, and affect the antigen presentation. Hence its role in predisposing to bacterial/fungal/viral pneumonia
Asplenic patients
These patients are at particularly high risk for acquiring infections from encapsulated organisms. [18] They also have a higher rate of infection from pneumonias overall. [37]
In asplenic patients, the overall incidence of invasive pneumococcal disease is 500 cases per 100,000 per year. [18]
Clinical Presentation
Patient history
The underlying cause of immunosuppression is a crucial aspect of the history.
Nonspecific findings may include the following:
Fever

Exertional dyspnea, followed by dyspnea at rest with progression of disease

Cough, most often nonproductive in patients with acquired immunodeficiency disease (AIDS)

Pleuritic chest pain

Anorexia and weight loss

Abdominal pain
Physical examination
Pulmonary findings may be nonspecific in immunocompromised patients.
Findings at physical examination may include the following:
Fever

Tachypnea

Tachycardia or bradycardia

Rales or crackles

Rhonchi

Decreased breath sounds

Dullness to percussion

Egophony
Differential Diagnosis
The differential diagnosis for pneumonia in immunocompromised patients includes the noninfectious causes of pulmonary disease:
Radiation induced injury

Drug induced pulmonary disease

Idiopathic pneumonia syndrome

Engraftment syndrome

Primary connective tissue/collagen disease

Transfusion related acute lung injury (TRALI)

ARDS secondary to extra pulmonary processes
Laboratory Studies
Laboratory studies that should be obtained include the patient's white blood cell (WBC) count, arterial blood gas (ABG) level and lactate dehydrogenase (LDH) level, creatinine, electrolytes, sedimentation rate, and C reactive protein.
Sputum culture, sputum Gram stain, acid-fast bacillus (AFB) smear, and AFB culture should be collected with caution in the emergency department. If there is even a remote suspicion of tuberculosis, these specimens should be obtained after the patient has been placed in isolation.
Two sets of blood cultures, despite their low yield and infrequent impact on care, are considered standard of care. [38, 39]
In severe community-acquired pneumonia, urinary antigen testing for Legionella pneumophila and Streptococcus species should be performed early.
Other routine laboratory studies as are clinically indicated, like nasal swab (respiratory viruses), urine antigen (Legionella pneumophila, Histoplasma capsulatum, Streptococcus pneumoniae), CMV PCR and antigenemia , cryptococcal antigen, HHV6 PCR, serum galactomannan antigen, and serum 1,3 beta-D-Glucan.
Chest Radiography
Chest radiography, shown below, is the initial imaging study. Chest radiographic findings may be normal, or they may show infiltrates with consolidation, peribronchovascular, or nodular lesions. As many as 14% of chest radiographic findings are normal in AIDS patients with pulmonary TB. [40]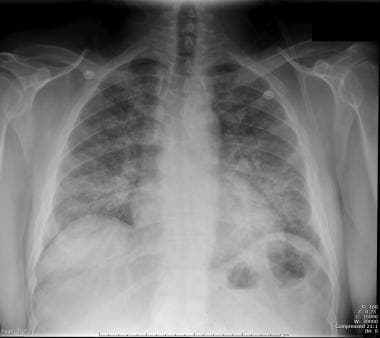 Chest radiograph demonstrating diffuse bilateral infiltrates in a patient with Pneumocystis carinii pneumonia.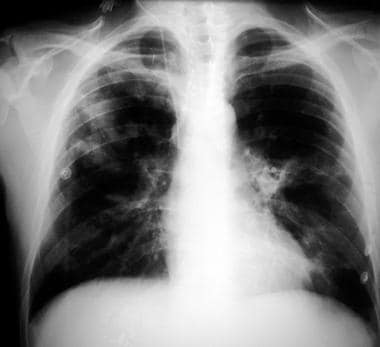 Chest radiograph in a patient with HIV infection and focal infiltrates due to tuberculosis.
Chest CT Scanning
A chest computed tomography (CT) scan, seen below, identifies pneumonic infiltrates not seen on chest radiographs and may facilitate diagnosis days sooner. [41]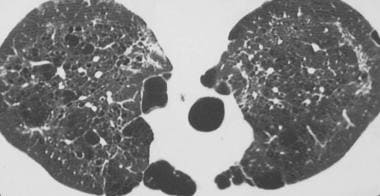 High-resolution computed tomography scan obtained through the upper lobes in the prone position in a patient with a history of Pneumocystis carinii pneumonia. This image shows parenchymal and subpleural cysts and patchy fibrosis that resulted from the Pneumocystis carinii infection.
Chest CT scan often detect parenchymal abnormalities even when the X ray is negative. It also help to identify the extent of the disease, presence of multiple patterns simultaneously and response to therapy.
Lung Sampling
Bronchoscopy with bronchoalveolar lavage (BAL), transbronchial biopsy (TBB), or video-assisted thoracic surgery (VATS) is usually required for lung biopsy.
BAL is useful in HIV patient to diagnose PJP and TB. Conversely TBB is usually done in cases of fungal or viral pneumonia to allow distinction between invasive infections and inflammatory reaction or drug toxicity.
Initial Treatment
Prehospital and emergency department care
Prehospital care consists of the following:
Oxygen administration

Establishment of intravenous access

Oxygen saturation and cardiac monitoring
Emergency department care consists of the following:
Oxygen administration

Oxygen saturation and cardiac monitoring

Empiric antimicrobial therapy based on likely pathogens
Consultations
The following specialists may be consulted:
Pulmonologist and/or critical care specialist

Infectious disease specialist

Immunologist in cases of known or suspected primary immunodeficiency
If outpatient management is possible, arrange for follow-up with a primary care practitioner within 24 hours.
Pharmacologic Treatment
Pharmacologic therapy consists mainly of empiric antibiotics awaiting results of diagnostic studies.
Taking into consideration each patient's characteristics and risk factors, a narrow differential diagnosis can be established and help tailor therapy to the most likely organism.
A literature review by Wang et al indicated that in HIV-infected patients with P jiroveci pneumonia, early adjunctive corticosteroid treatment may lead to a mortality risk 0.55 times lower than that in patients who do not receive the adjunctive therapy. [42]
Prevention
Vaccination (pneumococcal, influenza) and antibiotic/antifungal/antiviral prophylaxis changed the epidemiology and risk factors for pneumonia in immunocompromised patients.
What would you like to print?