Overview
Overview
Background
This article describes the manual reduction of rectal prolapse. Rectal prolapse is an uncommon condition that may be encountered by physicians in a number of settings and specialties. The incidence of rectal prolapse is bimodal. It occurs in children younger than 1 year but is most commonly encountered in older adults. In adults, a female predominance exists.
It is important to distinguish between full-thickness prolapse and mucosal prolapse. In mucosal prolapse, the prolapsed tissue has radial folds at the anal junction, whereas a full-thickness prolapse has circular folds in the prolapsed mucosa (see the first image below). In mucosal prolapse (see the second image below), the mucous membrane alone is prolapsed and may be confused with hemorrhoids. In complete or full-thickness prolapse (see the third and fourth images below), all three layers of the rectum are prolapsed.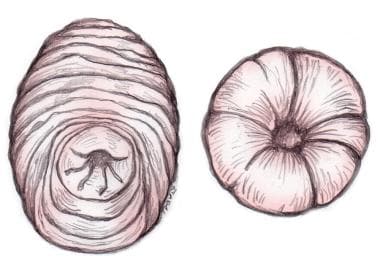 Diagram depicting clinical difference between true (full-thickness) prolapse (left), including all layers of rectum and with circular folds seen on prolapsed intestine, and procidentia, or mucosa-only prolapse (right), in which radial folds are seen in mucosa.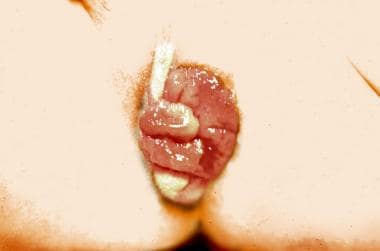 Image demonstrates mucosal prolapse, with radial folds seen on mucosa.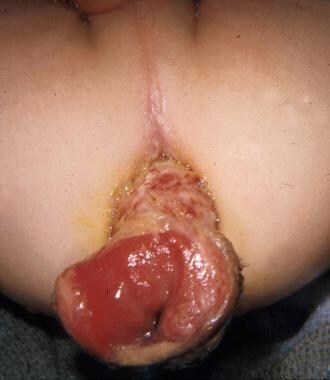 Picture of infant with full-thickness rectal prolapse. Severe edema and abundant mucus are seen on mucosal surface.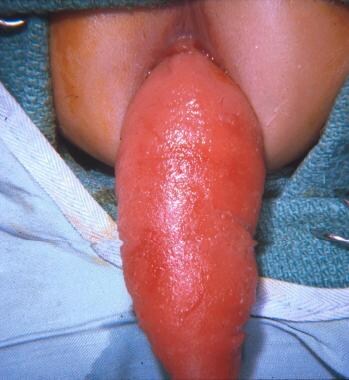 Photograph of severe rectal prolapse with clinically significant edema and mucosal ulceration.
Indications and contraindications
The definitive treatment for recurrent rectal prolapse is surgical rectopexy. [1] As a temporizing measure, manual reduction of the prolapse is indicated, as well as treatment of any underlying condition (eg, constipation). Surgery may not be needed if the underlying condition can be successfully treated.
Mucosal prolapse is annoying, but many patients can be instructed on how to perform self-reduction easily if prolapse recurs while they are awaiting definitive treatment or in response to treatment of any underlying condition. A full-thickness prolapse may also be reduced by the patient, though this may be more difficult.
Manual reduction is contraindicated, and urgent surgical evaluation indicated, in the rare case of strangulated rectal prolapse, which may lead to perforation. This is recognized on physical examination by the necrotic appearance of the prolapsed tissue.
Predisposing factors for rectal prolapse include the following:
Constipation with associated repeated straining at stool

Decreased sphincter tone or weakness of the pelvic floor (this may be age-related)
Periprocedural Care
Equipment
No special equipment is needed.
Patient preparation
Anesthesia
In the case of a relaxed cooperative patient, anesthesia may not be needed. In other cases, a local perianal anesthetic or procedural sedation can be used. Although the bowel itself has no pain receptors, apprehension and discomfort may lead to spasm of the anal sphincter, making reduction difficult or impossible until relaxation can be achieved.
No randomized trials have compared anesthetic techniques for this specific procedure. Perianal field block has been described as useful for various rectal procedures. Multiple injections of a local anesthetic are made into the ischiorectal fat immediately peripheral to the external sphincter, with good anesthesia occurring in just a few minutes. [2] The injections themselves are painful.
Positioning
The patient should be in either the dorsal lithotomy or the knee-chest position. Children may be less anxious if allowed to remain on the lap of a parent.
Monitoring and follow-up
Patients should follow up with a primary care provider or a surgeon for further treatment. Patients (or a family member) who are capable may be instructed to attempt reduction themselves in case of recurrence.
Technique
Sphincter relaxation is key to a successful reduction; failure is usually due to inadequate relaxation.
Apply gentle manual pressure distally to slide the distal end of the prolapse into the lumen and through the anal sphincter. The procedure may take several minutes. If mucosal edema makes reduction difficult, sucrose (table sugar) may be used as an osmotic agent to reduce the edema and make reduction easier. [3] Anecdotally, the use of table salt has been described for the same purpose. If constipation is present, it should be aggressively treated.
Unless gangrenous bowel is reduced and perforation results, no complications are expected. A small amount of bleeding may occur and is not concerning.
The optimal approach for definitive surgical management has not been established. [4]
What would you like to print?