Phytophototoxin Poisoning
Author: Toluwumi Jegede, MD; Chief Editor: Asim Tarabar, MD more...
Updated: Apr 20, 2015
What would you like to print?
Background
Phytophotodermatitis (PPD) is a phototoxic inflammatory dermal reaction induced by exposure to certain light-sensitizing plant products followed by exposure to long-wave ultraviolet light (UV-A 320-380 nm). Both components (plant and light) are required; neither agent alone can cause phytophotodermatitis.
Pathophysiology
Phototoxic dermatitis is 1 of the 4 mechanisms of cutaneous inflammation produced by plant exposure. Plants may also cause irritant contact dermatitis, urticarial dermatitis, or allergic contact dermatitis.
Phytophotodermatitis (PPD) can occur through ingestion of the plant or, more commonly, through topical contact. Furocoumarins (bergaptol, xanthotal, 5-methoxypsoralens, 8 methoxypsoralens, angelican) are the major photoreactive essential plant oils involved in PPD reaction. Plants are thought to produce furocoumarins for disease resistance.
Members of the plant families Umbelliferae, Leguminosae, Apiaceae, Rutaceae, Moraceae, Rosaceae, Asteraceae, Brassicaceae, Clusiaceae, Convolvulaceae, Anacardiaceae, Fabaceae, and Ranunculaceae are noted to cause a phytophotodermatitis reaction. Common plants implicated in these families include celery, giant hogweed, angelica, parsnip, fennel, dill, anise, parsley, lime, lemon, rue, fig, mustard, scurf pea, and chrysanthemums.[1, 2, 3, 4, 5, 6, 7, 8, 9] Photos of a couple of the common plants are shown below.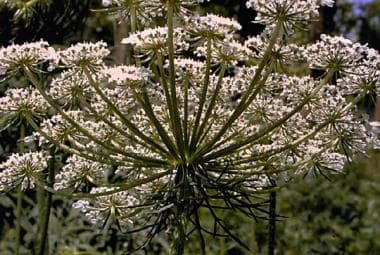 Queen Anne's lace, a member of the Umbelliferae family of plants, is well known to produce a furocoumarin-induced phototoxic eruption.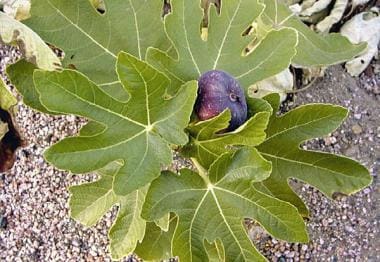 Ficus. The common fig contains furocoumarins and should be considered amidst the list of potential offending agents that cause phytophotodermatitis.
Oil of bergamot, extracted from the rind of fresh bergamot oranges (Citrus bergamia), is commonly used to scent commercial perfumes and colognes. Perfume-induced berloque dermatitis is a specific form of a phytophotodermatitis reaction; areas of skin reaction correspond to areas exposed to perfume.
Exposure to certain wavelengths of ultraviolet A (UV-A 320-380 nm) light enable furocoumarins to absorb energy, thereby altering reactivity of the molecular structure and causing it to attain a high-energy state.[2] In the presence of oxygen, activated molecules form photoaddition products with DNA pyrimidine bases via DNA interstrand crosslinking at cytosine and thymidine with the furan ring of the psoralen and result in epidermal cell nucleic acid damage (type I reaction). In the absence of oxygen, activated furocoumarins can also produce oxygen, superoxide, and hydroxy radicals, which cause cellular membrane damage (type II reaction).
Both mechanisms result in arachidonic acid pathway activation, cellular dysfunction, and tissue destruction. When acute, the process is phototoxic. Chronic presentation of phytophotodermatitis involves a photoallergic response; light-activated plant products act as haptens and produce a cell-mediated hypersensitivity response. Psoralens may not be primarily involved in this chronic mechanism of injury.[10, 11]
Phytophototoxicity is amplified by humidity and perspiration.
The phototoxic inflammatory eruption usually appears 24 hours after exposure and peaks within 48-72 hours. Initial burning erythema is followed by blistering, epidermal necrosis (shown in the photo below), and desquamation.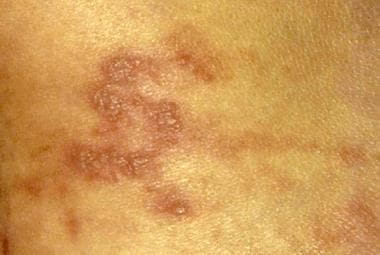 Close-up view of vesicular linear streaks with morphology suggestive of scattered foci of epidermal necrosis.
The acute process may be followed by postinflammatory irregular hyperpigmentation that can last weeks to months. Affected areas may remain hypersensitive to ultraviolet light for many years. In some individuals, these pigmentary changes may be the only portion of the process that is noticed, as the initial inflammatory reaction may be minimal. Irregular hyperpigmentation occurs via 2 mechanisms. Melanin is displaced from the epidermis into the dermis and ingested by melanophages. A larger number of melanocytes and melanosomes are distributed in the epidermis. Hyperpigmentation may be a protective mechanism to avoid additional solar injury.[2]
Epidemiology
Frequency
United States
Incidence varies per population and exposure. Individuals who handle produce or receive significant sunlight exposure (eg, field workers, farmers, gardeners, grocery workers, bartenders, vegetarians, persons who use tanning salons) are at an increased risk. Cases of phytophotodermatitis (PPD) more commonly occur in late spring and summer when furocoumarins are found in increased concentration in plants and when individuals experience increased UV exposure.
International
No difference exists between US and international occurrence.
Mortality/Morbidity
Significant long-term skin changes (hyperpigmentation, scarring) can occur with chronic exposure.
Race
No racial predisposition is demonstrated. Fair-skinned individuals are more frequently reported.
Sex
Both sexes are at risk.
Age
Phytophotodermatitis may be seen in all age groups.
References
Bassioukas K, Stergiopoulou C, Hatzis J. Erythrodermic phytophotodermatitis after application of aqueous fig-leaf extract as an artificial suntan promoter and sunbathing. Contact Dermatitis. 2004 Aug. 51(2):94-5. [Medline].

Bensasson RV, Land EJ, Salet C. Triplet excited state of furocoumarins: reaction with nucleic acid bases and amino acids. Photochem Photobiol. 1978 Mar. 27(3):273-80. [Medline].

Ivie GW, Holt DL, Ivey MC, et al. Natural toxicants in human foods: psoralens in raw and cooked parsnip root. Science. 1981 Aug 21. 213(4510):909-10. [Medline].

Juckett G. Plant dermatitis. Possible culprits go far beyond poison ivy. Postgrad Med. 1996 Sep. 100(3):159-63, 167-71. [Medline].

Massmanian A. Contact dermatitis due to Euphorbia pulcherrima Willd, simulating a phototoxic reaction. Contact Dermatitis. 1998 Feb. 38(2):113-4. [Medline].

Moloney FJ, Parnell J, Buckley CC. Iatrogenic phytophotodermatitis resulting from herbal treatment of an allergic contact dermatitis. Clin Exp Dermatol. 2006 Jan. 31(1):39-41. [Medline].

Sharma A, Goel HC. Some naturally occurring phytophototoxins for mosquito control. Indian J Exp Biol. 1994 Oct. 32(10):745-51. [Medline].

Tunget CL, Turchen SG, Manoguerra AS, et al. Sunlight and the plant: a toxic combination: severe phytophotodermatitis from Cneoridium dumosum. Cutis. 1994 Dec. 54(6):400-2. [Medline].

White W. Club Med dermatitis. N Engl J Med. 1986 Jan 30. 314(5):319-20. [Medline].

Pathak MA, Kramer DM. Photosensitization of skin in vivo by furocoumarins (psoralens). Biochim Biophys Acta. 1969 Nov 19. 195(1):197-206. [Medline].

Solis RR, Dotson DA, Trizna Z. Phytophotodermatitis: a sometimes difficult diagnosis. Arch Fam Med. 2000 Nov-Dec. 9(10):1195-6. [Medline].

Bollero D, Stella M, Rivolin A, Cassano P, Risso D, Vanzetti M. Fig leaf tanning lotion and sun-related burns: case reports. Burns. 2001 Nov. 27(7):777-9. [Medline].

Burnett JW, Nguyen TV. Phytophotodermatitis: differentiation from jellyfish stings. Australas J Dermatol. 1989. 30(2):101-2. [Medline].

Centers for Disease Control and Prevention. Phytophotodermatitis among grocery workers--Ohio. MMWR Morb Mortal Wkly Rep. 1985 Jan 11. 34(1):11-3. [Medline].

Chiarugi A, Nardini P, Borgognoni L, Brandani P, Crocetti E, Carli P. Clinico-pathological characteristics of familial melanoma in a Mediterranean population. Melanoma Res. 2008 Oct. 18(5):367-9. [Medline].

Goskowicz MO, Friedlander SF, Eichenfield LF. Endemic "lime" disease: phytophotodermatitis in San Diego County. Pediatrics. 1994 May. 93(5):828-30. [Medline].

Kerr AC, Muller F, Ferguson J, Dawe RS. Occupational carprofen photoallergic contact dermatitis. Br J Dermatol. 2008 Dec. 159(6):1303-8. [Medline].

Ljunggren B. Severe phototoxic burn following celery ingestion. Arch Dermatol. 1990 Oct. 126(10):1334-6. [Medline].

Mark KA, Brancaccio RR, Soter NA, Cohen DE. Allergic contact and photoallergic contact dermatitis to plant and pesticide allergens. Arch Dermatol. 1999 Jan. 135(1):67-70. [Medline].

Maso MJ, Ruszkowski AM, Bauerle J, et al. Celery phytophotodermatitis in a chef. Arch Dermatol. 1991 Jun. 127(6):912-3. [Medline].

Ozkol HU, Akdeniz N, Ozkol H, Bilgili SG, Calka O. Development of phytophotodermatitis in two cases related to Plantago lanceolata. Cutan Ocul Toxicol. 2012 Mar. 31(1):58-60. [Medline].

Zhang R, Zhu W. Phytophotodermatitis due to chinese herbal medicine decoction. Indian J Dermatol. 2011 May. 56(3):329-31. [Medline]. [Full Text].

Carlsen K, Weismann K. Phytophotodermatitis in 19 children admitted to hospital and their differential diagnoses: Child abuse and herpes simplex virus infection. J Am Acad Dermatol. 2007 Nov. 57(5 Suppl):S88-91. [Medline].

Coffman K, Boyce WT, Hansen RC. Phytophotodermatitis simulating child abuse. Am J Dis Child. 1985 Mar. 139(3):239-40. [Medline].

Mehta AJ, Statham BN. Phytophotodermatitis mimicking non-accidental injury or self-harm. Eur J Pediatr. 2007 Jul. 166(7):751-2. [Medline].

Mill J, Wallis B, Cuttle L, Mott J, Oakley A, Kimble R. Phytophotodermatitis: case reports of children presenting with blistering after preparing lime juice. Burns. 2008 Aug. 34(5):731-3. [Medline].

De Almeida Jr HL, Magalhaes Jorge V. The many faces of phytophotodermatitis. Dermatol Online J. 2008. 12:

Rhodes LE. Topical and systemic approaches for protection against solar radiation-induced skin damage. Clin Dermatol. 1998 Jan-Feb. 16(1):75-82. [Medline].

Sasseville D. Phytodermatitis. J Cutan Med Surg. 1999 Jul. 3(5):263-79. [Medline].

Bansal I, Kerr H, Janiga JJ, Qureshi HS, Chaffins M, Lim HW. Pinpoint papular variant of polymorphous light eruption: clinical and pathological correlation. J Eur Acad Dermatol Venereol. 2006 Apr. 20(4):406-10. [Medline].

Berkley SF, Hightower AW, Beier RC, et al. Dermatitis in grocery workers associated with high natural concentrations of furanocoumarins in celery. Ann Intern Med. 1986 Sep. 105(3):351-5. [Medline].

Epstein WL, Epstein JH. Plant induced dermatitis. Wilderness Medicine. 3rd ed. 1995. 843-61.

Furukawa F, Muto M. Ethnic differences in immunogenetic features and photosensitivity of cutaneous lupus erythematosus. Arch Dermatol Res. 2009 Jan. 301(1):111-5. [Medline].

Gross TP, Ratner L, de Rodriguez O, et al. An outbreak of phototoxic dermatitis due to limes. Am J Epidemiol. 1987 Mar. 125(3):509-14. [Medline].

Klaber R. Phyto-photo-dermatitis. Br J Dermatol. 1943. 54:193-211.

Klaber RE. Phytophotodermatitis. Arch Dis Child. 2006 May. 91(5):385. [Medline].

Langley DM, Criddle LM. A 43-year-old woman with painful, vesicular lesions from giant hogweed photodermatitis. J Emerg Nurs. 2006 Jun. 32(3):246-8. [Medline].

Lecha M. Idiopathic photodermatoses: clinical, diagnostic and therapeutic aspects. J Eur Acad Dermatol Venereol. 2001 Nov. 15(6):499-504; quiz 504-5. [Medline].

Lembo S, Fallon J, O'Kelly P, Murphy GM. Polymorphic light eruption and skin cancer prevalence: is one protective against the other?. Br J Dermatol. 2008 Dec. 159(6):1342-7. [Medline].

Lovell CR. Phytodermatitis. Clin Dermatol. 1997 Jul-Aug. 15(4):607-13. [Medline].

Lugovic Mihic L, Bulat V, Situm M, Cavka V, Krolo I. Allergic hypersensitivity skin reactions following sun exposure. Coll Antropol. 2008 Oct. 32 Suppl 2:153-7. [Medline].

Moller H. Contact and photocontact allergy to psoralens. Photodermatol Photoimmunol Photomed. 1990 Feb. 7(1):43-4. [Medline].

Pathak MA. Phytophotodermatitis. Clin Dermatol. 1986 Apr-Jun. 4(2):102-21. [Medline].

Pipili C, Cholongitas E, Ioannidou D. The diagnostic importance of photosensitivity dermatoses in chronic alcoholism: report of two cases. Dermatol Online J. 2008 Nov 15. 14(11):15. [Medline].

Wolf R, Oumeish OY. Photodermatoses. Clin Dermatol. 1998 Jan-Feb. 16(1):41-57. [Medline].

Zeller MP. Beauty with a Bite: Apiaceae (Umbelliferae) the carrot family. Regul Horticult. 1999. 25:10-13.
Medscape Reference © 2011 WebMD, LLC