Elbow Fracture Workup
Author: Daniel K Nishijima, MD, MAS; Chief Editor: Trevor John Mills, MD, MPH more...
Updated: Jan 22, 2016
What would you like to print?
Imaging Studies
Anteroposterior (AP), lateral, and oblique radiographs of the elbow adequately visualize most elbow fractures.
To detect subtle elbow fractures, it is key to systematically view elbow films looking at certain aspects of the elbow.
In a study of plain radiographs in 3 emergency departments for acute, nonpenetrating elbow injuries in patients 5 years or older, the active 4-way range-range-of-motion test (full extension, flexion to 90°, full pronation, and supination) was found to be 99% sensitive for all injuries and 100% sensitive for all elbow injuries that required surgery.[11]
In a study of ultrasonography performed by pediatric emergency physicians for elbow fractures, a positive ultrasound result had a 98% sensitivity and a 70% specificity. A positive result was defined as an elevated posterior fat pad or lipohemarthrosis of the posterior fat pad.[12]
Anterior humeral line
This is a line that is drawn along the anterior aspect of the humeral shaft on the lateral radiograph.
The line passes through the middle one third of the capitellum in bones that are not injured.
Only true lateral views should be used to assess this line.
For example, a supracondylar fracture changes the anterior humeral line as it passes through the capitellum.
Radiocapitellar line
This is a line that bisects the proximal radial shaft and should pass through the capitellum on every view.
Fat pads
On lateral films, the anterior fat pad normally lies against the anterior surface of the distal humerus. See the image below.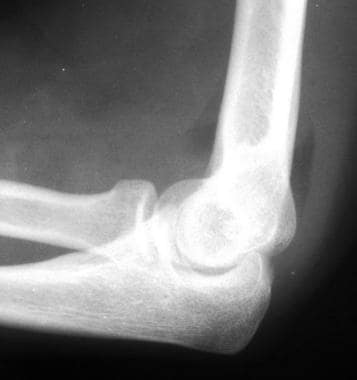 Anterior and posterior fat pads with radial head fracture.
A joint effusion displaces this fat pad anteriorly and produces the sail sign.
The posterior fat pad is not visible in films of the normal elbow; in patients with suspected elbow fracture, a posterior fat pad should be treated as a fracture.
Fat pads may be elevated if fluid is present from other conditions such as joint infection or inflammation.[13]
Ossification centers
Often, the pediatric elbow is difficult to evaluate due to the ossification centers of the elbow.
One common mnemonic for the order of appearance for the ossification centers of the elbow is CRITOE.
Table. CRITOE. (Open Table in a new window)
| | |
| --- | --- |
| Ossification Centers | Age of Appearance, y |
| Capitellum | 1-2 |
| Radial head | 4-5 |
| Internal (medial) epicondyle | 4-5 |
| Trochlea | 8-10 |
| Olecranon | 8-9 |
| External (lateral) epicondyle | 10-11 |
Procedures
In general, an orthopedic consultant best handles decisions regarding reduction of significantly angulated and displaced fractures.
If neurovascular structures are compromised, the emergency physician may need to apply forearm traction to reestablish distal pulses.
If pulse is not restored with traction, emergent operative intervention for brachial artery exploration or fasciotomy is indicated.
References
Geiderman JM. Humerus and elbow. Marx JA. Marx: Rosen's Emergency Medicine: Concepts and Clinical Practice. 6th ed. Philadelphia: Mosby; 2006. Chap 49.

Roust AF, Bredenkamp JH, Uehara DT. Injuries to the elbow and forearm. Tintinalli JE, Kelen GD, Stapczynski JS, eds. Emergency Medicine: A Comprehensive Study Guide. 6th ed. New York: McGraw Hill Text; 2003. 1691-1694.

Goldflam K. Evaluation and treatment of the elbow and forearm injuries in the emergency department. Emerg Med Clin North Am. 2015 May. 33 (2):409-21. [Medline].

Gupta R. Intercondylar fractures of the distal humerus in adults. Injury. 1996 Oct. 27(8):569-72. [Medline].

Wilkins KE. Fractures and dislocations of the elbow region. Rockwood CA, Wilkins KE, King RE, ed. Fractures in Children. 4th ed. Philadelphia: JB Lippincott; 1996. 653.

Brown IC, Zinar DM. Traumatic and iatrogenic neurological complications after supracondylar humerus fractures in children. J Pediatr Orthop. 1995 Jul-Aug. 15(4):440-3. [Medline].

Harris IE. Supracondylar fractures of the humerus in children. Orthopedics. 1992 Jul. 15(7):811-7. [Medline].

Nicholson DA, Driscoll PA. ABC of emergency radiology. The elbow. BMJ. 1993 Oct 23. 307(6911):1058-62. [Medline].

Skaggs D, Pershad J. Pediatric elbow trauma. Pediatr Emerg Care. 1997 Dec. 13(6):425-34. [Medline].

Shearman C, el-Khoury GY. Pitfalls in the radiologic evaluation of extremity trauma: Part 1. The upper extremity. Am Fam Physician. 1998. 58:1298. [Medline].

Vinson DR, Kann GS, Gaona SD, Panacek EA. Performance of the 4-way range of motion test for radiographic injuries after blunt elbow trauma. Am J Emerg Med. 2015 Oct 24. [Medline].

Rabiner JE, Khine H, Avner JR, Friedman LM, Tsung JW. Accuracy of point-of-care ultrasonography for diagnosis of elbow fractures in children. Ann Emerg Med. 2013 Jan. 61 (1):9-17. [Medline].

Rabiner JE, Khine H, Avner JR, Tsung JW. Ultrasound findings of the elbow posterior fat pad in children with radial head subluxation. Pediatr Emerg Care. 2015 May. 31 (5):327-30. [Medline].

Kuntz DG Jr, Baratz ME. Fractures of the elbow. Orthop Clin North Am. 1999 Jan. 30(1):37-61. [Medline].

Karlsson MK, Hasserius R, Karlsson C, et al. Fractures of the olecranon: a 15- to 25-year followup of 73 patients. Clin Orthop. 2002 Oct. 205-12. [Medline].

Steinberg G, Adkins C, Baran D. Orthopaedics in Primary Care. 2nd ed. Williams & Wilkins; 1992. 62-85.
Table. CRITOE.
| | |
| --- | --- |
| Ossification Centers | Age of Appearance, y |
| Capitellum | 1-2 |
| Radial head | 4-5 |
| Internal (medial) epicondyle | 4-5 |
| Trochlea | 8-10 |
| Olecranon | 8-9 |
| External (lateral) epicondyle | 10-11 |
Medscape Reference © 2011 WebMD, LLC