Forearm Fractures in Emergency Medicine Workup
Author: Toluwumi Jegede, MD; Chief Editor: Trevor John Mills, MD, MPH more...
Updated: May 09, 2016
What would you like to print?
Imaging Studies
General radiography principles
Anteroposterior and lateral views of the wrist, forearm, and elbow are required when forearm fracture is suspected from clinical findings.
Forearm radiographs, which include distal joints, are inadequate for absolutely excluding associated wrist and elbow injuries, as diagnosis of radioulnar dislocation requires the x-ray beam to be centered at the joint.
Nightstick fracture
Defined as an isolated midshaft ulnar fracture, usually as a result of the forearm being held in protection across the face. It can also occur with excessive supination or pronation. These require orthopedic referral and can be immobilized with a long-arm splint with 90 degrees of elbow flexion and the hand in a neutral position. Some authors advocate that after 1 week the splint or cast be replaced by a prefabricated functional brace, which allows better wrist mobility and return to function.[9] Open reduction and internal fixation (ORIF) becomes necessary when displacement greater than 5 mm or angulation greater than 10º persists.
A systematic review of published randomised, controlled trials and observational studies that assessed the outcome of nightstick fractures after above- or below-elbow immobilization, bracing, and early mobilization found that early mobilization was associated with the shortest radiologic time to union (mean, 8.0 weeks) and the lowest mean rate of nonunion (0.6%). Fractures that were treated with above-elbow immobilization, below-elbow immobilization, or bracing had longer mean radiologic times to union (9.2 weeks, 9.2 weeks, and 8.7 weeks, respectively) and higher mean rates of nonunion (3.8%, 2.1%, and 0.8%, respectively).[10]
Monteggia fracture
Monteggia fracture is defined as a fracture of the ulna (usually proximal one third) with dislocation of the radial head. Anterior radial head dislocation is most common (60%), yet medial, lateral, and posterior dislocations also occur. Isolated proximal ulnar fractures are rare. Always suspect a Monteggia fracture/dislocation, and closely examine radial head for dislocation or other evidence of injury.
Radial head dislocation can be missed when radiographs are misinterpreted, falsely negative, or inadequate. It also may go unrecognized when the dislocation reduces spontaneously prior to imaging. A line drawn through the radial shaft and head must align with the capitellum in all views to exclude dislocation.
Immobilize with a long-arm splint (with elbow flexed 90° and forearm neutral). Children may be treated by reduction and casting, while adults require admission for ORIF.
One study assessed the efficacy of the following treatment strategy for Monteggia fracture based on the ulnar fracture pattern: closed reduction for plastic/greenstick fractures; intramedullary pin fixation for transverse/short oblique fractures; and open reduction and internal fixation for long oblique/comminuted fractures. According to the authors, none of the 57 patients treated according to the strategy experienced failure. However, 6 of 32 patients who were treated less rigorously demonstrated recurrent radiocapitellar instability (3 patients), loss of ulnar fracture reduction requiring revision surgery (2 patients), or both events (1 patient). All treatment failures occurred in complete fractures treated nonoperatively.[11]
Galeazzi fracture
Galeazzi fracture is defined as a fracture of the distal one third of the radius with dislocation of the distal radioulnar joint (DRUJ). It is also known as a reverse Monteggia fracture. Galeazzi fracture is 3 times more common than Monteggia lesion. Disruption of the DRUJ when overlooked results in a higher rate of morbidity.
Shortening of the radius by 5 mm, fracture of the base of the ulnar styloid, widening of DRUJ space by 2 mm, or subluxation of DRUJ all are associated with DRUJ pathology. Obtaining comparison views of the uninjured wrist may be helpful. A 10-20° rotation from normal radiographic position may give false-negative or false-positive readings for DRUJ dislocation. Immobilize with a long-arm splint (with elbow flexed 90° and forearm pronated). Treatment requires admission for an ORIF.
Concomitant radius and ulna fractures
Concomitant fractures usually result from a significant force applied directly to the forearm or major multisystem trauma. Swelling and deformity indicate the diagnosis, and radiographic confirmation is usually straightforward. Compartment syndrome is a potential complication because of the degree of tissue injury and swelling involved. Treatment usually requires admission for an urgent ORIF, though in children younger than 10 years, if reduced to less than 10° of angulation, these fractures may be treated by casting alone. See the image below.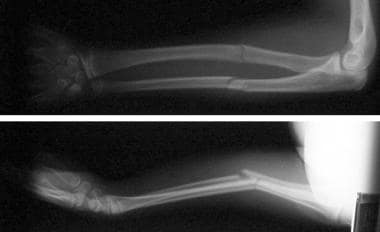 Fractures of the radius and ulna with dorsal angulation of distal fragments.
Essex-Lopresti fracture
Essex-Lopresti fracture is defined as a fracture of the radial head and dislocation of DRUJ, with partial or complete disruption of the radioulnar interosseous membrane.
Torus (greenstick) fracture
Torus fracture occurs in children with only a moderate degree of trauma and can be managed with a long-arm cast for 4-6 weeks when angulation is less than 10°. All require orthopedic referral. See the images below.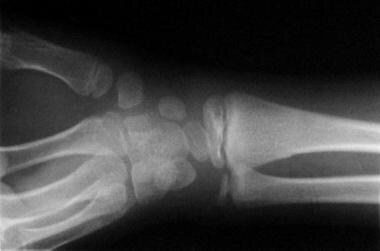 Torus fracture of the radius.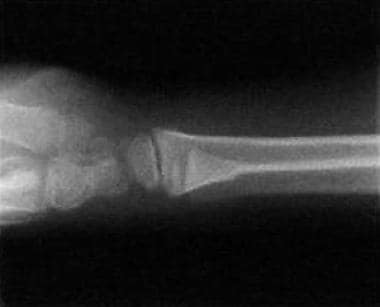 Torus fracture of the radius.
References
Simon RR, Sherman SC, Koenigsknecht SJ. Forearm. Emergency Orthopedics: The Extremities. 5th ed. McGraw-Hill; 2007. 218-231.

Ryan LM. Forearm fractures in children and bone health. Curr Opin Endocrinol Diabetes Obes. 2010 Dec. 17(6):530-4. [Medline].

Orces CH, Martinez FJ. Epidemiology of fall related forearm and wrist fractures among adults treated in US hospital emergency departments. Inj Prev. 2011 Feb. 17(1):33-6. [Medline].

Benjamin H, Hang B. Common Acute Upper Extremity Injuries in Sports. Clin Ped Emerg Med. 8:15-30.

Zalavras C, Nikolopoulou G, Essin D, et al. Pediatric fractures during skateboarding, roller skating, and scooter riding. Am J Sports Med. 2005 Apr. 33(4):568-73. [Medline].

Naranje SM, Erali RA, Warner WC Jr, Sawyer JR, Kelly DM. Epidemiology of Pediatric Fractures Presenting to Emergency Departments in the United States. J Pediatr Orthop. 2016 Jun. 36 (4):e45-8. [Medline].

Gustilo RB, Mendoza RM, Williams DN. Problems in the management of type III (severe) open fractures: a new classification of type III open fractures. J Trauma. 1984 Aug. 24(8):742-6. [Medline].

Zalavras CG, Patzakis MJ, Holtom PD, et al. Management of open fractures. Infect Dis Clin North Am. 2005 Dec. 19(4):915-29. [Medline].

Gebuhr P, Holmich P, Orsnes T, et al. Isolated ulnar shaft fractures. Comparison of treatment by a functional brace and long-arm cast. J Bone Joint Surg Br. 1992 Sep. 74(5):757-9. [Medline].

Cai XZ, Yan SG, Giddins G. A systematic review of the non-operative treatment of nightstick fractures of the ulna. Bone Joint J. 2013 Jul. 95-B(7):952-9. [Medline].

Ramski DE, Hennrikus WP, Bae DS, Baldwin KD, Patel NM, Waters PM, et al. Pediatric Monteggia Fractures: A Multicenter Examination of Treatment Strategy and Early Clinical and Radiographic Results. J Pediatr Orthop. 2014 Jun 26. [Medline].

Betham C, Harvey M, Cave G. Manipulation of simple paediatric forearm fractures: a time-based comparison of emergency department sedation with theatre-based anaesthesia. N Z Med J. 2011 Oct 14. 124(1344):46-53. [Medline].

Chinta SS, Schrock CR, McAllister JD, Jaffe DM, Liu J, Kennedy RM. Rapid administration technique of ketamine for pediatric forearm fracture reduction: a dose-finding study. Ann Emerg Med. 2015 Jun. 65 (6):640-648.e2. [Medline].

Tageldin ME, Alrashid M, Khoriati AA, Gadikoppula S, Atkinson HD. Periosteal nerve blocks for distal radius and ulna fracture manipulation--the technique and early results. J Orthop Surg Res. 2015 Sep 2. 10:134. [Medline].

[Guideline] American Academy of Orthopaedic Surgeons clinical practice guideline on the treatment of distal radius fractures. National Guideline Clearinghouse. Available at http://www.guideline.gov/content.aspx?id=15486&search=distal+and+radius+and+ulna. 2009 Dec 5; Accessed: May 9, 2016.

Laidman J. Ibuprofen Better Option for Kids with Fracture. Medscape Medical News. Available at http://www.medscape.com/viewarticle/833895. Accessed: November 1, 2014.

Poonai N, Bhullar G, Lin K, Papini A, Mainprize D, Howard J, et al. Oral administration of morphine versus ibuprofen to manage postfracture pain in children: a randomized trial. CMAJ. 2014 Oct 27. [Medline].

Anderson LD, Meyer FN, Lippincott JB. Fractures of the shafts of the radius and ulna. Rockwood and Green's Fractures in Adults. 3rd ed. Publishers: Lippincott-Raven; 1991. 679-737.

Carson S, Woolridge D, Colletti J, et al. Pediatric Upper Extremity Injuries. Ped Clin North Am. 2006. 53:41-67.

Cheng JC, Shen WY. Limb fracture pattern in different pediatric age groups: a study of 3,350 children. J Orthop Trauma. 1993. 7(1):15-22. [Medline].

Cramer KE, Glasson S, Mencio G, et al. Reduction of forearm fractures in children using axillary block anesthesia. J Orthop Trauma. 1995. 9(5):407-10. [Medline].

Eastell R. Forearm fracture. Bone. 1996 Mar. 18(3 Suppl):203S-207S. [Medline].

Gleeson AP, Beattie TF. Monteggia fracture-dislocation in children. J Accid Emerg Med. 1994 Sep. 11(3):192-4. [Medline].

Gregory PR, Sullivan JA. Nitrous oxide compared with intravenous regional anesthesia in pediatric forearm fracture manipulation. J Pediatr Orthop. 1996 Mar-Apr. 16(2):187-91. [Medline].

Handoll HH, Madhok R. Closed reduction methods for treating distal radial fractures in adults. Cochrane Database Syst Rev. 2003. 4.

Handoll HH, Madhok R. Surgical interventions for treating distal radial fractures in adults. Cochrane Database Syst Rev. 2003. 4.

Handoll HH, Pearce PK. Interventions for isolated diaphyseal fractures of the ulna in adults. Cochrane Database Syst Rev. 2004. CD000523. [Medline].

Kay S, Smith C, Oppenheim WL. Both-bone midshaft forearm fractures in children. J Pediatr Orthop. 1986 May-Jun. 6(3):306-10. [Medline].

Kling J. Most Splints Misapplied in Children. Medscape Medical News. Oct 12 2014. Available at http://www.medscape.com/viewarticle/833122. Accessed: Oct 14 2014.

Macule Beneyto F, Arandes Renu JM, Ferreres Claramunt A, et al. Treatment of Galeazzi fracture-dislocations. J Trauma. 1994 Mar. 36(3):352-5. [Medline].

Metz VM, Gilula LA. Imaging techniques for distal radius fractures and related injuries. Orthop Clin North Am. 1993 Apr. 24(2):217-28. [Medline].

Morgan WJ, Breen TF. Complex fractures of the forearm. Hand Clin. 1994 Aug. 10(3):375-90. [Medline].

Newton EJ, Love J. Emergency department management of selected orthopedic injuries. Emerg Med Clin North Am. 2007 Aug. 25(3):763-93, ix-x. [Medline].

Proust AF, Bredenkamp JH, Uehara DT. Injuries to the elbow and forearm. Tintinalli JE, ed. Emergency Medicine: A Comprehensive Study Guide. 6th ed. McGraw Hill Text: 2004. 1690-1694.

Singletary EM. Volar dislocation of the distal radioulnar joint. Ann Emerg Med. 1994 Apr. 23(4):881-3. [Medline].

Younger AS, Tredwell SJ, Mackenzie WG, et al. Accurate prediction of outcome after pediatric forearm fracture. J Pediatr Orthop. 1994 Mar-Apr. 14(2):200-6. [Medline].

Zautcke JL. Forearm Injuries. Hart RG, Rittenberry TJ, eds. Handbook of Orthopaedic Emergencies. Lippincott Williams & Wilkins Publishers: 1999. 222-232.
Medscape Reference © 2011 WebMD, LLC