Hand Fracture Workup
Author: Erik D Schraga, MD; Chief Editor: Trevor John Mills, MD, MPH  more...
Updated: Oct 17, 2015
What would you like to print?
Imaging Studies
In ED, plain radiography is the diagnostic test of choice to evaluate potential hand fractures.[2]
Standard radiographs include AP, lateral, and oblique views. Example radiographs are shown below.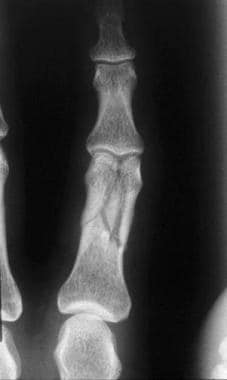 Phalangeal fractures. Complex unstable fracture of the proximal phalanx. Image courtesy of Mark Baratz, MD.
Displaced fourth and fifth metacarpal fractures, anteroposterior view.
Fourth and fifth metacarpal fractures, oblique view.
Special imaging studies, such as MRI, CT, and bone scans, seldom are needed in ED to evaluate hand injuries.
Procedures
Patients in severe pain or those who require reduction may be anesthetized by metacarpal or wrist nerve blocks.
References
Hammert WC. Treatment of nonunion and malunion following hand fractures. Clin Plast Surg. 2011 Oct. 38 (4):683-95. [Medline].

[Guideline] Rubin DA, Daffner RH, Weissman BN, Bennett DL, Blebea JS, Jacobson JA, et al. ACR Appropriateness Criteria acute hand and wrist trauma. [online publication]. Reston (VA): American College of Radiology (ACR). 2008. [Full Text].

Oetgen ME, Dodds SD. Non-operative treatment of common finger injuries. Curr Rev Musculoskelet Med. 2008 Jun. 1(2):97-102. [Medline]. [Full Text].

Capo JT, Hall M, Nourbakhsh A, Tan V, Henry P. Initial management of open hand fractures in an emergency department. Am J Orthop (Belle Mead NJ). 2011 Dec. 40 (12):E243-8. [Medline].

Henry MH. Fractures of the proximal phalanx and metacarpals in the hand: preferred methods of stabilization. J Am Acad Orthop Surg. 2008 Oct. 16(10):586-95. [Medline].

Ozçelik D, Toplu G, Unveren T, Kaçagan F, Senyuva CG. Long-term objective results of proximal phalanx fracture treatment. Ulus Travma Acil Cerrahi Derg. 2011 May. 17(3):253-60. [Medline].

Ben-Amotz O, Sammer DM. Practical Management of Metacarpal Fractures. Plast Reconstr Surg. 2015 Sep. 136 (3):370e-9e. [Medline].

Kollitz KM, Hammert WC, Vedder NB, Huang JI. Metacarpal fractures: treatment and complications. Hand (N Y). 2014 Mar. 9 (1):16-23. [Medline].

Pavic R, Malovic M. Operative treatment of Bennett's fracture. Coll Antropol. 2013 Mar. 37(1):169-74. [Medline].

Houshian S, Jing SS. Treatment of Rolando fracture by capsuloligamentotaxis using mini external fixator: a report of 16 cases. Hand Surg. 2013. 18(1):73-8. [Medline].

Gajendran VK, Gajendran VK, Malone KJ. Management of complications with hand fractures. Hand Clin. 2015 May. 31 (2):165-77. [Medline].

American Society for Surgery of the Hand, Idler RS, Mantktelow RT. The Hand Examination and Diagnosis. New York: Churchill Livingstone; 1990. 13-73.

Antosia R, Lyn E. Emergency Medicine: Concepts and Clinical Practice. Mosby-Year Book; 1998.

Harwood-Nuss A, Wolfson A. Hand injuries. Clinical Practice of Emergency Medicine. 4th ed. 2005. 1062-1065.

Rosen P, Doris P. Musculoskeletal trauma. Diagnostic Radiology in Emergency Medicine. 1992. 178-182.

Ruiz E, Cicero JJ. Hand injuries and infections. Emergency Management of Skeletal Injuries. St. Louis, MO: Mosby-Year Book; 1990. 339-59.

Simon RR, Koenigsknecht SJ. Fractures of the hand. Emergency Orthopedics. 4th ed. New York: McGraw-Hill; 2001. 97-133.

Stewart C, Winograd S. Hand injuries: a step by step approach for clinical evaluation and definitive management. Emerg Med Rep. 1997. 18:223-234.

Tintinalli JE, Ruiz E, Krome RL. Injuries to the hand and digits. Emergency Medicine: A Comprehensive Study Guide. 6th ed. New York: McGraw Hill; 2004. 2004: 1665-1674.
Medscape Reference © 2011 WebMD, LLC