Overview
Background
Pelvic fracture is a disruption of the bony structures of the pelvis. In elderly persons, the most common cause is a fall from a standing position. However, fractures associated with the greatest morbidity and mortality involve significant forces such as that from a motor vehicle crash or a fall from a height. During Operation Iraqi Freedom and Operation Enduring Freedom, causes of fatal pelvis fractures also included blast injury and penetrating trauma. [1] . In one study of victims of improvised explosive devices (IEDs) treated for traumatic lower extremity amputations at a United Kingdom field hospital in Afghanistan, 22% had an associated pelvic fracture. [2, 3]
For related information, see Medscape's Fracture Resource Center.
Pathophysiology
The bony pelvis consists of the ilium (ie, iliac wings), ischium, and pubis, which form an anatomic ring with the sacrum. Disruption of this ring requires significant energy. Because of the forces involved, pelvic fractures frequently involve injury to organs contained within the bony pelvis. In addition, trauma to extra-pelvic organs is common. Pelvic fractures are often associated with severe hemorrhage due to the extensive blood supply to the region.
Pelvic fractures are most commonly described using one of two classification systems.
The Tile classification system is based on the integrity of the posterior sacroiliac complex.
In type A injuries, the sacroiliac complex is intact. The pelvic ring has a stable fracture that can be managed nonoperatively.

Type B injuries are caused by either external or internal rotational forces resulting in partial disruption of the posterior sacroiliac complex. These are often unstable.

Type C injuries are characterized by complete disruption of the posterior sacroiliac complex and are both rotationally and vertically unstable. These injuries are the result of great force, usually from a motor vehicle crash, fall from a height, or severe compression.
The Young classification system is based on mechanism of injury: lateral compression, anteroposterior compression, vertical shear, or a combination of forces. Lateral compression (LC) fractures involve transverse fractures of the pubic rami, either ipsilateral or contralateral to a posterior injury.
Grade I - Associated sacral compression on side of impact

Grade II - Associated posterior iliac ("crescent") fracture on side of impact

Grade III - Associated contralateral sacroiliac joint injury
Anterior-posterior compression (APC) fractures, shown in the radiograph below, involve symphyseal diastasis or longitudinal rami fractures.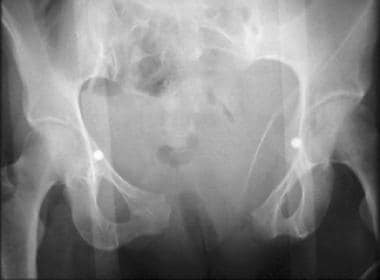 Anterior-posterior (AP) compression pelvic fracture.
See the list below:
Grade I - Associated widening (slight) of pubic symphysis or of the anterior sacroiliac (SI) joint, while sacrotuberous, sacrospinous, and posterior SI ligaments remain intact

Grade II - Associated widening of the anterior SI joint caused by disruption of the anterior SI, sacrotuberous, and sacrospinous ligaments; posterior SI ligaments remain intact

Grade III (open book) - Complete SI joint disruption with lateral displacement and disrupted anterior SI, sacrotuberous, sacrospinous, and posterior SI ligaments
Vertical shear (VS) involves symphyseal diastasis or vertical displacement anteriorly and posteriorly, which is usually through the SI joint, though occasionally through the iliac wing or sacrum. This is shown in the radiograph below.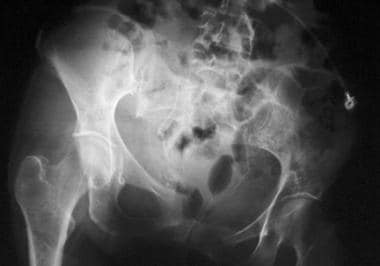 Vertical shear (VS) fracture pattern.
Combined mechanical (CM) fractures involve a combination of these injury patterns, with LC/VS being the most common.
A recent comparison of the Tile and Young and Burgess classification systems applied to a group of trauma patients with pelvic ring fractures showed no difference in predictive value for mortality, need for transfusion, or associated injuries. [4] Intraobserver and interobserver variability among orthopedic surgeons asked to use these systems to classify pelvic fractures may limit their utility. [2]
Acetabular fractures most commonly involve disruption of the acetabular socket when the hip is driven backward in a motor vehicle accident. Occasionally, they occur in a pedestrian struck by a vehicle moving at a significant rate of speed.
Falls in elderly persons may involve fractures (usually of the pubic rami) without disruption of the ring.
Epidemiology
Frequency
United States
Pelvic fractures represent 3% of all skeletal fractures and 1-2% of fractures seen by orthopedists who care for children. Single pubic rami and avulsion fractures are most common.
Mortality/Morbidity
Over half of all pelvic fractures occur as a result of minimal-to-moderate trauma, such as a fall from a standing position. Of these, 95% are minor. On the other hand, the more severe pelvic fractures involve significant trauma. Most of this discussion relates to the severe pelvic fractures.
A recent analysis of a database of more than 63,000 trauma patients showed that pelvic fracture was associated with higher mortality. [5]
Cited mortality rates for pelvic fractures range from 3-20%. One study of pelvic fractures in children aged 16 years or younger cited a mortality rate of 5%, with death most commonly due to hemorrhage or multiple injuries. [6] .In hemodynamically unstable patients, pelvic hemorrhage is venous in origin in 80-90% of cases. [7]
Despite aggressive intervention, elderly patients with pelvic fractures have a worse outcome than younger patients with similar injuries. [8]
Ultimately, the patient's Injury Severity Score, not the nature of the pelvic fracture, is the best predictor of mortality. Hemorrhage, either pelvic or extrapelvic, or associated severe head injury are the most common causes of early death, whereas multisystem organ failure and sepsis resulting from soft tissue infection near the fracture site are the main causes of delayed death. [9] .
Patients with pelvic fractures combined with acetabular fractures have higher Injury Severity Scores and mortality rates and a greater need for transfusions than patients with either type of fracture alone. [10]
The complication rate associated with pelvic fractures is significant and is related to injury of underlying organs, bleeding, and multiorgan system failure. [11] Because of the tremendous force necessary to cause most unstable pelvic fractures, concomitant severe injuries are common and are associated with high morbidity and mortality.
Pelvic fractures also increase the incidence of pulmonary emboli. [12]
Sex
In a study of a trauma registry in the United Kingdom, 58% of patients sustaining a pelvic ring fracture were male. [13] A trauma registry review that same year from New South Wales, Australia, revealed that most patients sustaining high-energy pelvic ring fractures, such as from an motor vehicle crash (MVC), were male, whereas females predominated in low-energy injuries. [14]
Associated genitourinary (GU) injuries vary greatly between men and women and are discussed in other articles. For many years, it was believed that women did not suffer urethral injuries. It is now known that, while women suffer urethral injuries at a much lower incidence than men, injuries do occur. Women suffer partial lacerations and partial disruption. Complete urethral disruption is rare.
Age
Age distribution largely matches that of motor vehicle crashes, with car-car injuries more prevalent in adults, especially younger adults, and car-pedestrian injuries more likely to cause injury in children. The other group is the elderly, who tend to suffer pubic rami fractures without internal injuries as a result of falls from a standing position.
In a study of a trauma registry in the United Kingdom, the median age of patients sustaining a pelvic ring fracture was 39 years. [13]
In children, a study found that pelvic fractures were more likely when any of 4 factors were present: Caucasian, aged 5-14 years, a pedestrian struck by a vehicle, or an occupant in a motor vehicle crash. [15]
What would you like to print?