Gamekeeper Thumb Workup
Author: Michael A Secko, IV, MD; Chief Editor: Trevor John Mills, MD, MPH more...
Updated: Apr 18, 2016
What would you like to print?
Laboratory Studies
No laboratory tests are necessary for making the diagnosis. Routine preoperative laboratory workup may be required for those cases requiring surgical intervention.
Imaging Studies
Standard radiographs
Posteroanterior (PA), lateral, and possibly oblique radiographs of the thumb are indicated in patients with a suspected gamekeeper's thumb to identify any avulsion fracture at the base of the proximal phalanx.
Findings on plain films are usually normal in the absence of an avulsion fracture. Degenerative joint changes may be seen years later after the initial insult or with chronic injury.
Displaced avulsion fractures or any fracture involving 25% or more of the MCP joint surface requires surgical treatment and should not be manipulated.
Anteroposterior (AP) view: The presence of an avulsion fracture at the base of the proximal phalanx, or less frequently, at the metacarpal head, is suggestive of ligamentous rupture. The persistence of a radially subluxed MCP joint suggests an interposed rupture of the UCL.
Lateral view (see image below): A volar subluxation of the MCP joint suggests a tear involving the dorsal capsule and the volar plate indicating probable UCL rupture and instability.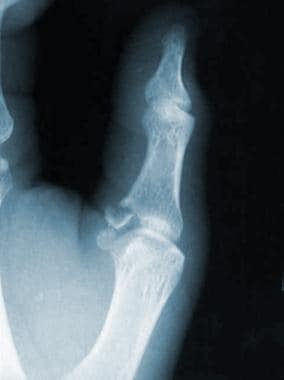 Lateral radiograph displaying a gamekeeper's fracture.
Stress radiographs (+/- local anesthesia)
If the diagnosis of gamekeeper thumb is suspected and radiographs show no fracture, comparative radiographs should be obtained in forced valgus. Administration of local anesthesia may be required for proper manipulation. The forced valgus maneuver, which uses a stress test to cause joint tilt, is crucial in making an accurate diagnosis and deciding on the most appropriate therapeutic approach. Researchers report on a method that allows the patient's thumbs to be compared, under the same force application conditions, on a single radiograph, thereby reducing the patient's and the examiner's exposure to x-rays. According to the authors, the technique is well tolerated by the patient and anesthesia for the thumb is usually not necessary.[2]
Radiographs of the MCP join in flexion; extension and lateral stress are useful in grading the severity of MCP joint instability, especially of partial tears of the UCL. As mentioned earlier, greater than 35° of angulation suggests a complete tear.
Other imaging modalities
Arthrography may visualize Stener lesions, but it is an invasive technique, and results are difficult to interpret.
MRI or MR arthrography may be helpful in cases of suspected gamekeeper's thumb by accurately depicting the osseous and soft tissue structures about the MCP joint, including the UCL and surrounding ligaments and tendons.[3] MRI may be impractical and cost prohibitive.
In patients treated surgically, MR imaging resulted in identifying UCL tears with 96% sensitivity and 95% specificity.[4]
Ultrasonography has been shown to be highly accurate in diagnosing Stener lesions.[5] In a study of patients treated surgically, ultrasonography had a sensitivity of 83%, specificity 75%, and a positive predictive value of 94%.[6]
For the emergency physician, carrying out these highly specific tests may not be practical. Standard radiographs and adequate physical examination should be enough to determine those cases that necessitate surgical repair.
References
Gagliardi JA, Agarwal A. Gamekeeper's Thumb (Skier's Thumb). Applied Radiology. 2012. 41(7-8):29c-29d. [Full Text].

Dominguez Gonzalez JJ, Zorrilla Ribot P, Perez Riverol EN, Martinez Rodriguez AS. Simultaneous Bilateral Functional Radiography in Ulnar Collateral Ligament Lesion of the Thumb: An Original Technique. Am J Orthop (Belle Mead NJ). 2015 Aug. 44 (8):359-62. [Medline].

Milner CS, Manon-Matos Y, Thirkannad SM. Gamekeeper's thumb--a treatment-oriented magnetic resonance imaging classification. J Hand Surg Am. 2015 Jan. 40 (1):90-5. [Medline].

Plancher KD et al. Role of MR imaging in the management of "skier's thumb" injuries. Magn Reson Imaging Clin N Am. 1999 Feb. 7(1):73-84, viii. [Medline].

Melville DM, Jacobson JA, Fessell DP. Ultrasound of the thumb ulnar collateral ligament: technique and pathology. AJR Am J Roentgenol. 2014 Feb. 202 (2):W168. [Medline].

Jones MH, England SJ, Muwanga CL, Hildreth T. The use of ultrasound in the diagnosis of injuries of the ulnar collateral ligament of the thumb. J Hand Surg [Br]. 2000 Feb. 25(1):29-32. [Medline].

Hintermann B, Holzach PJ, Schütz M, Matter P. Skier's thumb--the significance of bony injuries. Am J Sports Med. 1993 Nov-Dec. 21(6):800-4. [Medline].

Abrahamsson SO, Sollerman C, Lundborg G, et al. Diagnosis of displaced ulnar collateral ligament of the metacarpophalangeal joint of the thumb. J Hand Surg [Am]. 1990 May. 15(3):457-60. [Medline].

Adams BD, Muller DL. Assessment of thumb positioning in the treatment of ulnar collateral ligament injuries. A laboratory study. Am J Sports Med. 1996 Sep-Oct. 24(5):672-5. [Medline].

Campbell CS. Gamekeeper's thumb. J Bone Joint Surg Br. 1955 Feb. 37-B(1):148-9. [Medline].

Demirel M, Turhan E, Dereboy F, Akgun R, Ozturk A. Surgical treatment of skier's thumb injuries: case report and review of the literature. Mt Sinai J Med. 2006 Sep. 73(5):818-21. [Medline].

Fairhurst M, Hansen L. Treatment of "Gamekeeper's Thumb" by reconstruction of the ulnar collateral ligament. J Hand Surg [Br]. 2002 Dec. 27(6):542-5. [Medline].

Fricker R, Hintermann B. Skier's thumb. Treatment, prevention and recommendations. Sports Med. 1995 Jan. 19(1):73-9. [Medline].

Musharafieh RS, Bassim YR, Atiyeh BS. Ulnar collateral ligament rupture of the first metacarpophalangeal joint: a frequently missed injury in the emergency department. J Emerg Med. 1997 Mar-Apr. 15(2):193-6. [Medline].

Newland CC. Gamekeeper's thumb. Orthop Clin North Am. 1992 Jan. 23(1):41-8. [Medline].

Peterson JJ, Bancroft LW. Injuries of the fingers and thumb in the athlete. Clin Sports Med. 2006 Jul. 25(3):527-42, vii-viii. [Medline].

Pichora DR, McMurtry RY, Bell MJ. Gamekeepers thumb: a prospective study of functional bracing. J Hand Surg [Am]. 1989 May. 14(3):567-73. [Medline].

Richard JR. Gamekeeper's thumb: ulnar collateral ligament injury. Am Fam Physician. 1996 Apr. 53(5):1775-81. [Medline].

Stener B. Displacement of the ruptured ulnar collateral ligament of the metacarpophalangeal joint of the thumb: clinical and anatomic study. J Bone Joint Surg [Br]. 1962. 44:869-79.
Medscape Reference © 2011 WebMD, LLC