Suprapubic Aspiration
Author: Adam J Rosh, MD; Chief Editor: Edward David Kim, MD, FACS  more...
Updated: Jan 06, 2015
What would you like to print?
Overview
Suprapubic aspiration and catheterization is a procedure to obtain uncontaminated bladder urine.[1] It is easy to perform in the emergency department and is associated with minimal complications. Huze and Beeson first published this practice in 1956 as an alternative to more traditional methods of obtaining urine for analysis and culture.[2] Their findings suggested that suprapubic catheterization and aspiration was superior to clean-catch or transurethral (via catheterization) collection of bladder urine for bacteriologic study. The sensitivity of the aspirated urine for bacteriuria on urinalysis approaches 100% and is rarely associated with contamination.[3] In a study comparing contamination rates of various urine collection methods for children less than 24 months old, suprapubic catherization had a contamination rate of 1% compared to 26% for clean-catch and 12% for catheterized specimens.[17]
Relevant Anatomy
The adult bladder is located in the anterior pelvis and is enveloped by extraperitoneal fat and connective tissue. It is separated from the pubic symphysis by an anterior prevesical space known as the retropubic space (of Retzius). The dome of the bladder is covered by peritoneum, and the bladder neck is fixed to neighboring structures by reflections of the pelvic fascia and by true ligaments of the pelvis. The bladder of a child is an abdominal organ and contacts the lower two thirds of the abdominal wall between the symphysis pubis and the umbilicus. The bladder rapidly descends during the first few years of life and the slows until approximately the 9th year when it approaches the adult position.
The body of the bladder receives support from the external urethral sphincter muscle and the perineal membrane inferiorly and the obturator internus muscles laterally (see the image below).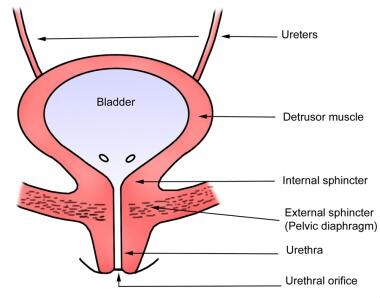 Gross anatomy of the bladder.
For more information about the relevant anatomy, see Bladder Anatomy. See also Female Urinary Organ Anatomy and Male Urinary Organ Anatomy.
Indications
See the list below:
Urinalysis or urine culture in neonates or children younger than 2 years

[5, 6, 7]

Chronic infection of the urethra or periurethral glands
Contraindications
See the list below:
Empty or unidentifiable bladder (eg, child's last urination within 1 hr, nonpalpable bladder in adults)

Lower abdominal wounds or scarring
Anesthesia
See the list below:
Local anesthesia, in the form of a skin wheal, is placed using lidocaine at the insertion site to reduce discomfort.

The insertion site can be identified beforehand with bedside ultrasonography, if available (see Technique for more details).
Equipment
See the list below:
Sterile gloves

Sterile drapes

Povidone-iodine (Betadine) skin preparation with sterile gauze

Local anesthetic (1% or 2% lidocaine) with syringe and needle

Sterile syringe, 10 or 20 mL

Needle, 22 gauge (ga), 1.5 in, for pediatric patients

Spinal needle, 20 ga, for adult patients

Foley catheter tray (catheter size must be at least 1F smaller than the introducer sheath size)

Cystostomy kit with peel-away introducer sheath (eg, Cook cystostomy kit)

Sterile urine specimen container

Sterile dressing
Positioning
See the list below:
The patient should be supine, with the abdomen and pubic areas exposed.

Parents of small children may help hold and calm the child. Otherwise, at least one assistant is needed to immobilize the pediatric patient in a frog-legged position.

[10]
Technique
See the list below:
Localization of the bladder is critical for the procedure. Bedside ultrasonography is remarkably helpful, especially in patients who are obese or contracted. Ultrasonography should be used, if available, even if the bladder is readily palpable.

[11]

If ultrasonography is unavailable and the bladder is not palpable, the authors advise delaying the procedure.

If the bladder is distended, it appears on ultrasound as an anechoic (black) squarelike structure just below the abdominal musculature. General landmarks for this site include the midline lower abdomen, which is located approximately 2 cm above the symphysis pubis.

[12]

Sterilize the area with povidone-iodine (Betadine).

Place a small skin wheal of lidocaine at the planned insertion site.

For aspiration, select a 22-ga needle of appropriate length (eg, shorter for children, longer for adults) and attach it to a 10- or 20-mL syringe.

Insert the needle while aspirating until urine appears within the syringe. The insertion approach is slightly different in children and adults.

[10]

Pediatric: Insert the needle slightly cephalad, 10-20° off perpendicular, and advance. In a young child, the bladder is still an abdominal organ.
Adult: Insert the needle slightly caudad, 10-20° off perpendicular. In an adult, the bladder is a pelvic organ.

If the procedure is performed using ultrasonographic guidance, the bladder appears to tent as the needle pierces its anterior wall.

[11]

(Of note, the ultrasound transducer should be placed in a sterile glove that contains ultrasound gel to maintain a sterile field during the procedure.) See the images below.

Insert the needle while aspirating.

Urine appears within the syringe.

If the insertion is unsuccessful, do not withdraw the needle fully. Instead, pull back until the needle tip rests in the subcutaneous tissue and then redirect 10° in either direction. Do not attempt more than 3 times.

[12]

Once urine is obtained, remove the needle and apply gentle pressure at the insertion site with sterile gauze. Place a sterile dressing at the site of insertion.

Place the urine specimen in a sterile container approved for urinalysis and culture.

If a suprapubic catheter is to be left in place, follow the initial steps above, but use a cystostomy kit.

[13]

Once placement is confirmed (urine aspirated), remove the syringe and insert the guidewire from the cystostomy tray through the needle.
Remove the needle and use a scalpel to make a small incision at the insertion site, adjacent to the guidewire.
Thread the peel-away sheath introducer over the guidewire into the bladder and remove the wire.
Insert the Foley catheter through the peel-away sheath introducer. Deploy the Foley catheter balloon with 10 mL of 0.9% saline.
Remove the peel-away sheath introducer from the Foley catheter and pull back on the catheter until resistance is met. Secure the catheter tubing to the abdominal wall with sterile dressing.
The Foley catheter should be attached to a urine meter drainage bag.[11]
Pearls
See the list below:
The needle insertion site is approximately 2 cm above the symphysis pubis.

From the true vertical, the needle should be angled 10 º cephalad in children and 10 º caudad in adults.

If available, use bedside ultrasonography to visualize the bladder and observe the needle puncture the bladder wall.

Use a cystostomy kit with a peel-away introducer sheath for suprapubic catheterization.

The Foley catheter must be at least 1F smaller than the peel-away introducer sheath.
Complications
Complications are rare and include the following:
Peritoneal perforation with or without bowel perforation;

[14]

unlikely to cause significant ramifications unless a catheter is placed

Hematuria (usually transient and microscopic, gross hematuria is uncommon)

Inability to aspirate urine
References
Stine RJ, Avila JA, Lemons MF, et al. Diagnostic and therapeutic urologic procedures. Emerg Med Clin North Am. 1988 Aug. 6(3):547-78. [Medline].

Beeson PB, Guze LB. Observations on the reliability and safety of bladder catheterization for bacteriologic study of the urine. N Engl J Med. 1956 Sep 6. 255(10):474-5. [Medline].

Hardy JD, Furnell PM, Brumfitt W. Comparison of sterile bag, clean catch and suprapubic aspiration in the diagnosis of urinary infection in early childhood. Br J Urol. 1976 Aug. 48(4):279-83. [Medline].

Selius BA, Subedi R. Urinary retention in adults: diagnosis and initial management. Am Fam Physician. 2008 Mar 1. 77(5):643-50. [Medline].

Sastre JB, Aparicio AR, Cotallo GD, Colomer BF, Hernández MC. Urinary tract infection in the newborn: clinical and radio imaging studies. Pediatr Nephrol. 2007 Oct. 22(10):1735-41. [Medline].

Wingerter S, Bachur R. Risk factors for contamination of catheterized urine specimens in febrile children. Pediatr Emerg Care. 2011 Jan. 27(1):1-4. [Medline].

Simforoosh N, Tabibi A, Khalili SA, Soltani MH, Afjehi A, Aalami F, et al. Neonatal circumcision reduces the incidence of asymptomatic urinary tract infection: A large prospective study with long-term follow up using Plastibell. J Pediatr Urol. 2010 Nov 4. [Medline].

Villanueva C, Hemstreet GP 3rd. Difficult male urethral catheterization: a review of different approaches. Int Braz J Urol. 2008 Jul-Aug. 34(4):401-11; discussion 412. [Medline].

Robinson J. Insertion, care and management of suprapubic catheters. Nurs Stand. 2008 Oct 29-Nov 4. 23(8):49-56; quiz 58. [Medline].

Gochman RF, Karasic RB, Heller MB. Use of portable ultrasound to assist urine collection by suprapubic aspiration. Ann Emerg Med. 1991 Jun. 20(6):631-5. [Medline].

Noller KL, Pratt JH, Symmonds RE. Bowel perforation with suprapubic cystostomy Report of two cases. Obstet Gynecol. 1976 Jul. 48(1 Suppl):67S-69S. [Medline].

O'Brien WM. Percutaneous placement of a suprapubic tube with peel away sheath introducer. J Urol. 1991 May. 145(5):1015-6. [Medline].

Promes SB. Miscellaneous Applications. Simon BC, Snoey ER. Ultrasound in Emergency and Ambulatory Medicine. St. Louis, MO: Mosby, Inc; 1997. 256-261.

Schneider RE. Urologic Procedures. Robert JR, Hedges JR. Clinical Procedures in Emergency Medicine. 4th ed. Philadelphia, PA: W.B. Saunders Co; 2004. 6(3): 1098-1100.

Moustaki M, Stefos E, Malliou C, Fretzayas A. Complications of suprapubic aspiration in transiently neutropenic children. Pediatr Emerg Care. 2007 Nov. 23(11):823-5. [Medline].

Vilke GM. Bladder Aspiration. Rosen P. Atlas of Emergency Procedures. St. Louis, MO: Mosby, Inc; 2001. 130-131.

Shidan Tosif, Alice Baker, Ed Oakley, Susan Donath and Franz E Babl. Contamination rates of different urine collection methods for the diagnosis of urinary tract infections in young children: An observational cohort study. Journal of Paediatrics and Child Health. 2012. 48:659–664. [Medline].

Badiee Z, Sadeghnia A, Zarean N. Suprapubic Bladder Aspiration or Urethral Catheterization: Which is More Painful in Uncircumcised Male Newborns?. Int J Prev Med. 2014 Sep. 5(9):1125-30. [Medline]. [Full Text].
Medscape Reference © 2011 WebMD, LLC