CBRNE - Viral Hemorrhagic Fevers Clinical Presentation
Author: David C Pigott, MD; Chief Editor: Zygmunt F Dembek, PhD, MPH, MS, LHD more...
Updated: Mar 30, 2015
What would you like to print?
History
Obtain a detailed travel history, paying particular attention to recent travel to tropical or rural areas, such as Central or South America (yellow fever, arenaviruses), West Africa (Lassa fever), or to endemic portions of Central Africa (Ebola, Marburg, RVF, CCHF). Ask about contact with potential arthropod or rodent reservoirs.
Since the natural reservoir for Ebola and Marburg viruses is unknown, contact with infected monkeys or humans is not a prerequisite for transmission of infection. Direct contact with rodents infected with hemorrhagic fever viruses (eg, arenaviruses, hantaviruses) is not necessary for transmission of infection, since aerosolized excreta may transmit infection.
Contacts of patients with known viral hemorrhagic fever (VHF), especially family members or health care workers caring for infected patients, are at risk for infection if appropriate barrier precautions are not used. Transmission of VHF has occurred from the reuse of unsterile needles and syringes used for treatment of infected patients. Transmission of VHF also has occurred to individuals handling the deceased in preparation for burial or to individuals involved in the slaughter of infected livestock (as in RVF or CCHF).
Because of their extreme pathogenicity and potential for transmission by fine-particle aerosol, VHF viruses are considered potential biological warfare agents. In addition, Dr Ken Alibek, the former Deputy Director of the once massive Soviet bioweapons program, Biopreparat, claims Soviet scientists successfully had produced a stable Marburg virus biological weapon that could be delivered as an aerosol. Large numbers of military personnel with VHF symptoms would suggest such an attack. An outbreak of VHF in a nonendemic area would also suggest a biological warfare attack.
Incubation periods for VHF vary from 2-21 days. The initial symptoms correspond to development of viremia and include the following:
High fever

Headache

Fatigue

Abdominal pain

Myalgias

Prostration
In more advanced disease, signs and symptoms include the following:
Hematemesis and bloody diarrhea

Generalized mucous membrane hemorrhage

Rash

Altered mental status and cardiovascular collapse (preterminal events)
Physical
Depending on the progress of the disease, patients with viral hemorrhagic fever (VHF) initially may present with minimal signs, suggesting a more benign viral syndrome. Maintain a high index of suspicion.
As the disease progresses, more classic findings are present as follows:
Fever

Pharyngitis

Conjunctival injection

Nondependent edema

Petechial or ecchymotic rash

GI bleeding

Hypotension and/or shock
Most hemorrhagic fevers, except Rift Valley fever, can produce a variety of cutaneous findings that are principally caused by vascular instability and bleeding abnormalities. Such findings include flushing, petechiae, purpura, ecchymoses, and edema.
The Old World arenavirus causing Lassa fever results in the greatest amount of edema of any of the hemorrhagic fever viruses. Additionally, no bleeding abnormalities are present.
The New World arenaviruses (Junin, Machupo, Sabia, and Guanarito) cause less edema and variable amounts of petechiae, purpura, ecchymoses, palatal hyperemia, and mucosal hemorrhage.
The most severe hemorrhage from a hemorrhagic fever virus follows infection with the Congo Crimean hemorrhagic fever virus.
Hantaviruses can cause a relatively distinctive eruption with a petechial eruption around the neck and on the anterior and posterior axillary folds, arms, and trunk. A sunburn-like flush is seen on the head, neck, and upper chest and back and may be accompanied by facial edema (see the image below). Sometimes, a morbilliform eruption occurs. Oral and conjunctival surfaces may develop severe hemorrhages.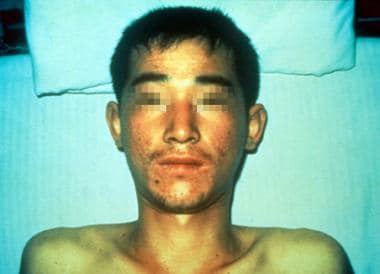 Bunyavirus infection - Hantaan virus. Patient with Korean hemorrhagic fever caused by Hantaan virus demonstrating typical 'sunburn flush' of cheeks, chin, and base of neck. Photo courtesy of John Huggins, PhD.
The greatly feared filoviruses (Marburg and Ebola) exhibit characteristic exanthems that are best seen in fair-skinned patients. Soft palatal hyperemia accompanies the flu-like prodrome and is followed between days 5 and 7 by a nonpruritic, centripetal, pinhead-sized papular, erythematous exanthem. Within 24 hours, this can develop into large and coalescent, well-demarcated, sometimes hemorrhagic macules and papules. In severe cases, hemorrhage exudes from mucous membranes, venipuncture sites, and body orifices.
Dengue virus causes a characteristic erythematous exanthem with striking islands of sparing (see the image below).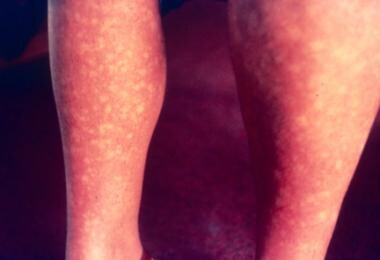 Patient with morbilliform exanthem of dengue fever. Note islands of sparing characteristics for dengue. Photo courtesy Duane Gubler, PhD.
References
Simpson SQ, Spikes L, Patel S, Faruqi I. Hantavirus pulmonary syndrome. Infect Dis Clin North Am. 2010 Mar. 24(1):159-73. [Medline].

Normile D. Emerging infectious diseases. Scientists puzzle over Ebola-Reston virus in pigs. Science. 2009 Jan 23. 323(5913):451. [Medline].

Towner JS, Sealy TK, Khristova ML, et al. Newly discovered ebola virus associated with hemorrhagic fever outbreak in Uganda. PLoS Pathog. 2008 Nov. 4(11):e1000212. [Medline].

Hayman DT, Yu M, Crameri G, et al. Ebola virus antibodies in fruit bats, Ghana, West Africa. Emerg Infect Dis. 2012 Jul. 18(7):1207-9. [Medline]. [Full Text].

Lupi O. Mosquito-borne hemorrhagic fevers. Dermatol Clin. 2011 Jan. 29(1):33-8. [Medline].

Rivers MN, Alexander JL, Rohde RE, Pierce JR Jr. Hantavirus pulmonary syndrome in Texas: 1993-2006. South Med J. 2009 Jan. 102(1):36-41. [Medline].

CDC. Locally acquired Dengue--Key West, Florida, 2009-2010. MMWR Morb Mortal Wkly Rep. 2010 May 21. 59(19):577-81. [Medline].

Government of Rio de Janeiro. Rio Against Dengue: Rio de Janeiro Movement Against Dengue. Dengue Case Report, Week 21, 2013. Available at http://www.riocontradengue.com.br/Site/Conteudo/PlantaoDetalhe.aspx?C=698. Accessed: June 28, 2013.

Johansen LM, Brannan JM, Delos SE, et al. FDA-Approved Selective Estrogen Receptor Modulators Inhibit Ebola Virus Infection. Sci Transl Med. 2013 Jun 19. 5(190):190ra79. [Medline].

De Clercq E. A Cutting-Edge View on the Current State of Antiviral Drug Development. Med Res Rev. 2013 Mar 11. [Medline].

Burgeson JR, Moore AL, Gharaibeh DN, et al. Discovery and optimization of potent broad-spectrum arenavirus inhibitors derived from benzimidazole and related heterocycles. Bioorg Med Chem Lett. 2013 Feb 1. 23(3):750-6. [Medline].

Ranjit S, Kissoon N. Dengue hemorrhagic fever and shock syndromes. Pediatr Crit Care Med. 2011 Jan. 12(1):90-100. [Medline].

Lee AM, Pasquato A, Kunz S. Novel approaches in anti-arenaviral drug development. Virology. 2011 Mar 15. 411(2):163-9. [Medline]. [Full Text].

Jiang X, Dalebout TJ, Bredenbeek PJ, et al. Yellow fever 17D-vectored vaccines expressing Lassa virus GP1 and GP2 glycoproteins provide protection against fatal disease in guinea pigs. Vaccine. 2011 Feb 1. 29(6):1248-57. [Medline].

Morrison D, Legg TJ, Billings CW, Forrat R, Yoksan S, Lang J. A novel tetravalent dengue vaccine is well tolerated and immunogenic against all 4 serotypes in flavivirus-naive adults. J Infect Dis. 2010 Feb 1. 201(3):370-7. [Medline].

Feldmann H, Jones SM, Daddario-DiCaprio KM, et al. Effective post-exposure treatment of Ebola infection. PLoS Pathog. 2007 Jan. 3(1):e2. [Medline]. [Full Text].

Sarwar UN, Sitar S, Ledgerwood JE. Filovirus emergence and vaccine development: A perspective for health care practitioners in travel medicine. Travel Med Infect Dis. 2010 Jun 26. [Medline].

Tuffs A. Experimental vaccine may have saved Hamburg scientist from Ebola fever. BMJ. 2009 Mar 23. 338:b1223. [Medline].

Blaney JE, Wirblich C, Papaneri AB, et al. Inactivated or live-attenuated bivalent vaccines that confer protection against rabies and Ebola viruses. J Virol. 2011 Oct. 85(20):10605-16. [Medline]. [Full Text].

Bausch DG, Hadi CM, Khan SH, Lertora JJ. Review of the literature and proposed guidelines for the use of oral ribavirin as postexposure prophylaxis for Lassa fever. Clin Infect Dis. 2010 Dec 15. 51(12):1435-41. [Medline].

Borchert M, Muyembe-Tamfum JJ, Colebunders R, et al. Short communication: a cluster of Marburg virus disease involving an infant. Trop Med Int Health. 2002 Oct. 7(10):902-6. [Medline].

CDC. Imported Lassa fever--New Jersey, 2004. MMWR Morb Mortal Wkly Rep. 2004 Oct 1. 53(38):894-7. [Medline].

CDC. Outbreak of Ebola hemorrhagic fever Uganda, August 2000-January 2001. MMWR Morb Mortal Wkly Rep. 2001 Feb 9. 50(5):73-7. [Medline].

CDC. Update: management of patients with suspected viral hemorrhagic fever--United States. MMWR Morb Mortal Wkly Rep. 1995. 44(25):475-9. [Medline]. [Full Text].

Colebunders R, Borchert M. Ebola haemorrhagic fever--a review. J Infect. 2000. 40(1):16-20. [Medline].

Feldmann H, Geisbert TW. Ebola haemorrhagic fever. Lancet. 2011 Mar 5. 377(9768):849-62. [Medline].

Fisher-Hoch SP, Hutwagner L, Brown B, McCormick JB. Effective vaccine for lassa fever. J Virol. 2000 Aug. 74(15):6777-83. [Medline]. [Full Text].

Fisher-Hoch SP, McCormick JB. Lassa fever vaccine. Expert Rev Vaccines. 2004 Apr. 3(2):189-97. [Medline].

Geisbert TW, Daddario-Dicaprio KM, Geisbert JB, et al. Vesicular stomatitis virus-based vaccines protect nonhuman primates against aerosol challenge with Ebola and Marburg viruses. Vaccine. 2008 Dec 9. 26(52):6894-900. [Medline].

Geisbert TW, Hensley LE. Ebola virus: new insights into disease aetiopathology and possible therapeutic interventions. Expert Rev Mol Med. 2004 Sep 21. 6(20):1-24. [Medline].

Geisbert TW, Jahrling PB. Towards a vaccine against Ebola virus. Expert Rev Vaccines. 2003 Dec. 2(6):777-89. [Medline].

Hartman AL, Towner JS, Nichol ST. Ebola and marburg hemorrhagic fever. Clin Lab Med. 2010 Mar. 30(1):161-77. [Medline].

Holmes GP, McCormick JB, Trock SC, et al. Lassa fever in the United States. Investigation of a case and new guidelines for management. N Engl J Med. 1990. 323(16):1120-3. [Medline].

Jahrling PB. Viral hemorrhagic fevers. Textbook of Military Medicine: Medical Aspects of Chemical and Biological Warfare. 1997.

Leroy EM, Epelboin A, Mondonge V, et al. Human Ebola Outbreak Resulting from Direct Exposure to Fruit Bats in Luebo, Democratic Republic of Congo, 2007. Vector Borne Zoonotic Dis. 2009 Mar 26. [Medline].

Leroy EM, Kumulungui B, Pourrut X, Rouquet P, Hassanin A, Yaba P. Fruit bats as reservoirs of Ebola virus. Nature. 2005 Dec 1. 438(7068):575-6. [Medline].

Mahanty S, Bray M. Pathogenesis of filoviral haemorrhagic fevers. Lancet Infect Dis. 2004 Aug. 4(8):487-98. [Medline].

McGovern TW, Christopher GW, Eitzen EM. Cutaneous manifestations of biological warfare and related threat agents. Arch Dermatol. 1999 Mar. 135(3):311-22. [Medline].

Peters CJ, LeDuc JW. Ebola: the virus and the disease. J Infect Dis. 1999. 179 (Suppl 1):ix-xvi. [Medline]. [Full Text].

Schmidt AC. Response to dengue fever--the good, the bad, and the ugly?. N Engl J Med. 2010 Jul 29. 363(5):484-7. [Medline].

Stroher U, Feldmann H. Progress towards the treatment of Ebola haemorrhagic fever. Expert Opin Investig Drugs. 2006 Dec. 15(12):1523-35. [Medline].

Towner JS, Rollin PE, Bausch DG, et al. Rapid diagnosis of Ebola hemorrhagic fever by reverse transcription-PCR in an outbreak setting and assessment of patient viral load as a predictor of outcome. J Virol. 2004 Apr. 78(8):4330-41. [Medline].
Table. Viral Families Causing Viral Hemorrhagic Fever
| | | | | |
| --- | --- | --- | --- | --- |
| Virus Family | Disease (Virus) | Natural Distribution | Usual Source of Human Infection | Incubation (Days) |
| Arenaviridae | | | | |
| Arenavirus | Lassa fever | Africa | Rodent | 5-16 |
| | Argentine HF (Junin) | South America | Rodent | 7-14 |
| | Bolivian HF (Machupo) | South America | Rodent | 9-15 |
| | Brazilian HF (Sabia) | South America | Rodent | 7-14 |
| | Venezuelan HF (Guanarito) | South America | Rodent | 7-14 |
| Bunyaviridae | | | | |
| Phlebovirus | Rift Valley fever | Africa | Mosquito | 2-5 |
| Nairovirus | Crimean-Congo HF | Europe, Asia, Africa | Tick | 3-12 |
| Hantavirus | Hemorrhagic fever with renal syndrome, hantavirus pulmonary syndrome | Asia, Europe, worldwide | Rodent | 9-35 |
| Filoviridae | | | | |
| Filovirus | Marburg and Ebola | Africa | Fruit bat | 3-16 |
| Flaviviridae | | | | |
| Flavivirus | Yellow fever | Tropical Africa, South America | Mosquito | 3-6 |
| | Dengue HF | Asia, Americas, Africa | Mosquito | Unknown for dengue HF, 3-5 for dengue |
Medscape Reference © 2011 WebMD, LLC