Complex Lip Laceration
Author: Gretchen S Lent, MD; Chief Editor: Erik D Schraga, MD more...
Updated: Mar 04, 2016
What would you like to print?
Overview
The lips are a highly visible facial structure used in speech articulation, food consumption, and tactile sensation. Because of their prominent location on the face, lacerations of the lips can be cosmetically deforming. See the images below.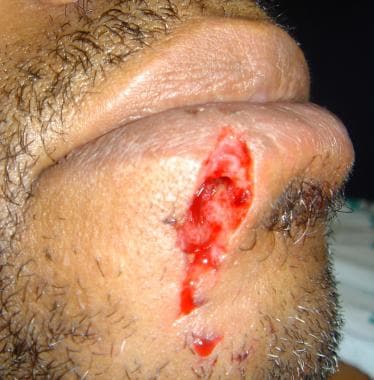 Lip laceration involving the lower vermilion border.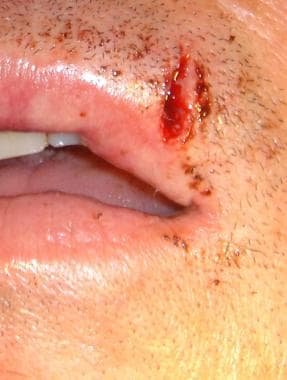 Lip laceration involving the upper vermilion border.
Lip lacerations are commonly seen in emergency departments and are one of the most common oral-maxillofacial injuries.[1] Careful repair is necessary to minimize infection while ensuring the best cosmetic results and patient satisfaction.[2] The approach in repair depends largely on location and type of injury.[3, 4] For more information, see the Medscape articles Facial Soft Tissue Injuries and Facial Soft Tissue Trauma.
Anatomy [5]
The lips are composed of 3 major layers: skin, muscle, and oral mucosa.
The philtrum is the vertical groove located directly adjacent to and above the upper lip and below the nose.
The commissures are the lateral borders of the oral cavity where the upper and lower lips join.
The vermilion is the white roll that forms the border between the lip and surrounding skin (see the image below). This area is the focus of repair because even 1 mm of vermilion misalignment may be noticeable.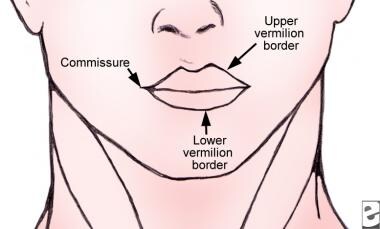 Illustration of the upper and lower vermilion border.
Nerve supply
The upper lip and the skin between the upper lip and lower eyelid are innervated by the infraorbital nerve on either side.
The lower lip, gums, and skin between the lower lip and chin are innervated by the mental nerve.
For a detailed discussion of lip anatomy, see the Medscape article Lips and Perioral Region Anatomy.
Indications
Unlike the cosmetically important external facial lacerations that are almost always closed primarily, some small intraoral lacerations may be left open and will heal well without repair.[6] Small puncture lacerations through the lip may not require complete closure; the external portion may be repaired while the intraoral portion is allowed to heal without sutures.[6] Indications for external repair are the same as with any other facial laceration. See the images below for examples of intraoral lacerations.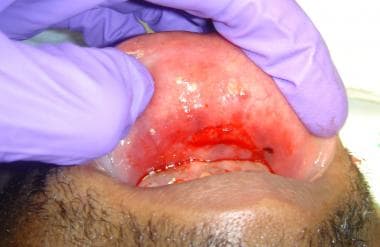 Identification of intraoral skin laceration.
Deep intraoral lip laceration that needs repair.
Indications for intraoral closure are as follows:
Mucosal laceration that creates a flap that interferes with chewing

Mucosal laceration that is large enough to trap food particles

Wounds longer than 2 cm
Contraindications
Certain wounds, such as the following, are best closed in consultation with a plastic surgeon:
Large flaps

Large amounts of the vermilion border missing

Macerated wounds

Involvement of the commissure

Loss of more than 25% of the lip

[7]
For more information, see the Medscape article Lip Reconstruction.[8]
Anesthesia
Lips are well innervated and very sensitive to pain. They can be difficult to anesthetize locally. In addition, local infiltration of anesthesia into external lip wounds often causes swelling and distortion of original landmarks.
Performing regional nerve blocks when possible can lead to optimal cosmetic and anesthetic results.[9] To anesthetize the lower lip, perform a mental nerve block; for the upper lip, perform an infraorbital nerve block (see the images below).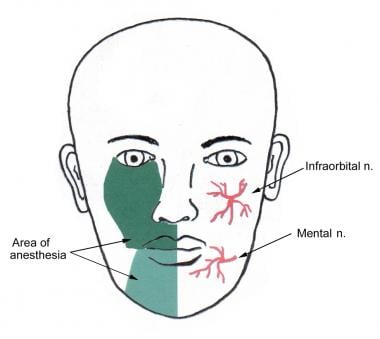 Areas of regional nerve blocks for the lips.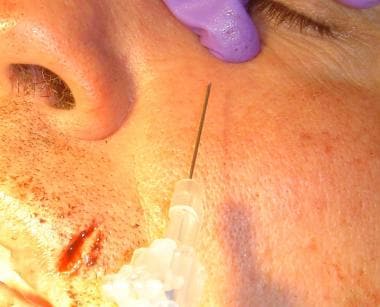 Technique for extraoral infraorbital nerve block.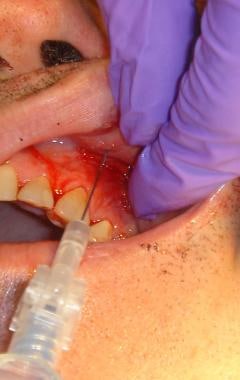 Intraoral approach for infraorbital nerve block.
Pre-anesthetizing the mucosal area with a topical anesthetic 3 minutes prior to infiltrative injection is recommended.
For intraoral wounds, nerve blocks may not always be as effective. In these cases, consider further local anesthesia.
In small or uncooperative children, procedural sedation is highly recommended because of the importance of an immobile field.
Equipment
Personal protective equipment is as follows:
Anesthesia equipment is as follows:
Topical anesthetic

Lidocaine, typically with epinephrine to reduce bleeding

Syringe, 10 mL

Needle, 27 gauge (ga)

Needle, 18 ga
Irrigation equipment is as follows:
Syringe or irrigation device

Splash shield

Basin
Suture material is as follows:
Absorbable sutures (eg, plain gut, chromic gut), 4-0 or 5-0

[11]

Nonabsorbable sutures (eg, nylon), 6-0

Suture tray

Suture kit
Assembled equipment is shown in the image below.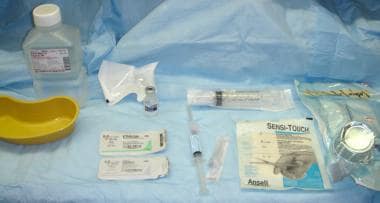 Equipment for the anesthesia, irrigation, and closure of a lip laceration.
Positioning
Supine patient positioning is preferred. Ensure that the height of the bed is appropriate and that optimal lighting is available for visualization.
Technique
Inspection and irrigation
Once the patient is anesthetized, inspect the wound carefully.
Gentle probing may be required to visualize through-and-through lacerations (see the image below).
Check for concurrent chipped, missing, or mobile teeth.[10] Tooth fragments may be lodged inside the wound and may serve as a nidus of infection if not removed.[11, 12]
Intraoral wounds are prone to considerable contamination; therefore, thorough irrigation is necessary.[13]
Closure
Through-and-through lip wounds are closed in subsequent layers.
Deep soft-tissue layer
Use 4-0 or 5-0 absorbable sutures to anchor the fibrous tissue just underneath the anterior and posterior skin surfaces. In deep but not through-and-through lacerations, deep sutures can be placed using a simple interrupted technique that leaves the knot buried deep within the laceration. See the images below.
Vermilion border
If the vermilion border is involved, approximate it with the first suture placed on facial skin. Use 6-0 suture material.* The approximation of the vermilion-cutaneous junction is the most crucial step in the closure of lip lacerations that involve the vermilion border. Misalignment of even 1 mm may cause a noticeable step-off when the wound is healed. See the images below.
*In young children, consider using all absorbable sutures for repair of these lacerations. Eliminating the need for suture removal may result in decreased emotional and physical trauma, and studies show no discernable difference in cosmetic outcome.[14]
Intraoral skin
Intraoral skin may be closed either before or after the facial skin. Approximate the buccal wet mucosa with simple interrupted absorbable sutures (4-0 or 5-0); absorbable sutures fall out or absorb and do not require removal. However, do not use fast-absorbing sutures on mucosal surfaces. Secure each stitch with 4 or more knots to ensure that the stitches are not untied by the tongue. These sutures can be continued onto the wet and dry vermilion surface of the lip. Silk is best avoided in the mouth, as it can irritate mucosal tissues. Any small intraoral flaps may be excised. See the images below.
Facial skin
Using 6-0 sutures,* approximate the skin with simple interrupted sutures. This suture material can be continued onto the lip. Many prefer absorbable sutures on the dry vermilion surface. See the images below.
*In young children, consider using all absorbable sutures for repair of these lacerations. Eliminating the need for suture removal may result in decreased emotional and physical trauma, and studies show no discernable difference in cosmetic outcome.[14]
Topical adhesives
There have been some reports that topical adhesives (cyanoacrylate) can achieve adequate closure in small lip wounds.[15] Topical adhesives have the benefit of less pain from anesthesia techniques and are often advantageous in patients who tend to keloid; however, there is a higher likelihood of dehiscence compared to sutures. While it might be most tempting to use this technique in children, they are more prone to biting or licking off the glue.[16]
Aftercare
Ensure that tetanus status is up to date.[17]
Antibiotic ointment or petroleum jelly may be placed daily over the skin surface of the laceration.[18] This should be avoided with absorbable sutures, however, as it may inappropriately hasten absorption.
Cold packs, nonsteroidal anti-inflammatory drugs (NSAIDs), or acetaminophen may help with pain control.
If the laceration involves the oral mucosa, consider recommending a bland diet to avoid irritating the wound.
For intraoral wounds, especially if left unclosed, consider discharging the patient with a syringe and saline. It may be helpful for them to gently irrigate the wounds after eating to keep them clean of debris.
Remove nonabsorbable sutures that are visible on the external tissue in 4-5 days to prevent scarring.
Remind patients not to allow themselves to manipulate the sutures with their tongue.
Antibiotics
The use of prophylactic antibiotics in lip lacerations is controversial but recommended in certain circumstances.[19] Many textbooks recommend the use of prophylactic antibiotics for through-and-through and intraoral lip lacerations; however, not all studies show significant benefit from this use.[20] Medications used for prophylaxis vary depending on clinician preference and range from oral cephalexin to chlorhexidine rinse.
Pearls
Emphasis on accurately approximating the vermilion border is advised for the best cosmetic outcome.
The location of intraoral lacerations can make repair difficult without assistance for retraction. One option is to have the patient retract his or her own lip.
Strongly consider the use of regional nerve blocks.
If a patient with a lip or oral laceration also has a newly chipped tooth, search diligently for tooth fragments in the oral mucosa[11] ; if not removed, such fragments may cause wound infections. Retained tooth fragments can be visualized on radiographs of the soft tissue.[12, 21]
Lip wounds are more prone to infections than other wounds due to the saliva and contamination from dental bacterial plaque.[13, 19]
Have a high index of suspicion for underlying facial fractures or dental injuries in trauma patients with lip lacerations; order imaging as necessary.[22]
Remember to update a patient's tetanus vaccination when necessary.
Complications
The risk of contamination is considerable in intraoral lacerations, but the risk of resulting infection is low due to excellent vascularity.[23] However, with highly contaminated wounds, the administration of prophylactic antibiotics should be considered, depending on the depth and degree of contamination. Patients should be instructed to return if signs of infection develop (eg, fever, swelling, spreading erythema). Remind patients that intraoral wounds may appear white for a few days. A wound check may be arranged within 48 hours.
Wounds to the vermilion border may result in deep scars and tissue redundancy that may require later revision by a plastic surgeon.[24]
On rare occurence, traumatic lacerations of the oral mucosa may result in subsequent arteriovenous malformations.[25]
References
Hill CM, Burford K, Martin A, Thomas DW. A one-year review of maxillofacial sports injuries treated at an accident and emergency department. Br J Oral Maxillofac Surg. 1998 Feb. 36(1):44-7. [Medline].

Singer AJ, Mach C, Thode HC Jr, Hemachandra S, Shofer FS, Hollander JE. Patient priorities with traumatic lacerations. Am J Emerg Med. 2000 Oct. 18(6):683-6. [Medline].

McCarn KE, Park SS. Lip reconstruction. Facial Plast Surg Clin North Am. 2005 May. 13(2):301-14, vii. [Medline].

Nabili V, Knott PD. Advanced lip reconstruction: functional and aesthetic considerations. Facial Plast Surg. 2008 Jan. 24(1):92-104. [Medline].

Calhoun KH. Lip anatomy and function. Calhoun KH, Sternberg CM. Surgery of the Lip. New York, NY: Thieme; 1992. 1-11.

Roberts J, Hedges J. Clinical Procedures in Emergency Medicine. 4th ed. Portland, OR: WB Saunders; 2004.

Calhoun KH. Reconstruction of small- and medium-sized defects of the lower lip. Am J Otolaryngol. 1992 Jan-Feb. 13(1):16-22. [Medline].

Greer SE, Benhaim P, Lorenz HP, et al. Lip Reconstruction. Handbook of Plastic Surgery. New York, NY: Marcel Dekker; 2004. 195-201 Chap 38.

Zide BM, Swift R. How to block and tackle the face. Plast Reconstr Surg. 1998 Mar. 101(3):840-51. [Medline].

Heintz WD. Dealing with dental injuries. Postgrad Med. 1977 Jan. 61(1):261-2, 264, 266. [Medline].

Rao D, Hegde S. Spontaneous eruption of an occult incisor fragment from the lip after eight months: report of a case. J Clin Pediatr Dent. 2006 Spring. 30(3):195-7. [Medline].

Sangwan S, Mathur S, Dutta S. Retrieval and reattachment of an elusive tooth fragment. J Indian Soc Pedod Prev Dent. 2011 Apr-Jun. 29(2):171-5. [Medline].

Rodgers KG. The rational use of antimicrobial agents in simple wounds. Emerg Med Clin North Am. 1992 Nov. 10(4):753-66. [Medline].

Luck RP, Flood R, Eyal D, Saludades J, Hayes C, Gaughan J. Cosmetic outcomes of absorbable versus nonabsorbable sutures in pediatric facial lacerations. Pediatr Emerg Care. 2008 Mar. 24(3):137-42. [Medline].

de Blanco LP. Lip suture with isobutyl cyanoacrylate. Endod Dent Traumatol. 1994 Feb. 10(1):15-8. [Medline].

Smith J, Maconochie I. Should we glue lip lacerations in children?. Arch Dis Child. 2003 Jan. 88(1):83-4. [Medline]. [Full Text].

Kretsinger K, Broder KR, Cortese MM, et al. Preventing tetanus, diphtheria, and pertussis among adults: use of tetanus toxoid, reduced diphtheria toxoid and acellular pertussis vaccine recommendations of the Advisory Committee on Immunization Practices (ACIP) and recommendation of ACIP, supported by the Healthcare Infection Control Practices Advisory Committee (HICPAC), for use of Tdap among health-care personnel. MMWR Recomm Rep. 2006 Dec 15. 55:1-37. [Medline].

Forsch RT. Essentials of skin laceration repair. Am Fam Physician. 2008 Oct 15. 78(8):945-51. [Medline].

Zadik Y. Antibiotic coverage for lip wound. Dent Traumatol. 2006 Feb. 22(1):56. [Medline].

Steele MT, Sainsbury CR, Robinson WA, Salomone JA 3rd, Elenbaas RM. Prophylactic penicillin for intraoral wounds. Ann Emerg Med. 1989 Aug. 18(8):847-52. [Medline].

Pektas ZO, Kircelli BH, Uslu H. Displacement of tooth fragments to the lower lip: a report of a case presenting an immediate diagnostic approach. Dent Traumatol. 2007 Dec. 23(6):376-9. [Medline].

Holmgren EP, Dierks EJ, Assael LA, Bell RB, Potter BE. Facial soft tissue injuries as an aid to ordering a combination head and facial computed tomography in trauma patients. J Oral Maxillofac Surg. 2005 May. 63(5):651-4. [Medline].

Baurmash HD, Monto M. Delayed healing human bite wounds of the orofacial area managed with immediate primary closure: treatment rationale. J Oral Maxillofac Surg. 2005 Sep. 63(9):1391-7. [Medline].

Parlin LS. Repair of lip lacerations. Pediatr Rev. 1997 Mar. 18(3):101-2. [Medline].

Han HH, Choi JS, Seo BF, Moon SH, Oh DY, Lee HG, et al. Successful treatment of posttraumatic arteriovenous malformation of the lower lip. J Craniofac Surg. 2015 May. 26 (3):e199-201. [Medline].

Brown DJ, Jaffe JE, Henson JK. Advanced laceration management. Emerg Med Clin North Am. 2007 Feb. 25(1):83-99. [Medline].

Daver BM, Antia NH, Furnas DW. Lip and Cheek. Handbook of Plastic Surgery for the General Surgeon. 2nd ed. New York, NY: Oxford; 2000. 123-128 Chap 7.

Reichman E, Simon RR. Management of Specific Soft Tissue Injuries. Emergency Medicine Procedures. 2nd ed. New York, NY: McGraw-Hill; 2013. Chapter 96.

Marx JA, Hockberger RS, Walls RM, eds. Rosen's Emergency Medicine: Concepts and Clinical Practice. 8th ed. Philadelphia, Pa: Saunders; 2013.
Medscape Reference © 2011 WebMD, LLC