Upper Eyelid Blepharoplasty Workup
Author: Eric M Hink, MD; Chief Editor: Arlen D Meyers, MD, MBA more...
Updated: Apr 30, 2015
What would you like to print?
Diagnostic Procedures
Patients must undergo a complete medical evaluation prior to upper eyelid blepharoplasty.
All current medical conditions must be discussed.

Whether cosmetic or functional, upper lid blepharoplasty is an elective procedure, and underlying medical conditions must be evaluated and treated prior to elective surgery.

Patients with

thyroid eye disease

should exhibit 12 months of stability in their orbitopathy before elective cosmetic surgery.

A history of keloid scar formation or dry eyes is concerning but not a contraindication for upper lid blepharoplasty.

Abnormal coagulation and actively inflamed blepharitis should be addressed prior to surgery.

Specific questions should be asked about

Graves disease

, other thyroid abnormalities, autoimmune and inflammatory diseases, dry eye syndrome, chronic blepharitis, previous refractive surgery such as laser in situ keratomileusis (LASIK) or photorefractive keratectomy (PRK), and other conditions that may alter the natural recovery process after blepharoplasty.

A history of allergic reactions is obtained in order to avoid complications from medications used before or after the procedure.
Current medications, including vitamins, herbs, nonsteroidal anti-inflammatory medications, and aspirin, need to be documented. To avoid a postoperative hemorrhage, preoperative clearance must be obtained to stop all medications that cause platelet dysfunction and tendencies for increased bleeding.
The evaluation should include a thorough ophthalmologic evaluation that includes visual acuity, ocular motility, visual field testing, and basic tear secretion testing such as the Schirmer test. The Schirmer test is performed by placing a strip of test paper over the temporal palpebral conjunctiva and measuring the wetting on the strip after 5 minutes. If the measurement is less then 10 mm (reference range is >10 mm), the patient may have difficulty producing tears, which may be a contraindication to blepharoplasty. The value of the Schirmer test in predicting postoperative dry-eye problems is controversial.
Examination of the patient should include an evaluation of specific landmarks, including palpebral fissure distance; margin reflex distance-1 (MRD1), which is the distance between the center of the pupil in primary position and the central margin of the upper eyelid; margin reflex distance-2 (MRD2), which is the distance between the center of the pupil in primary position and the central margin of the lower eyelid; margin fold distance; and eyelid crease position, as depicted in the image below. Ptosis of the upper eyelid should be suspected when the palpebral distance is less than 10 mm (reference range is 10 mm) and MRD1 is less than 4 mm (reference range is 4-4.5 mm).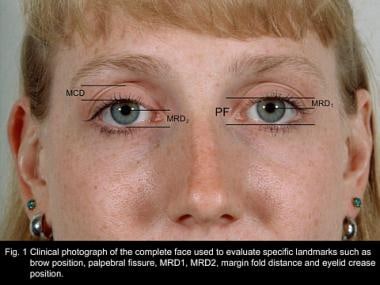 Clinical photograph of the complete face used to evaluate specific landmarks such as brow position, palpebral fissure, margin reflex distance-1 (MRD1), margin reflex distance-2 (MRD2), margin fold distance, and eyelid crease position.
The individual components of the periorbital region are thoroughly assessed prior to surgery.
The surgeon assesses the relationship of the brow position to the upper lid and makes an early decision as to whether isolated upper lid blepharoplasty is sufficient or whether brow position adjustment is necessary to achieve the desired results. The patient should be reminded that the tail of the brow may be further pulled downward following isolated upper eyelid blepharoplasty.

Manual elevation of the brow to the desired position allows the patient and surgeon to assess the role the brows play in the appearance of the upper eyelid. In males, the brow is positioned along the supraorbital rim. In females, the brow is elevated to a position at or up to 1 cm above the supraorbital rim. This is done with the patient in an upright position and with the patient looking in a mirror to help judge how brow position affects the upper eyelid.

Repositioning of the brow, the brow fat pad, and the skin between the lid crease plays a profound role in the appearance of the upper eyelid. Do not let the patient underestimate its relevance to the upper eyelid appearance.
Once brow position has been determined, the surgeon assesses the components of excess skin, skin laxity, and fat herniation in the upper lid. Upper eyelid aging changes are typically a combination of excess skin or skin laxity, causing redundancy of the tissues. Excess or herniated fat causes a protrusion or convex contour of the upper eyelid. The medial or nasal fat pad, the middle fat pad, and the lacrimal gland in the temporal upper eyelid influence the overhang of the upper lid fold. The sub-brow fat may also descend into the superior sulcus, altering the indentation between the lid fold and the brow. The position and protrusion of these tissues are amenable to surgical modification.
Photographs are taken to document the clinical findings in each patient, as depicted in the image below. Traditional views include full face and a close up of the eyes in primary, upward, and downward gaze. Additional views may include right and left oblique views and a lateral view to document the globe position relative to the inferior orbital rim.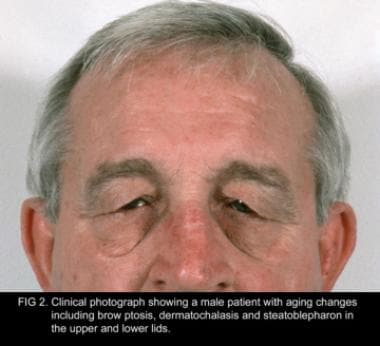 Clinical photograph showing a male patient with aging changes that include brow ptosis, dermatochalasis, and steatoblepharon in the upper and lower lids.
References
Biesman BS. Laser assisted upper lid blepharoplasty. Operative techniques in Oculoplastic, Orbital and Reconstructive Surgery. 1998. 1:11-18.

Pottier F, El-Shazly NZ, El-Shazly AE. Aging of orbicularis oculi: anatomophysiologic consideration in upper blepharoplasty. Arch Facial Plast Surg. 2008 Sep-Oct. 10(5):346-9. [Medline].

Tomohisa N, Yusuke S, Weijin D, Hua J, Kazuo K, Nobuyuki I. Morphological analysis of the upper eyelid tarsus in Asians. Ann Plast Surg. Feb 2011. 66(2):196-201.

Pool SM, Krabbe-Timmerman IS, Cromheecke M, et al. Improved upper blepharoplasty outcome using an internal intradermal suture technique: a prospective randomized study. Dermatol Surg. 2015 Feb. 41(2):246-9. [Medline].

Anwar M, Smith DE, Kaye AD. Anesthesia for cutaneous surgery. Int J Aesth Restorative Surg. 1997. 5:108-115.

Baylis HI, Goldberg RA, Kerivan KM, Jacobs JL. Blepharoplasty and periorbital surgery. Dermatol Clin. 1997 Oct. 15(4):635-47. [Medline].

Black J. Complications following blepharoplasty. Plast Surg Nurs. 1998 Summer. 18(2):78-83. [Medline].

Camirand A. The surgical correction of aging eyelids. Plast Reconstr Surg. 1999 Apr. 103(4):1325-6. [Medline].

D'Assumpcao EA. Blepharoplasty: a personal tactical approach. Aesthetic Plast Surg. 1999 Jan-Feb. 23(1):28-31. [Medline].

Flowers RS, DuValc C. Blepharoplastic and periorbital aesthetic surgery. Plastic Surgery. 1997. 5th:

Foster JA, Barnhorst D, Papay F, Oh PM, Wulc AE. The use of botulinum A toxin to ameliorate facial kinetic frown lines. Ophthalmology. 1996 Apr. 103(4):618-22. [Medline].

Foster JA, Wulc AE, Castro E. The Botox Brow Lift. American Society of Ophthalmic Plastic and Reconstructive Surgery. 1999. Fall International Symposium.

Januszkiewicz JS, Nahai F. Transconjunctival upper blepharoplasty. Plast Reconstr Surg. 1999 Mar. 103(3):1015-8; discussion 1019. [Medline].

Konovitch J. Intravenous sedation for aesthetic surgery. Plastic Surgery. 1997. 1(8):67-74.

Krupin T, Kolker AE. Eyelid Surgery. Complications in Ophthalmic Surgery. 1999. 2nd:240-245.

Meyer DR. Functional eyelid surgery. Ophthal Plast Reconstr Surg. 1997 Jun. 13(2):77-80. [Medline].

Morax S, Touitou V. Complications of blepharoplasty. Orbit. 2006 Dec. 25(4):303-18. [Medline].

Putterman AM. The History of Cosmetic Oculoplastic Surgery, Evaluation of the Cosmetic Oculoplastic Surgery Patient, Treatment of Upper Eyelid Dermatochalasis and Orbital Fat: Skin Flap Approach. Cosmetic Oculoplastic Surgery. 1999. II:3-10, 11-22, 77-89.

Roberts E, Holck DE. Prospective clinical evaluation of wound healing after carbon dioxide laser upper lid blepharoplasty closed with polypropylene suture or octylcyanoacrylate tissue adhesive. Abstract Book-ARVO. 1999. 152-b112.

Teng CC, Reddy S, Wong JJ, Lisman RD. Retrobulbar hemorrhage nine days after cosmetic blepharoplasty resulting in permanent visual loss. Ophthal Plast Reconstr Surg. 2006 Sep-Oct. 22(5):388-9. [Medline].

Zarem HA, Resnick JI, Carr RM, Wootton DG. Browpexy: lateral orbicularis muscle fixation as an adjunct to upper blepharoplasty. Plast Reconstr Surg. 1997 Oct. 100(5):1258-61. [Medline].
Medscape Reference © 2011 WebMD, LLC