Malignant Tumors of the Larynx Treatment & Management
Author: Jonas T Johnson, MD, FACS; Chief Editor: Arlen D Meyers, MD, MBA more...
Updated: Dec 22, 2015
What would you like to print?
Medical Therapy
Treatment of patients with laryngeal carcinoma is complex because of the crucial functions of this anatomic area. If possible, the goal of treatment is to remove the tumor and prevent recurrence while maintaining laryngeal function. The ideal treatment varies for laryngeal cancer depending on the stage of the disease. Location of the primary tumor (ie, glottic, supraglottic or subglottic) is also an important consideration when selecting therapy.
Early-stage laryngeal carcinomas (stage I-II) are ideally treated with either radiation or surgical techniques (either endoscopic or open) that preserve laryngeal function. For carcinoma in situ or early-stage invasive glottic or supraglottic cancer, endoscopic surgical excision or radiation therapy are both equally effective with similar functional outcomes. Certain early stage lesions, may require more extensive resection, in which case open partial laryngectomy options exist that provide good oncologic control, although usually with worse voice outcomes than endoscopic surgery or radiation.
Historically, advanced-stage laryngeal carcinomas (stage III-IV) were treated with total laryngectomy, reconstruction, and adjuvant postoperative chemoradiation therapy. However, remarkable progress has been made in the past 20 years in the management of laryngeal cancer. Although total laryngectomy is still required in cases of aggressive of extensive tumors, laryngeal preservation strategies using chemotherapy and radiation therapy protocols have now become the standard of care for many advanced laryngeal cancers.
Landmark studies such as The Veteran Affairs Laryngeal Cancer Study Group in 1991 and the RTOG 91-11 intergroup trial helped establish the basis of laryngeal preservation therapies using chemotherapy (cisplatinum and fluorouracil) and radiation therapy protocols.[5] . These trials established that chemoradiation provides equivalent oncologic control to surgery, while allowing a substantial number of patients to avoid the sequelae of laryngectomy. Support for chemotherapy as part of a multimodality approach has been strengthened by many subsequent clinical trials demonstrating the benefit of concurrent chemoradiation protocols.
Current recommendations of the NCCN Practice Guidelines in Oncology for achieving laryngeal preservation in cases of locally advanced laryngeal cancer are concurrent radiation therapy and cisplatin 100mg/m2 on days 1, 22, and 43.[6] Radiation therapy alone can be considered for patients who are medically unfit to undergo chemotherapy. Good evidence suggests that radiation efficacy is improved with accelerated and hyperfractionated treatment schemes.
Despite the increased use of chemoradiation in the treatment of advanced laryngeal cancer, surgery is still frequently required. Concurrent chemoradiotherapy protocols are associated with significant acute and late toxicities. Some patients remain with dysfunctional swallowing and life-threatening aspiration episodes that require total laryngectomy. Furthermore, total laryngectomy is required for chemoradiation treatment failures in up to one third of patients. Additionally, total laryngectomy is the best initial therapeutic option in certain situations.
Primary surgical treatment should be considered in patients with high volume disease, patients with T4a tumors, or patients with anticipated poor functional outcome (eg, poor laryngeal function, intractable aspiration). Significant early and late toxicities associated with concurrent chemoradiation protocols led to recent interest in targeted therapies such as monoclonal antibodies (eg, cetuximab). Cetuximab is presently used in many organ preservation protocols for laryngeal cancer following a landmark multicenter trial. Many other targeted therapies are under investigation. In summary, therapy for laryngeal cancer is predicated on the tumor type and staging, patient's wishes and compliance, and the surgeon's and institution's preferences and experience. Treatment must be individualized to consider each patient and his or her social circumstances.
Surgical Therapy
Although laryngeal preservation strategies using chemoradiation have taken a central role in the treatment of advanced laryngeal cancer, late toxicities have led us to rethink the paradigm of laryngeal cancer treatment. The refinement of laryngeal surgeries and the sophistication of endolaryngeal laser techniques offer a wide array of laryngeal preservation options that should be carefully considered by the multidisciplinary team. As described in the previous section, total laryngectomy must be considered in cases of bulky or advanced disease, clear cartilage invasion, and failures of larynx-sparing strategies. Although a full description of surgical techniques is beyond the scope of this article, the clinician should be familiar with the basic surgical options.
Transoral laser microsurgery
Popularized and legitimized by Steiner and Ambrosch, transoral laser microsurgery is ideal for the treatment of early-intermediate glottic and supraglottic cancer. It is performed under suspension micro-laryngoscopy with a CO2 laser. Adequate instrumentation and surgeon's experience are paramount.
The tumor is transected and removed piecemeal (which allows for precise tumor removal by margin visualization). The tumor must be well exposed through the laryngoscope.
This treatment has the same indications and contraindications as open partial laryngectomies. A functional cricoarytenoid unit must be preserved.
Survival and laryngeal preservation is comparable to other conventional treatments and results in excellent functional outcomes in appropriately selected patients.
Open partial laryngectomy
Various partial laryngectomy procedures have been described. Many of these, such as vertical partial laryngectomy or near-total laryngectomy, are primarily of historical interest and are rarely used today. However, 2 procedures, supraglottic partial laryngectomy and supracricoid partial laryngectomy, have a role in the modern management of laryngeal cancer.
Open supraglottic partial laryngectomy involves resection of much or all of the supraglottis, with preservation of both true vocal cords and arytenoids. This thereby preserves laryngeal function and voice. While occasionally useful, this procedure may often be accomplished endoscopically with CO2 laser excision, thus open supraglottic partial laryngectomy is somewhat rare.
Supracricoid partial laryngectomy involves resection of the vocal fold, thyroid cartilage, and paraglottic space, as well supraglottic structures such as the epiglottis if needed.[7] The surgeon must preserve at least 1 functional cricoarytenoid unit (arytenoid and associated musculature, plus the superior and recurrent laryngeal nerve) for speech and swallowing. Open partial laryngectomy is useful for cancer involving the anterior commissure with or without spread onto the petiole of the epiglottis[8] and is a sound option for selected advanced tumors (T3 or early T4). Following resection, reconstruction is performed with cricohyoidoepiglottopexy (CHEP) or cricohyoidopexy (CHP) epiglottis preservation, depending on glottic or supraglottic involvement.
Contraindications include cartilage invasion, bilateral vocal fold fixation, interarytenoid involvement, significant tongue base involvement, transglottic lesion, or poor performance status.
Cure and organ preservation rates are comparable with chemoradiation. Decreased voice quality may result, but adequate swallowing can be achieved with rehabilitation.
Total laryngectomy
As previously discussed, total laryngectomy is the historical criterion standard for treatment of laryngeal cancer and is still widely used in the treatment of advanced or recurrent disease. This involves complete resection of the larynx, from the vallecula to the upper trachea. Additional resection of the pharynx, such as the piriform sinus or lateral pharyngeal wall, may be performed as needed due to tumor extension. The goal is complete, en bloc resection of the tumor. Selective neck dissection is usually performed along with this procedure, either to clear metastatic nodes or to detect occult metastasis.
Following resection, the proximal end of the trachea is sewn to the skin to create a permanent tracheostoma, and the pharyngeal mucosa is closed, thereby completely separating the airway from the upper digestive tract. Closure of the pharyngeal mucosa is either accomplished primarily, or with the use of a flap, either a regional flap (usually pectoralis flap) or free tissue transfer, depending on the size of the pharyngeal defect and the patient's history of radiation therapy. A tracheoesophageal puncture is often performed in order to place a tracheoesophageal prosthesis (TEP) for voice rehabilitation.
Preoperative Details
When a patient is considering surgery, ascertaining that medical care is optimized is essential. Nutrition should be stable. Pain must be controlled. A tracheostomy may be needed at presentation in the case of a large obstructive lesion. A trip to the dentist is essential to be sure the dentition is free of active infection. Tobacco and alcohol are best avoided.Patients with severe lung disease may not be candidates for larynx-sparing surgery. Similarly, patients with compromised heart and renal disease may not be candidates for chemotherapy. The patient who has had prior irradiation to the head and neck area represents a special problem. Re-irradiation can be undertaken, sometimes with good results, but the risk of severe complications is increased.
Intraoperative Details
This chapter does not allow for an in-depth discussion of operative technique. The author would refer the interested reader to an atlas where the various techniques are depicted.[9] For small endoscopic resections, many patients can be discharged on the day of the procedure. Extensive supraglottic resections do cause dysphagia and potentiate aspiration, so these patients require hospitalization and swallowing therapy. Open partial laryngeal resections are almost always accompanied by a temporary tracheotomy. Most patients are decannulated prior to or soon after discharge. The vocal result is generally reflective of the extent of surgery. Most patients have a dysphonic but serviceable voice. Following total laryngectomy, the authors recommend immediate insertion of a tracheoesophageal stent to accommodate a voice prosthesis. These patients may be speaking about 3 weeks after surgery.
See the image below.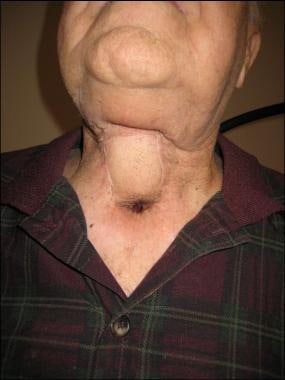 Tracheostoma and skin flap reconstruction following total laryngectomy for a locally advanced laryngeal cancer invading the skin of the neck.
Postoperative Details
Recovery from laryngeal surgery is reflective of the structures removed, the extent of the resection, and the patient's underlying cardio-pulmonary health. The patient who undergoes resection for a small tumor can be predicted to have excellent functional recovery with good voice. Treatment of advanced cancer always results in compromise of some quality of life and functional capabilities.
Follow-up
Follow-up care is necessary because second primary cancers, recurrences, and late metastases are all strong possibilities. In the course of a lifetime, one third of patients with head and neck cancer may develop another cancer.
The assistance of speech therapists, occupational therapists, and physical therapists with experience in swallowing or secretion control should also be considered.
Complications
The complications and consequences of surgery, radiation therapy, and chemotherapy are well known. However, in the larynx, unique or at least unusual complications must be considered. These are listed as follows:
Loss of upper body strength after laryngectomy

Psychosocial trauma from surgery and/or radiation therapy

[10]

Limited mobility of the neck

Daily stoma care

Vocal cord–powered voice loss in some procedures

Radiation-induced neoplasms of the neck

Dysphagia

Pharyngeo-cutaneous fistula

Chronic pain

Breathing difficulties

Stoma infections
Outcome and Prognosis
Outcomes in malignant tumor of the larynx are measured by 5-year survival rates. Data from the National Cancer Database based on patients diagnosed between 1998-1999 is as follows:
Supraglottis: Stage I – 59%, Stage II- 59%, Stage III-53%, Stage IV-34%

Glottis: Stage I – 90%, Stage II- 74%, Stage III-56%, Stage IV-44%

Subglottis: Stage I – 65%, Stage II- 56%, Stage III-47%, Stage IV-32%
As demonstrated above, outcomes are highly dependent on the initial staging. In general, early stage disease is treated with single modality therapy, either surgery or radiation therapy. The outcomes in early disease are quite good, approaching over 90% 5-year survival rates with either modality of treatment in glottic cancer. Advanced disease (stage III-IV) is generally treated with multimodality therapy, concurrent chemoradiation therapy and surgery.
The 5-year survival rates vary depending on the treatment modality. The 5-year survival rate after concurrent chemoradiation therapy is 54% with preservation of 88% of the larynx at 2 years. The 5-year survival after endoscopic laser laryngeal surgery is 55%. Interestingly, laryngeal cancer is perhaps the only cancer to actually demonstrate a decrease in survival rates over the past few decades.[11] The increasing use of nonsurgical therapy has been implicated in this decrease. Quality of life is emerging as an outcome measure in the treatment of laryngeal carcinoma. New data are showing the functional outcomes and quality of life after different treatment modalities.[12]
The aforementioned study by Marchiano et al found the overall 5-year disease specific survival rate to be 53.7% for patients with subglottic squamous cell carcinoma; the rate was highest (62.4%) for those treated with surgery alone.[1]
Future and Controversies
Functional preservation of the larynx remains a challenging goal in the treatment of malignant laryngeal tumors. Organ-sparing chemoradiation protocols have become the standard of care for advanced laryngeal cancer. Although these strategies were proven effective in preserving the larynx, the may not necessarily preserve laryngeal function. Improving surgical techniques such as endolaryngeal lasers, sophistication of radiation techniques such as IMRT, and the development of novel targeting agents such as cetuximab will surely change the landscape of current trends in laryngeal cancer treatment. Novel work in tumor angiogenesis and immunotherapy also holds promise. In the near future, individualizing treatment through optimal patient selection and biomarker analysis will be an interesting challenge.
References
Marchiano E, Patel DM, Patel TD, et al. Subglottic Squamous Cell Carcinoma: A Population-Based Study of 889 Cases. Otolaryngol Head Neck Surg. 2015 Nov 25. [Medline].

Zhao R, Chen K, Cao J, Yu H, Tian L, Liu M. A correlation analysis between HDAC1 over-expression and clinical features of laryngeal squamous cell carcinoma. Acta Otolaryngol. 2015 Nov 20. 1-5. [Medline].

Angouridakis N, Goudakos J, Karayannopoulou G, Triaridis S, Nikolaou A, Markou K. Primary neuroendocrine neoplasms of the larynx. A series of 4 cases reported and a review of the literature. Head Neck. 2012 Feb 6. [Medline].

Edge S, Byrd DR, Compton CC, Fritz AG, Greene FL, Trotti A. American Joint Comittee on Cancer - Head and Neck cancer staging 2007. 7th. Philadelphia: Springer; 2010. [Full Text].

Induction chemotherapy plus radiation compared with surgery plus radiation in patients with advanced laryngeal cancer. The Department of Veterans Affairs Laryngeal Cancer Study Group. N Engl J Med. 1991 Jun 13. 324(24):1685-90. [Medline].

NCCN Practice Guidelines in Oncology - v.2.2013 - Head and Neck Cancers. National Comprehensive Cancer Network. Available at http://www.nccn.org/professionals/physician_gls/PDF/head-and-neck.pdf. Accessed: 1/13/14.

Laccourreye O, Ishoo E, de Mones E, Garcia D, Kania R, Hans S. Supracricoid hemilaryngopharyngectomy in patients with invasive squamous cell carcinoma of the pyriform sinus. Part I: Technique, complications, and long-term functional outcome. Ann Otol Rhinol Laryngol. 2005 Jan. 114(1 Pt 1):25-34. [Medline].

Wen WP, Su ZZ, Zhu XL, Jiang AY, Chai LP, Wang ZF, et al. Supracricoid partial laryngectomy with cricothyroidopexy: A treatment for anterior vocal commissure laryngeal squamous carcinoma. Head Neck. 2012 Feb 24. [Medline].

Cohen JI, Clayman G. Atlas of Head and Neck Surgery. 1st. 2011.

De Santis M, Tripodi D. [The laryngectomized patient as a psychologically maladjusted person]. Valsalva. 1968 Jun. 44(3):138-45. [Medline].

Hoffman HT, Porter K, Karnell LH, Cooper JS, Weber RS, Langer CJ. Laryngeal cancer in the United States: changes in demographics, patterns of care, and survival. Laryngoscope. 2006 Sep. 116(9 Pt 2 Suppl 111):1-13. [Medline].

Williamson JS, Ingrams D, Jones H. Quality of life after treatment of laryngeal carcinoma: a single centre cross-sectional study. Ann R Coll Surg Engl. 2011 Nov. 93(8):591-5. [Medline].

Ah-See K. The evidence for different management strategies for laryngeal cancer: summaries of systematic reviews commissioned for an educational meeting. Clin Otolaryngol. 2008 Apr. 33(2):90-3. [Medline].

Audet N, Beasley NJ, MacMillan C, et al. Lymphatic vessel density, nodal metastases, and prognosis in patients with head and neck cancer. Arch Otolaryngol Head Neck Surg. 2005 Dec. 131(12):1065-70. [Medline].

Bonner JA, Harari PM, Giralt J, et al. Radiotherapy plus cetuximab for squamous-cell carcinoma of the head and neck. N Engl J Med. 2006 Feb 9. 354(6):567-78. [Medline].

Coca-Pelaz A, Rodrigo JP, Takes RP, Silver CE, Paccagnella D, Rinaldo A. Relationship between reflux and laryngeal cancer. Head Neck. 2013 Dec. 35(12):1814-8. [Medline].

Folz BJ, Silver CE, Rinaldo A, et al. An outline of the history of head and neck oncology. Oral Oncol. 2008 Jan. 44(1):2-9. [Medline].

Garas J, McGuirt WF Sr. Squamous cell carcinoma of the subglottis. Am J Otolaryngol. 2006 Jan-Feb. 27(1):1-4. [Medline].

Higgins KM, Wang JR. State of head and neck surgical oncology research--a review and critical appraisal of landmark studies. Head Neck. 2008 Dec. 30(12):1636-42. [Medline].

Holsinger FC. Swing of the pendulum: optimizing functional outcomes in larynx cancer. Curr Oncol Rep. 2008 Mar. 10(2):170-5. [Medline].

Jenckel F, Knecht R. State of the art in the treatment of laryngeal cancer. Anticancer Res. 2013 Nov. 33(11):4701-10. [Medline].

Kapil U, Singh P, Bahadur S, et al. Assessment of risk factors in laryngeal cancer in India: a case-control study. Asian Pac J Cancer Prev. 2005 Apr-Jun. 6(2):202-7. [Medline].

Kats SS, Muller S, Aiken A, Hudgins PA, Wadsworth JT, Shin DM, et al. Laryngeal tumor volume as a predictor for thyroid cartilage penetration. Head Neck. 2012 Apr 8. [Medline].

Li X, Gao L, Li H, Gao J, Yang Y, Zhou F. Human papillomavirus infection and laryngeal cancer risk: a systematic review and meta-analysis. J Infect Dis. 2013 Feb 1. 207(3):479-88. [Medline].

Lohynska R, Slavicek A, Bahanan A, et al. Predictors of local failure in early laryngeal cancer. Neoplasma. 2005. 52(6):483-8. [Medline].

Oztürk O, Sari M, Inanli S, et al. Basaloid squamous cell carcinoma of the larynx: a case report. Kulak Burun Bogaz Ihtis Derg. 2005. 15(5-6):125-9. [Medline].

Patel UA, Moore BA, Wax M, Rosenthal E, Sweeny L, Militsakh ON. Impact of pharyngeal closure technique on fistula after salvage laryngectomy. JAMA Otolaryngol Head Neck Surg. 2013 Nov. 139(11):1156-62. [Medline].

Rodriguez CP, Adelstein DJ, Rybicki LA, et al. Clinical predictors of larynx preservation after multiagent concurrent chemoradiotherapy. Head Neck. 2008 Dec. 30(12):1535-42. [Medline].

Santos AB, Cernea CR, Inoue M, et al. Selective neck dissection for node-positive necks in patients with head and neck squamous cell carcinoma: a word of caution. Arch Otolaryngol Head Neck Surg. 2006 Jan. 132(1):79-81. [Medline].

Scheifele C, Reichart PA, Hippler-Benscheidt M, et al. Incidence of oral, pharyngeal, and laryngeal squamous cell carcinomas among 1515 patients after liver transplantation. Oral Oncol. 2005 Aug. 41(7):670-6. [Medline].

Sperry SM, Rassekh CH, Laccourreye O, Weinstein GS. Supracricoid partial laryngectomy for primary and recurrent laryngeal cancer. JAMA Otolaryngol Head Neck Surg. 2013 Nov. 139(11):1226-35. [Medline].

Uneri C, Sari M, Baglam T, et al. Effects of vitamin E on cigarette smoke induced oxidative damage in larynx and lung. Laryngoscope. 2006 Jan. 116(1):97-100. [Medline].

Vermund H, Krajci P, Eide TJ, et al. Histopathological grading of laryngectomy specimens. APMIS. 2005 Jul-Aug. 113(7-8):473-88. [Medline].

Yilmaz M, Ibrahimov M, Mamanov M, Rasidov R, Oktem F. Primary marginal zone B-cell lymphoma of the larynx. J Craniofac Surg. 2012 Jan. 23(1):e1-2. [Medline].

Yoo J, Lacchetti C, Hammond JA, Gilbert RW,. Role of endolaryngeal surgery (with or without laser) versus radiotherapy in the management of early (T1) glottic cancer: A systematic review. Head Neck. 2013 Sep 30. [Medline].
Table 1. Stage Tumor, Node, and Metastasis Groupings
Stage
Grouping
Stage 0
Tis
N0
M0
Stage I
T1
N0
M0
Stage II
T2
N0
M0
Stage III
T3
N0
M0
T1
N1
M0
T2
N1
M0
T3
N1
M0
Stage IVA
T4a
N0
M0
T4a
N1
M0
T1
N2
M0
T2
N2
M0
T3
N2
M0
T4a
N2
M0
Stage IV B
T4b
Any N
M0
Any T
N3
M0
Stage IV C
Any T
Any N
M1
Medscape Reference © 2011 WebMD, LLC