Near-Total Laryngectomy
Author: Brian Kip Reilly, MD; Chief Editor: Arlen D Meyers, MD, MBA more...
Updated: Mar 21, 2014
What would you like to print?
Background
Laryngeal cancer continues to kill nearly 4,000 people per year in the United States, despite stricter bans on smoking, increased public awareness, and improved treatment modalities. The ultimate goal of every clinician treating laryngeal cancer is the extirpation of disease with the maintenance of voice functionality and swallowing. Most early glottic and supraglottic cancers can easily be treated without affecting the phonatory mechanism. This is difficult to achieve in larger transglottic lesions because the preferred surgical treatment for advanced laryngeal tumors remains total laryngectomy (TL), a surgical technique in which laryngeal speech is sacrificed.
Radiation and chemotherapy, part of the so-called organ-sparing protocols, have also resulted in effective outcomes. This article focuses on near-total laryngectomies, which aim to remove nearly all of larynx, while providing a high rate of disease control without substantial loss of function.
Speech is critical to a person's psychological well being. Consequently, advanced-stage laryngeal cancer creates a surgical dilemma, pitting the principles of oncologically sound resection against organ preservation. TL is an effective, albeit definitive removal of the larynx. Patients who undergo TL must also undergo voice rehabilitation with a prosthesis, electrolarynx, or esophageal speech. However, advances in partial laryngeal surgery, notably near-total, subtotal, extended partial laryngectomy, and endoscopic resection can remove the necessary cancerous tissue without overly aggressive resection of the larynx and pharynx, thereby maintaining voice. This concept of removing the cancerous tissue while aiming to maintain functionality of the phonatory mechanism is the driving force behind conservational laryngeal surgery.
Studies have shown that near-total laryngectomy (NTL) in select T3 and T4 laryngeal tumors provides a high rate of disease control comparable with that of the total laryngectomy. The NTL spares nontumor involved larynx, which is subsequently used for reconstruction. A patient who undergoes NTL speaks using an internal myomucosal shunt, which is lung powered. It does, however, require a tracheostomy for breathing. This article examines near-total laryngectomies and their role in the treatment of laryngeal cancer.
The image below depicts the different structures of the larynx.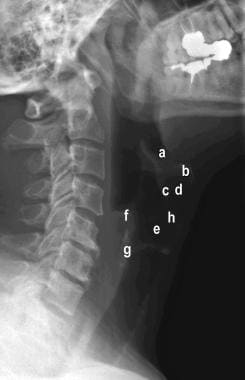 Lateral radiograph of the neck showing the different structures of the larynx: a, vallecula; b, hyoid bone; c, epiglottis; d, pre-epiglottic space; e, ventricle (air-space between false and true cords); f, arytenoid; g, cricoid; and h, thyroid cartilage.
History of the Procedure
Billroth performed the first total laryngectomy in 1873; just 2 years later, he also performed the first hemilaryngectomy. Despite the hemilaryngectomy being a less-drastic alternative, many surgeons preferred and adopted the TL because they believed it was the most reliable manner for treating laryngeal cancer. By the 1920s, the postoperative survival rate for TL was greater than 90%.
Laryngologists, however, ultimately realized that a "one operation" concept was too aggressive, given the many nuances in disease, and that endolaryngeal surgery was more suited for some lesions. In 1980, Pearson and colleagues described an alternative to the standard TL in patients with stage T3 glottic cancers. Following pathologic examination of an excised larynx, they noted that in certain pathology specimens, the total larynx was often not involved in the disease process. As such, these researchers discovered that the uninvolved column of endolarynx could be preserved and converted into a sphincteric tube serving as a speech valve.
Since Pearson pioneered the model, the indications for NTL have been expanded to include tumors that cause unilateral vocal cord paralysis and patients undergoing or having undergone radiation therapy. Although the NTL is now an accepted alternative to TL for patients with glottic, supraglottic, base of tongue, and hypopharyngeal cancers, it is still a very limited technique.
The reasons for this may be two-fold. First, very few surgeons in the United States are comfortable performing a NTL. Second, at the same time that the NTL was introduced, Singer and Blom began popularizing tracheoesophageal puncture (TEP). TEP is a technique in which a puncture is made between the parting wall of the esophagus and the trachea, allowing a one-way valve to be inserted. This silicone prosthesis serves as a stent to prevent stenosis and aspiration but allows egress of air from the trachea to pharynx, thereby creating vibratory speech sounds. TEP is the preferred method of vocal rehabilitation when a TL is performed for oncologic soundness.
Despite being an underused technique, NTL has a number of advantages. With the composite speaking shunt created by NTL, the voice enters the pharynx, allowing the voice to sound more natural, independent of cricopharyngeal function. In addition, phonation does not result in bloating of the stomach and aspiration of the TEP prosthesis is not a risk. Ultimately, a neoglottis that is created via conservation surgery is more maintenance free.
Problem
Select patients with advanced (T3-T4) laryngeal cancers should be considered for conservation laryngeal surgery. Patients who have piriform sinus involvement, unilateral vocal fold fixation, cartilage invasion, and irradiation failure are considered candidates for NTL. Providing absolute indications and contraindications to the NTL procedure is difficult because decisions are made based on the surgeon's operative experience and the patient's wishes regarding extirpation of disease. In order for the NTL surgery to be successful, the surgeon must create a shunt that functions as a neoglottis during expiration/phonation but contracts when swallowing.
Epidemiology
Frequency
Laryngeal cancer is the second most common site for head and neck malignancy. In the United States, 11,000 new cases are reported annually. Laryngeal cancer is more common in males and has a peak incidence during the sixth and seventh decades of life.
Etiology
Alcohol and tobacco have synergistic carcinogenic properties, which directly contribute to most causes of laryngeal cancer. Most laryngeal cancers have a squamous cell histopathology. A history of juvenile human papilloma virus is an additional but very infrequently encountered risk factor.
Pathophysiology
Laryngeal cancer commences at the cellular level with mutations in the DNA, either from genetic or environmental factors. This alteration then results in a neoplasm, which initially shows evidence of dysplasia, followed by carcinoma in situ, and ultimately manifests as an invasive carcinoma.
The lymphatic drainage in the larynx is compartmentalized. Pressman showed that there are tight fibrous and cartilaginous barriers preventing unimpeded spread.[1] The spread to regional lymph nodes is dictated in part by the site of origin. Glottic tumors metastasize infrequently, whereas supraglottic and subglottic tumors metastasize more commonly. Supraglottic and subglottic tumors are the least likely to cause symptoms on initial presentation, and therefore often lead to a delayed diagnosis. As such, they most frequently have distant metastases, in 10-30% of cases.
Presentation
Unfortunately, many early symptoms of laryngeal cancer are closely associated with more common benign conditions. This often leads to late recognition of a more serious problem in this region. Early symptoms of advanced laryngeal cancer include hoarseness, sore throat, and odynophagia. Later symptoms include otalgia, dysphagia, dyspnea/stridor, and weight loss.
Indications
The treatment for laryngeal carcinoma must be made on an individualized basis. General guidelines show that most head and neck cancer surgeons do not recommend primary radiation alone in patients with either extensive T2 or T3/T4 lesions. Near-total laryngectomy (NTL) is indicated in patients with advanced (T3, T4) laryngeal cancers when the postcricoid and interarytenoid areas are free of disease and the contralateral arytenoid is salvageable. Suitability for NTL is a complex process and all patients undergoing the procedure should be consented for total laryngectomy (TL), in the event that the tumor involvement is deemed more extensive intraoperatively.
Relevant Anatomy
The larynx is located within the anterior aspect of the neck, anterior to the inferior portion of the pharynx and superior to the trachea. Its primary function is to protect the lower airway by closing abruptly upon mechanical stimulation, thereby halting respiration and preventing the entry of foreign matter into the airway. Other functions of the larynx include the production of sound (phonation), coughing, the Valsalva maneuver, and control of ventilation, and acting as a sensory organ. For more information about the relevant anatomy, see Larynx Anatomy and Laryngeal Nerve Anatomy.
CT scanning is very helpful preoperatively to evaluate submucosal extension, pre-epiglottic space involvement, and cartilage invasion. Additional attention must be paid to the postcricoid and interarytenoid mucosa (necessary to construct the myomucosal shunt) and to the contralateral ventricle, which is approached through the thyroid lamina (the safest point of entry).
Contraindications
Patients with tumor in the interarytenoid, postcricoid region, and bilateral arytenoids are not candidates for near-total laryngectomy (NTL).
A relative contraindication is extensive subglottic spread. In addition, although the incidence of aspiration is quite low, another relative contraindication is severe respiratory dysfunction. Finally, poor general health, notably poor pulmonary and cardiac function, is a relative contraindication to NTL.
References
Pressman JJ. Submucosal compartmentalization of the larynx. Ann Otol Rhinol Laryngol. 1956. 65:766-1.

Induction chemotherapy plus radiation compared with surgery plus radiation in patients with advanced laryngeal cancer. The Department of Veterans Affairs Laryngeal Cancer Study Group. N Engl J Med. 1991 Jun 13. 324(24):1685-90. [Medline].

Wenig BL, Stegnjajic A, Abramson AL. Glottic reconstruction following conservation laryngeal surgery. Laryngoscope. 1989 Sep. 99(9):983-5. [Medline].

Maceri DR, Lampe HB, Makielski KH, Passamani PP, Krause CJ. Conservation laryngeal surgery. A critical analysis. Arch Otolaryngol. 1985 Jun. 111(6):361-5. [Medline].

Suits GW, Cohen JI, Everts EC. Near-total laryngectomy. Patient selection and technical considerations. Arch Otolaryngol Head Neck Surg. 1996 May. 122(5):473-5. [Medline].

DeSanto LW. Cancer of the supraglottic larynx: a review of 260 patients. Otolaryngol Head Neck Surg. 1985 Dec. 93(6):705-11. [Medline].

Akbas Y, Demireller A. Oncologic and functional results of supracricoid partial laryngectomy with cricohyoidopexy. Otolaryngol Head Neck Surg. 2005 May. 132(5):783-7. [Medline].

Ambrosch P, Kron M, Steiner W. Carbon dioxide laser microsurgery for early supraglottic carcinoma. Ann Otol Rhinol Laryngol. 1998 Aug. 107(8):680-8. [Medline].

Andrade RP, Kowalski LP, Vieira LJ, Santos CR. Survival and functional results of Pearson's near-total laryngectomy for larynx and pyriform sinus carcinoma. Head Neck. 2000 Jan. 22(1):12-6. [Medline].

Brasnu D, Laccourreye H, Dulmet E, Jaubert F. Mobility of the vocal cord and arytenoid in squamous cell carcinoma of the larynx and hypopharynx: an anatomical and clinical comparative study. Ear Nose Throat J. 1990 May. 69(5):324-30. [Medline].

Chen AY, Schrag N, Hao Y, Flanders WD, Kepner J, Stewart A, et al. Changes in treatment of advanced laryngeal cancer 1985-2001. Otolaryngol Head Neck Surg. 2006 Dec. 135(6):831-7. [Medline].

Chevalier D, Laccourreye O, Brasnu D, Laccourreye H, Piquet JJ. Cricohyoidoepiglottopexy for glottic carcinoma with fixation or impaired motion of the true vocal cord: 5-year oncologic results with 112 patients. Ann Otol Rhinol Laryngol. 1997 May. 106(5):364-9. [Medline].

DeSanto LW, Pearson BW, Olsen KD. Utility of near-total laryngectomy for supraglottic, pharyngeal, base-of-tongue, and other cancers. Ann Otol Rhinol Laryngol. 1989 Jan. 98(1 Pt 1):2-7. [Medline].

Dumich PS, Pearson BW, Weiland LH. Suitability of near-total laryngopharyngectomy in piriform carcinoma. Arch Otolaryngol. 1984 Oct. 110(10):664-9. [Medline].

Genden EM, Ferlito A, Rinaldo A, Silver CE, Fagan JJ, Suárez C, et al. Recent changes in the treatment of patients with advanced laryngeal cancer. Head Neck. 2008 Jan. 30(1):103-10. [Medline].

Herranz-González J, Gavilán J, Martínez-Vidal J, Gavilán C. Supraglottic laryngectomy: functional and oncologic results. Ann Otol Rhinol Laryngol. 1996 Jan. 105(1):18-22. [Medline].

Iro H, Waldfahrer F, Altendorf-Hofmann A, Weidenbecher M, Sauer R, Steiner W. Transoral laser surgery of supraglottic cancer: follow-up of 141 patients. Arch Otolaryngol Head Neck Surg. 1998 Nov. 124(11):1245-50. [Medline].

Jepsen MC, Gurushanthaiah D, Roy N, Smith ME, Gray SD, Davis RK. Voice, speech, and swallowing outcomes in laser-treated laryngeal cancer. Laryngoscope. 2003 Jun. 113(6):923-8. [Medline].

Kirchner JA, Som ML. Clinical significance of fixed vocal cord. Laryngoscope. 1971 Jul. 81(7):1029-44. [Medline].

Laccourreye H, Laccourreye O, Weinstein G, Menard M, Brasnu D. Supracricoid laryngectomy with cricohyoidoepiglottopexy: a partial laryngeal procedure for glottic carcinoma. Ann Otol Rhinol Laryngol. 1990 Jun. 99(6 Pt 1):421-6. [Medline].

Laccourreye O, Weinstein G, Brasnu D, Trotoux J, Laccourreye H. Vertical partial laryngectomy: a critical analysis of local recurrence. Ann Otol Rhinol Laryngol. 1991 Jan. 100(1):68-71. [Medline].

Lee NY, O'Meara W, Chan K, Della-Bianca C, Mechalakos JG, Zhung J, et al. Concurrent chemotherapy and intensity-modulated radiotherapy for locoregionally advanced laryngeal and hypopharyngeal cancers. Int J Radiat Oncol Biol Phys. 2007 Oct 1. 69(2):459-68. [Medline].

Levine PA, Debo RF, Reibel JF. Pearson near-total laryngectomy: a reproducible speaking shunt. Head Neck. 1994 Jul-Aug. 16(4):323-5. [Medline].

Lima RA, Freitas EQ, Kligerman J, Paiva FP, Dias FL, Barbosa MM, et al. Near-total laryngectomy for treatment of advanced laryngeal cancer. Am J Surg. 1997 Nov. 174(5):490-1. [Medline].

Motta G, Esposito E, Testa D, Iovine R, Motta S. CO2 laser treatment of supraglottic cancer. Head Neck. 2004 May. 26(5):442-6. [Medline].

Naudo P, Laccourreye O, Weinstein G, et al. Complications and functional outcome after supracricoid partial laryngectomy with cricohyoidoepiglottopexy. Otolaryngol Head Neck Surg. 1998 Jan. 118(1):124-9. [Medline].

Pearson BW, Salassa JR, Hinnir ML. Transoral Laser Micro Resection of Advanced Laryngeal Tumors. Cummings, CW, Flint PW, et al. Otolaryngology-Head and Neck Surgery. 4th ed. Philadelphia: Elsevier Mosby; 2005. 2326-2345.

Pradhan SA, Pai PS, Neeli SI, et al. Transoral laser surgery for early glottic cancers. Arch Otolaryngol Head Neck Surg. 2003 Jun. 129(6):623-5. [Medline].

Rademaker AW, Logemann JA, Pauloski BR, Bowman JB, Lazarus CL, Sisson GA, et al. Recovery of postoperative swallowing in patients undergoing partial laryngectomy. Head Neck. 1993 Jul-Aug. 15(4):325-34. [Medline].

Robbins KT, Michaels L. Feasibility of subtotal laryngectomy based on whole-organ examination. Arch Otolaryngol. 1985 Jun. 111(6):356-60. [Medline].

Steiner W, Ambrosch P. Endoscopic Laser Surgery of the Upper Aerodigestive Tract. New York, NY: Thieme, 2000.

Tufano RP. Organ preservation surgery for laryngeal cancer. Otolaryngol Clin North Am. 2002 Oct. 35(5):1067-80. [Medline].

Tufano RP, Weinstein GS, Laccourreye O. Conservation Laryngeal Surgery. Cummings, CW, Flint PW, et al. Otolaryngology-Head and Neck Surgery. 4th ed. Philadelphia: Elsevier Mosby; 2005. 2346-2380.

Weinstein GS, Laccourreye O, Brasnu D, Yousem DM. The role of computed tomography and magnetic resonance imaging in planning for conservation laryngeal surgery. Neuroimaging Clin N Am. 1996 May. 6(2):497-504. [Medline].

Yu L, Syms C 3rd, Dietz W. Laryngeal compartmentalization after radiation therapy in a canine model. Otolaryngol Head Neck Surg. 2001 Oct. 125(4):385-92. [Medline].

Zhang B, Xu ZG, Tang PZ. Elective lateral neck dissection for laryngeal cancer in the clinically negative neck. J Surg Oncol. 2006 May 1. 93(6):464-7. [Medline].
Medscape Reference © 2011 WebMD, LLC