Tracheostomy
Author: Jonathan P Lindman, MD; Chief Editor: Ryland P Byrd, Jr, MD more...
Updated: Jan 21, 2015
What would you like to print?
Background
Tracheostomy is an operative procedure that creates a surgical airway in the cervical trachea. It is most often performed in patients who have had difficulty weaning off a ventilator, followed by those who have suffered trauma or a catastrophic neurologic insult.[1] Infectious and neoplastic processes are less common in diseases that require a surgical airway.
Tracheostomy is a utilitarian surgical procedure of access; therefore, it should be discussed in light of the problem it addresses: access to the tracheobronchial tree. The trachea is a conduit between the upper airway and the lungs that delivers moist warm air and expels carbon dioxide and sputum. Failure or blockage at any point along that conduit can be most readily corrected with the provision of access for mechanical ventilators and suction equipment. In the case of upper airway obstruction, tracheostomy provides a path of low resistance for air exchange.
The traditional semantic difference between tracheostomy and tracheotomy is now blurred because the hole is variably permanent. If a cannula is in place, an unsutured opening heals into a patent stoma within a week. If decannulation is performed (ie, the tracheostomy cannula is removed), the hole usually closes in a similar amount of time. The cut edges of the tracheal opening can be sutured to the skin with a few absorbable sutures to facilitate cannulation and, if necessary, recannulation can be performed. Alternatively, a permanent stoma can be created with circumferential sutures. The term tracheostomy is used, by convention, for all these procedures and is considered to be synonymous with tracheotomy.
The trachea is nearly but not quite cylindrical but is flattened posteriorly. In cross-section, it is D-shaped, with incomplete cartilaginous rings anteriorly and laterally, and a straight membranous wall posteriorly. The trachea measures about 11 cm in length and is chondromembranous. This structure starts from the inferior part of the larynx (cricoid cartilage) in the neck, opposite the 6th cervical vertebra, to the intervertebral disc between T4-5 vertebrae in the thorax, where it divides at the carina into the right and left main stem bronchi. For more information about the relevant anatomy, see Trachea Anatomy.
Indications
The advent of the antibiotic era and advances in anesthesia have made tracheostomy a commonly performed elective procedure. Indications include the following:
Congenital anomaly (eg, laryngeal hypoplasia, vascular web)

Upper airway foreign body that cannot be dislodged with Heimlich and basic cardiac life support maneuvers

Supraglottic or glottic pathologic condition (eg, infection, neoplasm, bilateral vocal cord paralysis)

Neck trauma that results in severe injury to the thyroid or cricoid cartilages, hyoid bone, or great vessels

Subcutaneous emphysema

Facial fractures that may lead to upper airway obstruction (eg, comminuted fractures of the mid face and mandible)

Upper airway edema from trauma, burns, infection, or anaphylaxis

Prophylaxis (as in preparation for extensive head and neck procedures and the convalescent period)

Severe sleep apnea not amendable to continuous positive airway pressure devices or other less invasive surgery
Tracheostomy may also be performed to provide a long-term route for mechanical ventilation in cases of respiratory failure or to provide pulmonary toilet in the following cases:
Inadequate cough due to chronic pain or weakness

Aspiration and the inability to handle secretions
The cuffed tube allows the trachea to be sealed off from the esophagus and its refluxing contents. Thus, this intervention can prevent aspiration and provide for the removal of any aspirated substances. However, some investigators argue that the risk of aspiration is not actually lessened, as secretions can leak around the cuffed tube and reach the lower airway.
The Council on Critical Care of the American College of Chest Physicians recommends tracheostomy in patients who are expected to require mechanical ventilation for longer than 7 days.[2] However, the final decision is made on an individual basis based on comorbidities and the patient's current condition.
Contraindications
No absolute contraindications exist for tracheostomy. A strong relative contraindication to discrete surgical access to the airway is the anticipation that the blockage is a laryngeal carcinoma. The definitive procedure (usually a laryngectomy) is planned, and prior manipulation of the tumor is avoided because it may lead to increased incidence of stomal recurrence. Temporary tracheostomy may be performed just under the first tracheal ring in anticipation of a laryngectomy at a later time.
End-of-life issues may also come to bear on the decision to perform a tracheostomy because it may represent further mechanization of the patient's care to family members. In fact, the performance of a tracheostomy does not affect the decision to extend or to withdraw care. Hygiene is improved, quality of life (speaking and eating, if relevant) is improved, and placement in long-term care is facilitated in some cases; however, dependence on mechanical ventilation may not be changed.
Technical Considerations
Procedure Planning
Tracheostomies can be performed through with an open or percutaneous technique. Open tracheostomy is one of the oldest procedures described in the literature and is still the procedure of choice for some trauma centers. However, the use of percutaneous tracheostomy has been increasing since its introduction in the 1980s.
Studies have supported percutaneous over open tracheostomies. However, the final technique depends on the surgeon's experience and comfort, in addition to guidelines of the facility where this procedure is to be performed.
Complication Prevention
The cricothyroid muscle, vocal muscles, and the vocal cords are vulnerable to injury during tracheostomy (see the image below).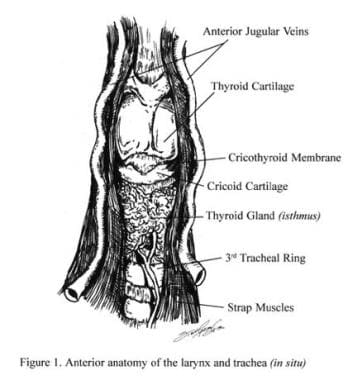 Anterior anatomy of the larynx and trachea (in situ).
The innominate artery, or brachiocephalic trunk, crosses from left to right anterior to the trachea at the superior thoracic inlet and lies just beneath the sternum. The trachea is membranous posteriorly and is formed of semicircular cartilaginous rings anteriorly and laterally. The spaces between the rings are membranous.
The recurrent laryngeal nerves and inferior thyroid veins that travel in the tracheoesophageal groove are paratracheal structures vulnerable to injury if dissection strays from the midline (see the image below). The recurrent laryngeal nerve is also vulnerable to injury from the cuff of the tracheostomy tube, particularly if the cuff is overinflated.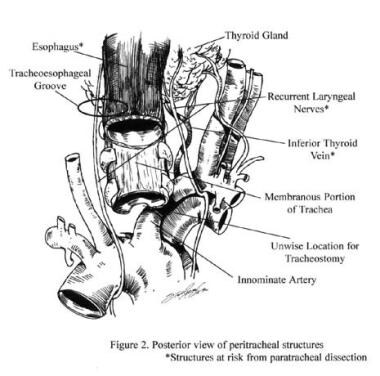 Posterior view of paratracheal structures. The asterisk indicates structures at risk from paratracheal dissection.
The great vessels (ie, carotid arteries, internal jugular veins) could be damaged should dissection go far afield, which is a real risk in pediatric or obese patients. The thyroid gland lies anteriorly to the trachea with a lobe on both sides and the isthmus, which crosses the trachea at approximately the level of the second and third tracheal rings. This tissue is extremely vascular and must be divided with careful hemostasis.
References
MacIntyre NR, Cook DJ, Ely EW Jr, et al. Evidence-based guidelines for weaning and discontinuing ventilatory support: a collective task force facilitated by the American College of Chest Physicians; the American Association for Respiratory Care; and the American College of Critical Care Medicine. Chest. 2001 Dec. 120(6 Suppl):375S-95S. [Medline].

Cheng E, Fee WE Jr. Dilatational versus standard tracheostomy: a meta-analysis. Ann Otol Rhinol Laryngol. 2000 Sep. 109(9):803-7. [Medline].

New disposable tracheostomy tube for positive-pressure ventilation. Br Med J. 1966 Oct 29. 2(5521):1063. [Medline].

Myers EN, Johnson JT. Tracheostomy. Airway management, communication and swallowing. 2nd edition. Plural Publishing, Inc; 2008.

Tibballs J, Robertson C, Wall R. Tracheal ulceration and obstruction associated with flexible Bivona tracheostomy tubes. Anaesth Intensive Care. 2006 Aug. 34(4):495-7. [Medline].

Tippet DC. Tracheostomy and ventilator dependency. New York: Thieme; 2000.

Young PJ, Pakeerathan S, Blunt MC, Subramanya S. A low-volume, low-pressure tracheal tube cuff reduces pulmonary aspiration. Crit Care Med. 2006 Mar. 34(3):632-9. [Medline].

Young PJ, Burchett K, Harvey I, Blunt MC. The prevention of pulmonary aspiration with control of tracheal wall pressure using a silicone cuff. Anaesth Intensive Care. 2000 Dec. 28(6):660-5. [Medline].

Scalabrino N, Crespi L, Bosco M, Troisi E, Vezzaro G, Baravelli M. [Diagnosis and management of dysphagia in patients with tracheostomy tube after cardiac surgery: an early screening protocol]. Monaldi Arch Chest Dis. 2010 Jun. 74(2):70-5. [Medline].

Fernandez R, Tizon AI, Gonzalez J, Monedero P, Garcia-Sanchez M, de-la-Torre MV, et al. Intensive care unit discharge to the ward with a tracheostomy cannula as a risk factor for mortality: a prospective, multicenter propensity analysis. Crit Care Med. 2011 Oct. 39(10):2240-5. [Medline].

Kost KM. Endoscopic percutaneous dilatational tracheotomy: a prospective evaluation of 500 consecutive cases. Laryngoscope. 2005 Oct. 115(10 Pt 2):1-30. [Medline].

Villarroya Gonzalez A, Longas Valien J, Vicente Armijo JJ, Cuartero Lobera J. [Orotracheal tube ignited by an electrocautery device during tracheostomy]. Rev Esp Anestesiol Reanim. 2009 Jan. 56(1):47-9. [Medline].

Tobin AE. Tracheostomy teams - filling a void. Crit Care Resusc. 2009 Mar. 11(1):3-4. [Medline].

Freeman BD, Isabella K, Lin N, Buchman TG. A meta-analysis of prospective trials comparing percutaneous and surgical tracheostomy in critically ill patients. Chest. 2000 Nov. 118(5):1412-8. [Medline].

Higgins KM, Punthakee X. Meta-analysis comparison of open versus percutaneous tracheostomy. Laryngoscope. 2007 Mar. 117(3):447-54. [Medline].

Terragni PP, Antonelli M, Fumagalli R, et al. Early vs late tracheotomy for prevention of pneumonia in mechanically ventilated adult ICU patients: a randomized controlled trial. JAMA. 2010 Apr 21. 303(15):1483-9. [Medline].

Scales DC, Thiruchelvam D, Kiss A, Redelmeier DA. The effect of tracheostomy timing during critical illness on long-term survival. Crit Care Med. 2008 Sep. 36(9):2547-57. [Medline].

Reed JP, Kemph JP, Hamelberg W, Hitchcock FA, Jacoby J. Studies with transtracheal artificial respiration. Anesthesiology. 1954 Jan. 15(1):28-41. [Medline].

Toy FJ, Weinstein JD. A percutaneous tracheostomy device. Surgery. 1969 Feb. 65(2):384-9. [Medline].

Koitschev A, Simon C, Blumenstock G, Mach H, Graumuller S. Suprastomal tracheal stenosis after dilational and surgical tracheostomy in critically ill patients. Anaesthesia. 2006 Sep. 61(9):832-7. [Medline].

Henderson JJ, Popat MT, Latto IP, Pearce AC. Difficult Airway Society guidelines for management of the unanticipated difficult intubation. Anaesthesia. 2004 Jul. 59(7):675-94. [Medline].

Brantigan CO, Grow JB Sr. Cricothyroidotomy: elective use in respiratory problems requiring tracheotomy. J Thorac Cardiovasc Surg. 1976 Jan. 71(1):72-81. [Medline].

Alberti PW. Tracheotomy versus intubation. A 19th century controversy. Ann Otol Rhinol Laryngol. 1984 Jul-Aug. 93(4 Pt 1):333-7. [Medline].

Bailey BJ. Lippincott Raven. Head and Neck Surgery--Otolaryngology. 2nd ed. Philadelphia; 1998.

Ballenger JJ. Diseases of the Nose, Throat, Ear, Head and Neck. 14th ed. Philadelphia: Lea & Febiger; 1991.

Bernard AC, Kenady DE. Conventional surgical tracheostomy as the preferred method of airway management. J Oral Maxillofac Surg. 1999 Mar. 57(3):310-5. [Medline].

Berrouschot J, Oeken J, Steiniger L, Schneider D. Perioperative complications of percutaneous dilational tracheostomy. Laryngoscope. 1997 Nov. 107(11 Pt 1):1538-44. [Medline].

Branco BC, Plurad D, Green DJ, et al. Incidence and clinical predictors for tracheostomy after cervical spinal cord injury: a National Trauma Databank review. J Trauma. 2011 Jan. 70(1):111-5. [Medline].

Cummings CW. Otolaryngology, Head and Neck Surgery. 3rd ed. St. Louis: Mosby Yearbook; 1998.

Dulguerov P, Gysin C, Perneger TV, Chevrolet JC. Percutaneous or surgical tracheostomy: a meta-analysis. Crit Care Med. 1999 Aug. 27(8):1617-25. [Medline].

Durbin CG Jr. Tracheostomy: why, when, and how?. Respir Care. 2010 Aug. 55(8):1056-68. [Medline].

Flory FA, Hamelberg W, Jacoby JJ, Jones JR, Ziegler CH. Transtracheal resuscitation. J Am Med Assoc. 1956 Oct 13. 162(7):625-8. [Medline].

Hartnick CJ, Bissell C, Parsons SK. The impact of pediatric tracheotomy on parental caregiver burden and health status. Arch Otolaryngol Head Neck Surg. 2003 Oct. 129(10):1065-9. [Medline].

Hill BB, Zweng TN, Maley RH, et al. Percutaneous dilational tracheostomy: report of 356 cases. J Trauma. 1996 Aug. 41(2):238-43; discussion 243-4. [Medline].

Kane TD, Rodriguez JL, Luchette FA. Early versus late tracheostomy in the trauma patient. Respir Care Clin N Am. 1997 Mar. 3(1):1-20. [Medline].

Koitschev A, Simon C, Blumenstock G, Mach H, Graumuller S. Suprastomal tracheal stenosis after dilational and surgical tracheostomy in critically ill patients. Anaesthesia. 2006 Sep. 61(9):832-7. [Medline].

Lomholt N, Borgeskov S, Kirkby B. A new tracheostomy tube. III. Bronchofiberoptic examination of the trachea after prolonged intubation with the NL tracheostomy tube. Acta Anaesthesiol Scand. 1981 Oct. 25(5):407-11. [Medline].

Mickelson SA. Upper airway bypass surgery for obstructive sleep apnea syndrome. Otolaryngol Clin North Am. 1998 Dec. 31(6):1013-23. [Medline].

Mitchell RB, Hussey HM, Setzen G, Jacobs IN, Nussenbaum B, Dawson C, et al. Clinical consensus statement: tracheostomy care. Otolaryngol Head Neck Surg. 2013 Jan. 148(1):6-20. [Medline].

Moe KS, Stoeckli SJ, Schmid S, Weymuller EA Jr. Percutaneous tracheostomy: a comprehensive evaluation. Ann Otol Rhinol Laryngol. 1999 Apr. 108(4):384-91. [Medline].

Powell DM, Price PD, Forrest LA. Review of percutaneous tracheostomy. Laryngoscope. 1998 Feb. 108(2):170-7. [Medline].

Scheinhorn DJ, Stearn-Hassenpflug M. Provision of long-term mechanical ventilation. Crit Care Clin. 1998 Oct. 14(4):819-32, viii. [Medline].

Solares CA, Krakovitz P, Hirose K, Koltai PJ. Starplasty: revisiting a pediatric tracheostomy technique. Otolaryngol Head Neck Surg. 2004 Nov. 131(5):717-22. [Medline].

Stock CR. What is past is prologue: a short history of the development of tracheostomy. Ear Nose Throat J. 1987 Apr. 66(4):166-9. [Medline].

Terragni PP, Antonelli M, Fumagalli R, et al. Early vs late tracheotomy for prevention of pneumonia in mechanically ventilated adult ICU patients: a randomized controlled trial. JAMA. 2010 Apr 21. 303(15):1483-9. [Medline].

Wood DE. Tracheostomy. Chest Surg Clin N Am. 1996 Nov. 6(4):749-64. [Medline].

Wright CD. Management of tracheoinnominate artery fistula. Chest Surg Clin N Am. 1996 Nov. 6(4):865-73. [Medline].
Table 1. Tracheostomy Tube Materials
Material
Description
Comments
Examples
Polyvinyl chloride (PVC)
PVC is produced by polymerization of vinyl chloride monomer



Depending on the additives used, properties such as flexibility, opacity, color, heat stability, density, and chemical resistance can be controlled and modified




Has a high degree of biocompatibility and flexibility under changing temperatures and humidity[3]



Easily sterilized but prone to retention of bacteria and is therefore for single use/disposable



Excellent water and chemical resistance




Portex Blue Line Ultra, RÜSCH
Silicone
Silicone is a synthetic polymer and is produced by a cross-linked polymer reinforced with silica



Further cross-linking takes place by heating with a particular catalyst (ie, peroxide), to produce the required properties




Reduces adherence of secretions and bacteria to the tube by promoting easier passage for mucus



Can be sterilized but confined to single patient use



Cost effective for long-term use




Bivona range
Siliconized PVC
PVC with silicone coating
Thermosensitive PVC, provides sufficient rigidity for initial insertion, and then softens at body temperature to accommodate to individual patient's anatomy



With proper humidification, secretions are less likely to adhere to the tube, making it easier to clean




Portex Blue Line range
Silver
Pure silver or other alloys with silver coating are used
Metal walls can be kept thin, allowing double-lumen construction designs



Some antibacterial property



Cost effective in long term



May need changing every 5 years




Negus, Chevalier, Jackson, and Alderhey
Silastic
Silicone elastomers and some cross-linked polydimethylsiloxane materials
Offer great comfort and flexibility; easily conforms to the anatomy



Autoclavable; for single patient use



Lack sufficient rigidity




Kapitex, Moore
Armored tubes
Combination of siliconized PVC tube reinforced with stainless steel
Soft and flexible but stable



Prevents kinking and compression




RÜSCH Tracheoflex, Tracflex
Medscape Reference © 2011 WebMD, LLC