Choanal Atresia Treatment & Management
Author: Ted L Tewfik, MD; Chief Editor: Arlen D Meyers, MD, MBA more...
Updated: Dec 24, 2015
What would you like to print?
Surgical Therapy
Treatment can be divided into emergent and elective definitive categories. Bilateral choanal atresia in a neonate is an emergency that is best initially treated by inserting an oral airway to break the seal formed by the tongue against the palate. This oral airway can be well tolerated for several weeks. The method of repair is controversial, with no technique having gained universal acceptance. Bilateral choanal atresia in the newborn requires prompt diagnosis and airway stabilization. An oral airway, McGovern nipple, and intubation are viable options. The ideal procedure for choanal atresia restores the normal nasal passage, prevents damage to growing structures important in facial development, is technically safe, requires short operative time, and provides short hospitalization and convalescence.[2]
Procedures
Transnasal puncture, with or without a microscope, became unpopular because of the high rate of failure that then required revision. This was attributed to the difficulty in visualizing the choanal area that required special surgical attention, such as the vomerine septal bridge and bony narrowing of the lateral walls. The transnasal approach becomes more difficult in the presence of septal deviation, turbinate hypertrophy, nasal discharge, and elongation of the depth from the nasal vestibule to the posterior choanae as patients grow.
The transseptal technique consists of making a window in the septum anterior to the atretic plate.
Transpalatal repair, as seen in the image below, is a technique that provides excellent exposure and has a high success rate but requires more operative time. The increased blood loss, possible occurrence of palatal fistula, palatal dysfunction, and maxillofacial growth disturbance are complications of this procedure.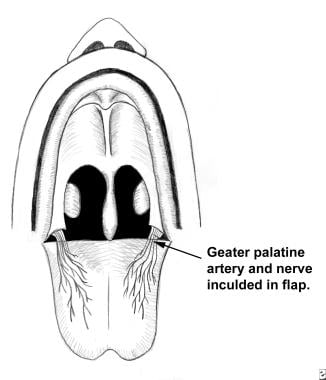 Choanal atresia. Diagram illustrating the transpalatal correction of choanal atresia.
The endoscopic technique (nasal or retropalatal), with or without powered instrumentation, offers excellent visualization with great ease in removing the bony choanae.[6] The potential of certain instruments for the management of choanal atresia was published, such as the retrograde 110° Sekunda endoscope and silicone horseshoe-shaped protectors.[7] Combined transoral-transnasal is another technique that provides a good alternative for managing choanal atresia, with easier, 4-handed surgery to ensure adequate posterior choana for nasal breathing.[8]
Microdebriders continue to advance the field of endoscopic surgery, providing clearer operative fields and causing less tissue trauma for experienced surgeons. However, the severity of complications, including the potential for rapidly aspirating orbital and cerebral contents when laminae are violated, must be appreciated and respected.
Carbon dioxide and potassium titanyl phosphate (KTP) lasers are easy and quick and create minimal discomfort to the patient. The time of hospitalization is short, and the operation can be repeated if a good result is not initially achieved. Most importantly, a stent is not usually needed. The use of mitomycin C topically as an adjunct to the surgical repair of choanal atresia may offer improved patency with a decreased need for stenting, dilatations, and revision surgery.[9]
Postoperative Details
Infants with documented gastroesophageal reflux disease (GERD) require prolonged stenting and dilatations for choanal restenosis and removal of granulation tissue. Stenting is usually performed using an endotracheal tube or Foley catheter. The advantages of Foley catheter stenting for choanal atresia are as follows:
Well tolerated by the patient

Simple to introduce, fix, and remove

Minimizes septal or columellar necrosis

Minimizes nasal cavity and paranasal sinus infections

Adjustable with inflation or deflation of the balloon that controls the pressure on the choanal walls

Easy to fix in cases of unilateral atresia
The use of stents in the treatment of patients with choanal atresia is a controversial subject. Some surgeons believe that stents are useful in stabilizing the nasal airway in the postoperative period to prevent the development of stenosis by maintaining a lumen. However, others believe that stents may act as a nidus for infection and may induce a foreign body reaction. This may contribute to choanal restenosis, much as an endotracheal tube may cause subglottic stenosis. Therefore, the use of stents following repair of choanal atresia requires the use of prophylactic antibiotic and antireflux medications.
A retrospective review by Carter et al (2014) involving 17 pediatric patients who underwent endoscopic choanal atresia repair (37 total operations) found stenting to be associated with the need for a significantly greater number of procedures, increased granulation tissue formation, and significantly longer hospitalization. Nonetheless, the investigators recommended that stent placement be considered after surgery in all neonates in order to prevent postoperative airway obstruction.[10]
Cedin et al (2006) analyzed the long-term results of a new stentless surgical technique for choanal atresia.[11] They reported that, using neither stents or nasal packing, this technique allowed fast recovery in a one-step surgery.
Newman et al (2013) analyzed different factors affecting 15-year surgical outcomes of choanal atresia repair.[12] They found that their revision rate after initial endoscopic repair of choanal atresia was low and was unaffected by adjuvant mitomycin C therapy or stenting.
In contrast, in the aforementioned study by Carter et al, the investigators found topical mitomycin to be an efficacious adjuvant therapy in endoscopic choanal atresia repair, having been associated with reductions in the formation of granulation tissue, rate of restenosis, and number of surgeries.[10]
Follow-up
Following surgical repair of choanal atresia, patients may require operative debridement or periodic dilatations. Periodic dilations can sometimes be performed as an outpatient procedure with local decongestant and topical anesthesia using urethral sounds.
Bedwell et al (2011) described the use of balloon dilation to repair choanal atresia in a series of patients with membranous stenoses, postrepair granulation, and scar tissue in revision cases.[13] They concluded that balloon dilation is an effective adjuvant tool for use in the repair of choanal atresia and stenosis.
References
Michalski AM, Richardson SD, Browne ML, et al. Sex ratios among infants with birth defects, National Birth Defects Prevention Study, 1997-2009. Am J Med Genet A. 2015 May. 167A (5):1071-81. [Medline].

Kwong KM. Current Updates on Choanal Atresia. Front Pediatr. 2015. 3:52. [Medline]. [Full Text].

Barbero P, Valdez R, Rodríguez H, et al. Choanal atresia associated with maternal hyperthyroidism treated with methimazole: a case-control study. Am J Med Genet A. 2008 Sep 15. 146A(18):2390-5. [Medline].

Lee LJ, Canfield MA, Hashmi SS, Moffitt KB, Marengo L, Agopian AJ, et al. Association between thyroxine levels at birth and choanal atresia or stenosis among infants in Texas, 2004-2007. Birth Defects Res A Clin Mol Teratol. 2012 Nov. 94(11):951-4. [Medline].

Kancherla V, Romitti PA, Sun L, et al. Descriptive and risk factor analysis for choanal atresia: The National Birth Defects Prevention Study, 1997-2007. Eur J Med Genet. 2014 Feb 24. [Medline].

Assanasen P, Metheetrairut C. Choanal atresia. J Med Assoc Thai. 2009 May. 92(5):699-706. [Medline].

Morokhoev VI. [Endonasal surgery of choanal atresia]. Vestn Otorinolaringol. 2010. 10-5. [Medline].

Hassan M, AboEl-Ezz T, Youssef T. Combined transoral-transnasal approach in the repair of congenital posterior choanal atresia: clinical experience. J Otolaryngol Head Neck Surg. 2011 Jun 1. 40(3):271-6. [Medline].

Prasad M, Ward RF, April MM, Bent JP, Froehlich P. Topical mitomycin as an adjunct to choanal atresia repair. Arch Otolaryngol Head Neck Surg. 2002 Apr. 128(4):398-400. [Medline].

Carter JM, Lawlor C, Guarisco JL. The efficacy of mitomycin and stenting in choanal atresia repair: a 20 year experience. Int J Pediatr Otorhinolaryngol. 2014 Feb. 78(2):307-11. [Medline].

Cedin AC, Fujita R, Cruz OL. Endoscopic transeptal surgery for choanal atresia with a stentless folded-over-flap technique. Otolaryngol Head Neck Surg. 2006 Nov. 135(5):693-8. [Medline].

Newman JR, Harmon P, Shirley WP, Hill JS, Woolley AL, Wiatrak BJ. Operative management of choanal atresia: a 15-year experience. JAMA Otolaryngol Head Neck Surg. 2013 Jan 1. 139(1):71-5. [Medline].

Bedwell J, Shah RK, Bauman N, Zalzal GH, Preciado DA. Balloon dilation for management of choanal atresia and stenosis. Int J Pediatr Otorhinolaryngol. 2011 Dec. 75(12):1515-8. [Medline].

Al-Ammar AY. Presentation of choanal atresia in Saudi children. Saudi Med J. 2006 Nov. 27(11):1680-2. [Medline].

Effat KG. Use of the automatic tympanometer as a screening tool for congenital choanal atresia. J Laryngol Otol. 2005. 119:125-8.

Hackman TG, Ferguson BJ. Powered instrumentation and tissue effects in the nose and paranasal sinuses. Curr Opin Otolaryngol Head Neck Surg. 2005 Feb. 13(1):22-6. [Medline].

Pasquini E, Sciarretta V, Saggese D, Cantaroni C, Macrì G, Farneti G. Endoscopic treatment of congenital choanal atresia. Int J Pediatr Otorhinolaryngol. 2003 Mar. 67(3):271-6. [Medline].

Schoem SR. Transnasal endoscopic repair of choanal atresia: why stent?. Otolaryngol Head Neck Surg. 2004 Oct. 131(4):362-6. [Medline].

Yaniv E, Hadar T, Shvero J, Stern Y, Raveh E. Endoscopic transnasal repair of choanal atresia. Int J Pediatr Otorhinolaryngol. 2007 Mar. 71(3):457-62. [Medline].

Zeitouni AG, Shapiro RS. Congenital anomalies of the nose and anterior skull base. Tewfik TL, Der Kaloustian VM, eds. Congenital Anomalies of the Ear, Nose, and Throat. New York, NY: Oxford University Press; 1997. 189-200.
Medscape Reference © 2011 WebMD, LLC