Juvenile Nasopharyngeal Angiofibroma
Author: Ted L Tewfik, MD; Chief Editor: Arlen D Meyers, MD, MBA  more...
Updated: Jan 12, 2016
What would you like to print?
Background
Juvenile nasopharyngeal angiofibroma (JNA) is a benign tumor that tends to bleed and occurs in the nasopharynx of prepubertal and adolescent males.
History of the Procedure
Hippocrates described the tumor in the 5th century BC, but Friedberg first used the term angiofibroma in 1940. Other titles (eg, nasopharyngeal fibroma, bleeding fibroma of adolescence, fibroangioma) have also been used.
The image below depicts a coronal CT scan.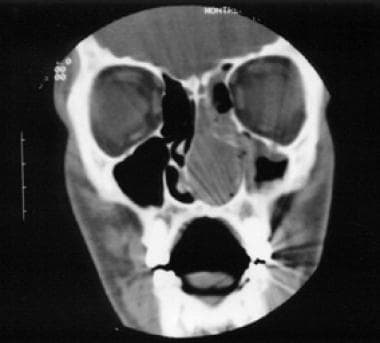 Coronal CT scan of the lesion filling the left nasal cavity and ethmoid sinuses, blocking the maxillary sinus and deviating the nasal septum to the right side.
Epidemiology
Frequency
Juvenile nasopharyngeal angiofibroma (JNA) accounts for 0.05% of all head and neck tumors. A frequency of 1:5,000-1:60,000 in otolaryngology patients has been reported.
Sex
Juvenile nasopharyngeal angiofibroma (JNA) occurs exclusively in males. Females with juvenile nasopharyngeal angiofibroma (JNA) should undergo genetic testing.
Age
Onset is most commonly in the second decade; the range is 7-19 years. Juvenile nasopharyngeal angiofibroma (JNA) is rare in patients older than 25 years.
Etiology
The lesion originates in close proximity to the posterior attachment of the middle turbinate, near the superior border of the sphenopalatine foramen.
A hormonal theory has been suggested because of the lesion's occurrence in adolescent males. Moreover, a study by Liu et al found that JNAs express higher levels of hormone receptors and vascular endothelial growth factor (VEGF) than does normal nasal mucosa, a possible indication that interaction between the receptors and VEGF is associated with JNA initiation and growth.[1]
Other theories include a desmoplastic response of the nasopharyngeal periosteum or the embryonic fibrocartilage between the basiocciput and the basisphenoid.
Etiology from nonchromaffin paraganglionic cells of the terminal branches of the maxillary artery has also been suggested. Comparative genomic hybridization analysis of these tumors revealed deletions of chromosome 17, including regions for the tumor suppressor gene p53 as well as the Her-2/neu oncogene.
Pathophysiology
The tumor starts adjacent to the sphenopalatine foramen. Large tumors are frequently bilobed or dumbbell-shaped, with one portion of the tumor filling the nasopharynx and the other portion extending to the pterygopalatine fossa.
Anterior growth occurs under the nasopharyngeal mucous membrane, displacing it anteriorly and inferiorly toward the postnasal space. Eventually, the nasal cavity is filled on one side, and the septum deviates to the other side. Superior growth is directed toward the sphenoid sinus, which may also be eroded. The cavernous sinus may become invaded if the tumor advances further.
Lateral spread is directed toward the pterygopalatine fossa, bowing the posterior wall of the maxillary sinus. Later, the infratemporal fossa is invaded. Occasionally, the greater wing of the sphenoid may be eroded, exposing the middle fossa dura. Proptosis and optic nerve atrophy result if orbital fissures are encroached upon by the tumor. Extranasopharyngeal angiofibroma is extremely rare and tends to occur in older patients, predominately in females, but the tumor is less vascular and less aggressive than juvenile nasopharyngeal angiofibroma (JNA).
Presentation
Symptoms
See the list below:
Nasal obstruction (80-90%) - Most frequent symptom, especially in initial stages

Epistaxis

(45-60%) - Mostly unilateral and recurrent; usually severe epistaxis that necessitates medical attention; diagnosis of angiofibroma in adolescent males to be ruled out

Headache (25%) - Especially if paranasal sinuses are blocked

Facial swelling (10-18%)

Other symptoms - Unilateral rhinorrhea, anosmia, hyposmia, rhinolalia, deafness, otalgia, swelling of the palate, deformity of the cheek
Signs
See the list below:
Nasal mass (80%)

Orbital mass (15%)

Proptosis (10-15%)

Other signs include serous otitis due to eustachian tube blockage, zygomatic swelling, and trismus that denote spread of the tumor to the infratemporal fossa, decreasing vision due to optic nerve tenting (rare)
Differentials
See the list below:
Other causes of epistaxis, systemic or local

Other causes of proptosis or orbital swellings
References
Liu Z, Wang J, Wang H, et al. Hormonal receptors and vascular endothelial growth factor in juvenile nasopharyngeal angiofibroma: immunohistochemical and tissue microarray analysis. Acta Otolaryngol. 2015 Jan. 135 (1):51-7. [Medline].

Wu AW, Mowry SE, Vinuela F, Abemayor E, Wang MB. Bilateral vascular supply in juvenile nasopharyngeal angiofibromas. Laryngoscope. 2011 Mar. 121(3):639-43. [Medline].

Schuon R, Brieger J, Heinrich UR, Roth Y, Szyfter W, Mann WJ. Immunohistochemical analysis of growth mechanisms in juvenile nasopharyngeal angiofibroma. Eur Arch Otorhinolaryngol. 2007 Apr. 264(4):389-94. [Medline].

Beriwal S, Eidelman A, Micaily B. Three-dimensional conformal radiotherapy for treatment of extensive juvenile angiofibroma: report on two cases. ORL J Otorhinolaryngol Relat Spec. 2003 Jul-Aug. 65(4):238-41. [Medline].

Chakraborty S, Ghoshal S, Patil VM, Oinam AS, Sharma SC. Conformal radiotherapy in the treatment of advanced juvenile nasopharyngeal angiofibroma with intracranial extension: an institutional experience. Int J Radiat Oncol Biol Phys. 2011 Aug 1. 80(5):1398-404. [Medline].

de Mello-Filho FV, Araujo FC, Marques Netto PB, Pereira-Filho FJ, de Toledo-Filho RC, Faria AC. Resection of a juvenile nasoangiofibroma by Le Fort I osteotomy: Experience with 40 cases. J Craniomaxillofac Surg. 2015 Oct. 43 (8):1501-4. [Medline].

Hackman T, Snyderman CH, Carrau R, Vescan A, Kassam A. Juvenile nasopharyngeal angiofibroma: The expanded endonasal approach. Am J Rhinol Allergy. 2009 Jan-Feb. 23(1):95-9. [Medline].

Mattei TA, Nogueira GF, Ramina R. Juvenile Nasopharyngeal Angiofibroma with Intracranial Extension. Otolaryngol Head Neck Surg. 2011 May 13. [Medline].

Battaglia P, Turri-Zanoni M, Dallan I, et al. Endoscopic endonasal transpterygoid transmaxillary approach to the infratemporal and upper parapharyngeal tumors. Otolaryngol Head Neck Surg. 2014 Jan 23. [Medline].

Cloutier T, Pons Y, Blancal JP, Sauvaget E, Kania R, Bresson D, et al. Juvenile nasopharyngeal angiofibroma: does the external approach still make sense?. Otolaryngol Head Neck Surg. 2012 Nov. 147(5):958-63. [Medline].

Khoueir N, Nicolas N, Rohayem Z, et al. Exclusive endoscopic resection of juvenile nasopharyngeal angiofibroma: a systematic review of the literature. Otolaryngol Head Neck Surg. 2014 Mar. 150(3):350-8. [Medline].

Yi Z, Fang Z, Lin G, Lin C, Xiao W, Li Z, et al. Nasopharyngeal angiofibroma: A concise classification system and appropriate treatment options. Am J Otolaryngol. 2013 Jan 15. [Medline].

Aziz-Sultan MA, Moftakhar R, Wolfe SQ, Elhammady MS, Herman B, Farhat H. Endoscopically assisted intratumoral embolization of juvenile nasopharyngeal angiofibroma using Onyx. J Neurosurg Pediatr. 2011 Jun. 7(6):600-3. [Medline].

Tang IP, Shashinder S, Gopala Krishnan G, Narayanan P. Juvenile nasopharyngeal angiofibroma in a tertiary centre: ten-year experience. Singapore Med J. 2009 Mar. 50(3):261-4. [Medline].

Makek MS, Andrews JC, Fisch U. Malignant transformation of a nasopharyngeal angiofibroma. Laryngoscope. 1989 Oct. 99(10 Pt 1):1088-92. [Medline].

Succo G, Gisolo M, Crosetti E, Bergui M, Danesi G. Spontaneous ICA rupture: A severe late complication after giant nasopharyngeal angiofibroma resection. Int J Pediatr Otorhinolaryngol. 2013 Jan 8. [Medline].

Baguley C, Sandhu G, O'Donnell J, Howard D. Consumptive coagulopathy complicating juvenile angiofibroma. J Laryngol Otol. 2004 Nov. 118(11):835-9. [Medline].

Beham A, Kainz J, Stammberger H, Aubock L, Beham-Schmid C. Immunohistochemical and electron microscopical characterization of stromal cells in nasopharyngeal angiofibromas. Eur Arch Otorhinolaryngol. 1997. 254(4):196-9. [Medline].

Browne JD, Messner AH. Lateral orbital/anterior midfacial degloving approach for nasopharyngeal angiofibromas with cavernous sinus extensions. Skull Base Surg. 1994. 4:232-8.

De Vincentiis M, Gallo A, Minni A, Torri E, Tomassi R, Della Rocca C. [Preoperative embolization in the treatment protocol for rhinopharyngeal angiofibroma: comparison of the effectiveness of various materials]. Acta Otorhinolaryngol Ital. 1997 Jun. 17(3):225-32. [Medline].

Fisch U. The infratemporal fossa approach for nasopharyngeal tumors. Laryngoscope. 1983 Jan. 93(1):36-44. [Medline].

Goldsmith AJ. Transpalatal approach to the nasopharynx. 1999. 10:98-100.

Haines SJ, Duval AJ 3rd. Transzygomatic and palatal excision of juvenile nasopharyngeal angiofibroma with intracranial extension: the surgical procedure. Sekhar LN, Janecka IP, eds. Surgery of Cranial Base Tumors. NY: Raven Press; 1993. 477-80.

Mair EA, Battiata A, Casler JD. Endoscopic laser-assisted excision of juvenile nasopharyngeal angiofibromas. Arch Otolaryngol Head Neck Surg. 2003 Apr. 129(4):454-9. [Medline].

Raveh J, Turk JB, Ladrach K, et al. Extended anterior subcranial approach for skull base tumors: long-term results. J Neurosurg. 1995 Jun. 82(6):1002-10. [Medline].

Schick B, Veldung B, Wemmert S, et al. p53 and Her-2/neu in juvenile angiofibromas. Oncol Rep. 2005 Mar. 13(3):453-7. [Medline].

Shaheen OH. Angiofibroma. John NG, ed. Scott-Brown's Otolaryngology. Vol 6. London: Butterworth-Heinemann; 1987. 291-6.

Tewfik TL, Tan AK, al Noury K, et al. Juvenile nasopharyngeal angiofibroma. J Otolaryngol. 1999 Jun. 28(3):145-51. [Medline].

Tyagi I, Syal R, Goyal A. Recurrent and residual juvenile angiofibromas. J Laryngol Otol. 2007 May. 121(5):460-7. [Medline].

Wenig BM. Atlas of Head and Neck Pathology. Philadelphia, Pa: WB Saunders Co; 1993. 145-6.

Windfuhr JP, Remmert S. Extranasopharyngeal angiofibroma: etiology, incidence and management. Acta Otolaryngol. 2004 Oct. 124(8):880-9. [Medline].

Wormald PJ, Van Hasselt A. Endoscopic removal of juvenile angiofibromas. Otolaryngol Head Neck Surg. 2003 Dec. 129(6):684-91. [Medline].
Medscape Reference © 2011 WebMD, LLC