External Valve Stenosis Rhinoplasty Workup
Author: Alicia R Sanderson, MD; Chief Editor: Arlen D Meyers, MD, MBA  more...
Updated: Mar 15, 2016
What would you like to print?
Other Tests
The in-office use of external nasal dilators can help identify external or internal valve obstruction. Gruber et al used external nasal strips independently placed over the middle vault (upper lateral cartilage) and over the lower third of the nose (lower lateral cartilage).[2] Patients were prompted to report improvement, worsening, or no change in airway symptoms with each position. Although many asymptomatic patients improve with nasal strips, the site of improvement or the lack of improvement at the upper or lower position may assist in surgical planning. This method is a more valve specific test than the traditional Cottle test (placing finger on cheek and drawing laterally to open nasal passage).
Rhinomanometry (as in the image below) can help to define actual airflow both preoperatively and postoperatively. Rhinometry at both the internal and external valve during apnea and active inspiration can be a useful tool in the identification of valve obstruction. Although rhinomanometry may be useful in research, it is not practical in the clinical setting.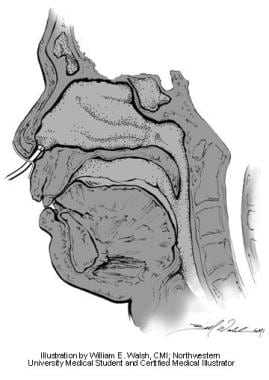 Anterior rhinomanometry.
References
Chambers KJ, Horstkotte KA, Shanley K, Lindsay RW. Evaluation of Improvement in Nasal Obstruction Following Nasal Valve Correction in Patients With a History of Failed Septoplasty. JAMA Facial Plast Surg. 2015 Sep-Oct. 17 (5):347-50. [Medline].

Gruber RP, Lin AY, Richards T. Nasal strips for evaluating and classifying valvular nasal obstruction. Aesthetic Plast Surg. 2011 Apr. 35 (2):211-5. [Medline].

Fanous N, Hier MP. Collapsed nasal-valve widening by composite grafting to the nasal floor. J Otolaryngol. 1996 Oct. 25(5):313-6. [Medline].

Gruber, Ronald P.; Melkin, Edward T.; Strawn, J. Bradley. External Valve Deformity: Correction by Composite Flap Elevation and Mattress Sutures. Aesth Plast surg. May 2011. 35:960-964.

Toriumi DM, Josen J, Weinberger M, Tardy ME Jr. Use of alar batten grafts for correction of nasal valve collapse. Arch Otolaryngol Head Neck Surg. 1997 Aug. 123(8):802-8. [Medline].

Chung YS, Seol JH, Choi JM, et al. How to resolve the caudal septal deviation? Clinical outcomes after septoplasty with bony batten grafting. Laryngoscope. 2014 Aug. 124(8):1771-6. [Medline].

Gunter, Jack P. M.D.; Friedman, Ronald M. M.D. Lateral Crural Strut Graft: Technique and Clinical Applications in Rhinoplasty. Plastic and Reconstructive Surgery. April 1997. 99(4):943-952.

Ballert JA, Park SS. Functional rhinoplasty: treatment of the dysfunctional nasal sidewall. Facial Plast Surg. 2006 Feb. 22(1):49-54. [Medline].

Egan KK, Kim DW. A novel intranasal stent for functional rhinoplasty and nostril stenosis. Laryngoscope. 2005 May. 115(5):903-9. [Medline].

Khosh MM, Jen A, Honrado C, Pearlman SJ. Nasal valve reconstruction: experience in 53 consecutive patients. Arch Facial Plast Surg. 2004 May-Jun. 6(3):167-71. [Medline].

Latte J, Taverner D. Opening the nasal valve with external dilators reduces congestive symptomsin normal subjects. Am J Rhinol. 2005 Mar-Apr. 19(2):215-9. [Medline].

Mendelsohn MS, Golchin K. Alar expansion and reinforcement: a new technique to manage nasal valve collapse. Arch Facial Plast Surg. 2006 Sep-Oct. 8(5):293-9. [Medline]. [Full Text].

Vaiman M, Shlamkovich N, Kessler A, Eviatar E, Segal S. Biofeedback training of nasal muscles using internal and external surface electromyography of the nose. Am J Otolaryngol. 2005 Sep-Oct. 26(5):302-7. [Medline].

Vidyasagar R, Friedman M, Ibrahim H, Bliznikas D, Joseph NJ. Inspiratory and fixed nasal valve collapse: clinical and rhinometric assessment. Am J Rhinol. 2005 Jul-Aug. 19(4):370-4. [Medline].

Cochran CS, Ducic Y, DeFatta RJ. Restorative rhinoplasty in the aging patient. Laryngoscope. 2007 May. 117 (5):803-7. [Medline].
Medscape Reference © 2011 WebMD, LLC