Septoplasty Workup
Author: Deborah Watson, MD; Chief Editor: Arlen D Meyers, MD, MBA  more...
Updated: Feb 27, 2015
What would you like to print?
Imaging Studies
A CT scan usually is obtained for concurrent reasons, such as assessing sinus disease or evaluating head and/or facial trauma. A deviated septum is readily apparent on a CT film (see the image below). While septal deviations are apparent on CT scans, obtaining a CT scan is not necessary in a patient in whom no other pathology is suspected (eg, concomitant sinus disease).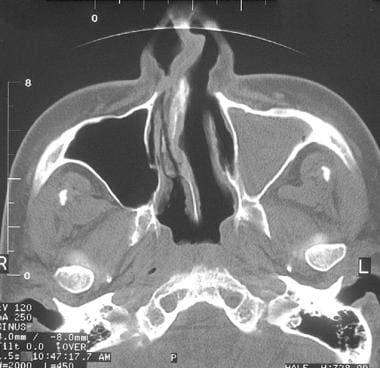 Axial CT scan demonstrating severe septal deviation. Note left-sided deflection of caudal septum and right-sided nasal airway obstruction due to bony and cartilaginous posterior deviation.
In addition, a study by Sedaghat et al indicated that CT-scan results do not correlate well with physical exam/anterior rhinoscopic/endoscopic findings in septal deviation. Although the study, which involved 39 patients, determined that such correlation was significant with regard to the bony septum, it was not significant with regard to the cartilaginous septum, maxillary crest, and nasal valve.[2]
Plain films are not indicated in most instances; they do not help because the cartilaginous portion of a deviated septum is not easily visible. Direct examination always is best.
Other Tests
Many proposed methods of nasal airway analysis exist, including rhinomanometry, acoustic rhinometry, and nasal peak flow. The measurements derived from these methods are not always reproducible and do not consistently correlate with a patient's subjective complaint of nasal obstruction. In general, these types of studies are useful for research in nasal obstruction but provide little clinical value in the decision-making process regarding surgery or medical management.
References
Vainio-Mattila J. Correlations of nasal symptoms and signs in random sampling study. Acta Otolaryngol Suppl. 1974. 318:1-48. [Medline].

Sedaghat AR, Kieff DA, Bergmark RW, et al. Radiographic evaluation of nasal septal deviation from computed tomography correlates poorly with physical exam findings. Int Forum Allergy Rhinol. 2014 Nov 20. [Medline].

Georgiou I, Farber N, Mendes D, Winkler E. The role of antibiotics in rhinoplasty and septoplasty: a literature review. Rhinology. 2008 Dec. 46(4):267-70. [Medline].

Siegel NS, Gliklich RE, Taghizadeh F, Chang Y. Outcomes of septoplasty. Otolaryngol Head Neck Surg. 2000 Feb. 122(2):228-32. [Medline].

Samad I, Stevens HE, Maloney A. The efficacy of nasal septal surgery. J Otolaryngol. 1992 Apr. 21(2):88-91. [Medline].

Sundh C, Sunnergren O. Long-term symptom relief after septoplasty. Eur Arch Otorhinolaryngol. 2014 Nov 29. [Medline].

Reber M, Rahm F, Monnier P. The role of acoustic rhinometry in the pre- and postoperative evaluation of surgery for nasal obstruction. Rhinology. 1998 Dec. 36(4):184-7. [Medline].

Hardcastle PF, White A, Prescott RJ. Clinical and rhinometric assessment of the nasal airway--do they measure the same entity?. Clin Otolaryngol Allied Sci. 1988 Jun. 13(3):185-91. [Medline].

Hwang PH, McLaughlin RB, Lanza DC, Kennedy DW. Endoscopic septoplasty: indications, technique, and results. Otolaryngol Head Neck Surg. 1999 May. 120(5):678-82. [Medline].

Kamami YV. Laser-assisted outpatient septoplasty results on 120 patients. J Clin Laser Med Surg. 1997. 15(3):123-9. [Medline].

Adams W. The treatment of the broken nose by forcible straightening and mechanical apparatus. Br Med J. 1875. 2:241-55.

Asch M. Treatment of nasal stenosis due to deflective septum with and without thickening of the convex side. Laryngoscope. 1899. 6:340-361.

Bailey BJ. Nasal septal surgery 1896-1899: transition and controversy. Laryngoscope. 1997 Jan. 107(1):10-6. [Medline].

Clarke RW, Jones AS. Nasal airflow receptors: the relative importance of temperature and tactile stimulation. Clin Otolaryngol Allied Sci. 1992 Oct. 17(5):388-92. [Medline].

Cottle MH. Newer concepts of septum surgery: present status. Eye Ear Nose Throat Monthly. 1948. 27:403-429.

Freer OT. The correction of deflections of the nasal septum with a minimum of traumatism. JAMA. 1902. 16:362-75.

Giles WC, Gross CW, Abram AC, Greene WM, Avner TG. Endoscopic septoplasty. Laryngoscope. 1994 Dec. 104(12):1507-9. [Medline].

Hinderer KH. History of septoplasty. Fundamentals of Anatomy and Surgery of the Nose. Aesculapis Publishing Co; 1971. 1-3.

Ingals EF. Deflections of the septum narium. Arch Laryngol. 1882. 3:291-313.

Killian G. Die sumucose Fensterresektion der Nasenscheiwand. Arch Laryngologie Rhinologie. 1904. 16:362-94.

Manoukian PD, Wyatt JR, Leopold DA, Bass EB. Recent trends in utilization of procedures in otolaryngology-head and neck surgery. Laryngoscope. 1997 Apr. 107(4):472-7. [Medline].

Metzenbaum M. Replacement of the lower end of the dislocated septal cartilage versus submucous resection of the dislocated end of the septal cartilage. Arch Otolaryngol HNS. 1929. 9:282-311.

Peer LA. An operation to repair lateral displacement of the lower border of the septal cartilage. Arch Otolaryngol HNS. 1937. 25:475-89.

Ridenour BD. The nasal septum. Cummings CW, ed. Otolaryngology-Head and Neck Surgery. Mosby-Year Book; 1999. 921-948.

Sessions RB, Troost T. The nasal septum. Cummings CW, ed. Otolaryngology-Head and Neck Surgery. Singular Publishing; 1993. Vol 2: 786-806.

Yanagisawa E, Joe J. Endoscopic septoplasty. Ear Nose Throat J. 1997 Sep. 76(9):622-3. [Medline].
Medscape Reference © 2011 WebMD, LLC