Bilobed Flaps Treatment & Management
Author: Anthony P Sclafani, MD; Chief Editor: Arlen D Meyers, MD, MBA more...
Updated: Apr 13, 2015
What would you like to print?
Surgical Therapy
The bilobed flap, as Esser first described, comprises 2 flaps identical in size and form and separated by angles of 90°, as seen in the image below. Skin is transposed over 180°. This transposition commonly results in a noticeable pincushion effect or trapdoor deformity, ie, domelike elevation or depression, respectively, of the flap relative to the surrounding skin. Esser's design, shown below, results in prominent tissue protrusion (ie, dog-ear or standing cone) at the point of rotation.
Modification of Esser's design, as seen in the image below, has improved cosmetic results. In modified designs, the lobes are not identical in size. The larger flap is slightly narrower than the defect it has to fill, and the second flap is half the width of the larger flap. Their lengths are identical. Angles between the lobes are less than 90°. The second flap is often designed with an elliptical tip to facilitate closure of its resulting defect. Each flap is transposed over 45°. Wide undermining is used to reduce tension and pincushion effect.
The images below show a bilobed rotational flap procedure performed on a cadaveric specimen.
Intraoperative Details
As with all local flap designs, take care to place incisions in relaxed skin tension lines. Raise the flap just deep to the subdermal plexus, leaving a small amount of subdermal fat on the undersurface of the flap. Position flaps in areas of increased tissue laxity.
Postoperative Details
Scar dermabrasion can be used after surgery, as in many reconstructive efforts, to improve the cosmetic result.
Follow-up
Remove permanent cutaneous sutures 5-7 days after surgery.
Complications
Bilobed flaps are extremely reliable when used properly. Given proper flap design, partial or complete failure is unpredictable. Flaps designed with large length-to-width ratios increase the likelihood of distal compromise because of the limited ability of the microcirculation to adequately perfuse the distal flap. Thinner flaps tend to increase the risk of distal failure because thinning the flap and leaving insufficient adipose tissue can disrupt the deep microcirculatory plexus. Because thinning may be necessary to improve the cosmetic result (ie, to avoid a pincushion effect), judicious use is recommended.
Typically, dog-ears occur when flap lobes are transposed. Moy et al described several useful ways to deal with this problem.[4] A Burow triangle may be included in the flap design at the base of the defect, as seen in the image below.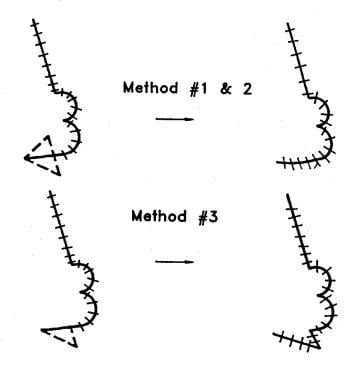 Dog-ear repair after transposition of tissues in the bilobed flap
Two other methods can be used to repair dog-ear defects. Excess tissue can be excised from the flap base, or it may be excised from the skin adjacent to the flap. Some believe that the cosmetic result is superior when tissue is excised adjacent to the flap because it breaks up the long, inferior scar line.
Future and Controversies
Traditionally, bilobed flaps have been used in facial reconstructive surgery to repair defects of the lower third of the nose, including defects of the nasal ala, supratip, and nasal tip. The procedure can be designed with medially or laterally based flaps. Flaps based laterally on the sidewall of the nose are most useful for the reconstruction of nasal tip defects, whereas medially based flaps are more useful for repairing alar defects.
In nasal reconstruction, bilobed flaps are most practical for defects less than 1.5 cm in diameter. Larger defects can pose a problem because of the limited ability to recruit lax donor skin from the upper nose. The bilobed flap can replace other common flaps in reconstructing the lower third of the nose.
Although median and paramedian forehead flaps provide good skin color and texture, they require multiple procedures and revisions. The nasolabial flap also provides a good match, but it has limitations in reaching the nasal tip area, and it can distort the alar contour.
Zitelli reviewed 400 cases of bilobed flaps in lower-third nasal reconstructions.[5] He found that use of a 45° angle between flaps resulted in less of a pincushion effect, trapdoor deformity, and dog-ear formation. Zitelli recommends wide undermining and dermabrasion 6 weeks after surgery if needed.
Bilobed flaps are frequently used for repairing defects of the temporal forehead. Primary closure and other local flaps can distort the eyebrow, scalp hairline, and lateral canthus of the eye. Use of the bilobed flap corresponds to the "Robin Hood principle," ie, borrowing from the rich laxity of the cheek and transposing it to the relatively poor inelastic temporal forehead without distortion.
References
Esser JFS. Gestielte loakle Nasenplastik mit zweizipfligen Lappen, Deckung des sekundaren Defektes vom ersten Zipfel durch den Zweiten. Dtsch Zschr Chir. 1918. 143:385.

Zimany A. The bi-lobed flap. Plast reconstr surg (1946). 1953 Jun. 11(6):424-34. [Medline].

Chiummariello S, Del Torto G, Iera M, et al. The use of local flaps in the one-step nose reconstruction after cancer resection. Ann Ital Chir. 2013 Jul 2. 84:[Medline].

Moy RL, Grossfeld JS, Baum M, et al. Reconstruction of the nose utilizing a bilobed flap. Int J Dermatol. 1994 Sep. 33(9):657-60. [Medline].

Zitelli JA. The bilobed flap for nasal reconstruction. Arch Dermatol. 1989 Jul. 125(7):957-9. [Medline].

Conner CD, Fosko SW. Anatomy and physiology of local skin flaps. Facial Plast Surg. 1996. 4:447-54.

Cook JL. Reconstructive utility of the bilobed flap: lessons from flap successes and failures. Dermatol Surg. 2005 Aug. 31(8 Pt 2):1024-33. [Medline].

Golcman R, Speranzini MB, Golcman B. The bilobed island flap in nasal ala reconstruction. Br J Plast Surg. 1998 Oct. 51(7):493-8. [Medline].

McGregor JC, Soutar DS. A critical assessment of the bilobed flap. Br J Plast Surg. 1981 Apr. 34(2):197-205. [Medline].

Sutton AE, Quatela VC. Bilobed flap reconstruction of the temporal forehead. Arch Otolaryngol Head Neck Surg. 1992 Sep. 118(9):978-82; discussion 983-4. [Medline].

Zoumalan RA, Hazan C, Levine VJ, et al. Analysis of vector alignment with the Zitelli bilobed flap for nasal defect repair: a comparison of flap dynamics in human cadavers. Arch Facial Plast Surg. 2008 May-Jun. 10(3):181-5. [Medline].
Medscape Reference © 2011 WebMD, LLC