Z-Plasty Treatment & Management
Author: Anthony P Sclafani, MD; Chief Editor: Arlen D Meyers, MD, MBA more...
Updated: Nov 13, 2015
What would you like to print?
Surgical Therapy
When the skin is undermined, 2 triangular flaps are created. Transposition of these triangles redistributes tension on the wound and changes central limb direction. The new scar elongates based not only on the character and elasticity of the surrounding skin but also on the angle size used in the Z-plasty. Classic 60° Z-plasty lengthens scars by 75%, while 45° and 30° designs lengthen scars by 50% and 25%, respectively. Lateral limb placement is crucial for satisfactory results. Place lateral limbs parallel to the line in which the new central limb will lie.
Preoperative Details
Inspect the defect and establish how closure will affect surrounding facial structures. Assess the degree of skin laxity. A template of the defect can be used to visualize the best tissue-donor sites. Then, draw lines outlining the planned procedure. As long as symmetry is maintained, a Z-plasty may be designed as one of several configurations. Execute the most appropriate model based upon the relationship of the scar to relaxed skin tension lines and surrounding anatomic structures.
Intraoperative Details
Once the desired Z-plasty has been drawn, make the incisions and undermine the flaps just below the dermal-fat junction. Sharply perform this procedure; then, control bleeding with bipolar cautery. Complete undermining of the donor area before incising the flap to ensure that donor skin has elasticity sufficient to transpose as planned.
After incising and transposing the flaps, place a few temporary sutures in key areas. When transposing flaps, remember that the apex of each flap will be sutured to the defect at the opposite side of the other flap base (see the images below).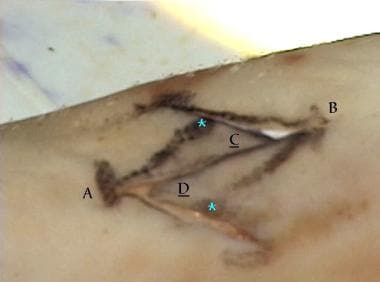 The original scar is A-B. The limbs of the Z-plasty form 2 triangles with 45° angles at apices C and D.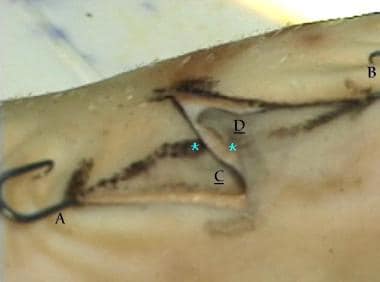 After transposition of C and D, the scar has reoriented 90° and lengthened. Note the increased distance between hooks, as well as the changed position of asterisks compared with the previous image.
Additional undermining may be necessary to ensure minimal distortion of surrounding structures. Finally, after the flap is set into the final position and closed in 2 layers, excise dog ears/standing cones using Burow triangles.
Complications
The main disadvantages of Z-plasty are increased scar length and 2 additional required incisions. Inform patients that increased scar length, although not considered a complication, is a consequence of Z-plasty.
Triangle tips may become depressed (or even necrotic) when angles are too acute. Handle tissue properly, especially at the tips, to prevent this unwanted complication.
Future and Controversies
Multiple contiguous Z-plasties may be used at the perimeter of a trapdoor deformity to interdigitate the flap with surrounding skin. This redirection of scar tension that occurs with a Z-plasty elevates the trapdoor, thereby providing an aesthetically pleasing result.
A study by Chen and Song described the effective use of a modified five-flap Z-plasty procedure for elbow and axillary web contractures (from scars caused by burns, surgery, or trauma) that, according to the report, results in twice the extended length of the traditional five-flap Z-plasty. The technique replaces the V-flap used in V-Y advancement with a rectangular/trapezoid flap, with a small V located at the bottom of the Y limb and the major axis of the Z-plasty situated along the contracture lines.[4]
A curvilinear form of Z-plasty (referred to as S-plasty) may be used when straight lines may be particularly obvious, such as in the cheek. Design of the Z-plasty with unequal angles and limbs creates a situation in which the smaller triangle moves significantly less than the larger triangle. This may be useful in areas where small amounts of tissue need to be moved with as little distortion as possible (eg, near eyes, lips).[5]
References
Barreiros H, Goulao J. Z-Plasty: useful uses in dermatologic surgery. An Bras Dermatol. 2014 Jan-Feb. 89 (1):187-8. [Medline].

Garg S, Dahiya N, Gupta S. Surgical scar revision: an overview. J Cutan Aesthet Surg. 2014 Jan. 7 (1):3-13. [Medline].

Kim YH, Kim NH, Seong SY, Hyun DW, Choi HS. Double reversing Z-plasty with inferiorly widening stomaplasty for the management of tracheostomal stenosis. Auris Nasus Larynx. 2009 Dec 28. [Medline].

Chen B, Song H. The Modification of Five-Flap Z-Plasty for Web Contracture. Aesthetic Plast Surg. 2015 Aug 27. [Medline].

Koc MN, Orbay H, Uysal AC, et al. Z plasty closure of lower lip defects after tumor excision. J Craniofac Surg. 2007 Sep. 18(5):1120-4. [Medline].

Dutton JM, Neidich MJ. Intranasal Z-plasty for internal nasal valve collapse. Arch Facial Plast Surg. 2008 May-Jun. 10(3):164-8. [Medline].

Lee PK, Ju HS, Rhie JW, et al. Two flaps and Z-plasty technique for correction of longitudinal ear lobe cleft. Br J Plast Surg. 2005 Jun. 58(4):573-6. [Medline].

Murakami CS, Nishioka GJ. Essential Concepts in the Design of Local Skin Flaps. Facial Plastic Surgery Clinics of North America. 1996. 4:455-464.

Rohrich RJ, Zbar RI. A simplified algorithm for the use of Z-plasty. Plast Reconstr Surg. 1999 Apr. 103(5):1513-7; quiz 1518. [Medline].

Zins JE, Fardo D. The "anterior-only" approach to neck rejuvenation: an alternative to face lift surgery. Plast Reconstr Surg. 2005 May. 115(6):1761-8. [Medline].
Medscape Reference © 2011 WebMD, LLC