Fibula Tissue Transfer Treatment & Management
Author: Mark K Wax, MD; Chief Editor: Arlen D Meyers, MD, MBA more...
Updated: Jan 27, 2015
What would you like to print?
Preoperative Details
Obtain informed consent, including the possibility of a second skin flap, as indicated.
Intraoperative Details
Unlike several other free flaps used for head and neck reconstruction, the fibula flap can be harvested simultaneously with the extirpation of the tumor by a second surgical team. (See the image below.)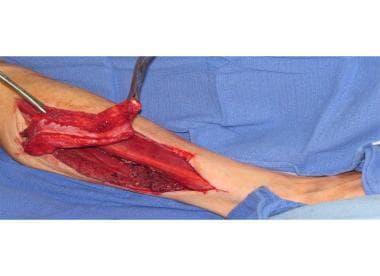 Fibula harvest following osteotomies. After complete dissection of the pedicle and preparation of the recipient site, the pedicle is transected.
The authors have found that the contralateral leg lends itself well to pedicle orientation for a mandibular defect. Reconstruction of the temporomandibular joint, however, is facilitated by harvesting the ipsilateral fibula. We do not routinely use a tourniquet for harvest; however, it may be used, and if so, is inflated to 350 mm.
Because the fibula takes longer to harvest and requires osteotomies, the period of primary ischemia is usually longer than that for radial forearm and other fasciocutaneous flaps. Although literature shows that a reconstruction plate (see the image below) or miniplates may be used with equal efficacy, we prefer to use a 2.0 microvascular reconstruction plate, which is contoured prior to tumor extirpation if possible. Newer, patient-specific reconstruction plates are now available; these help to decrease ischemia and surgical time because the plate is bent according to patient needs.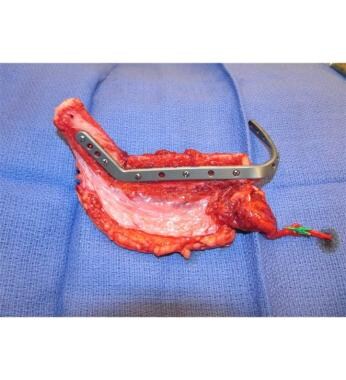 Following harvest, the proximal bone is trimmed and osteotomies are performed if necessary. The reconstruction plate is used as a template for shaping the bone.
The lateral leg is evaluated with a Doppler examination to identify perforating vessels in the septum. These are marked, and the skin flap is then designed to incorporate at least one vessel. The intermuscular septum is located by palpation and anatomic landmarks.
Proximally, a 6-cm segment of bone is preserved to avoid injury to the peroneal nerve. Distally, an 8-cm segment of bone is left to support the ankle mortise. The skin paddle is made slightly larger than the anticipated defect size, and the incision is carried out around the skin paddle. Proximal and distal extensions allow for bone harvest and pedicle dissection. The anterior portion of the skin paddle is dissected first. The peroneus longus is reflected anteriorly, and the fibular bone is identified.
The posterior crural septum is located. Once visualized, the septum is examined for perforators. Further dissection anteriorly around the fibula is performed, transecting the extensor hallucis longus. The thick interosseous septum is identified. Posterior dissection is performed to free up the skin paddle from the soleus and gastrocnemius muscles, and the septum is identified from its posterior aspect. Bony cuts are made with an oscillating saw. The bone is pulled laterally with Dingman bone retractors as the interosseous membrane is transected.
The chevron-shaped tibialis posterior is transected carefully with monopolar cautery. Just underneath this muscle lies the pedicle, which is identified distally and ligated. The flexor hallucis longus and soleus muscles must be transected. Dissection is continued proximally to the posterior tibial bifurcation. The anterior and posterior tibial pulses are palpated prior to transecting the peroneal vessels.
The length of bone needed for reconstruction is measured. Proximal elevation of periosteum along the fibula allows sizing of the bone and lengthening of the pedicle. Some surgeons prefer to contour the bone while the flap is still vascularized in the leg while others prefer to transect the pedicle at this time and perform osteotomies on a back table. The authors have found that the ability to compare the bone with the defect facilitates contouring, therefore we routinely remove the flap from the leg for placement of the osteotomies.
The leg wound can be closed primarily if the defect is small or no skin was harvested. More commonly, a split thickness skin graft is needed. The skin graft is harvested from the lower leg donor site prior to harvesting the flap. This avoids the need for a second surgical site on the thigh. Pie crusting the graft with a sharp blade provides better cosmetic results than putting the graft through a mesher. (See the image below.) Xeroform and a bolster are placed over the skin graft, if used. A posterior leg splint is fabricated and applied, either at this point or at the end of the case.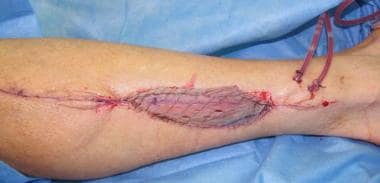 Donor site closure.
The bone is plated and inset into the defect following osteotomies. The pedicle is positioned along the lingual aspect of the flap, and the skin paddle is adjusted. After tension-free positioning is achieved, the skin paddle is inset with horizontal mattress sutures. The anastomosis is then performed with standard microvascular techniques.
Suction drains are carefully placed in the neck. The drains should be loosely held in position with absorbable sutures to prevent migration of the drain in proximity to the pedicle. If possible, a suture is placed on the external neck (skin) prior to closure to mark the location of the pedicle for postoperative Doppler examination. The remaining wounds are then closed. A feeding tube is placed if necessary.
Postoperative Details
The skin paddle is monitored frequently for signs of vascular compromise in patients with osteocutaneous flaps. Good perfusion to the skin means that the pedicle is patent and thereby providing blood to the periosteum and bone. Conversely, patients may have inadequate perforators to the skin and compromised blood supply to the skin paddle yet still have good perfusion to the bone. If a question of bone viability exists, nuclear medicine imaging can be of benefit in assessing flow. This study is not routinely performed for an osseous flap.
The ideal technique by which a flap can be assessed is only theoretical and practically varies depending on the flap, the patient, the available equipment, and other factors. Based on individual preference, cost, and familiarity with monitoring techniques, various monitors are available. Direct visualization and assessment of capillary refill with or without needle prick is very reliable in trained hands. An implantable Doppler device is an excellent tool for the well-trained surgeon, as well as for the ancillary staff and family members involved in patient care.[7] This technology is routinely used in our practice and has been proven to increase the detection of immediate/incipient vascular problems with a sensitivity of 87% and specificity of 99%. Arterial problems usually manifest within 24 hours; venous congestion often develops 48-72 hours postoperatively. Frequent evaluation and careful monitoring allow for early identification of problems.
Fluid balance and overall patient condition are monitored, as well. The authors use prophylactic antibiotics for 24 hours, although many routinely use prophylactic antibiotics for much longer periods. We do not routinely heparinize or give preoperative or postoperative aspirin to these patients.
The patient is allowed to ambulate in a non–weight-bearing fashion on the second postoperative day. The splint is removed and the skin graft assessed on the fifth postoperative day. The patient is then allowed to bear weight, using a walker or other assistive device, if necessary. When a skin graft is not used, the splint is not placed, and the patient is allowed to bear weight on the second day following surgery.
Follow-up
It is not our practice to routinely discharge patients on anticoagulation. The first postoperative visit generally occurs 1-2 weeks after release from the hospital. Flap and skin graft viability are assessed. Any remaining sutures are removed. If not already initiated preoperatively or as an inpatient, physical therapy is instituted to restore ankle function when the donor site has healed. The recipient site is evaluated for complications. Removal of the feeding tube and/or tracheotomy tube, if still present, is considered. A speech pathologist, physical therapist, and other specialists also evaluate the patient, as needed. Patients generally resume an oral diet approximately 2-3 weeks following discharge if no complications arise. Continuing dental/oral surgery evaluation and management allows for placement of dentures or implants at an appropriate time.
Complications
As with any free flap, complications may be divided into donor and recipient site problems. Major donor site complications with a fibula free flap are uncommon. Loss of the skin graft or a portion thereof is possible. As with any surgery, hematoma or infection may develop. Drains are used in the leg until output is sufficiently low for removal. Compartment syndrome is prevented by avoiding overtight closure of the leg, using skin grafts, and using drains to avoid hematomas. The posterior splint should allow for visualization of the toes and palpation of the pedal pulses. Ischemia to the foot is rare but must be evaluated urgently.
Ankle instability is possible if the distal fibula is overresected. Range of motion of the foot may be limited because of scarring and muscle resection. Prolonged pain is rare but may also develop. The authors have found that with the increasing use of other boney flaps our selection of patients allows us to eliminate those with any evidence of circulation problems. This greatly reduces the incidence of lower leg healing issues.
As with any microvascular surgery, free flap failure is a risk. Flap salvage following venous or arterial thrombosis is possible if early identification of vascular compromise leads to early (urgent) operative intervention. If thrombosis is identified and appropriately managed or pedicle geometry is optimized if twisting had occurred, the flap may be saved. Thrombectomy and revision of thrombosed vessel(s) are performed if required; occasionally, this necessitates vein grafting.
For flaps with venous congestion where patients cannot be returned to the OR immediately, leeches may be used to temporarily relieve the congestion. This technique should not be considered first line. Leeches work by removing the engorged blood from the flap and thereafter allowing an artificial venous outflow through their bite in the patient's flap skin. Blood flow through the bite is enhanced by an enzyme found in the leech saliva called hirudin. This enzyme is a powerful anticoagulant and, together with removal of the tiny clot that forms at the bite site, allows flaps to slowly bleed for hours. Leeches can transmit Aeromonas hydrophila, a gram-negative rod when used, and patients should prophylactically receive an antibiotic that covers beta-lactamase–resistant organisms if leech therapy is used.
If one or all of the veins are thrombosed, the arterial anastomosis may be allowed to remain intact at the discretion of the surgeon. Venous drainage occurs through the unattached veins. The authors irrigate University of Washington solution (streptokinase and heparin), shown to improve flap survival, through the flap. Systemic heparin should generally be started in the operating room and continued in the postoperative period for 7 days. Hematomas may develop as a result of anticoagulation. Drains should be carefully placed in the OR and not removed until the heparin has been discontinued. Venous return through the bone marrow has been cited in survival of fibular reconstruction despite venous thrombosis of the pedicle. If the skin appears thrombosed at the time of take back, but the bone is viable, the perforators through the septum should be evaluated. If the skin fails, but the bone survives, the bone may be covered with a second free flap (fasciocutaneous) or a pedicled flap.
Plate exposure and extrusion are rare complications. Patients who report postoperative pain with chewing are evaluated with radiographic imaging. If screw loosening is suspected, patients are returned to the OR for removal of the plate, if necessary. A single loose screw may occasionally be removed under local anesthesia in the clinic setting. Trismus is possible as a result of surgical manipulation and/or resection of the masticator muscles and disturbances in mandibular integrity. Patients are monitored by speech therapists and counseled on jaw-opening exercises to minimize the impact of this complication. Patients continue exercises through radiation therapy because significant scarring of the muscles may develop.
Outcome and Prognosis
Functional and cosmetic outcomes are generally excellent with this technique. Near-normal contour can be restored with appropriate osteotomies and plating. The skin is a poor color match for the head and neck, and its thickness precludes good camouflage. Some patients opt for tattooing, serial excision, or dermabrasion to lessen the abrupt change in color and consistency. Often, its color more closely approximates normal neck or facial skin once the flap has been exposed to sunlight or irradiated.
Functional rehabilitation is excellent. Patients who are fit with osseointegrated implants can have near-normal mastication and speech. (See the image below.) Patients who are unable to afford implants may be fit with dentures, but their ability to chew is not as good. Postoperative voice and deglutition depends on the amount and type of soft-tissue that was resected. Resection of structures such as the lingual and hypoglossal nerves and tongue base limits restoration of normal function.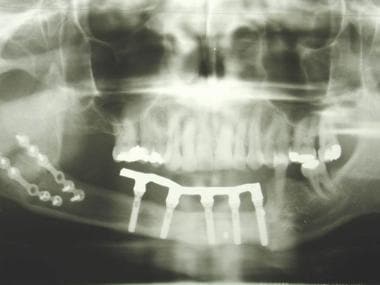 Patient with osseointegrated implants in flap.
A temporary limp is not uncommon following fibular harvest. As healing progresses, patients are instructed to work with physical therapists to resume their preoperative functional status. Elderly patients require additional time for recovery necessitating ongoing physical therapy for optimal rehabilitation.
Future and Controversies
The primary controversy related to the fibula free flap relates to the use of preoperative imaging to identify aberrant vascular anatomy. Angiography has been the criterion standard and was recommended by most reconstructive surgeons prior to performing a vascularized fibula flap. However, the invasiveness of the test and the possible morbidity, as well as the risk for peroneal spasm as a result of the vascular irritation, has led to more conservative approaches.
Direct evaluation of the appearance, temperature, and pedal pulses is currently used at the authors' institution to evaluate the presence and patency of all 3 vessels. Many surgeons are confident in proceeding without any imaging, provided the patient has normal pedal pulses. The authors consider the data provided by the duplex Doppler examination worth the added cost of the test in the event of any physical abnormalities to avoid a potential disaster for these few patients with aberrant anatomy. MRA and CT angio have reported results similar to angiography.
References
Sun GH, Patil YJ, Harmych BM, Hom DB. Inpatients with gunshot wounds to the face. J Craniofac Surg. 2012 Jan. 23(1):e62-5. [Medline].

de la Parra M, Sanchez G, Lopez J, et al. Total maxillary reconstruction using a double-barreled and double skin paddle fibular flap after total maxillectomy. Arch Plast Surg. 2013 Nov. 40(6):779-82. [Medline].

van Gemert JT, van Es RJ, Rosenberg AJ, et al. Free vascularized flaps for reconstruction of the mandible: complications, success, and dental rehabilitation. J Oral Maxillofac Surg. 2012 Jul. 70(7):1692-8. [Medline].

Toto JM, Chang EI, Agag R, et al. Improved Operative Efficiency of Free Fibula Flap Mandible Reconstruction with Patient-Specific, Computer-Guided Preoperative Planning. Head Neck. 2014 Jun 21. [Medline].

Thankappan K, Trivedi NP, Subash P, et al. Three-dimensional computed tomography-based contouring of a free fibula bone graft for mandibular reconstruction. J Oral Maxillofac Surg. 2008 Oct. 66(10):2185-92. [Medline].

Miller ME, Moriarty JM, Blackwell KE, Finn JP, Yiee JH, Nabili V. Preoperative magnetic resonance angiography detection of septocutaneous perforators in fibula free flap transfer. Arch Facial Plast Surg. 2011 Jan-Feb. 13(1):36-40. [Medline].

Wax MK. The role of the implantable Doppler probe in free flap surgery. Laryngoscope. 2014 Mar. 124 Suppl 1:S1-12. [Medline].

Futran ND, Wadsworth JT, Villaret D, Farwell DG. Midface reconstruction with the fibula free flap. Arch Otolaryngol Head Neck Surg. 2002 Feb. 128(2):161-6. [Medline].

Garrett A, Ducic Y, Athre RS, Motley T, Carpenter B. Evaluation of fibula free flap donor site morbidity. Am J Otolaryngol. 2006 Jan-Feb. 27(1):29-32. [Medline].

Ghaheri BA, Kim JH, Wax MK. Second osteocutaneous fibular free flaps for head and neck defects. Laryngoscope. 2005 Jun. 115(6):983-6. [Medline].

Hidalgo DA. Fibula free flap mandibular reconstruction. Clin Plast Surg. 1994 Jan. 21(1):25-35. [Medline].

Shindo M, Fong BP, Funk GF, Karnell LH. The fibula osteocutaneous flap in head and neck reconstruction: a critical evaluation of donor site morbidity. Arch Otolaryngol Head Neck Surg. 2000 Dec. 126(12):1467-72. [Medline].

Urken ML, Cheney ML, Sullivan MJ. Fibula free flaps. Atlas of Regional and Free Flaps for Head and Neck Reconstruction. New York, NY: Raven Press; 1995.

Wax MK, Winslow CP, Hansen J, et al. A retrospective analysis of temporomandibular joint reconstruction with free fibula microvascular flap. Laryngoscope. 2000 Jun. 110(6):977-81. [Medline].
Medscape Reference © 2011 WebMD, LLC