Submandibular Sialadenitis/Sialadenosis
Author: Adi Yoskovitch, MD, MSc; Chief Editor: Arlen D Meyers, MD, MBA more...
Updated: May 06, 2016
What would you like to print?
Background
Sialadenitis of the submandibular gland is a relatively commonly encountered yet infrequently discussed topic. Causes range from simple infection to autoimmune etiologies. Although not as frequent as sialadenitis of the parotid gland, it represents an important area of clinical relevance to the otolaryngologist and other specialists. The following discusses the basic science of the submandibular gland, as well as the more common causes of sialadenitis and sialadenosis of the submandibular gland.
Anatomy
The submandibular gland, along with the parotid and sublingual glands, comprise the major salivary glands. The minor salivary glands are scattered along the upper aerodigestive tract, including the lips, mucosa of the oral cavity, pharynx, and hard palate.
The submandibular gland is the second largest (approximate weight, 10 g) of the major salivary glands (the parotid gland is the largest). Anatomically, it is situated in the submandibular triangle of the neck.
The gland itself can be arbitrarily divided into superficial and deep lobes based on its relationship to the mylohyoid muscle, the former lying superficial to the muscle, and the latter wrapping around the posterior aspect of the muscle. The gland itself lies on the hyoglossus muscle, superficial to both the hypoglossal and the lingual nerves, the latter supplying parasympathetic innervation by way of the chorda tympani nerve (from cranial nerve VII) and the submandibular ganglion. The duct of the submandibular gland, also known as the Wharton duct, exits the gland from the deep lobe, passing through the floor of the mouth, and opening in close proximity to the lingual frenulum. See the image below.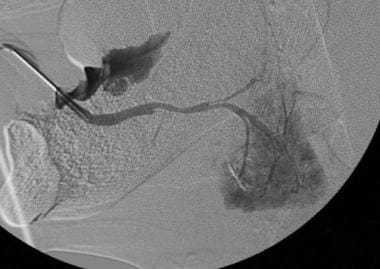 Sialogram with stenosis secondary to chronic sialadenosis.
Pathophysiology
The salivary glands serve numerous functions, including lubrication; enzymatic degradation of food substances; production of hormones, antibodies, and other blood group–reactive substances; mediation of taste; and antimicrobial protection. The regulation of salivary flow is primarily through the autonomic system and, most importantly, the parasympathetic division. In the case of the submandibular gland, this is mediated through the submandibular ganglion. Presynaptic fibers are derived from the superior salivatory nucleus and carried by the chorda tympani nerve, which joins the lingual nerve traveling towards the ganglion. Postsynaptic fibers extend from the ganglion to the gland itself.
Saliva is produced in the glandular subunit. The fluid component of the saliva is derived from the perfusing blood vessels in proximity to the gland, while the macromolecular composition is derived from secretory granules within the acinar cells. The saliva is produced in the acinus. Myoepithelial cells, containing contractile elements, are located along the periphery of the acinus. Upon contraction of these myoepithelial cells, the saliva is secreted into the ductal system.
The exact mechanism of salivary secretion is not completely understood but is believed to be under the influence of a cyclic AMP (adenosine 3,'5'-cyclic monophosphate) and a calcium-activated phosphorylation mechanism. The salivary secretions are then modified by a variety of cell types along a series of ducts, including the striated, intercalated, and excretory ducts, before finally being excreted through the Wharton duct into the oral cavity.
The concentration of mucus is higher in the submandibular gland, accounting for the viscous nature of its secretions relative to the other salivary glands. This increased viscosity, and subsequent relatively slower flow, contributes to the propensity for salivary gland calculi and stasis in certain disease states.
Epidemiology
Frequency
United States
The exact frequency of submandibular sialadenitis is unclear. The incidence of acute suppurative parotitis has been reported at 0.01-0.02% of all hospital admissions. The submandibular gland is suggested to account for approximately 10% of all cases of sialadenitis of the major salivary glands. Extrapolation would suggest an incidence of 0.001-0.002%, but this is unconfirmed.
Race
No race predilection per se exists.
Sex
No sex predilection per se exists.
Age
Although no obvious age predilection exists, per se, sialadenitis as a whole tends to occur in the older, debilitated, or dehydrated patient.[1]
References
Chandak R, Degwekar S, Chandak M, Rawlani S. Acute submandibular sialadenitis-a case report. Case Rep Dent. 2012. 2012:615375. [Medline]. [Full Text].

Isacsson G, Isberg A, Haverling M, Lundquist PG. Salivary calculi and chronic sialoadenitis of the submandibular gland: a radiographic and histologic study. Oral Surg Oral Med Oral Pathol. 1984 Nov. 58(5):622-7. [Medline].

Bozzato A, Hertel V, Koch M, Zenk J, Iro H. [Vitamin C as contrast agent in diagnosis of salivary duct obstruction]. Laryngorhinootologie. 2009 May. 88(5):290-2. [Medline].

Strieth S, Siedek V, Rytvina M, Gurkov R, Berghaus A, Clevert DA. Dynamic contrast-enhanced ultrasound for differential diagnosis of submandibular gland disease. Eur Arch Otorhinolaryngol. 2013 Apr 27. [Medline].

Omotehara S, Nishida M, Satoh M, et al. Sonographic findings of immunoglobulin G4-related sclerosing sialadenitis. J Med Ultrason (2001). 2016 Apr. 43 (2):257-62. [Medline].

Koike T. IgG4-related disease: why high IgG4 and fibrosis?. Arthritis Res Ther. 2013 Jan 25. 15 (1):103. [Medline]. [Full Text].

Li W, Xie XY, Su JZ, et al. Ultrasonographic Features of Immunoglobulin G4-Related Sialadenitis. Ultrasound Med Biol. 2016 Jan. 42 (1):167-75. [Medline].

Choi JS, Hong SB, Hyun IY, Lim JY, Kim YM. Effects of Salivary Secretion Stimulation on the Treatment of Chronic Radioactive Iodine-Induced Sialadenitis. Thyroid. 2015 Apr 20. [Medline].

Gillespie MB, Koch M, Iro H, Zenk J. Endoscopic-Assisted Gland-Preserving Therapy for Chronic Sialadenitis: A German and US Comparison. Arch Otolaryngol Head Neck Surg. 2011 Sep. 137(9):903-8. [Medline].

Semensohn R, Spektor Z, Kay DJ, et al. Pediatric sialendoscopy: initial experience in a pediatric otolaryngology group practice. Laryngoscope. 2014 Aug 5. [Medline].

Batsakis JG. Physiology. In: Cummings CW, et al, eds. Otolaryngology Head and Neck Surgery. 3rd ed. St. Louis, Mo:. Mosby. 1998:1210-1222.

Bradley PJ. Benign salivary gland disease. Hosp Med. 2001 Jul. 62(7):392-5. [Medline].

Chapman AH. The salivary glands, pharynx and esophagus. In: Sutton D, ed. Textbook of Radiology and Imaging. Vol 2. New York, NY:. Churchill Livingstone. 1998:729-828.

Ching AS, Ahuja AT, King AD, et al. Comparison of the sonographic features of acalculous and calculous submandibular sialadenitis. J Clin Ultrasound. 2001 Jul-Aug. 29(6):332-8. [Medline].

Gayner SM, Kane WJ, McCaffrey. Infections of the salivary glands. In: Cummings CW, et al, eds. Otolaryngology Head and Neck Surgery. 3rd ed. St. Louis, Mo:. Mosby. 1998:1234-1246.

Guerrissi JO, Taborda G. Endoscopic excision of the submandibular gland by an intraoral approach. J Craniofac Surg. 2001 May. 12(3):299-303. [Medline].

Haynes RC. Adrenocorticotropic hormone: adrenocortical steroids and their synthetic analogs; inhibitors of the synthesis and actions of adrenocortical hormones. In: Goodman LS, Gilman AG, eds. Goodman and Gilman's The Pharmacological Basis of Therapeutics. 8th ed. New York, NY:. Pergamon Press. 1990:1431-1462.

Kaneda T, Minami M, Ozawa K, et al. MR of the submandibular gland: normal and pathologic states. AJNR Am J Neuroradiol. 1996 Sep. 17(8):1575-81. [Medline].

Matthews TW, Dardick I. Morphological alterations of salivary gland parenchyma in chronic sialadenitis. J Otolaryngol. 1988 Dec. 17(7):385-94. [Medline].

Nguyen AM, Francis CL, Larsen CG. Salivary endoscopy in a pediatric patient with HLA-B27 seropositivity and recurrent submandibular sialadenitis. Int J Pediatr Otorhinolaryngol. 2013 Apr 29. [Medline].

Rice DH. Diagnostic imaging. In: Cummings CW, et al, eds. Otolaryngology Head and Neck Surgery. 3rd ed. St. Louis, Mo:. Mosby. 1998:1223-1233.

Rosai J. Major and minor salivary glands. In: Rosai J, ed. Ackerman's Surgical Pathology. Vol 1. St. Louis, Mo:. Mosby. 1996:815-856.

Sande MA, Mandell GL. Antimicrobial agents. Tetracyclines, chloramphenicol, erythromycin, and miscellaneous antibacterial agents. In: Goodman LS, Gilman AG, et al, eds. Goodman and Gilman's The Pharmacological Basis of Therapeutics. 8th ed. New York, NY:. Pergamon Press. 1990:1117-1145.

Saunders JR Jr, Hirata RM, Jaques DA. Salivary glands. Surg Clin North Am. 1986 Feb. 66(1):59-81. [Medline].

Silvers AR, Som PM. Salivary glands. Radiol Clin North Am. 1998 Sep. 36(5):941-66, vi. [Medline].

Sumi M, Izumi M, Yonetsu K, Nakamura T. The MR imaging assessment of submandibular gland sialoadenitis secondary to sialolithiasis: correlation with CT and histopathologic findings. AJNR Am J Neuroradiol. 1999 Oct. 20(9):1737-43. [Medline].
Medscape Reference © 2011 WebMD, LLC