Pediatric Hypereosinophilic Syndrome Treatment & Management
Author: Bruce M Rothschild, MD; Chief Editor: Harumi Jyonouchi, MD more...
Updated: Aug 31, 2015
What would you like to print?
Medical Care
No therapy is indicated in hypereosinophilic syndrome with absence of organ damage. Presence of angioedema and urticaria suggest a benign course (see the image below). However, therapy to prevent the risk of thrombosis may be reasonable for all patients suffering from hypereosinophilic syndrome.[11]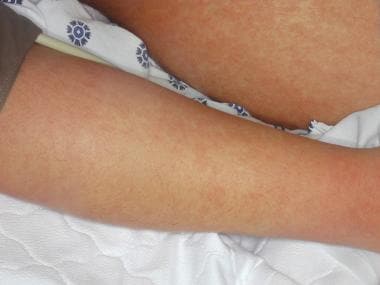 Urticarial and erythematous rash.
Corticosteroids have been used as first-line treatment. However, mucosal ulcers do not respond to corticosteroids. Other immunosuppresants and immunomodulating agents have been used as detailed in the medication section. These include hydroxyurea, vincristine, cyclophosphamide, busulfan, methotrexate, chlambucil, etoposide, cyclosproin, and alemtuzumab.
Rapid intervention for cardiac disease is essential.
Reducing the eosinophil load is the major goal of treatment.[10] Although seemingly important, therapeutic benefits of aggressive control of eosinophilia are hypothetical, because all reports about treatment approaches are essentially anecdotal for this rare disorder. In the absence of organ disease, any indication for treatment is unclear, except for preventive measures for thrombosis.
A small experimental study found that alemtuzumab (humanized anti-CD52 murine monoclonal antibody) was helpful in patients with advanced hypereosinophilic syndrome refractory to other standard therapies. Escalating doses of 5 mg, 10 mg, and 30 mg IV on days 1-3, and then at tolerated dose 3 times per week for 3 weeks, were suggested. If a full response is seen, weekly administration is indicated by authors. The authors also suggest clinical evaluation of alemtuzumab in a larger clinical trial is warranted.[12]
Surgical Care
Cardiac surgery is indicated for annuloplasty, valve replacement, thrombectomy, and aortic prostheses. Because patients with mechanical valve replacements are especially prone to thrombosis, bioprostheses are recommended. Splenectomy may ameliorate platelet sequestration and is indicated for splenic infarction and pain due to splenic distention.
Consultations
Obtaining subspecialty input from a rheumatologist and hematologist is essential.
References
Kahn JE, Bletry O, Guillevin L. Hypereosinophilic syndromes. Best Pract Res Clin Rheumatol. 2008 Oct. 22(5):863-82. [Medline].

Martinelli G, Rondoni M, Ottaviani E, Paolini S, Baccarani M. Hypereosinophilic syndrome and molecularly targeted therapy. Semin Hematol. 2007. 44(Suppl 2):S4-S16.

Hogan SP, Rosenberg HF, Moqbel R, Phipps S, Foster PS, Lacy P. Eosinophils: biological properties and role in health and disease. Clin Exp Allergy. 2008 May. 38(5):709-50. [Medline].

Elling C, Erben P, Walz C, Frickenhaus M, Schemionek M, Stehling M. Novel imatinib-sensitive PDGFRA-activating point mutations in hypereosinophilic syndrome induce growth factor independence and leukemia-like disease. Blood. 2011 Mar 10. 117(10):2935-43. [Medline].

James J. Pediatric hypereosinophilic syndrome (HES) differs from adult HES. Pediatrics. 2006. 118:S49-S50. [Full Text].

Carey JP, Burke AC. Transient hypereosinophilia in the infant of a mother with hypereosinophilic syndrome. Arch Intern Med. 1982 Sep. 142(9):1754-5. [Medline].

Roche-Lestienne C, Lepers S, Soenen-Cornu V, et al. Molecular characterization of the idiopathic hypereosinophilic syndrome (HES) in 35 French patients with normal conventional cytogenetics. Leukemia. 2005 May. 19(5):792-8. [Medline].

Schoch C, Reiter A, Bursch S, et al. Chromosome binding analysis, FISH and RT-PCR performed in parallel in hyperesosinophilic syndrome establishes the diagnosis of chronic eosinophilic leukemia in 22% of cases: A study of 40 patients. Blood. 2004. 104:2444.

Miyazawa K, Kakazu N, Ohyashiki K. Clinical features of hypereosinophilic syndrome: FIP1L1-PDGFRA fusion gene-positive disease is a distinct clinical entity with myeloproliferative features and a poor response to corticosteroid. Int J Hematol. 2007 Jan. 85(1):5-10. [Medline].

Klion A. Hypereosinophilic syndrome: current approach to diagnosis and treatment. Annu Rev Med. 2009. 60:293-306. [Medline].

Roufosse F. Hypereosinophilic syndrome variants: diagnostic and therapeutic considerations. Haematologica. 2009 Sep. 94(9):1188-93. [Medline].

Verstovsek S, Tefferi A, Kantarjian H, Manshouri T, Luthra R, Pardanani A, et al. Alemtuzumab therapy for hypereosinophilic syndrome and chronic eosinophilic leukemia. Clin Cancer Res. 2009 Jan 1. 15(1):368-73. [Medline].

Rothenberg ME, Klion AD, Roufosse FE, et al. Treatment of patients with the hypereosinophilic syndrome with mepolizumab. N Engl J Med. 2008 Mar 20. 358(12):1215-28. [Medline].

Adame J, Cohen PR. Eosinophilic panniculitis: diagnostic considerations and evaluation. J Am Acad Dermatol. 1996 Feb. 34(2 Pt 1):229-34. [Medline].

Adams HW, Mainz DL. Eosinophilic ascites. A case report and review of the literature. Am J Dig Dis. 1977 Jan. 22(1):40-2. [Medline].

Alfaham MA, Ferguson SD, Sihra B, Davies J. The idiopathic hypereosinophilic syndrome. Arch Dis Child. 1987 Jun. 62(6):601-13. [Medline].

Anders HJ, Schattenkirchner M. Destructive joint lesions and bursitis in idiopathic hypereosinophilic syndrome. Rheumatology (Oxford). 1999 Feb. 38(2):185-6. [Medline].

Bain BJ. Eosinophilic leukaemias and the idiopathic hypereosinophilic syndrome. Br J Haematol. 1996 Oct. 95(1):2-9. [Medline].

Butterfield JH, Weiler CR. Use of pegylated interferon in hypereosinophilic syndrome. Leuk Res. 2012 Feb. 36(2):192-7. [Medline].

Chaine G, Davies J, Kohner EM, Hawarth S, Spry CJ. Ophthalmologic abnormalities in the hypereosinophilic syndrome. Ophthalmology. 1982 Dec. 89(12):1348-56. [Medline].

Chusid MJ, Dale DC, West BC, Wolff SM. The hypereosinophilic syndrome: analysis of fourteen cases with review of the literature. Medicine (Baltimore). 1975 Jan. 54(1):1-27. [Medline].

Cryer PE, Kissane J. Hypereosinophilic syndrome with pulmonary hypertension. 1976. 60:239-247.

Davies J, Spry CJ, Sapsford R, et al. Cardiovascular features of 11 patients with eosinophilic endomyocardial disease. Q J Med. 1983 Winter. 52(205):23-39. [Medline].

Flaum MA, Schooley RT, Fauci AS, Gralnick HR. A clinicopathologic correlation of the idiopathic hypereosinophilic syndrome. I. Hematologic manifestations. Blood. 1981 Nov. 58(5):1012-20. [Medline].

Kang EY, Shim JJ, Kim JS, Kim KI. Pulmonary involvement of idiopathic hypereosinophilic syndrome: CT findings in five patients. J Comput Assist Tomogr. 1997 Jul-Aug. 21(4):612-5. [Medline].

Katz HT, Haque SJ, Hsieh FH. Pediatric hypereosinophilic syndrome (HES) differs from adult HES. J Pediatr. 2005 Jan. 146(1):134-6. [Medline].

Koneru S, Koshy G, Sharp C, Khalafallah AA. Hypereosinophilic syndrome associated with ulcerative colitis presenting with recurrent Loeffler's endocarditis and left ventricular thrombus treated successfully with immune suppressive therapy and anticoagulation. BMJ Case Rep. 2013 Sep 5. 2013:[Medline].

Layzer RB, Shearn MA, Satya-Murti S. Eosinophilic polymyositis. Ann Neurol. 1977 Jan. 1(1):65-71. [Medline].

Legrand F, Renneville A, Macintyre E, et al. The Spectrum of FIP1L1-PDGFRA-Associated Chronic Eosinophilic Leukemia: New Insights Based on a Survey of 44 Cases. Medicine (Baltimore). 2013 Aug 26. [Medline].

Lierman E, Folens C, Stover EH, et al. Sorafenib is a potent inhibitor of FIP1L1-PDGFRalpha and the imatinib-resistant FIP1L1-PDGFRalpha T674I mutant. Blood. 2006 Aug 15. 108(4):1374-6. [Medline].

Lim J, Sternberg A, Manghat N, Ramcharitar S. Hypereosinophilic syndrome masquerading as a myocardial infarction causing decompensated heart failure. BMC Cardiovasc Disord. 2013 Sep 21. 13:75. [Medline].

Parrillo JE, Borer JS, Henry WL, et al. The cardiovascular manifestations of the hypereosinophilic syndrome. Prospective study of 26 patients, with review of the literature. Am J Med. 1979 Oct. 67(4):572-82. [Medline].

Podjasek JC, Butterfield JH. Mortality in hypereosinophilic syndrome: 19 years of experience at Mayo Clinic with a review of the literature. Leuk Res. 2013 Apr. 37(4):392-5. [Medline].

Postovsky S, Daitzchman M, Dale A, Elhasid R, Ben Arush MW. Unusual presentation of mastoid eosinophilic granuloma in a young patient. Pediatr Hematol Oncol. 2001 Jun. 18(4):283-9. [Medline].

Rothenberg ME, Hogan SP. The eosinophil. Annu Rev Immunol. 2006. 24:147-74. [Medline].

Roufosse FE, Kahn JE, Gleich GJ, et al. Long-term safety of mepolizumab for the treatment of hypereosinophilic syndromes. J Allergy Clin Immunol. 2013 Feb. 131(2):461-7.e1-5. [Medline]. [Full Text].

Shah TH, Shah S, Khan UH, et al. Idiopathic hypereosinphilic syndrome presenting as IgA nephropathy with nephrotic range proteinuria. Open J Nephrol. 2013. 2:101-3. [Full Text].

Spark RP, Gleason DM, DeBenedetti CD, Gigax JH. Is eosinophilic ureteritis an entity? 2 case reports and review. J Urol. 1991 Jun. 145(6):1256-60. [Medline].

Strati P, Cortes J, Faderl S, Kantarjian H, Verstovsek S. Long-term follow-up of patients with hypereosinophilic syndrome treated with Alemtuzumab, an anti-CD52 antibody. Clin Lymphoma Myeloma Leuk. 2013 Jun. 13(3):287-91. [Medline].

Tefferi A. Blood eosinophilia: a new paradigm in disease classification, diagnosis, and treatment. Mayo Clin Proc. 2005 Jan. 80(1):75-83. [Medline].

van den Hoogenband HM. Skin lesions as the first manifestation of the hypereosinophilic syndrome. Clin Exp Dermatol. 1982 May. 7(3):267-71. [Medline].

Wardlaw AJ, Moqbel R, Kay AB. Eosinophils: biology and role in disease. Adv Immunol. 1995. 60:151-266. [Medline].

Weller PF, Bubley GJ. The idiopathic hypereosinophilic syndrome. Blood. 1994 May 15. 83(10):2759-79. [Medline].

White WL, Wahner HW, Brown ML, James EM. Sequential liver imaging in the hypereosinophilic syndrome: discordant images with scintigraphy, ultrasound, and computed tomography. Clin Nucl Med. 1981 Feb. 6(2):75-7. [Medline].
Medscape Reference © 2011 WebMD, LLC