Hyperimmunoglobulinemia E (Job) Syndrome Treatment & Management
Author: Harumi Jyonouchi, MD; Chief Editor: Russell W Steele, MD more...
Updated: Oct 21, 2015
What would you like to print?
Medical Care
Prophylactic antimicrobials against S aureus and Candida species constitute the most important management of HIES. The first-line anti-staphylococcal antibiotics are dicloxacillin or trimethoprim-sulfamethoxazole. Fluconazole is the drug of choice against Candida species.
Eczematous dermatitis requires rigorous topical therapy with steroids and a moisturizing cream. Topical application of calcineurin inhibitors (tacrolimus and pimecrolimus) may also be used for controlling eczematous lesions, but their immunosuppressive actions on skin infection should be carefully monitored. A drug to control pruritus is often needed; this may be diphenhydramine or a longer-acting antihistamine such as loratadine, fexofenadine, desloratadine, or cetirizine. Dermatitis control becomes essential when casts are applied to manage fractures or scoliosis.
When pneumonia develops, it is usually due to S aureus infection. Generally, intravenous nafcillin or vancomycin for methicillin-resistant S aureus (MRSA) is first-line therapy. Haemophilus influenzae type b and non–typable strains also cause pneumonia; in these cases, cefuroxime intravenously is the drug of choice. Superinfection of pneumatoceles or lung abscesses with Aspergillus species requires intravenous amphotericin for several months; usually, surgical intervention is also necessary.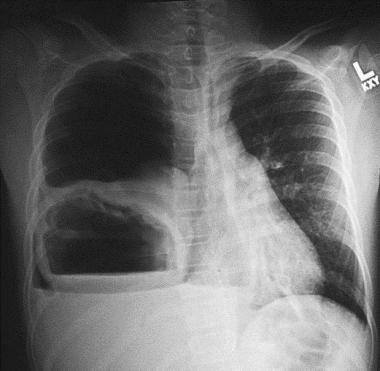 Chest radiograph of a patient with autosomal dominant (AD) hyperimmunoglobulin E syndrome (HIES) and a lung abscess following multiple staphylococcal pneumonias. Aspergillus fumigatus was isolated from the abscess.
When superinfection with P aeruginosa or other gram-negative bacteria is present, an aminoglycoside plus ceftazidime and surgical intervention are appropriate.
In the case of P jiroveci pneumonia, intravenous trimethoprim-sulfamethoxazole is required. The author has seen unusually severe and prolonged pneumonitis from respiratory syncytial virus in infants; inpatient respiratory support has been required.
Bone marrow transplantation (BMT) is curative for a significant number of primary immunodeficiency diseases; however, one patient with HIES was reported to have recurrence of HIES following successful hematopoietic stem cell transplantation. Given a role of DOCK8 in T- and B-cell development/function, DOCK8 deficiency may require BMT at an earlier age, depending on penetrance.
Guidelines for the diagnosis and management of primary immunodeficiencies have been established.[34]
Surgical Care
See the list below:
Thoracic surgical intervention to drain abscesses and empyemas, treat bronchial artery bleeding, and resect bronchopulmonary fistulas is frequently required. Lobectomy has been performed, although it can be technically difficult.

Orthopedic procedures are needed to correct scoliosis or treat fractures.

Surgical drainage of deep-seated abscesses in the skin and muscle may require postsurgical packing during a prolonged healing phase.
Consultations
See the list below:
Dermatologic advice may be sought, but eczematous dermatitis often seems intractable.

Pulmonologists may help optimize the management of chronic lung disease.

Infectious disease specialists may be helpful when difficult-to-treat organisms, such as MRSA, are suspected or isolated or when difficult-to-treat sites of infection are present. In general, prophylactic antibiotics covering S aureus and anticandidal drugs are helpful for patients with HIES.

Orthopedic surgeons must consider the possibility of osteopenia contributing to delayed healing of fractures. They must also contend with the high risk of fracture-site infection, particularly with S aureus, related to pinning or to the overlying poorly controlled dermatitis. In addition, they need to manage significant scoliosis.

In patients with AD-HIES with variable penetrance, input by a geneticist is necessary to help identify additional affected family members. More subtly affected individuals may be best diagnosed by a geneticist who is skilled in identifying the dysmorphic features of AD HIES. Likewise, genetic counseling may also be indicated for patients with AR HIES who have DOCK8 deficiency with high risk of malignacies and neurological manifestations.
Diet
A regular-for-age nutritious diet is needed. No therapeutic advantage has been observed with calcium or vitamin D supplementation for osteoporosis. Even if the patient reveals positive reactivity in prick skin testing or in food allergen–specific IgE, avoidance of food allergens seldom attenuates eczema skin lesions.
Activity
See the list below:
Encourage patients with hyperimmunoglobulinemia E syndrome to exercise actively, attend school, and maintain employment. Discourage them from smoking, being exposed to smoke, and using illegal drugs because these actions further impair pulmonary function.

Patients generally benefit from outdoor activities.

Good skin care is essential.

Given the reasonably good survival rate into adulthood, healthy activities can help patients not to be emotionally crippled from this immunodeficiency disease.
References
Dinauer MC. Disorders of neutrophil function: an overview. Methods Mol Biol. 2014. 1124:501-15. [Medline].

Buckley RH. Disorders of the IgE system. Steigm ER, ed. Immunologic Disorders in Infants and Children. 4th ed. 1996. 413-422.

Minegishi Y, Saito M, Tsuchiya S, et al. Dominant-negative mutations in the DNA-binding domain of STAT3 cause hyper-IgE syndrome. Nature. 2007 Aug 30. 448(7157):1058-62. [Medline].

Holland SM, DeLeo FR, Elloumi HZ, Hsu AP, Uzel G, Brodsky N, et al. STAT3 mutations in the hyper-IgE syndrome. N Engl J Med. 2007 Oct 18. 357(16):1608-19. [Medline].

Minegishi Y, Karasuyama H. Hyperimmunoglobulin E syndrome and tyrosine kinase 2 deficiency. Curr Opin Allergy Clin Immunol. 2007 Dec. 7(6):506-9. [Medline].

Minegishi Y, Saito M, Morio T, et al. Human tyrosine kinase 2 deficiency reveals its requisite roles in multiple cytokine signals involved in innate and acquired immunity. Immunity. 2006 Nov. 25(5):745-55. [Medline].

Renner ED, Pawlita I, Hoffmann F, et al. No indication for a defect in toll-like receptor signaling in patients with hyper-IgE syndrome. J Clin Immunol. 2005 Jul. 25(4):321-8. [Medline].

Zhang Q, Davis JC, Lamborn IT, Freeman AF, Jing H, Favreau AJ. Combined immunodeficiency associated with DOCK8 mutations. N Engl J Med. 2009 Nov 19. 361(21):2046-55. [Medline].

Su HC, Jing H, Zhang Q. DOCK8 deficiency. Ann N Y Acad Sci. 2011 Dec. 1246:26-33. [Medline].

Borges WG, Augustine NH, Hill HR. Defective interleukin-12/interferon-gamma pathway in patients with hyperimmunoglobulinemia E syndrome. J Pediatr. 2000 Feb. 136(2):176-80. [Medline].

Netea MG, Kullberg BJ, van der Meer JW. Severely impaired IL-12/IL-18/IFNgamma axis in patients with hyper IgE syndrome. Eur J Clin Invest. 2005 Nov. 35(11):718-21. [Medline].

Casanova J-L, Newport M, Fischer A. Inherited interferon gamma receptor deficiency. Primary Immunodeficiency Diseases: A Molecular and Genetic Approach. 1999. 209-221.

Hawn TR, Ozinsky A, Williams LM, et al. Hyper-IgE syndrome is not associated with defects in several candidate toll-like receptor pathway genes. Hum Immunol. 2005 Jul. 66(7):842-7. [Medline].

Renner ED, Puck JM, Holland SM, et al. Autosomal recessive hyperimmunoglobulin E syndrome: a distinct disease entity. J Pediatr. 2004 Jan. 144(1):93-9. [Medline].

Simon HU, Seger R. Hyper IgE syndrome associated with an IL-4-producing gamma/delta T-cell clone. J Allergy Clin Immunol. 2007. 119:246-8.

Renner ED, Rylaarsdam S, Anover-Sombke S, et al. Novel signal transducer and activator of transcription 3 (STAT3) mutations, reduced T(H)17 cell numbers, and variably defective STAT3 phosphorylation in hyper-IgE syndrome. J Allergy Clin Immunol. July. 122:181-187. [Medline]. [Full Text].

Tangye SG, Cook MC, Fulcher DA. Insights into the role of STAT3 in human lymphocyte differentiation as revealed by the hyper-IgE syndrome. J Immunol. 2009 Jan 1. 182(1):21-8. [Medline].

Wolach O, Kuijpers T, Ben-Ari J, Gavrieli R, Feinstein-Goren N, et al. Variable clinical expressivity of STAT3 mutation in hyperimmunoglobulin E syndrome: genetic and clinical studies of six patients. J Clin Immunol. 2014 Feb. 34 (2):163-70. [Medline].

Stepkowski SM, Chen W, Ross JA, Nagy ZS, Kirken RA. STAT3: an important regulator of multiple cytokine functions. Transplantation. 2008 May 27. 85(10):1372-7. [Medline].

Milner JD, Brenchley JM, Laurence A, et al. Impaired T(H)17 cell differentiation in subjects with autosomal dominant hyper-IgE syndrome. Nature. 2008 Apr 10. 452(7188):773-6. [Medline].

Speckmann C, Enders A, Woellner C, et al. Reduced memory B cells in patients with hyper IgE syndrome. Clin Immunol. 2008 Dec. 129(3):448-54. [Medline].

Engelhardt KR, McGhee S, Winkler S, Sassi A, Woellner C, Lopez-Herrera G. Large deletions and point mutations involving the dedicator of cytokinesis 8 (DOCK8) in the autosomal-recessive form of hyper-IgE syndrome. J Allergy Clin Immunol. 2009 Dec. 124(6):1289-302.e4. [Medline]. [Full Text].

Rezaei N, Hedayat M, Aghamohammadi A, Nichols KE. Primary immunodeficiency diseases associated with increased susceptibility to viral infections and malignancies. J Allergy Clin Immunol. 2011 Jun. 127(6):1329-41.e2; quiz 1342-3. [Medline].

Jabara HH, McDonald DR, Janssen E, et al. DOCK8 functions as an adaptor that links TLR-MyD88 signaling to B cell activation. Nat Immunol. 2012 May 13. 13(6):612-20. [Medline]. [Full Text].

Alsum Z, Hawwari A, Alsmadi O, Al-Hissi S, Borrero E, Abu-Staiteh A, et al. Clinical, Immunological and Molecular Characterization of DOCK8 and DOCK8-like Deficient Patients: Single Center Experience of Twenty Five Patients. J Clin Immunol. 2012 Sep 12. [Medline].

Schimke LF, Sawalle-Belohradsky J, Roesler J, Wollenberg A, Rack A, Borte M. Diagnostic approach to the hyper-IgE syndromes: immunologic and clinical key findings to differentiate hyper-IgE syndromes from atopic dermatitis. J Allergy Clin Immunol. 2010 Sep. 126(3):611-7.e1. [Medline].

Dasouki M, Okonkwo KC, Ray A, et al. Deficient T Cell Receptor Excision Circles (TRECs) in autosomal recessive hyper IgE syndrome caused by DOCK8 mutation: implications for pathogenesis and potential detection by newborn screening. Clin Immunol. 2011 Nov. 141(2):128-32. [Medline].

Joshi AY, Iyer VN, Hagan JB, St Sauver JL, Boyce TG. Incidence and temporal trends of primary immunodeficiency: a population-based cohort study. Mayo Clin Proc. 2009. 84(1):16-22. [Medline]. [Full Text].

Freeman AF, Kleiner DE, Nadiminti H, et al. Causes of death in hyper-IgE syndrome. J Allergy Clin Immunol. 2007 May. 119(5):1234-40. [Medline].

Martin S, Wolters P, Billings N, Toledo-Tamula MA, Hammoud DA, et al. Neurobehavioral profiles in individuals with hyperimmunoglobulin E Syndrome (HIES) and brain white matter hyperintensities. J Clin Immunol. 2013 Oct. 33 (7):1175-84. [Medline].

[Guideline] Leung DY, Nicklas RA, Li JT, et al. Disease management of atopic dermatitis: an updated practice parameter. Joint Task Force on Practice Parameters. Ann Allergy Asthma Immunol. 2004 Sep. 93(3 Suppl 2):S1-21. [Medline]. [Full Text].

[Guideline] Hanifin JM, Cooper KD, Ho VC, et al. Guidelines of care for atopic dermatitis, developed in accordance with the American Academy of Dermatology (AAD)/American Academy of Dermatology Association "Administrative Regulations for Evidence-Based Clinical Practice Guidelines". J Am Acad Dermatol. 2004 Mar. 50(3):391-404. [Medline]. [Full Text].

Ozcan E, Notarangelo LD, Geha RS. Primary immune deficiencies with aberrant IgE production. J Allergy Clin Immunol. 2008 Dec. 122(6):1054-62; quiz 1063-4. [Medline].

[Guideline] Bonilla FA, Bernstein IL, Khan DA, et al. Practice parameter for the diagnosis and management of primary immunodeficiency. Ann Allergy Asthma Immunol. 2005 May. 94(5 Suppl 1):S1-63. [Medline]. [Full Text].

Kilic SS, Kilicbay F. Interferon-alpha treatment of molluscum contagiosum in a patient with hyperimmunoglobulin E syndrome. Pediatrics. 2006 Jun. 117(6):e1253-1255. [Medline].

Bennett CL, Christie J, Ramsdell F, et al. The immune dysregulation, polyendocrinopathy, enteropathy, X-linked syndrome (IPEX) is caused by mutations of FOXP3. Nat Genet. 2001 Jan. 27(1):20-1. [Medline].

Freeman AF, Davis J, Anderson VL, et al. Pneumocystis jiroveci infection in patients with hyper-immunoglobulin E syndrome. Pediatrics. 2006 Oct. 118(4):e1271-5. [Medline].

Grimbacher B, Holland SM, Puck JM. Hyper-IgE syndromes. Immunol Rev. 2005 Feb. 203:244-50. [Medline].

Ling JC, Freeman AF, Gharib AM, et al. Coronary artery aneurysms in patients with hyper IgE recurrent infection syndrome. Clin Immunol. 2007 Mar. 122(3):255-8. [Medline].

Van der Meer JW, Weemaes CM, van Krieken JH, et al. Critical aneurysmal dilataion of the thoracic aorta in young adolescents with variant hyperimmunoglobulin e syndrome. J Intern Med. 2006. 259:615-8. [Medline].
Medscape Reference © 2011 WebMD, LLC