Pediatric Allergic Rhinitis Clinical Presentation
Author: Jack M Becker, MD; Chief Editor: Harumi Jyonouchi, MD more...
Updated: May 04, 2016
What would you like to print?
History
The history of the patient with allergic rhinitis (AR) may be straightforward or may include a complex set of symptoms. The diagnosis is easy to make in a patient with a new pet or with symptoms that have distinct seasonal variation. Alternatively, younger patients may present with varying signs or symptoms, the family may not appreciate the nasal stuffiness but may note the chronic nasal congestion. In older children, symptoms may have been present for years and, therefore, appear to be less severe because the child has accommodated them.
Physicians should try to identify seasonal variations, provocative elements in the environment, and the timing of events that lead to symptoms. For example, if the patient only has issues during the week, this may lead to investigating the environment of the child's classroom or daycare for allergens like pets or molds. Few patients present soon after the onset of AR symptoms. Usually, AR symptoms have been present for years and have been slowly worsening during each allergy season.
This is especially true for patients with pet allergies. The symptoms appear slowly, over years. They can worsen in the spring and fall and be confused with pollen allergy. This occurs for pets usually shed more in the warmer weather and then in the fall when more time is spent indoors with worsening symptoms. Also, many families believe that the fact that the pet was present before the onset of the child's symptoms exclude the possibility of allergy to the family pet, but this is not true. The family often believe that the family pet is hypoallergenic. No cats or dogs are truly hypoallergenic. Some pets trigger less allergic symptoms in some individuals. In addition, dander exposure is crucial in triggering symptoms. Therefore, a large home without carpeting and a small pet will probably trigger less severe symptoms than a large pet in a small environment.
Unless a new exposure to large amounts of allergens is reported (eg, pet, feather pillow), a patient who describes a sudden onset of nasal allergy symptoms is probably not experiencing allergic symptoms. Sudden onset of nasal symptoms is often associated with acute sinusitis or acute bacterial sinusitis superimposed on chronic sinusitis. In children younger than 5 years, differentiating allergy symptoms from recurrent upper respiratory viral infection is even more difficult, especially in those who attend daycare and experience frequent rhinitis symptoms.
Nature of symptoms
Symptoms of rhinitis consist of rhinorrhea, nasal congestion, postnasal drainage, repetitive sneezing, and itching of the palate, ears, nose, or eyes. Snoring, frequent sore throats, constant clearing of the throat, cough, itchy eyes, and headaches are symptoms often associated with rhinitis.
When obtaining the history, ascertain the following:
Determine which symptoms are reported by the patient or parent.

Ask if symptoms occur in different locations.

Determine whether the patient has rhinorrhea, sniffling, nasal itching, sneezing, cough, congestion, or nasal discharge. Determine the color of the nasal discharge.

Determine whether any associated ocular or respiratory symptoms are present.

Ask about snoring, which may worsen in pollen season.
Timing of symptoms
Identify whether symptoms are present or worsen during certain seasons, such as the spring or fall. In addition, try to identify whether symptoms are worse in specific places, such as home, work, school, or on vacation or when the patient is around animals.
Determine when symptoms occur and whether they occur primarily at night, in school, outdoors, or at a relative's or friend's home.
Determine whether symptoms occur only at a certain time of the year or throughout the year. Remember that symptoms in the fall and spring may still indicate a pet allergy.
Determine whether symptoms ever improve and, if so, what actions help alleviate symptoms. Most patients have tried over-the-counter antihistamine medication. If these medications help, AR should be suspected; however, a negative response does not eliminate the possibility of AR. Ask if the patient's symptoms improve when they are away from certain locations. For example, a child who has less symptoms at college or camp may have an allergy to the family pet, feather pillows, or dust mites in their bedding.
Determine whether symptoms improve when the patient is taking antibiotics. Most patients receive antibiotics for various reasons unrelated to nasal symptoms. If symptoms respond to antibiotic therapy, the clinical diagnosis may be sinusitis, which may have been either primary sinusitis or secondary sinusitis caused by allergic rhinitis.
Duration of symptoms
Determine whether symptoms last for weeks, months, or hours.
Most pollen seasons are at least 6 weeks long in more moderate climates. In the south and far north, the season can be longer or shorter, respectively. Symptoms that last less than 2 weeks rarely indicate AR, unless concomitant exposure occurs. For example, a child only allergic to one type of tree could have 2 weeks of exposure, but that is unusual.
In winter in the northern regions, virtually all outdoor pollens are absent; therefore, any AR–like symptoms are the result of indoor allergen exposure or are associated with nonallergic causes. Although patients are usually exposed to the same allergens throughout the year, AR symptoms triggered by indoor allergens can worsen in winter secondary to longer hours spent indoors during the cold months. This may also be associated with closed windows and doors in winter, resulting in increased recirculation of indoor allergens. An example of winter-only exposure is a person who is allergic to dust mites who uses a down comforter only during the winter (dust mites are highly infested in a down comforter.), also a patient with adenoidal hypertrophy may be worse in the winter due to lower ambient humidity leading to more nasal irritation.
Family history
Children with parents who have allergies or asthma are more likely to be affected.
If a child has one parent with allergies, chances are 30% that a child will have AR. This increases to 50-70% if both parents have allergies or atopic asthma.
Related medical history
Patients with a history of infantile eczema (atopic dermatitis) have a 70% chance of having AR, asthma, or both. Patients with a history of asthma also have higher incidence of AR.
Social and environmental history
The patient's environment is very important. Ask about the presence of a pet or beddings (eg, pillow, bedspread, comforter [especially containing feathers]) and other home items likely infested by dust mites (eg, carpeted floor, stuffed animals, dusty closet, nonleather furniture) as well as the timing of initial exposure. Many times, exposure to dust, feathers, or pets coincides with the onset of symptoms, making diagnosis and treatment easier. However, patients could become sensitized to indoor allergens by exposure in places other than the home where they spend a fair numbers of hours (eg, schools, daycare center, baby sitters' and relatives' homes).
Questions must be raised regarding any environment in which the patient spends more than a few hours per week. This includes baby-sitters' and relatives' homes, daycare facilities, and schools (classroom pets).
For children younger than 3 years, ask about the child's bed. Cribs or toddler beds that use crib mattresses do not have dust mites because of the plastic covers, but standard bedding (bed mattress) can harbor dust mites.
Physical
A full examination should always be performed to detect other diseases, such as asthma, eczema, adenoidal hypertrophy, and cystic fibrosis, which occur in connection with allergic rhinitis (AR). Evaluation involves the head, eyes, ears, nose, and throat. Upon inspection, signs described below can be noted.
Head
Allergic shiners (dark, puffy, lower eyelids) may be present (see image below).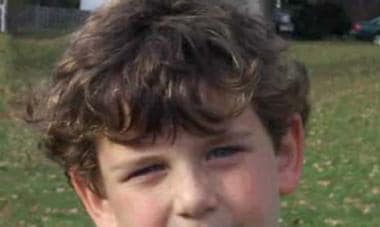 Photo demonstrates allergic shiners. Note the periorbital edema and bluish discoloration seen in allergic rhinitis and sinusitis.
Morgan-Dennie lines (lines under the lower eyelid) may be observed.
Transverse crease at the lower third of the nose secondary to the allergic salute (shown below), which is the upward rubbing of the nose, is commonly seen in parents as well.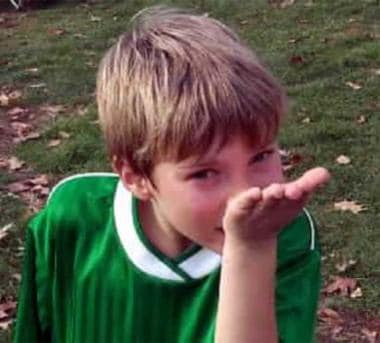 Photo demonstrates the allergic salute, which is the action performed when a patient rubs the nose using a motion across the nose.
Eyes
Marked erythema of palpebral conjunctivae and papillary hypertrophy of tarsal conjunctivae are observed. Chemosis of the conjunctivae may be present. Patients usually have a watery discharge.
Cataracts have occurred from severe rubbing secondary to itching.
Ears
Tympanic membranes should be examined for the presence of chronic infection or middle ear effusion.
The role of AR in chronic otitis media is not clear, but decreased numbers of infections have been noted in AR children once therapy was instituted.
Nose
Nasal examination is often helpful in the diagnosis.
Turbinates are enlarged and have a pale-bluish mucosa due to edema.
Discharge is usually clear but can be white. The discharge is rarely yellow or green. If colored discharge is observed, a diagnosis of viral infection or sinusitis should be considered.
Dried blood is commonly observed secondary to trauma from rubbing the nose.
Polyps are rarely observed in children. If polyps are noted or suspected, perform rhinoscopy. If polyps are detected, a workup for cystic fibrosis is mandatory in children. Also consider the diagnosis of aspirin sensitivity in adults.
Throat
Inspection of the dentition can be informative. Discoloration of frontal incisors and a high arched palate are associated with chronic mouth breathing. Malocclusion is commonly associated with chronic mouth breathing.
Cobblestoning in the posterior pharynx is also a sign of follicular hypertrophy of mucosal lymphoid tissue secondary to chronic nasal congestion and postnasal drainage.
Note the size of tonsillar tissue, which may provide a clue to the size of the adenoids; large adenoids (adenoidal hypertrophy) can mimic the signs and symptoms of AR. Chronic nasal congestion due to adenoid hypertrophy is frequently seen in young children with recurrent otitis media and sinusitis.
Causes
Perennial symptoms are usually caused by indoor allergens, including the following:
Dust mites

Cat dander

Dog dander

Indoor molds

Cockroaches

Feathers: In most occasions, feather pillows and comforters are highly allergenic, secondary to dust mite infestation. Nonfeathered bedding usually has less dust mite infestation but does have progressively more dust mites over time; dust mites lay eggs every 3 weeks and accumulate where human dander accumulates. Thus nonwashable beddings (eg, pillows, bed mattress) should be encased by dust mite–proof encasings.

Other furry animals
Seasonal symptoms are usually caused by airborne pollen and outdoor molds, which are usually highest at night and the early morning hours, including the following:
Tree pollen

Grass pollen

Outdoor mold spores

Weed pollen: Flowers do not cause allergic rhinitis because they do not use wind-borne pollination.
Complications
See the list below:
Primary complications of allergic rhinitis (AR) are associated diseases.

Sinusitis is a common complication occurring secondary to the inflamed nasal turbinates that block the ostiomeatal complex of the sinuses and other sinus passages.

Recurrent or chronic otitis media can also be a secondary complication. It is thought to occur as a result of an inflamed nasal passages that adversely affect the drainage of the auditory tube.

AR can lead to rhinitis medicamentosa when topical nasal decongestants are used in excess.

AR can cause other conditions, such as insomnia, irritability, headache, chronic fatigue, and pharyngitis. These occur secondary to chronic nasal congestion and discharge, mouth breathing, and sleep disturbance.
References
Hand L. First-year allergen exposures may reduce later risks. Medscape Medical News. June 11, 2014. [Full Text].

Lynch SV, Wood RA, Boushey H, Bacharier LB, Bloomberg GR, Kattan M, et al. Effects of early-life exposure to allergens and bacteria on recurrent wheeze and atopy in urban children. J Allergy Clin Immunol. 2014 May 28. [Medline].

Meltzer EO. Productivity costs of antihistamines in the workplace. Occup Health Saf. 1996 Aug. 65(8):46-50. [Medline].

[Guideline] World Health Organization (WHO). Allergic rhinitis and its impact on asthma. 2008. [Full Text].

Crystal-Peters J, Neslusan C, Crown WH, Torres A. Treating allergic rhinitis in patients with comorbid asthma: the risk of asthma-related hospitalizations and emergency department visits. J Allergy Clin Immunol. 2002 Jan. 109(1):57-62. [Medline].

Gendo K, Larson EB. Evidence-based diagnostic strategies for evaluating suspected allergic rhinitis. Ann Intern Med. 2004 Feb 17. 140(4):278-89. [Medline].

Malone DC, Lawson KA, Smith DH, Arrighi HM, Battista C. A cost of illness study of allergic rhinitis in the United States. J Allergy Clin Immunol. 1997 Jan. 99(1 Pt 1):22-7. [Medline].

Herr M, Clarisse B, Nikasinovic L, et al. Does allergic rhinitis exist in infancy? Findings from the PARIS birth cohort. Allergy. 2011 Feb. 66(2):214-21. [Medline].

Hatzler L, Panetta V, Lau S, Wagner P, Bergmann RL, Illi S, et al. Molecular spreading and predictive value of preclinical IgE response to Phleum pratense in children with hay fever. J Allergy Clin Immunol. 2012 Jul 25. [Medline].

Söderström L, Lilja G, Borres MP, Nilsson C. An explorative study of low levels of allergen-specific IgE and clinical allergy symptoms during early childhood. Allergy. 2011 Aug. 66(8):1058-64. [Medline].

Cox LS, Larenas Linnemann D, Nolte H, Weldon D, Finegold I, Nelson HS. Sublingual immunotherapy: a comprehensive review. J Allergy Clin Immunol. 2006 May. 117(5):1021-35. [Medline].

Compalati E, Penagos M, Tarantini F, Passalacqua G, Canonica GW. Specific immunotherapy for respiratory allergy: state of the art according to current meta-analyses. Ann Allergy Asthma Immunol. 2009 Jan. 102(1):22-8. [Medline].

FDA OKs Oralair, First US Sublingual Allergy Immunotherapy. Medscape. Available at http://www.medscape.com/viewarticle/822975. Accessed: April 4, 2014.

Grastek [package insert]. Whitehouse Station, NJ: Merck & Co, Inc. April 2014. Available at [Full Text].

Maloney J, Bernstein DI, Nelson H, Creticos P, Hébert J, Noonan M, et al. Efficacy and safety of grass sublingual immunotherapy tablet, MK-7243: a large randomized controlled trial. Ann Allergy Asthma Immunol. 2014 Feb. 112(2):146-153.e2. [Medline].

Aaronson DW. Side effects of rhinitis medications. J Allergy Clin Immunol. 1998 Feb. 101(2 Pt 2):S379-82. [Medline].

Allergies in America. Allergies in America Executive Summary. myallergiesinamerica. Available at http://www.myallergiesinamerica.com/pdfs/myaia.pdf. Accessed: June 2007.

Brooks M. FDA OKs carbinoxamine ER for allergic rhinitis in children. Medscape Medical News. April 3, 2013. Available at http://www.medscape.com/viewarticle/781921. Accessed: April 8, 2013.

Busse W. Allergic rhinitis: charting a course for the 21st century. J Respir Dis. 1998. 19:S1-64.

Day J. Pros and cons of the use of antihistamines in managing allergic rhinitis. J Allergy Clin Immunol. 1999 Mar. 103(3 Pt 2):S395-9. [Medline].

Day JH, Briscoe M, Widlitz MD. Cetirizine, loratadine, or placebo in subjects with seasonal allergic rhinitis: effects after controlled ragweed pollen challenge in an environmental exposure unit. J Allergy Clin Immunol. 1998 May. 101(5):638-45. [Medline].

Delafuente JC, Davis TA, Davis JA. Pharmacotherapy of allergic rhinitis. Clin Pharm. 1989 Jul. 8(7):474-85. [Medline].

FDA approves Tris Pharma's new drug application for Karbinal ER (carbinoxamine maleate) extended-release oral suspension [press release]. April 3, 2013. Available at http://www.trispharma.com/news_karbinal_apr2013.php. Accessed: April 8, 2013.

Hemp P. Presenteeism: at work--but out of it. Harv Bus Rev. 2004 Oct. 82(10):49-58, 155. [Medline].

Hussain I, Kline JN. DNA, the immune system, and atopic disease. J Investig Dermatol Symp Proc. 2004 Jan. 9(1):23-8. [Medline].

LaForce C. Use of nasal steroids in managing allergic rhinitis. J Allergy Clin Immunol. 1999 Mar. 103(3 Pt 2):S388-94. [Medline].

Lange B, Lukat KF, Rettig K, Holtappels G, Bachert C. Efficacy, cost-effectiveness, and tolerability of mometasone furoate, levocabastine, and disodium cromoglycate nasal sprays in the treatment of seasonal allergic rhinitis. Ann Allergy Asthma Immunol. 2005 Sep. 95(3):272-82. [Medline].

Ledford DK, Lockey RF. Allergic rhinitis: understanding the process. J Respir Dis. 1998. 19(7):576-84.

Middleton E, Reed C, Ellis E. Allergic and non-allergic rhinitis. Allergy: Principles and Practice. 5th ed. Mosby-Year Book; 1998. Vol 2: Chapter 70.

Naclerio R, Solomon W. Rhinitis and inhalant allergens. JAMA. 1997 Dec 10. 278(22):1842-8. [Medline].

Plevkova J, Brozmanova M, Pecova R, Tatar M. Effects of intranasal histamine on the cough reflex in subjects with allergic rhinitis. J Physiol Pharmacol. 2005 Sep. 56 Suppl 4:185-95. [Medline].

Settipane RJ, Hagy GW, Settipane GA. Long-term risk factors for developing asthma and allergic rhinitis: a 23-year follow-up study of college students. Allergy Proc. 1994 Jan-Feb. 15(1):21-5. [Medline].

Spector S. Pathophysiology and pharmacotherapy of allergic rhinitis. Foreword. J Allergy Clin Immunol. 1999 Mar. 103(3 Pt 2):S377. [Medline].

Sublett JL. The environment and risk factors for atopy. Curr Allergy Asthma Rep. 2005 Nov. 5(6):445-50. [Medline].

Wahn U, Klimek L, Ploszczuk A, Adelt T, Sandner B, Trebas-Pietras E, et al. High-dose sublingual immunotherapy with single-dose aqueous grass pollen extract in children is effective and safe: A double-blind, placebo-controlled study. J Allergy Clin Immunol. 2012 Aug 29. [Medline].

Wahn U, Tabar A, Kuna P, et al. Efficacy and safety of 5-grass-pollen sublingual immunotherapy tablets in pediatric allergic rhinoconjunctivitis. J Allergy Clin Immunol. 2009 Jan. 123(1):160-166.e3. [Medline].

Wheeler PW, Wheeler SF. Vasomotor rhinitis. Am Fam Physician. 2005 Sep 15. 72(6):1057-62. [Medline].
Medscape Reference © 2011 WebMD, LLC