Postpericardiotomy Syndrome Workup
Author: M Silvana Horenstein, MD; Chief Editor: Howard S Weber, MD, FSCAI more...
Updated: Dec 10, 2015
What would you like to print?
Laboratory Studies
The expected complete blood cell (CBC) count findings in patients with postpericardiotomy syndrome (PPS) include leukocytosis with a leftward shift.
As with other patients with suspected inflammatory versus infectious conditions, obtain blood cultures early in the workup. The results of the blood cultures should be negative.
Acute phase reactants, such as erythrocyte sedimentation rate (ESR) and C-reactive protein (CRP) levels, are elevated.
Antiheart antibodies are usually present in high titers.
Cardiac enzyme testing is not usually helpful because the results vary. In addition, studies have reported no difference in enzyme levels compared with patients who underwent cardiopulmonary bypass that do not have clinical signs of postpericardiotomy syndrome.
If a pericardial drain is placed, fluid should be obtained for cell count, differential, cytology, culture, gram stain, triglyceride level, and total protein level.
Electrocardiography
Electrocardiographic (ECG) findings are abnormal in postpericardiotomy syndrome and may include the following:
Initial findings may simulate pericarditis, with global ST segment elevation and T-wave inversion.

Subepicardial injury, resulting from myocardial inflammation, causes ST segment elevation.

The ECG may also reveal low QRS amplitude, especially with a large pericardial effusion.
Chest Radiography
Chest radiography may be helpful in diagnosing postpericardiotomy syndrome. Chest radiographs usually reveal blunting of the costophrenic angles due to a pleural effusion. A pericardial effusion enlarges the cardiac silhouette, as in the image below.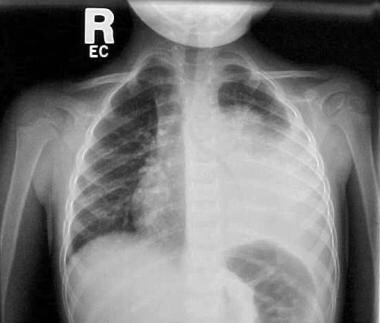 Upright chest radiograph in a 3-year-old child with dyspnea and fever reveals a large opacity on the left, with obliteration of the left costophrenic angle and a fluid stripe. These findings indicate a pleural effusion.
The cardiac silhouette enlarges in proportion to the amount of fluid contained in the pericardial sac.
Echocardiography
Echocardiography is the diagnostic standard. It is a much more sensitive imaging study than plain radiography.
In the early stages of postpericardiotomy syndrome, a small amount of fluid may be detected posterior to the left ventricle during systole. With increasing fluid accumulation, detection using echocardiography becomes easier.
Echocardiography assists in differentiating suspected postpericardiotomy syndrome from congestive heart failure; cardiac output is reduced in both conditions. In postpericardiotomy syndrome with a large effusion, one or more cardiac chambers (usually the atria) may be compressed by the pericardial fluid and is indicative of cardiac tamponade.
Echocardiography is particularly helpful in evaluating ventricular contractility.
Cardiac Magnetic Resonance Imaging
Cardiac magnetic resonance imaging (MRI) has been used more frequently to evaluate cardiac dynamics and pericardial abnormalities. This imaging modality may be more helpful in identifying posterior pericardial fluid collections that may have become loculated and are not easily viewed with transthoracic echocardiography.
Procedures
Pericardiocentesis
Tamponade is a life-threatening condition that can result from postpericardiotomy syndrome. The inflammatory changes seen in postpericardiotomy syndrome may cause pericardial adhesions that result in a localized collection of pericardial fluid. Pericardiocentesis may be emergently required if cardiac tamponade is present.
The standard subxiphoid approach is recommended when the effusion is global and evident anterior to the right ventricle. Because of the possible localized nature of the tamponade, echocardiographic guidance is recommended. Echocardiography-guided pericardiocentesis with extended catheter drainage is considered the primary management for patients with clinically significant pericardial effusions. The drainage tube is usually left in place for 24-48 hours, during which anti-inflammatory treatment is initiated.
References
Andreev DA, Giliarov MIu, Syrkin AL, Udovichenko AE, Gerok DV. [Postcardiotomy syndrome outside a cardiosurgical clinic]. Klin Med (Mosk). 2008. 86(10):67-71. [Medline].

Jaworska-Wilczynska M, Abramczuk E, Hryniewiecki T. Postcardiac injury syndrome. Med Sci Monit. 2011 Nov. 17(11):CQ13-14. [Medline].

Gungor B, Ucer E, Erdinler IC. Uncommon presentation of postcardiac injury syndrome: acute pericarditis after percutaneous coronary intervention. Int J Cardiol. 2008 Aug 1. 128(1):e19-21. [Medline].

Peters RW, Scheinman MM, Raskin S, Thomas AN. Unusual complications of epicardial pacemakers. Recurrent pericarditis, cardiac tamponade and pericardial constriction. Am J Cardiol. 1980 May. 45(5):1088-94. [Medline].

Vinit J, Sagnol P, Buttard P, Laurent G, Wolf JE, Dellinger A. Recurrent delayed pericarditis after pacemaker implantation: a post-pericardiotomy-like syndrome?. Rev Med Interne. 2007 Feb. 28(2):137-40. [Medline].

Zeltser I, Rhodes LA, Tanel RE, et al. Postpericardiotomy syndrome after permanent pacemaker implantation in children and young adults. Ann Thorac Surg. 2004 Nov. 78(5):1684-7. [Medline].

Sasaki A, Kobayashi H, Okubo T, Namatame Y, Yamashina A. Repeated postpericardiotomy syndrome following a temporary transvenous pacemaker insertion, a permanent transvenous pacemaker insertion and surgical pericardiotomy. Jpn Circ J. 2001 Apr. 65(4):343-4. [Medline].

Goutal H, Baur F, Bonnevie L, Monnier G, Le Blainvaux M, Brion R. Postpericardiotomy syndrome; a rare complication of transcavitary cardiac pacing: apropos of a case. Arch Mal Coeur Vaiss. 1995 Dec. 88(12):1901-3. [Medline].

Hargreaves M, Bashir Y. Postcardiotomy syndrome following transvenous pacemaker insertion. Eur Heart J. 1994 Jul. 15(7):1005-7. [Medline].

Goodkind MJ, Bloomer WE, Goodyer AV. Recurrent pericardial effusion after nonpenetrating chest trauma: report of two cases treated with adrenocortical steroids. N Engl J Med. 1960 Nov 3. 263:874-81. [Medline].

Tabatznik B, Isaacs JP. Postpericardiotomy syndrome following traumatic hemopericardium. Am J Cardiol. 1961 Jan. 7:83-96. [Medline].

Peter RH, Whalen RE, Orgain ES, McIntosh HD. Postpericardiotomy syndrome as a complication of percutaneous left ventricular puncture. Am J Cardiol. 1966 Jan. 17(1):86-90. [Medline].

Russo AM, O'Connor WH, Waxman HL. Atypical presentations and echocardiographic findings in patients with cardiac tamponade occurring early and late after cardiac surgery. Chest. 1993 Jul. 104(1):71-8. [Medline].

Herrera-Franco R, Narvaez-Rivera JL, Benitez-Perez C, et al. Recurrent cardiac tamponade secondary to postpericardiotomy syndrome. Gac Med Mex. 1999 Nov-Dec. 135(6):593-7. [Medline].

Imazio M, Brucato A, Rovere ME, et al. Contemporary features, risk factors, and prognosis of the post-pericardiotomy syndrome. Am J Cardiol. 2011 Oct 15. 108(8):1183-7. [Medline].

Engle MA, Zabriskie JB, Senterfit LB, et al. Viral illness and the postpericardiotomy syndrome. A prospective study in children. Circulation. 1980 Dec. 62(6):1151-8. [Medline].

Clapp SK, Garson A Jr, Gutgesell HP, Cooley DA, McNamara DG. Postoperative pericardial effusion and its relation to postpericardiotomy syndrome. Pediatrics. 1980 Oct. 66(4):585-8. [Medline].

Cabalka AK, Rosenblatt HM, Towbin JA, et al. Postpericardiotomy syndrome in pediatric heart transplant recipients. Immunologic characteristics. Tex Heart Inst J. 1995. 22(2):170-6. [Medline].

Wessman DE, Stafford CM. The postcardiac injury syndrome: case report and review of the literature. South Med J. 2006 Mar. 99(3):309-14. [Medline].

Webber SA, Wilson NJ, Junker AK, et al. Postpericardiotomy syndrome: no evidence for a viral etiology. Cardiol Young. 2001 Jan. 11(1):67-74. [Medline].

Scarfone RJ, Donoghue AJ, Alessandrini EA. Cardiac tamponade complicating postpericardiotomy syndrome. Pediatr Emerg Care. 2003 Aug. 19(4):268-71. [Medline].

[Guideline] Maisch B, Seferovic PM, Ristic AD, et al, for The Task Force on the Diagnosis and Management of Pericardial Diseases of the European Society of Cardiology. Guidelines on the diagnosis and management of pericardial diseases executive summary. Eur Heart J. 2004 Apr. 25(7):587-610. [Medline].

[Guideline] Klein AL, Abbara S, Agler DA, et al. American Society of Echocardiography clinical recommendations for multimodality cardiovascular imaging of patients with pericardial disease: endorsed by the Society for Cardiovascular Magnetic Resonance and Society of Cardiovascular Computed Tomography. J Am Soc Echocardiogr. 2013 Sep. 26(9):965-1012.e15. [Medline].

Imazio M, Adler Y, Ristic AD, Charron P. A new scoring system for the triage of cardiac tamponade. Expert Rev Cardiovasc Ther. 2015 Mar. 13(3):237-8. [Medline].

Imazio M, Spodick DH, Brucato A, Trinchero R, Adler Y. Controversial issues in the management of pericardial diseases. Circulation. 2010 Feb 23. 121(7):916-28. [Medline].

Khandaker MH, Espinosa RE, Nishimura RA, et al. Pericardial disease: diagnosis and management. Mayo Clin Proc. 2010 Jun. 85(6):572-93. [Medline]. [Full Text].

Seferovic PM, Ristic AD, Maksimovic R, et al. Pericardial syndromes: an update after the ESC guidelines 2004. Heart Fail Rev. 2013 May. 18(3):255-66. [Medline].

Snyder MJ, Bepko J, White M. Acute pericarditis: diagnosis and management. Am Fam Physician. 2014 Apr 1. 89(7):553-60. [Medline].

Cantinotti M, Spadoni I, Assanta N, et al. Controversies in the prophylaxis and treatment of postsurgical pericardial syndromes: a critical review with a special emphasis on paediatric age. J Cardiovasc Med (Hagerstown). 2014 Dec. 15 (12):847-54. [Medline].

Wendelin G, Fandl A, Beitzke A. High-dose intravenous immunoglobulin in recurrent postpericardiotomy syndrome. Pediatr Cardiol. 2008 Mar. 29(2):463-4. [Medline].

Zucker N, Levitas A, Zalzstein E. Methotrexate in recurrent postpericardiotomy syndrome. Cardiol Young. 2003 Apr. 13(2):206-8. [Medline].

del Fresno MR, Peralta JE, Granados MA, Enriquez E, Dominguez-Pinilla N, de Inocencio J. Intravenous immunoglobulin therapy for refractory recurrent pericarditis. Pediatrics. 2014 Nov. 134 (5):e1441-6. [Medline].

Little AG, Kremser PC, Wade JL, Levett JM, DeMeester TR, Skinner DB. Operation for diagnosis and treatment of pericardial effusions. Surgery. 1984 Oct. 96(4):738-44. [Medline].

Naunheim KS, Kesler KA, Fiore AC, et al. Pericardial drainage: subxiphoid vs. transthoracic approach. Eur J Cardiothorac Surg. 1991. 5(2):99-103; discussion 104. [Medline].

Moores DW, Allen KB, Faber LP, et al. Subxiphoid pericardial drainage for pericardial tamponade. J Thorac Cardiovasc Surg. 1995 Mar. 109(3):546-51; discussion 551-2. [Medline].

Hazelrigg SR, Mack MJ, Landreneau RJ, Acuff TE, Seifert PE, Auer JE. Thoracoscopic pericardiectomy for effusive pericardial disease. Ann Thorac Surg. 1993 Sep. 56(3):792-5. [Medline].

Forbes TJ, Horenstein MS, Vincent JA. Balloon pericardiotomy for recurrent pericardial effusions following fontan revision. Pediatr Cardiol. 2001 Nov-Dec. 22(6):527-9. [Medline].

Ziskind AA, Pearce AC, Lemmon CC, et al. Percutaneous balloon pericardiotomy for the treatment of cardiac tamponade and large pericardial effusions: description of technique and report of the first 50 cases. J Am Coll Cardiol. 1993 Jan. 21(1):1-5. [Medline].

Hajduczok ZD, Ferguson DW. Percutaneous balloon pericardiostomy for non-surgical management of recurrent pericardial tamponade: a case report. Intensive Care Med. 1991. 17(5):299-301. [Medline].

Imazio M, Brucato A, Markel G, et al. Meta-analysis of randomized trials focusing on prevention of the postpericardiotomy syndrome. Am J Cardiol. 2011 Aug 15. 108(4):575-9. [Medline].

Finkelstein Y, Shemesh J, Mahlab K, et al. Colchicine for the prevention of postpericardiotomy syndrome. Herz. 2002 Dec. 27(8):791-4. [Medline].

Imazio M, Cecchi E, Demichelis B, et al. Rationale and design of the COPPS trial: a randomised, placebo-controlled, multicentre study on the use of colchicine for the primary prevention of postpericardiotomy syndrome. J Cardiovasc Med (Hagerstown). 2007 Dec. 8(12):1044-8. [Medline].

Imazio M, Brucato A, Ferrazzi P, et al. Colchicine reduces postoperative atrial fibrillation: results of the Colchicine for the Prevention of the Postpericardiotomy Syndrome (COPPS) atrial fibrillation substudy. Circulation. 2011 Nov 22. 124(21):2290-5. [Medline].

Imazio M, Brucato A, Ferrazzi P, et al, for the COPPS-2 Investigators. Colchicine for prevention of postpericardiotomy syndrome and postoperative atrial fibrillation: the COPPS-2 randomized clinical trial. JAMA. 2014 Sep 10. 312 (10):1016-23. [Medline].

Bartels C, Honig R, Burger G, et al. The significance of anticardiolipin antibodies and anti-heart muscle antibodies for the diagnosis of postpericardiotomy syndrome. Eur Heart J. 1994 Nov. 15(11):1494-9. [Medline].

Cheung EW, Ho SA, Tang KK, et al. Pericardial effusion after open heart surgery for congenital heart disease. Heart. 2003 Jul. 89(7):780-3. [Medline].

De Biase L, Di Renzi P, Piccioni F, et al. Cardiac magnetic resonance imaging diagnosis of a loculated pericardial effusion in a patient with a postpericardiotomy syndrome. Ital Heart J. 2002 Jul. 3(7):435-6. [Medline].

Dressler W. The post-myocardial-infarction syndrome: a report on forty-four cases. AMA Arch Intern Med. 1959 Jan. 103(1):28-42. [Medline].

Hoffman JIE, Stanger P. Diseases of pericardium. Rudolph AM, Hoffman JIE, Rudolph CD, eds. Rudolph's Pediatrics. 20th ed. Stamford, Conn: Appleton & Lange; 1996. 1530-1.

Horneffer PJ, Miller RH, Pearson TA, et al. The effective treatment of postpericardiotomy syndrome after cardiac operations. A randomized placebo-controlled trial. J Thorac Cardiovasc Surg. 1990 Aug. 100(2):292-6. [Medline].

Kim BJ, Ma JS. Constrictive pericarditis after surgical closure of atrial septal defect in a child. J Korean Med Sci. 1998 Dec. 13(6):658-61. [Medline].

Kronick-Mest C. Postpericardiotomy syndrome: etiology, manifestations, and interventions. Heart Lung. 1989 Mar. 18(2):192-8. [Medline].

Prabhu AS, Ross RD, Heinert MR, et al. Decreased incidence of postoperative pericardial effusions after cardiac surgery for congenital heart disease. Am J Cardiol. 1996 Apr 1. 77(9):774-6. [Medline].

Prince SE, Cunha BA. Postpericardiotomy syndrome. Heart Lung. 1997 Mar-Apr. 26(2):165-8. [Medline].

Takata M, Robotham JL. Pericardial effusion and tamponade. Critical Heart Disease in Infants, Children, and Adolescents. 1995. 255-71.

Tsang TS, Barnes ME, Hayes SN, et al. Clinical and echocardiographic characteristics of significant pericardial effusions following cardiothoracic surgery and outcomes of echo-guided pericardiocentesis for management: Mayo Clinic experience, 1979-1998. Chest. 1999 Aug. 116(2):322-31. [Medline].

Tsang TS, El-Najdawi EK, Seward JB, et al. Percutaneous echocardiographically guided pericardiocentesis in pediatric patients: evaluation of safety and efficacy. J Am Soc Echocardiogr. 1998 Nov. 11(11):1072-7. [Medline].

Wilson NJ, Webber SA, Patterson MW, et al. Double-blind placebo-controlled trial of corticosteroids in children with postpericardiotomy syndrome. Pediatr Cardiol. 1994 Mar-Apr. 15(2):62-5. [Medline].

Casanova P, Artola RT, Mihos CG, Pineda AM, Santana O. The cardiovascular effects of colchicine: a comprehensive review. Cardiol Rev. 2015 Nov-Dec. 23 (6):317-22. [Medline].
Medscape Reference © 2011 WebMD, LLC