Pediatric Subvalvar Aortic Stenosis Workup
Author: Douglas J Schneider, MD; Chief Editor: Howard S Weber, MD, FSCAI more...
Updated: Sep 19, 2015
What would you like to print?
Approach Considerations
No specific laboratory blood tests are required in the workup of SAS. Echocardiography is the principal diagnostic study.
Go to Imaging in Aortic Stenosis for more complete information on this topic.
Echocardiography
In subvalvar aortic stenosis (SAS), echocardiography enables evaluation of the following:
Definition and location of the stenosis

Extent of involvement of the left ventricular outflow tract (LVOT)

Early aortic valve closure from its involvement and its associated lesion

Aortic regurgitation

Mitral regurgitation

LV hypertrophy

Poststenotic aortic dilatation

Diagnostic features of associated congenital heart defects

LV systolic performance

Filling characteristics
Echocardiography helps in defining and localizing SAS (see the image below). It reveals the extent of LVOT involvement, the degree of LV hypertrophy, the indices of LV performance, and the parameters of diastolic function of the LV. Secondary effects, such as the degree of aortic valve insufficiency, mitral valve regurgitation, or poststenotic dilatation of the aorta, may be assessed. Finally, associated congenital heart defects and their influence on the hemodynamic effects of SAS may be evaluated.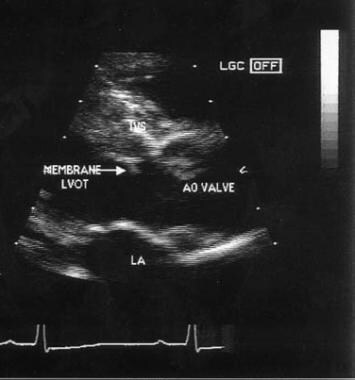 Echocardiogram of membranous subaortic stenosis. AO = aortic; LA = left atrium; LVOT = left ventricular outflow tract.
Two-dimensional echocardiography with color Doppler imaging is the current modality of choice to establish the diagnosis of SAS. This noninvasive method allows for serial evaluation of the progression of the obstruction, the development of aortic valve insufficiency, and the results of surgical intervention.
M-mode echocardiography provides indirect evidence of SAS by revealing early closure (from the Venturi effect of the jet formed by the SAS) and the coarse flutter of the aortic valve leaflets.
Two-dimensional echocardiography, and now 3-dimensional (3D) echocardiography, reveals and defines the position of lesions, the extent of involvement of the LVOT (in tunnellike SAS), and the associated defects.[18] Apical views reveal the relationship of the SAS to surrounding structures (eg, mitral valve), and parasternal and subcostal long-axis views reveal the proximity of SAS to the aortic valve (see the image below).
Three-dimensional echocardiography can produce images of SAS with depictions of the morphology and extent remarkably similar to those observed during surgical visualization.
Multiplanar transesophageal echocardiography (TEE) provides superior definitions of the lesion, making it an ideal tool for intraoperative evaluation of the lesion to guide surgical resection and to evaluate the immediate results at the time of surgery.[19] TEE is also useful for diagnostic purposes in patients with a poor acoustic window in whom transthoracic imaging results are not definitive.
A peak instantaneous and a mean pressure gradient across the LVOT estimated during continuous wave Doppler interrogation provide measures of the severity of LVOT obstruction.
When used as a guide to cardiac intervention, Doppler interrogation does not permit the clinician to accurately estimate the pressure gradient in the presence of multiple obstructive LVOT lesions in series, a large ventricular septal defect (VSD), or a tunnel-like obstruction.
Color Doppler evaluation reveals the presence and severity of aortic and mitral regurgitation.
Cardiac Catheterization
Cardiac catheterization is not routinely indicated in isolated subvalvar aortic stenosis (SAS) but can be utilized for preoperative hemodynamic evaluation when associated with other congenital heart defects.
If multiple levels of left ventricular outflow tract obstruction are present, careful pullback pressure measurements performed with an end-hole or high-fidelity manometer-tipped catheter from the left ventricle to the aorta may allow delineation of the pressure gradient and the exact site of obstruction.
Electrocardiography
In subvalvar aortic stenosis (SAS), even if it is mild, electrocardiography (ECG) reveals a variable degree of left ventricular hypertrophy in 50-80% of patients. ECG findings are occasionally normal in patients with severe SAS. A prominent Q wave in the left precordial leads may be present from septal hypertrophy. Strain pattern is visible on the ECG in approximately 25% of patients and indicates severe obstruction.
Cineangiography
Cineangiography is usually not necessary to define the anatomy of subvalvar aortic stenosis (SAS), but it may be helpful if catheterization is being performed to evaluate other associated cardiac defects. A left ventriculogram obtained in a angulated orientation (70º left anterior oblique/20º cranial angulation) delineates the left ventricular outflow tract (LVOT) and the anatomy of the SAS. The degree of mitral valve regurgitation and anatomy of any ventricular septal defects, if present, are also well demonstrated.
Histologic Findings
Histologic findings in subvalvar aortic stenosis (SAS) are the same in lesions of the fibromuscular ridge or collar and in tunnellike lesions. A composite of different tissue cells, which varies from patient to patient, is present.
Abundant amounts of irregularly oriented and dense collagen fibers and thin, short elastic fibers are visible. Also visible are sparsely scattered fibroblasts with elongated nuclei and smooth muscle cells. Vascularity is generally absent.
References
Iwata Y, Imai Y, Shin'oka T, Kurosawa H. Subaortic stenosis associated with systolic anterior motion. Heart Vessels. 2008 Nov. 23(6):436-9. [Medline].

Somerville J, Stone S, Ross D. Fate of patients with fixed subaortic stenosis after surgical removal. Br Heart J. 1980 Jun. 43(6):629-47. [Medline]. [Full Text].

Bezold LI, Smith EO, Kelly K, et al. Development and validation of an echocardiographic model for predicting progression of discrete subaortic stenosis in children. Am J Cardiol. 1998 Feb 1. 81(3):314-20. [Medline].

Edwards JE. Pathology of left ventricular outflow tract obstruction. Circulation. 1965 Apr. 31:586-99. [Medline].

Pavione MA, Mendonça JT, Souza IS, Russo MA. Accessory mitral leaflet: an uncommon form of subaortic stenosis. Rev Bras Cir Cardiovasc. 2012 Jul-Sep. 27(3):477-80. [Medline].

Ezon DS. Fixed subaortic stenosis: a clinical dilemma for clinicians and patients. Congenit Heart Dis. 2013 Sep. 8(5):450-6. [Medline].

Gokalp S, Oztunc F. Clinically asymptomatic myocardial bridging in a child with familial subaortic stenosis. Cardiol Young. 2013 Jun 28. 1-3. [Medline].

Barkhordarian R, Wen-Hong D, Li W, et al. Geometry of the left ventricular outflow tract in fixed subaortic stenosis and intact ventricular septum: an echocardiographic study in children and adults. J Thorac Cardiovasc Surg. 2007 Jan. 133(1):196-203. [Medline].

Kleinert S, Geva T. Echocardiographic morphometry and geometry of the left ventricular outflow tract in fixed subaortic stenosis. J Am Coll Cardiol. 1993 Nov 1. 22(5):1501-8. [Medline].

Reist-Marti SB, Dolf G, Leeb T, et al. Genetic evidence of subaortic stenosis in the Newfoundland dog. Vet Rec. 2012 Jun 9. 170 (23):597. [Medline].

Newfeld EA, Muster AJ, Paul MH, et al. Discrete subvalvular aortic stenosis in childhood. Study of 51 patients. Am J Cardiol. 1976 Jul. 38(1):53-61. [Medline].

Wright GB, Keane JF, Nadas AS, et al. Fixed subaortic stenosis in the young: medical and surgical course in 83 patients. Am J Cardiol. 1983 Oct 1. 52(7):830-5. [Medline].

Suri RM, Dearani JA, Schaff HV, Danielson GK, Puga FJ. Long-term results of the Konno procedure for complex left ventricular outflow tract obstruction. J Thorac Cardiovasc Surg. 2006 Nov. 132(5):1064-71. [Medline].

Karamlou T, Gurofsky R, Bojcevski A, et al. Prevalence and associated risk factors for intervention in 313 children with subaortic stenosis. Ann Thorac Surg. 2007 Sep. 84(3):900-6; discussion 906. [Medline].

Rohlicek CV, del Pino SF, Hosking M, Miro J, Côté JM, Finley J. Natural history and surgical outcomes for isolated discrete subaortic stenosis in children. Heart. 1999 Dec. 82(6):708-13. [Medline]. [Full Text].

Gersony WM. Natural history of discrete subvalvar aortic stenosis: management implications. J Am Coll Cardiol. 2001 Sep. 38(3):843-5. [Medline].

Brauner R, Laks H, Drinkwater DC Jr, Shvarts O, Eghbali K, Galindo A. Benefits of early surgical repair in fixed subaortic stenosis. J Am Coll Cardiol. 1997 Dec. 30(7):1835-42. [Medline].

de Agustin JA, Gomez de Diego JJ, Marcos-Alberca P, Macaya C, Perez de Isla L. Combined subaortic membrane and aortic valve stenosis: additive value of three-dimensional echocardiography. Eur Heart J Cardiovasc Imaging. 2013 Oct 18. [Medline].

Singh GK, Shiota T, Cobanoglu A, et al. Diagnostic accuracy and role of intraoperative biplane transesophageal echocardiography in pediatric patients with left ventricle outflow tract lesions. J Am Soc Echocardiogr. 1998 Jan. 11(1):47-56. [Medline].

Brown JW, Ruzmetov M, Vijay P, et al. Operative results and outcomes in children with Shone's anomaly. Ann Thorac Surg. 2005 Apr. 79(4):1358-65. [Medline].

[Guideline] Bonow RO, Carabello BA, Kanu C, et al. ACC/AHA 2006 guidelines for the management of patients with valvular heart disease: a report of the American College of Cardiology/American Heart Association Task Force on Practice Guidelines (writing committee to revise the 1998 Guidelines for the Management of Patients With Valvular Heart Disease): developed in collaboration with the Society of Cardiovascular Anesthesiologists: endorsed by the Society for Cardiovascular Angiography and Interventions and the Society of Thoracic Surgeons. Circulation. 2006 Aug 1. 114(5):e84-231. [Medline].

Guglin M, Kristof-Kuteyeva O. Congenital discrete subaortic stenosis in pregnancy: case report and literature review. J Heart Valve Dis. 2013 May. 22(3):439-44. [Medline].
Medscape Reference © 2011 WebMD, LLC