Coronary Artery Fistula Treatment & Management
Author: Monesha Gupta, MD, MBBS, FAAP, FACC, FASE; Chief Editor: Stuart Berger, MD more...
Updated: Jan 27, 2015
What would you like to print?
Medical Care
In childhood, most patients with coronary artery fistulae (CAF) are asymptomatic; however, some patients may present with symptoms of dyspnea on exertion, increased fatigability, and, possibly, signs of high-output congestive heart failure. Rarely, patients may present with angina,[8] palpitations, or signs of exercise-related coronary insufficiency. Direct medical treatment for symptomatic relief can be used until investigations and operative repair can be performed. Spontaneous closure may occur in small fistulae. Small fistulous connections in the asymptomatic patient may be monitored. Most lesions enlarge progressively and warrant operative repair, either by transcatheter or surgical techniques.
Endocarditis and other complications are risks, and patients should be monitored for the same. In older individuals, the fistulae can rarely get obstructed with progressive atherosclerosis and cause resolution of symptoms.
Diagnostic cardiac catheterization should be performed initially with or without additional therapeutic intervention. Initial diagnostic catheterization should both define hemodynamic significance of the lesion and provide detailed angiographic assessment of the anatomy of the abnormality, in particular, the origin, course, regional narrowings, and the nature of the insertion.[9]
Procedural options can be optimized by careful identification of the number of fistulous connections, nature of feeding vessel or vessels, sites of drainage, and quantification of myocardium at risk for injury or loss and the hemodynamic shunt related to the fistula (ie, Qp:Qs). The goal of treatment is the obliteration of fistulae, while preserving normal coronary blood flow. The risk of presence of fistula should be balanced with the risk of complications with procedures to occlude the fistula.
Therapeutic transcatheter embolization
Indications
In view of the natural progression in larger fistulae to dilate over time, with progressively increasing risk of thrombosis, endocarditis, or rupture, the general advice is to close all but the small fistulous connections. In borderline situations, provide close echocardiographic or angiographic follow-up imaging to identify enlargement of feeding vessel in asymptomatic patients. Patients with large fistulae, multiple openings, or significantly aneurysmal dilatation may not be optimal candidates for transcatheter closure.
Technique
Transcatheter embolization techniques using coils (as is shown in the image below), bags, or other devices can be performed on an outpatient basis at the time of diagnostic studies or later, and may obviate the need for cardiac surgical intervention.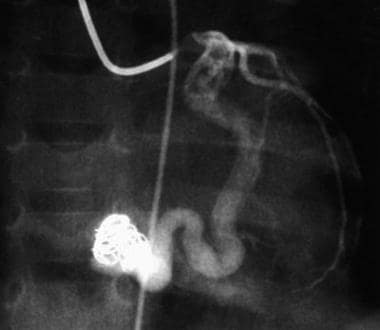 Selective left coronary angiogram immediately after transcatheter coil occlusion of the circumflex coronary fistula (4 7-mm X 70-mm target coils). A tiny residual leak and the proximal circumflex coronary dilatation are shown. Image courtesy of Texas Heart Institute. (Reproduced from McMahon CJ, Nihill MR, Kovalchin JP, et al. Coronary artery fistula. Management and intermediate-term outcome after transcatheter coil occlusion. Tex Heart Inst J. 2001;28(1):21-5.)
Generally, the course of the fistulous tract is delineated angiographically, selectively catheterized, and wired along its entire length. A delivery catheter or sheath is then positioned antegradely or retrogradely along the stabilizing wire for delivery of a suitable occlusive coil or device. The occlusive device is positioned so as to minimize myocardial muscle loss or injury. Often multiple devices or coils may be required for effective occlusion.
The transcatheter approach is, frequently, a fairly complicated intervention and requires an experienced operator and interventional specialist with expertise in both coronary arteriography and embolization techniques. Embolization often requires complicated catheter manipulation, as well as selection of various catheters and wires.
Results
To date, the literature has primarily provided only case reports and reports of small series. Results have been comparable to surgery without associated morbidities of cardiopulmonary bypass and/or sternotomy.
Surgical Care
Cardiac surgical intervention
Indications
Indications for surgical intervention are the same as in embolization (see above). Some fistulae are unsuitable for the transcatheter approach and preferably are addressed surgically. These coronary artery fistulae may include fistulae with multiple connections, circuitous routes, and acute angulations that make catheter positioning difficult or impossible.
Techniques
Surgical repair usually is approached via a median sternotomy and cardiopulmonary bypass. Identify the feeding vessel and delineate its course and site of insertion. Identify the site of presumed fistulous drainage prior to institution of the cardiopulmonary bypass. Transesophageal echocardiographic imaging has been very useful in assisting in the location of fistulous tract insertion.
A typical procedure includes opening the chamber into which the fistula drains, identifying the fistula, and closing the site of drainage with a patch or suture. If the fistula enters the ventricle or if the feeding vessel is large, the coronary artery is opened, and the opening to the fistula is closed with a running suture. The arteriotomy is closed. Large aneurysms may require excision. Rarely, when the fistula is an end artery, it may be ligated with or without bypass.
Activity
Most patients should anticipate no restrictions on activity; however, patients who wish to compete in athletic endeavors should undergo stress testing and may be at marginally increased risk for dysrhythmias and sudden death.
References
Padfield GJ. A case of coronary cameral fistula. Eur J Echocardiogr. 2009 May 4. [Medline].

Cemri M, Sahinarslan A, Akinci S, Arslan U. Dual coronary artery-pulmonary artery fistulas. Can J Cardiol. 2009 Mar. 25(3):e95. [Medline].

Schamroth C. Coronary artery fistula. J Am Coll Cardiol. 2009 Feb 10. 53(6):523. [Medline].

Liberthson RR, Sagar K, Berkoben JP, et al. Congenital coronary arteriovenous fistula. Report of 13 patients, review of the literature and delineation of management. Circulation. 1979 May. 59(5):849-54. [Medline].

Weymann A, Lembcke A, Konertz WF. Right coronary artery to superior vena cava fistula: imaging with cardiac catheterization, 320-detector row computed tomography, magnetic resonance imaging, and transesophageal echocardiography. Eur Heart J. 2009 May 20. [Medline].

Chen ML, Lo HS, Su HY, Chao IM. Coronary artery fistula: assessment with multidetector computed tomography and stress myocardial single photon emission computed tomography. Clin Nucl Med. 2009 Feb. 34(2):96-8. [Medline].

Lim JJ, Jung JI, Lee BY, et al. Prevalence and types of coronary artery fistulas detected with coronary CT angiography. AJR Am J Roentgenol. 2014 Sep. 203(3):W237-43. [Medline].

Saglam H, Koçogullari CU, Kaya E, Emmiler M. Congenital coronary artery fistula as a cause of angina pectoris. Turk Kardiyol Dern Ars. 2008 Dec. 36(8):552-4. [Medline].

Ma ES, Yang ZG, Guo YK, Zhang XC, Sun JY, Wang RR. [Clinical value of 64-slice CT angiography in detecting coronary artery anomalies]. Sichuan Da Xue Xue Bao Yi Xue Ban. 2008 Nov. 39(6):996-9. [Medline].

Edwards FH, Engelman RM, Houck P, Shahian DM, Bridges CR, for the Society of Thoracic Surgeons. The Society of Thoracic Surgeons Practice Guideline Series: Antibiotic Prophylaxis in Cardiac Surgery, Part I: Duration. Ann Thorac Surg. 2006 Jan. 81(1):397-404. [Medline].

Engelman R, Shahian D, Shemin R, et al, for the Workforce on Evidence-Based Medicine of the Society of Thoracic Surgeons. The Society of Thoracic Surgeons practice guideline series: Antibiotic prophylaxis in cardiac surgery, part II: Antibiotic choice. Ann Thorac Surg. 2007 Apr. 83(4):1569-76. [Medline].

Armsby LR, Keane JF, Sherwood MC, et al. Management of coronary artery fistulae. Patient selection and results of transcatheter closure. J Am Coll Cardiol. 2002 Mar 20. 39(6):1026-32. [Medline].

Carrel T, Tkebuchava T, Jenni R, et al. Congenital coronary fistulas in children and adults: diagnosis, surgical technique and results. Cardiology. 1996 Jul-Aug. 87(4):325-30. [Medline].

Culham JAG. Abnormalities of the coronary arteries. Freedom RM, Mawson JB, Yoo SJ, eds. Congenital Heart Disease: Textbook of Angiocardiography. Armonk, NY: Futura Publishing; 1997. 849-67.

De Wolf D, Vercruysse T, Suys B, et al. Major coronary anomalies in childhood. Eur J Pediatr. 2002 Dec. 161(12):637-42. [Medline].

Demirkilic U, Gunay C, Bolcal C, et al. Are discrete coronary artery fistulae different from coronary arteriovenous malformations?. J Card Surg. 2005 Mar-Apr. 20(2):124-8. [Medline].

Farooki ZQ, Nowlen T, Hakimi M, Pinsky WW. Congenital coronary artery fistulae: a review of 18 cases with special emphasis on spontaneous closure. Pediatr Cardiol. 1993 Oct. 14(4):208-13. [Medline].

Freedom RM, Benson LN. The etiology of myocardial ischemia: surgical considerations. Pulmonary Atresia with Intact Ventricular Septum. Armonk, NY: Futura Publishing Co; 1989. 233.

Gittenberger-de Groot AC, Sauer U, Bindl L, et al. Competition of coronary arteries and ventriculo-coronary arterial communications in pulmonary atresia with intact ventricular septum. Int J Cardiol. 1988 Feb. 18(2):243-58. [Medline].

Latson LA, Forbes TJ, Cheatham JP. Transcatheter coil embolization of a fistula from the posterior descending coronary artery to the right ventricle in a two-year-old child. Am Heart J. 1992 Dec. 124(6):1624-6. [Medline].

Mahoney LT, Schieken RM, Lauer RM. Spontaneous closure of a coronary artery fistula in childhood. Pediatr Cardiol. 1982. 2(4):311-2. [Medline].

Manghat NE, Morgan-Hughes GJ, Marshall AJ, Roobottom CA. Multidetector row computed tomography: imaging congenital coronary artery anomalies in adults. Heart. 2005 Dec. 91(12):1515-22. [Medline].

McMahon CJ, Nihill MR, Kovalchin JP, et al. Coronary artery fistula. Management and intermediate-term outcome after transcatheter coil occlusion. Tex Heart Inst J. 2001. 28(1):21-5. [Medline]. [Full Text].

Moskowitz WB, Newkumet KM, Albrecht GT, et al. Case of steel versus steal: coil embolization of congenital coronary arteriovenous fistula. Am Heart J. 1991 Mar. 121(3 Pt 1):909-11. [Medline].

Parga JR, Ikari NM, Bustamante LN, et al. Case report: MRI evaluation of congenital coronary artery fistulae. Br J Radiol. 2004 Jun. 77(918):508-11. [Medline].

Reidy JF, Tynan MJ, Qureshi S. Embolisation of a complex coronary arteriovenous fistula in a 6 year old child: the need for specialised embolisation techniques. Br Heart J. 1990 Apr. 63(4):246-8. [Medline].

Said SA, el Gamal MI, van der Werf T. Coronary arteriovenous fistulas: collective review and management of six new cases--changing etiology, presentation, and treatment strategy. Clin Cardiol. 1997 Sep. 20(9):748-52. [Medline].

Tkebuchava T, Von Segesser LK, Vogt PR, et al. Congenital coronary fistulas in children and adults: diagnosis, surgical technique and results. J Cardiovasc Surg (Torino). 1996 Feb. 37(1):29-34. [Medline].

Trehan V, Yusuf J, Mukhopadhyay S, et al. Transcatheter closure of coronary artery fistulas. Indian Heart J. 2004 Mar-Apr. 56(2):132-9. [Medline].

Urrutia-S CO, Falaschi G, Ott DA, Cooley DA. Surgical management of 56 patients with congenital coronary artery fistulas. Ann Thorac Surg. 1983 Mar. 35(3):300-7. [Medline].

Vavuranakis M, Bush CA, Boudoulas H. Coronary artery fistulas in adults: incidence, angiographic characteristics, natural history. Cathet Cardiovasc Diagn. 1995 Jun. 35(2):116-20. [Medline].
Medscape Reference © 2011 WebMD, LLC