Pediatric Cor Triatriatum Workup
Author: M Silvana Horenstein, MD; Chief Editor: Stuart Berger, MD more...
Updated: Mar 05, 2014
What would you like to print?
Laboratory Studies
No specific laboratory studies are indicated in patients with suspected cor triatriatum.
Electrocardiography
ECG findings are nonspecific and may range from normal in asymptomatic older patients to mimicking those findings of a patient with the clinical picture of pulmonary hypertension.
In some patients, ECG may reveal the following:
Right-axis deviation

Right atrial enlargement depicted by enlarged P waves

Right ventricular hypertrophy
Chest Radiography
Chest radiographic findings are usually nonspecific but may include pulmonary congestion with diffuse haziness or Kerley B lines and the ground glass pattern of acute pulmonary edema in hilar areas.
Patients may have mild cardiac enlargement and prominence of the pulmonary arterial segment.
The dilated proximal chamber may produce the appearance of left atrial enlargement.
Presence of an atrial septal defect or of an associated partial anomalous pulmonary venous connection adds pulmonary overcirculation to the pulmonary venous obstruction. The radiograph may then reveal significant right ventricular enlargement.
Echocardiography
Echocardiography is often sufficient for diagnosis and is the diagnostic modality of choice. See the image below.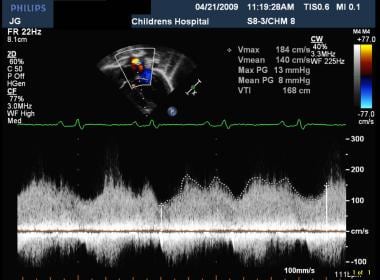 Mean Doppler gradient of 7-8 mm Hg across left atrial membrane indicating mildly elevated pulmonary venous pressures. With permission from Michael Pettersen, MD, Pediatric Cardiology, Children's Hospital of Michigan, Detroit, MI.
The membrane dividing the left atrium can be visualized using 2-dimensional echocardiography, as can the presence of an associated atrial septal defect. The origin of each of the pulmonary veins should be identified to exclude the presence of anomalous pulmonary venous return.
The distinction between cor triatriatum and a supramitral ring should be made by the location of the left-atrial appendage. Differentiating between cor triatriatum and total anomalous pulmonary venous drainage to the coronary sinus may be difficult.
Common cardiac anomalies can also be demonstrated
Transesophageal echocardiography (TEE) and intracardiac echocardiography offer precise image definition and spatial relationship of the membrane.
TEE is very useful in larger and older patients in whom transthoracic images are suboptimal especially in visualizing the left atrium.[9]
Angiography
This test is generally indicated to assess pulmonary venous return and pulmonary arterial pressures. Because approximately 10% of patients have partial anomalous venous return, angiography is helpful in defining the precise venous anatomy.
When performed, catheterization generally reveals pulmonary hypertension in a degree that varies directly with the severity of obstruction to pulmonary venous drainage.[8] Demonstration of a pressure gradient between the left atrium and capillary wedge pressure is classic.
The proximal chamber is visualized during the venous phase, and a delay then occurs before the true left atrium and left ventricle are visualized. The proximal chamber then remains opacified and does not contract with the distal chamber
Cardiac CT Scanning and MRI
Both imaging modalities provide with very detailed anatomic images.[10, 11, 12] MRI has the advantage of not subjecting the patient to radiation.[13, 14]
Procedures
In classic cor triatriatum, cardiac catheterization reveals pulmonary hypertension without a left-to-right shunt. Pulmonary wedge pressures are high and left atrial pressures are within normal limits. Angiography via pulmonary artery injection shows an opacified pulmonary venous chamber draining into the left atrium.
Histologic Findings
Histology plays no part in the diagnosis; however, pulmonary hypertension results in well-defined structural changes.
There may be pulmonary edema and alveolar hemorrhage with lymphatic dilatation. Increased pulmonary arterial muscularity is present very early, with increased thickness of the arterial wall and extension of muscle into the arterioles. Necrotizing arteriolitis may be present.
References
Humpl T, Reineker K, Manlhiot C, Dipchand AI, Coles JG, McCrindle BW. Cor triatriatum sinistrum in childhood. A single institution's experience. Can J Cardiol. 2010 Aug-Sep. 26(7):371-6. [Medline]. [Full Text].

Fesslova V, Saracino A, Nuri H, Pome G. Cor triatriatum dexter: unusual features in utero and after birth. Interact Cardiovasc Thorac Surg. 2012 Mar. 14(3):330-2. [Medline]. [Full Text].

Lasa JJ, Westover T, Khandelwal M, Cohen MS. Cor triatriatum dexter and right ventricular hypoplasia in a fetus. J Ultrasound Med. 2011 Dec. 30(12):1744-7. [Medline].

Vaideeswar P, Tullu MS, Sathe PA, Nanavati R. Atresia of the common pulmonary vein--a rare congenital anomaly. Congenit Heart Dis. 2008 Nov-Dec. 3(6):431-4. [Medline].

Ito M, Kikuchi S, Hachiro Y, Abe T. Congenital pulmonary vein stenosis associated with cor triatriatum. Ann Thorac Surg. 2001 Feb. 71(2):722-3. [Medline].

Bladt O, Vanhoenacker R. Cor triatriatum. JBR-BTR. 2008 Mar-Apr. 91(2):62. [Medline].

Spengos K, Gialafos E, Vassilopoulou S. Ischemic stroke as an uncommon complication of Cor triatriatum. J Stroke Cerebrovasc Dis. 2008 Nov-Dec. 17(6):436-8. [Medline].

Yamada T, Tabereaux PB, McElderry HT, Doppalapudi H, Kay GN. Transseptal catheterization in the catheter ablation of atrial fibrillation in a patient with cor triatriatum sinister. J Interv Card Electrophysiol. 2009 Jun. 25(1):79-82. [Medline].

Modi KA, Annamali S, Ernest K, Pratep CR. Diagnosis and surgical correction of cor triatriatum in an adult: combined use of transesophageal and contrast echocardiography, and a review of literature. Echocardiography. 2006 Jul. 23(6):506-9. [Medline].

Saremi F, Gurudevan SV, Narula J, Abolhoda A. Multidetector computed tomography (MDCT) in diagnosis of "cor triatriatum sinister". J Cardiovasc Comput Tomogr. 2007 Dec. 1(3):172-4. [Medline].

Dillman JR, Yarram SG, Hernandez RJ. Imaging of pulmonary venous developmental anomalies. AJR Am J Roentgenol. 2009 May. 192(5):1272-85. [Medline].

Su CS, Tsai IC, Lin WW, Lee T, Ting CT, Liang KW. Usefulness of multidetector-row computed tomography in evaluating adult cor triatriatum. Tex Heart Inst J. 2008. 35(3):349-51. [Medline].

Locca D, Hughes M, Mohiaddin R. Cardiovascular magnetic resonance diagnosis of a previously unreported association: Cor triatriatum with right partial anomalous pulmonary venous return to the azygos vein. Int J Cardiol. 2008 Jul 17. [Medline].

Elagha AA, Fuisz AR, Weissman G. Cardiac magnetic resonance imaging can clearly depict the morphology and determine the significance of cor triatriatum. Circulation. 2012 Sep 18. 126(12):1511-3. [Medline].

Kir M, Ugurlu B, Saylam GS, Karadas U. Surgical treatment of cor triatriatum, ventricular septal defect in an infant with a giant omphalocele. J Pediatr Surg. 2011 Jul. 46(7):E23-5. [Medline].

Bartel T, Muller S, Erbel R. Dynamic three-dimensional echocardiography using parallel slicing: a promising diagnostic procedure in adults with congenital heart disease. Cardiology. 1998. 89(2):140-7. [Medline].

Citro R, Bossone E, Provenza G, Patella MM, Gregorio G. Isolated left cor triatriatum: a rare cause of effort dyspnoea in the adult. J Cardiovasc Med (Hagerstown). 2008 Sep. 9(9):926-8. [Medline].

Gharagozloo F, Bulkley BH, Hutchins GM. A proposed pathogenesis of cor triatriatum: impingement of the left superior vena cava on the developing left atrium. Am Heart J. 1977 Nov. 94(5):618-26. [Medline].

Jeiger W, Gibbons JE, Wigglesworth FW. Cor triatriatum: Clinical, hemodynamic and pathologic studies: Surgical correction in early life. Pediatrics. 1963. 31:255-64.

Kerkar P, Vora A, Kulkarni H, et al. Percutaneous balloon dilatation of cor triatriatum sinister. Am Heart J. 1996 Oct. 132(4):888-91. [Medline].

Kirklin JW, Barratt-Boyes BG. Cardiac Surgery. 2nd ed. Churchill Livingstone; 1993. 675-81.

Marini D, Ou P. Cor triatriatum in a newborn. Pediatr Radiol. 2009 Mar 10. [Medline].

McLean MK, Kung GC, Polimenakos A, Wells WJ, Reemtsen BL. Cor triatriatum associated with ASD and common atrium in 7-month-old with tachypnea and failure to thrive. Ann Thorac Surg. 2008 Dec. 86(6):1999. [Medline].

Oglietti J, Cooley DA, Izquierdo JP, et al. Cor triatriatum: operative results in 25 patients. Ann Thorac Surg. 1983 Apr. 35(4):415-20. [Medline].

[Guideline] Paridon SM, Alpert BS, Boas SR, et al. Clinical stress testing in the pediatric age group: a statement from the American Heart Association Council on Cardiovascular Disease in the Young, Committee on Atherosclerosis, Hypertension, and Obesity in Youth. Circulation. 2006 Apr 18. 113(15):1905-20. [Medline].

Richardson JV, Doty DB, Siewers RD, Zuberbuhler JR. Cor triatriatum (subdivided left atrium). J Thorac Cardiovasc Surg. 1981 Feb. 81(2):232-8. [Medline].

Rodefeld MD, Brown JW, Heimansohn DA, et al. Cor triatriatum: clinical presentation and surgical results in 12 patients. Ann Thorac Surg. 1990 Oct. 50(4):562-8. [Medline].

Salomone G, Tiraboschi R, Bianchi T, et al. Cor triatriatum. Clinical presentation and operative results. J Thorac Cardiovasc Surg. 1991 Jun. 101(6):1088-92. [Medline].

Spencer FC, Sabiston DC. Surgery of the Chest. 6th ed. WB Saunders; 1995. 1420-4.

Sritippayawan S, Margetis MF, MacLaughlin EF, et al. Cor triatriatum: a cause of hemoptysis. Pediatr Pulmonol. 2002 Nov. 34(5):405-8. [Medline].

Su CS, Tsai IC, Lin WW, Lee T, Ting CT, Liang KW. Usefulness of multidetector-row computed tomography in evaluating adult cor triatriatum. Tex Heart Inst J. 2008. 35(3):349-51. [Medline].

Tantibhedhyangkul W, Godoy I, Karp R, Lang RM. Cor triatriatum in a 70-year-old woman: role of transesophageal echocardiography and dynamic three-dimensional echocardiography in diagnostic assessment. J Am Soc Echocardiogr. 1998 Aug. 11(8):837-40. [Medline].
Medscape Reference © 2011 WebMD, LLC