Endocardial Fibroelastosis Workup
Author: Poothirikovil Venugopalan, MBBS, MD, FRCPCH; Chief Editor: Stuart Berger, MD more...
Updated: Feb 21, 2014
What would you like to print?
Laboratory Studies
Blood tests in endocardial fibroelastosis (EFE) include the following:
Serum electrolyte levels

BUN and creatinine levels

CBC count

Blood culture tests indicated for management of acute episodes

Autoantibody profile including anti-Ro and anti-La
Imaging Studies
Chest radiography
Note the following:
Cardiomegaly and cardiothoracic ratios exceed 0.65 in 50% of patients.Cardiac enlargement (CE) is present in some patients at birth. In others, the heart size is normal during the first few weeks to the first few months of life, but CE subsequently develops.

The shape of the cardiac silhouette varies, although it is often globular.

Pulmonary venous congestion is common.

Left lower lobe atelectasis secondary to dilated left atrium (LA) is found in 25% of patients.
See the images below.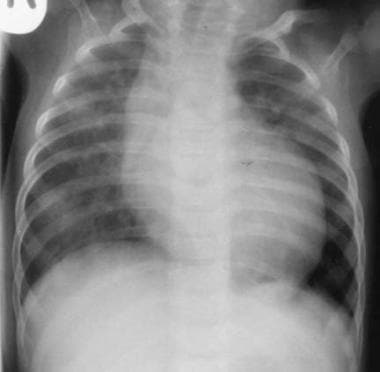 Chest radiograph, anteroposterior view, showing cardiomegaly and pulmonary venous congestion in a 6-month-old infant with endocardial fibroelastosis (EFE).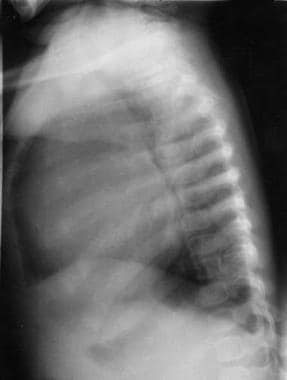 Chest radiograph, left lateral view, showing enlarged heart in 6-month-old infant.
Echocardiography
Echocardiographic features may include the following:
LA and left ventricular (LV) dimensions are increased.

LV, septal, and posterior wall (PW) excursions are reduced.

The ejection fraction (EF) is reduced.

Mitral valve (MV) motion is abnormal.

Echogenicity along the endocardium of the LV (diagnostic clue) is dense.

Suggestive indicators include increased endocardial echo brightness and globular shape of the LV.

The echocardiograph may depict a normalization of the shortening fraction and the LV dimensions when the clinical condition improves following medical therapy.

A varying degree of mitral regurgitation is common.
Fetal echocardiography
This is a valuable tool for early identification, particularly of the secondary type.
One of the congenital malformations (eg, aortic stenosis) is often demonstrated at the initial study. The endocardial fibroelastosis becomes obvious in repeat studies.
Electron beam CT scanning
Electron beam CT has been reported to be useful in the early diagnosis of endocardial fibroelastosis because of its demonstration of calcification and fibrosis of the ventricles, especially at the apex.
MRI
Reports highlight the role of MRI in identifying the presence of endocardial fibroelastosis.[8, 9] MRI that uses perfusion and myocardial delayed enhancement can be useful in establishing the diagnosis. Endocardial fibroelastosis gives the endocardial surface a rim of hypointense signal in the perfusion sequences and a rim of hyperintense signal in the myocardial delayed-enhancement sequences.
Other Tests
Twenty-four–hour Holter ECG
This is useful in documenting ambient arrhythmias.
Electrocardiography
Findings on electrocardiograpy may include the following:
Tall R waves, deep Q waves, and T-wave inversion or flattening in the left precordial or inferior lead have been reported.

Findings depict LV hypertrophy in more than 75% of patients.

In the first few weeks of life, right axis deviation and isolated right ventricular hypertrophy are more common.

Pulmonary hypertension may develop in patients who survive for a long period and appears as biventricular hypertrophy on electrocardiography.

Patterns of left, right, or biatrial enlargement are evident in 50% of patients.

Conduction or rhythm abnormalities include

Wolff-Parkinson-White syndrome

, left bundle branch block, supraventricular and ventricular arrhythmias, and varying degrees of atrioventricular block.

Low-voltage tracings in the initial stage of heart failure and in the terminal phase are noted in 5% of patients.

Occasionally, an infarct pattern appears, pointing to extensive myocardial fibrosis and necrosis.
Procedures
Cardiac catheterization
Cardiac chambers and pulmonary arteries contain elevated pressures consistent with heart failure. Generally, systolic pulmonary artery pressure is not more than 50% of systemic pressure. Marked pulmonary hypertension may be seen in older children.
The constrictive type of endocardial fibroelastosis is rare and is associated with a left-sided atrioventricular obstructive pattern, with very high LA pressures from an early age. A diastolic gradient can be detected across the mitral valve (MV). Pulmonary artery pressure is elevated and often reaches systemic levels in this type of endocardial fibroelastosis.
Postcatheterization precautions include hemorrhage, vascular disruption after balloon dilation, pain, nausea and vomiting, and arterial or venous obstruction due to thrombosis or spasm.
Complications may include blood vessel rupture, tachyarrhythmias, bradyarrhythmias, and vascular occlusion.
Angiography
Angiocardiographic findings include the following:
Marked dilation of the LV cavity

Reduced EF with little or no LV wall thickening

Dyskinetic LV contraction

Mitral regurgitation (common)

In the contracted type, dilated right ventricle, right atrium, and pulmonary artery with slow clearance of the contrast from the left side of the heart
Digital subtraction angiography
This may reveal an avascular rim between the opacified LV cavity and the ventricular walls perfused by the coronary arteries. The contrast void rim can be identified even in ordinary cineangiographic films.
Biopsy
In cases in which the diagnosis is unclear, myocardial biopsy can be helpful.
Histologic Findings
Endomyocardial biopsy has its risks, especially in an infant, and it is not essential to make a diagnosis in the majority of affected babies.[10]
Endomyocardial biopsy reveals an invasion of the endocardium and subendocardium by fibroelastic tissue.
Abnormalities are largely confined to the endocardium, with marked hyperplasia of its constituents, especially collagen and elastic fibers; hence, the basic abnormality in endocardial fibroelastosis appears to involve the synthesis of abnormally large amounts of collagen and elastin rather than a qualitative change in the structure of elastic fibers.
Surface deposits of fibrin have also been detected using electron microscopy. The underlying myocardium generally appears normal.
References
Weinberg T, Himmelfarb AJ. Endocardial fibroelastosis. Bull Johns Hopkins Hosp. 1943. 72:299.

Seki A, Patel S, Ashraf S, Perens G, Fishbein MC. Primary endocardial fibroelastosis: an underappreciated cause of cardiomyopathy in children. Cardiovasc Pathol. 2013 Sep-Oct. 22(5):345-50. [Medline].

Arya SO, Karpawich PP, Gupta P, Buddhe S, Singh HR, Hussein Y. Primary endocardial fibroelastosis presenting in a young child as incessant ventricular tachycardia and dilated cardiomyopathy. Tex Heart Inst J. 2012. 39(5):714-8. [Medline].

Moller JH, Lucas RV, Adams P, et al. Endocardial fibroelastosis: a clinical and anatomic study of 47 patients with emphasis on its relationship to mitral insufficiency. Circulation. 1964 Nov. 30:759-82. [Medline].

Keith JD, Rose V, Manning JA. Endocardial fibroelastosis. Keith JD, Rowe RD, Vlad P, eds. Heart Disease in Infancy and Childhood. 3rd ed. New York, NY: MacMillan; 1978. 941-57.

Ni J, Bowles NE, Kim YH, et al. Viral infection of the myocardium in endocardial fibroelastosis. Molecular evidence for the role of mumps virus as an etiologic agent. Circulation. 1997 Jan 7. 95(1):133-9. [Medline]. [Full Text].

Chen S, Thompson MW, Rose V. Endocardial fibroelastosis: family studies with special reference to counseling. J Pediatr. 1971 Sep. 79(3):385-92. [Medline].

Maredia N, English K, Greenwood J. Assessment of endocardial fibroelastosis by cardiac MRI. Can J Cardiol. 2008 May. 24(5):e33. [Medline].

Stranzinger E, Ensing GJ, Hernandez RJ. MR findings of endocardial fibroelastosis in children. Pediatr Radiol. 2008 Mar. 38(3):292-6. [Medline].

Zhorne D, Petit CJ, Ing FF, Justino H, Jefferies JL, Dreyer WJ. A 25-year experience of endomyocardial biopsy safety in infants. Catheter Cardiovasc Interv. 2013 Nov 1. 82(5):797-801. [Medline].

Frobel AK, Hulpke-Wette M, Schmidt KG, Laer S. Beta-blockers for congestive heart failure in children. Cochrane Database Syst Rev. 2009 Jan 21. CD007037. [Medline].

Achiron R, Malinger G, Zaidel L, Zakut H. Prenatal sonographic diagnosis of endocardial fibroelastosis secondary to aortic stenosis. Prenat Diagn. 1988 Jan. 8(1):73-7. [Medline].

Al-Ruwaishid A, Vajsar J, Tein I, et al. Centronuclear myopathy and cardiomyopathy requiring heart transplant. Brain Dev. 2003 Jan. 25(1):62-6. [Medline].

Angelov A, Kulova A, Gurdevsky M. Endocardial fibroelastosis. Clinico-pathological study of 38 cases. Pathol Res Pract. 1984 Mar. 178(4):384-8. [Medline].

Baandrup U, Mortensen SA. Fatal mumps myocarditis. Acta Med Scand. 1984. 216(3):331-3. [Medline].

Billingham ME. The safety and utility of endomyocardial biopsy in infants, children and adolescents. J Am Coll Cardiol. 1990 Feb. 15(2):443-5. [Medline].

Blieden LC, Schneeweiss A, Deutsch V, Neufeld HN. Contracted form of endocardial fibroelastosis: angiographic diagnosis and necropsy confirmation. Pediatr Cardiol. 1983 Oct-Dec. 4(4):281-3. [Medline].

Bovicelli L, Picchio FM, Pilu G, et al. Prenatal diagnosis of endocardial fibroelastosis. Prenat Diagn. 1984 Jan-Feb. 4(1):67-72. [Medline].

Brady AN, Shehata BM, Fernhoff PM. X-linked fetal cardiomyopathy caused by a novel mutation in the TAZ gene. Prenat Diagn. 2006 May. 26(5):462-5. [Medline].

Burke A, Mont E, Kutys R, Virmani R. Left ventricular noncompaction: a pathological study of 14 cases. Hum Pathol. 2005 Apr. 36(4):403-11. [Medline].

Buyon JP, Rupel A, Clancy RM. Neonatal lupus syndromes. Lupus. 2004. 13(9):705-12. [Medline].

Calabrese F, Rigo E, Milanesi O, et al. Molecular diagnosis of myocarditis and dilated cardiomyopathy in children: clinicopathologic features and prognostic implications. Diagn Mol Pathol. 2002 Dec. 11(4):212-21. [Medline].

Carceller AM, Maroto E, Fouron JC. Dilated and contracted forms of primary endocardial fibroelastosis: a single fetal disease with two stages of development. Br Heart J. 1990 May. 63(5):311-3. [Medline].

Carrasco Guerra HA, Palacios-Pru E, Dagert de Scorza C, et al. Clinical, histochemical, and ultrastructural correlation in septal endomyocardial biopsies from chronic chagasic patients: detection of early myocardial damage. Am Heart J. 1987 Mar. 113(3):716-24. [Medline].

Chang AC, Huhta JC, Yoon GY, et al. Diagnosis, transport, and outcome in fetuses with left ventricular outflow tract obstruction. J Thorac Cardiovasc Surg. 1991 Dec. 102(6):841-8. [Medline].

Chen SC, Balfour IC, Jureidini S. Clinical spectrum of restrictive cardiomyopathy in children. J Heart Lung Transplant. 2001 Jan. 20(1):90-2. [Medline].

Dajani AS, Taubert KA, Wilson W, et al. Prevention of bacterial endocarditis. Recommendations by the American Heart Association. JAMA. 1997 Jun 11. 277(22):1794-801. [Medline].

Edwards JE. Functional pathology of congenital cardiac disease. Pediatr Clin North Am. 1954 Feb. 25:13-49. [Medline].

Fishbein MC, Ferrans VJ, Roberts WC. Histologic and ultrastructural features of primary and secondary endocardial fibroelastosis. Arch Pathol Lab Med. 1977 Jan. 101(1):49-54. [Medline].

Fuchs U, Zittermann A, Schulz U, et al. Unusual case of an 18-year-old heart transplant recipient with endocardial fibroelastosis. Transplant Proc. 2006 Jun. 38(5):1511-3. [Medline].

Greenwood RD, Nadas AS, Fyler DC. The clinical course of primary myocardial disease in infants and children. Am Heart J. 1976 Nov. 92(5):549-60. [Medline].

Harris LC, Nghiem QX. Cardiomyopathies in infants and children. Prog Cardiovasc Dis. 1972 Nov-Dec. 15(3):255-87. [Medline].

Hunter AS, Keay AJ. Primary endocardial fibroelastosis. An inherited condition. Arch Dis Child. 1973 Jan. 48(1):66-9. [Medline].

Hutchins GM, Vie SA. The progression of interstitial myocarditis to idiopathic endocardial fibroelastosis. Am J Pathol. 1972 Mar. 66(3):483-96. [Medline].

Iida M, Inamura N, Takeuchi M. Newborn infant with maternal anti-SSA antibody-induced complete heart block accompanying cardiomyopathy. Circ J. 2006 Jan. 70(1):147-9. [Medline].

Ino T, Benson LN, Freedom RM, Rowe RD. Natural history and prognostic risk factors in endocardial fibroelastosis. Am J Cardiol. 1988 Sep 1. 62(7):431-4. [Medline].

Ito T, Sasaki T, Ono I. Secondary endocardial fibroelastosis associated with Pompe disease and multicystic dysplastic kidney. Heart Vessels. 2000. 15(5):240-2. [Medline].

Jayaprasad N, Johnson F, Venugopal K. Congenital complete heart block and maternal connective tissue disease. Int J Cardiol. 2006 Sep 20. 112(2):153-8. [Medline].

Kamisago M, Schmitt JP, McNamara D, Seidman C, Seidman JG. Sarcomere protein gene mutations and inherited heart disease: a beta-cardiac myosin heavy chain mutation causing endocardial fibroelastosis and heart failure. Novartis Found Symp. 2006. 274:176-89; discussion 189-95, 272-6. [Medline].

Katcher ML, Segar WE, Wolfson JJ, et al. Clinicopathologic conference: a six-month-old infant with sudden onset of metabolic acidosis and shock. Am J Med Genet. 1982 Jan. 11(1):77-96. [Medline].

Knirsch W, Mehwald P, Dittrich S, Kececioglu D. [Restrictive cardiomyopathy in childhood]. Z Kardiol. 2004 Jul. 93(7):566-73. [Medline].

Leatherbury L, Chandra RS, Shapiro SR, Perry LW. Value of endomyocardial biopsy in infants, children and adolescents with dilated or hypertrophic cardiomyopathy and myocarditis. J Am Coll Cardiol. 1988 Dec. 12(6):1547-54. [Medline].

Lee LA. Neonatal lupus: clinical features and management. Paediatr Drugs. 2004. 6(2):71-8. [Medline].

Lurie PR. Endocardial fibroelastosis is not a disease. Am J Cardiol. 1988 Sep 1. 62(7):468-70. [Medline].

McElhinney DB, Lock JE, Keane JF, et al. Left heart growth, function, and reintervention after balloon aortic valvuloplasty for neonatal aortic stenosis. Circulation. 2005 Feb 1. 111(4):451-8. [Medline]. [Full Text].

Mitchell SC, Froehlich LA, Banas JS, Gilkeson MR. An epidemiologic assessment of primary endocardial fibroelastosis. Am J Cardiol. 1966 Dec. 18(6):859-66. [Medline].

Nield LE, Silverman ED, Smallhorn JF, et al. Endocardial fibroelastosis associated with maternal anti-Ro and anti-La antibodies in the absence of atrioventricular block. J Am Coll Cardiol. 2002 Aug 21. 40(4):796-802. [Medline].

Nield LE, Silverman ED, Taylor GP, et al. Maternal anti-Ro and anti-La antibody-associated endocardial fibroelastosis. Circulation. 2002 Feb 19. 105(7):843-8. [Medline].

Piercecchi-Marti MD, Mohamed H, Chau C, et al. Congenital atrioventricular block: histological aspects. Forensic Sci Int. 2003 Sep 9. 136(1-3):12-5. [Medline].

Raboisson MJ, Fouron JC, Sonesson SE, et al. Fetal Doppler echocardiographic diagnosis and successful steroid therapy of Luciani-Wenckebach phenomenon and endocardial fibroelastosis related to maternal anti-Ro and anti-La antibodies. J Am Soc Echocardiogr. 2005 Apr. 18(4):375-80. [Medline].

Rodriguez MM, Bruce JH, Jimenez XF, et al. Nonimmune hydrops fetalis in the liveborn: series of 32 autopsies. Pediatr Dev Pathol. 2005 May-Jun. 8(3):369-78. [Medline].

Rodriguez MM, Bruce JH, Jimenez XF, et al. Nonimmune hydrops fetalis in the liveborn: series of 32 autopsies. Pediatr Dev Pathol. 2005 May-Jun. 8(3):369-78. [Medline].

Schindler E, Muller M, Akinturk H, et al. Perioperative management in pediatric heart transplantation from 1988 to 2001: anesthetic experience in a single center. Pediatr Transplant. 2004 Jun. 8(3):237-42. [Medline].

Schmid C, Debus V, Gogarten W, et al. Pediatric assist with the Medos and Excor systems in small children. ASAIO J. 2006 Sep-Oct. 52(5):505-8. [Medline].

Schmider A, Henrich W, Dahnert I, Dudenhausen JW. Prenatal therapy of non-immunologic hydrops fetalis caused by severe aortic stenosis. Ultrasound Obstet Gynecol. 2000 Sep. 16(3):275-8. [Medline].

Schryer MJ, Karnauchow PN. Endocardial fibroelastosis; etiologic and pathogenetic considerations in children. Am Heart J. 1974 Nov. 88(5):557-65. [Medline].

Sjoberg G, Chow CW, Cooper S, Weintraub RG. X-linked cardiomyopathy presenting as contracted endocardial fibroelastosis. J Heart Lung Transplant. 2007 Mar. 26(3):293-5. [Medline].

Tingelstad JB, Shiel FO, McCue CM. The elctrocardiogram in the contracted type of primary endocardial fibroelastosis. Am J Cardiol. 1971 Mar. 27(3):304-8. [Medline].

Tworetzky W, del Nido PJ, Powell AJ, et al. Usefulness of magnetic resonance imaging of left ventricular endocardial fibroelastosis in infants after fetal intervention for aortic valve stenosis. Am J Cardiol. 2005 Dec 1. 96(11):1568-70. [Medline].

Ursell PC, Neill CA, Anderson RH, et al. Endocardial fibroelastosis and hypoplasia of the left ventricle in neonates without significant aortic stenosis. Br Heart J. 1984 May. 51(5):492-7. [Medline].

Valdes-Dapena M, Gilbert-Barness E. Cardiovascular causes for sudden infant death. Pediatr Pathol Mol Med. 2002 Mar-Apr. 21(2):195-211. [Medline].

Van Buchem FSP, Arends A, Schroeder EA. Endocardial fibroelastosis in adolescents and young adults. Br Heart J. 1959. 21:229-237.

Van der Hauwaert LG, Denef B, Dumoulin M. Long-term echocardiographic assessment of dilated cardiomyopathy in children. Am J Cardiol. 1983 Nov 1. 52(8):1066-71. [Medline].

Veille JC, Sivakoff M. Fetal echocardiographic signs of congenital endocardial fibroelastosis. Obstet Gynecol. 1988 Aug. 72(2):219-22. [Medline].

Vida VL, Bottio T, Milanesi O, et al. Critical aortic stenosis in early infancy: surgical treatment for residual lesions after balloon dilation. Ann Thorac Surg. 2005 Jan. 79(1):47-51; discussion 51-2. [Medline].

Wang IJ, Chen SJ, Wang JK, et al. Electron beam computed tomography appearance of endocardial fibroelastosis EBCT appearance of endocardial fibroelastosis. Int J Cardiovasc Imaging. 2003 Feb. 19(1):85-90. [Medline].

Westwood M, Harris R, Burn JL, Barson AJ. Heredity in primary endocardial fibroelastosis. Br Heart J. 1975 Oct. 37(10):1077-84. [Medline].

Wloch A, Respondek-Liberska M, Sysa A, et al. [Significant aortic valve stenosis in the prenatal period--diagnosis, treatment, outcome. Two-center study]. Przegl Lek. 2004. 61(6):589-92. [Medline].

Yinon Y, Yagel S, Hegesh J, et al. Fetal cardiomyopathy--in utero evaluation and clinical significance. Prenat Diagn. 2007 Jan. 27(1):23-8. [Medline].

Yoshizato T, Edwards WD, Alboliras ET, et al. Safety and utility of endomyocardial biopsy in infants, children and adolescents: a review of 66 procedures in 53 patients. J Am Coll Cardiol. 1990 Feb. 15(2):436-42. [Medline].
Medscape Reference © 2011 WebMD, LLC