Congenital Mitral Stenosis Workup
Author: M Silvana Horenstein, MD; Chief Editor: Stuart Berger, MD more...
Updated: Apr 29, 2014
What would you like to print?
Laboratory Studies
Measure electrolyte balance and renal function if congestive heart failure is suspected.
Electrocardiography
Electrocardiography findings may be normal in patients with mild MS. Hemodynamically significant stenosis results in ECG findings of left atrial or biatrial enlargement and RV enlargement in proportion to severity of the obstruction.
Procedures
Cardiac catheterization
This may be used to obtain direct intracardiac pressure measurements, the mitral valve gradient, pulmonary vascular resistance, and systemic cardiac output.
The mitral valve effective orifice can be calculated using the Gorlin formula.
The diagnosis and hemodynamic assessment of most patients with MS is performed noninvasively with echocardiography. However, cardiac catheterization is used only when echocardiography does not provide complete information or if the patient undergoes mitral balloon valvuloplasty.
Chest Radiography
Chest radiographic findings may include may the following:
Left atrial dilation

Posteroanterior (PA) dilation secondary to high pulmonary vascular pressure and resistance

Pulmonary venous congestion

Right ventricular enlargement
Echocardiography
Echocardiography is the most important diagnostic tool to evaluate patients with mitral stenosis (MS). This noninvasive imaging modality provides excellent anatomic and hemodynamic assessment of MS.
Echocardiography provides the following:
Direct anatomic data, such as visualization of valve leaflet morphology and motility as well as measurement of valve orifice dimensions

Evaluation of left atrial size and detection of left atrial thrombi

Indirect physiologic data (ie, estimation of pressure gradients across the mitral valve and right ventricular systolic pressure), which may be measured using Doppler echocardiography
Transesophageal echocardiography
Transesophageal echocardiography is used when transthoracic echocardiographic pictures are inadequate. It may also be used to guide intervention and assess results in the operating room and cardiac catheterization laboratory.
Dynamic 3-dimensional transthoracic or transesophageal echocardiography
These techniques can provide good insight into valvular motion and help preoperative planning in situations in which valve reconstruction is considered.[1] However, the accuracy of these techniques is currently limited by the quality of the original 2-dimensional echo cross-sectional images, which can be adversely affected by patient motion, breathing, and cardiac arrhythmia such as atrial fibrillation.
A 2-dimensional echocardiogram of a boy with congenital MS is depicted below.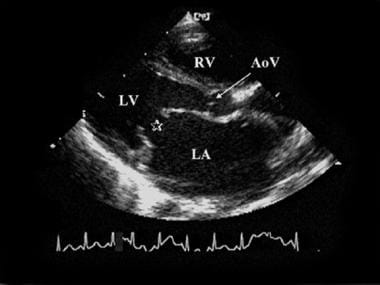 Two-dimensional echocardiograph, parasternal long axis view of a 5-month-old boy with congenital mitral valve stenosis. A small mitral valve annulus (star) is appreciated when compared with the normal-sized tricuspid valve annulus. Mitral valve stenosis has caused left atrial (LA) enlargement. AoV = Aorta; LA = Left atrium; LV = Left ventricle; RA = Right atrium; RV = Right ventricle.
A 2-dimensional echocardiogram of a patient requiring mitral valve replacement is depicted below.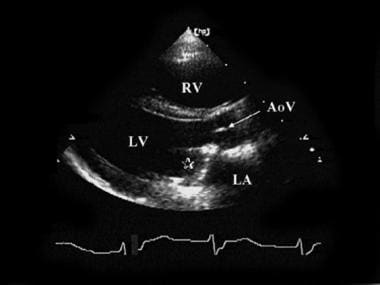 Two-dimensional echocardiograph, parasternal long axis view of a patient who required mitral valve replacement with a St. Jude's prosthetic mitral valve (star). He developed a stroke one month after mitral valve replacement despite anticoagulation with warfarin and required re-replacement of the prosthetic mitral valve. He will eventually outgrow this new prosthetic mitral valve and require subsequent mitral valve replacements with a larger mitral valve prosthesis. AoV = Aorta; LA = Left atrium; LV = Left ventricle; RA = Right atrium; RV = Right ventricle.
Magnetic Resonance Imaging
MRI is used infrequently; however, experience with this imaging modality in MS is more limited than with echocardiography.
References
Kutty S, Colen TM, Smallhorn JF. Three-dimensional echocardiography in the assessment of congenital mitral valve disease. J Am Soc Echocardiogr. 2014 Feb. 27(2):142-54. [Medline].

McElhinney DB, Sherwood MC, Keane JF. Current management of severe congenital mitral stenosis: outcomes of transcatheter and surgical therapy in 108 infants and children. Circulation. 2005 Aug 2. 112(5):707-14. [Medline].

del Nido PJ, Baird C. Congenital mitral valve stenosis: anatomic variants and surgical reconstruction. Semin Thorac Cardiovasc Surg Pediatr Card Surg Annu. 2012. 15(1):69-74. [Medline].

Delmo Walter EM, Komoda T, Siniawski H, Miera O, Van Praagh R, Hetzer R. Long-term surgical outcome of mitral valve repair in infants and children with Shone's anomaly. Eur J Cardiothorac Surg. 2012 Sep 1. [Medline].

Baylen BG, Gleason MM, Waldhausen JA. Mitral valve abnormalities: Mitral inflow obstruction. Moss and Adams Heart Disease in Infants, Children, and Adolescents. 1995. Vol 2: 1042-54.

Brown JW, Fiore AC, Ruzmetov M, Eltayeb O, Rodefeld MD, Turrentine MW. Evolution of mitral valve replacement in children: a 40-year experience. Ann Thorac Surg. 2012 Feb. 93(2):626-33; discussion 633. [Medline].

Bruce CJ, Nishimura RA. Clinical assessment and management of mitral stenosis. Cardiol Clin. 1998 Aug. 16(3):375-403. [Medline].

Bruce CJ, Nishimura RA. Newer advances in the diagnosis and treatment of mitral stenosis. Curr Probl Cardiol. 1998 Mar. 23(3):125-92. [Medline].

Carabello BA, Crawford FA Jr. Valvular heart disease [published erratum appears in N Engl J Med 1997 Aug 14; 337(7): 507]. N Engl J Med. 1997 Jul 3. 337(1):32-41. [Medline].

Casta AR, Jonas RA, Mayer JE. Pediatric valve replacement. Cardiac Surgery of the Neonate and Infant. Philadelphia, PA: WB Saunders; 1994. 387-95.

Chauvaud S. Congenital mitral valve surgery: techniques and results. Curr Opin Cardiol. 2006 Mar. 21(2):95-9. [Medline].

Dangas G, Gorlin R. Changing concepts in the determination of valvular stenosis. Prog Cardiovasc Dis. 1997 Jul-Aug. 40(1):55-64. [Medline].

Fabricius AM, Walther T, Falk V, Mohr FW. Three-dimensional echocardiography for planning of mitral valve surgery: current applicability?. Ann Thorac Surg. 2004 Aug. 78(2):575-8. [Medline].

Grifka RG, Vincent JA. Abnormalities of the left atrium and mitral valve, including mitral valve prolapse. The Science and Practice of Pediatric Cardiology. Baltimore, MD: Williams & Wilkins; Vol 1: 1277-1301.

Karaci AR, Aydemir NA, Harmandar B, Sasmazel A, Saritas T, Tuncel Z, et al. Surgical treatment of infective valve endocarditis in children with congenital heart disease. J Card Surg. 2012 Jan. 27(1):93-8. [Medline].

Lamberti JJ, Mainwaring RD. Congenital anomalies of the mitral valve. Pediatric Cardiac Surgery. St Louis, MO: Mosby-Year Book; 1994. 459-73.

Park MK. Valvular heart disease. Pediatric Cardiology for Practitioners. Philadelphia, PA: WB Saunders; 1996. 310-9.

PDR. Physician's Desk Reference. Montvale, NJ: Thomson Healthcare; 2000.

Roberts-Thomson KC, Stevenson IH, Kistler PM, et al. Anatomically determined functional conduction delay in the posterior left atrium relationship to structural heart disease. J Am Coll Cardiol. 2008 Feb 26. 51(8):856-62. [Medline].

Schaverien MV, Freedom RM, McCrindle BW. Independent factors associated with outcomes of parachute mitral valve in 84 patients. Circulation. 2004 May 18. 109(19):2309-13. [Medline]. [Full Text].

Schmidt M, Crnac J, Dederichs B, et al. Magnetic resonance imaging in valvular heart disease. Int J Card Imaging. 1997 Jun. 13(3):219-31. [Medline].

Slight RD, Nzewi OC, Sivaprakasam R, Mankad PS. Cor triatriatum sinister presenting in the adult as mitral stenosis. Heart. 2003 Oct. 89(10):e26. [Medline]. [Full Text].

Sokoloski MC. Tachyarrhythmias confined to the atrium. Gillette PC, Garson A Jr. eds. Clinical Pediatric Arrhythmias. Philadelphia, PA: WB Saunders; 1999. 78-96.

Uva MS, Galletti L, Gayet FL, et al. Surgery for congenital mitral valve disease in the first year of life. J Thorac Cardiovasc Surg. 1995 Jan. 109(1):164-74; discussion 174-6. [Medline].

Villablanca AC. Heart disease during pregnancy. Which cardiovascular changes reflect disease?. Postgrad Med. 1998 Nov. 104(5):149-56. [Medline].

Wood AE, Healy DG, Nolke L, et al. Mitral valve reconstruction in a pediatric population: late clinical results and predictors of long-term outcome. J Thorac Cardiovasc Surg. 2005 Jul. 130(1):66-73. [Medline].
Medscape Reference © 2011 WebMD, LLC